Abstract
Many US cities have adopted legal restrictions on high-alcohol malt liquor sales in response to reports of crime and nuisance behaviors around retail alcohol outlets. We assessed whether these policies are effective in reducing crime in urban areas. We used a rigorous interrupted time-series design with comparison groups to examine monthly crime rates in areas surrounding alcohol outlets in the 3 years before and after adoption of malt liquor sales restrictions in two US cities. Crime rates in matched comparison areas not subject to restrictions served as covariates. Novel methods for matching target and comparison areas using virtual neighborhood audits conducted in Google Street View are described. In Minneapolis, Minnesota, sales of single containers of 16 oz or less were prohibited in individual liquor stores (n = 6). In Washington, D.C., the sale of single containers of any size were prohibited in all retail alcohol outlets within full or partial wards (n = 6). Policy adoption was associated with modest reductions in crime, particularly assaults and vandalism, in both cities. All significant outcomes were in the hypothesized direction. Our results provide evidence that retail malt liquor sales restrictions, even relatively weak ones, can have modest effects on a range of crimes. Policy success may depend on community support and concurrent restrictions on malt liquor substitutes.
Access options
Buy single article
Instant access to the full article PDF.
US$ 39.95
Tax calculation will be finalised during checkout.
Subscribe to journal
Immediate online access to all issues from 2019. Subscription will auto renew annually.
US$ 79
Tax calculation will be finalised during checkout.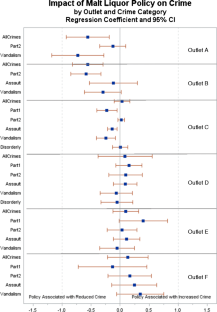 References
1.

Jones-Webb R, McKee P, Toomey T, et al. Regulating malt liquor in urban areas in the United States. Contemp Drug Probl. 2011; 38(1): 41–59.

2.

McKee PA, Nelson TF, Toomey TL, Shimotsu ST, Hannan PJ, Jones-Webb RJ. Adopting local alcohol policies: a case study of community efforts to regulate malt liquor sales. Am J Health Promot. 2012; 26(3): e86–e94.

3.

Tarnai J. Post-assessment Seattle, Washington Alcohol Impact Areas (Report No. 09–032). Pullman, Washington: Washington State University 2009. [Accessed online 2016 Feb 25]. Available from: http://www.liq.wa.gov/publications/AlcImpactAreas/2009_Final_Report.pdf

4.

Tarnai J. Evaluation of the Tacoma, Washington, Alcohol Impact Area (AIA). Pullman, WA: Social & Economic Sciences Research Center at Washington State University 2003. [Accessed online 2016 Feb. 25]. Available from: http://www.liq.wa.gov/publications/AlcImpactAreas/2003_Report.pdf

5.

Marchetti T. Proposed Alcohol Impact Area, Portland Downtown Core Summary Report. Office of Neighborhood Involvement Liquor Licensing Program, August 2010. [Accessed online 2016 Feb 15]. Available from: https://www.portlandoregon.gov/oni/53286.

6.

Sampson RS. Tackling crime and other public-safety problems: case studies in problem-solving. Washington, DC: US Department of Justice, Office of Community Oriented Policing Services 1999. [Accessed online 2016 Feb 15]. Available from: http://www.cops.usdoj.gov/html/cd_rom/inaction1/Problem_Solving_Case_Study_toc_f.htm.

7.

Alcohol Epidemiology Program, University of Minnesota. Local Malt Liquor Policies. [accessed online 2016 February]. Available from: http://www.aep.umn.edu/index.php/aep-tools/malt-liquor/.

8.

National Institute on Alcohol Abuse and Alcoholism. Drinking levels defined. 2015. [Accessed online 2015 May]. Available from: http://www.niaaa.nih.gov/alcohol-health/overview-alcohol-consumption/moderate-binge-drinking.

9.

Pridemore WA. Weekend effects of binge drinking and homicide: the social connection between alcohol and violence in Russia. Addiction. 2004; 99(8): 1034–1041.

10.

Richardson A, Budd T. Young adults, alcohol, crime and disorder. Crim Behav Ment Health. 2003; 13(1): 5–16.

11.

Parker RN, McCaffree KJ, Skiles D. The impact of retail practices on violence: the case of single serve alcohol beverage containers. Drug Alcohol Rev. 2011; 30: 496–504.

12.

Hoke O, Cotti C. The impact of large container beer purchases on alcohol-related fatal vehicle accidents. Contemp Econ Policy. 2015; 33(3): 477–487.

13.

Campbell CA, Hahn RA, Elder R, et al. The effectiveness of limiting alcohol outlet density as a means of reducing excessive alcohol consumption and alcohol-related harms. Am J Prev Med. 2009; 37(6): 556–569.

14.

Gruenewald PJ, Remer L. Changes in outlet densities affect violence rates. Alcohol Clin Exp Res. 2006; 30(7): 1184–1193.

15.

Paschall M, Lipperman-Kreda S, Grube JW. Effects of the local alcohol environment on adolescents' drinking behaviors and beliefs. Addiction. 2014; 109(3): 407–416.

16.

Zhu L, Gorman DM, Horel S. Alcohol outlet density and violence: a geospatial analysis. Alcohol Alcohol. 2004; 39(4): 369–75.

17.

Britt HR, Carlin BP, Toomey TL, Wagenaar AC. Neighborhood level spatial analysis of the relationship between alcohol outlet density and criminal violence. Environ Ecol Stat. 2005; 12(4): 411–426.

18.

Hill TD, Angel RJ. Neighborhood disorder, psychological distress, and heavy drinking. Soc Sci Med. 2005; 61(5): 965–975.

19.

Murray RK, Roncek DW. Measuring diffusion of assaults around bars through radius and adjacency techniques. Crim Justice Rev. 2008; 33(2): 199–220.

20.

Bluthenthal RN, Brown-Taylor D, Guzmán-Becerra N, Robinson PL. Characteristics of malt liquor beer drinkers in a low-income, racial minority community sample. Alcohol Clin Exp Res. 2005; 29(3): 402–409.

21.

Vilamovska A, Brown-Taylor D, Bluthenthal RN. Adverse drinking-related consequences among lower income, racial, and ethnic minority drinkers: cross-sectional results. Alcohol Clin Exp Res. 2009; 33(4): 645–653.

22.

Bradizza CM, Collins RL, Vincent PC, Falco DL. It does the job: young adults discuss their malt liquor consumption. Addict Behav. 2006; 31(9): 1559–1577.

23.

Chen M, Paschall MJ. Malt liquor use, heavy/problem drinking and other problem behaviors in a sample of community college students. J Stud Alcohol. 2003; 64(6): 835–842.

24.

Jones-Webb R, McKee P, Hannan P, et al. Alcohol and malt liquor availability and promotion and homicide in inner cities. Subst Use Misuse. 2008; 43(2): 159–177.

25.

Parker RN. Alcohol and violence: connections, evidence and possibilities for prevention. J Psychoactive Drugs. 2004; 36(sup2): 157–163.

26.

Babor T, Caetano R, Casswell S, et al. Alcohol: no ordinary commodity: research and public policy. Oxford/London: Oxford University Press; 2003.

27.

Nelson TF, Xuan Z, Babor TF, et al. Efficacy and the strength of evidence of U.S. alcohol control policies. Am J Prev Med. 2013; 45(1): 19.

28.

Mosher JF, Saetta SL. Best practices in municipal regulation to reduce alcohol-related harms from licensed alcohol outlets. Center for the Study of Law and Enforcement Policy, Pacific Institute for Research and Evaluation. Ventura: Ventura County Behavioral Health Department Publication: Thousand Oaks, California; 2008.

29.

Heaton P. Sunday liquor laws and crime. J Public Econ. 2012; 96(1–2): 42–52.

30.

Hahn R, Kuzara J, Elder R, et al. Effectiveness of policies restricting hours of alcohol sales in preventing excessive alcohol consumption and related harms. Am J Prev Med. 2010; 39(6): 590–604.

31.

Mosher JF, Treffers RD. State pre-emption, local control, and alcohol retail outlet density regulation. Am J Prev Med. 2013; 44(4): 399–405.

32.

Stockwell T, Gruenewald P. Controls on the physical availability of alcohol. In: The Essential Handbook of Treatment and Prevention of Alcohol Problems. Heather N, Stockwell T, eds. Wiley Publishers: Chichester, West Sussex, England; 2004. p. 213–233.

33.

Barajas E, McKee P, Hannan PJ, Nelson TF, Jones-Webb R. Effects of policies to restrict malt liquor sales on neighborhood crime. Subst Use Misuse. 2011; 46(10): 1234–1243.

34.

U.S. Census Bureau. Quick Facts. 2010 [Accessed online 2015 Jun 4]. Available from: http://quickfacts.census.gov.

35.

Shadish WR, Cook TD, Campbell DT. Experimental and quasi-experimental designs for generalized causal inference (2nd edition). Houghton Mifflin: Boston, Massachusetts; 2002.

36.

Schliesman PL. As told to Mark Miazga. 2008.

37.

Sampson R, Raudenbush S. Systematic social observation of public spaces: a new look at disorder in urban neighborhoods. Am J Social. 1999; 105(3): 603–651.

38.

Skogan W. Communities, crime, and neighborhood organization. Crime Delinq. 1989; 35(3): 437–457.

39.

Milam AJ, Furr-Holden CD, Harrell PT, Whitaker DE, Leaf PJ. Neighborhood disorder and juvenile drug arrests: a preliminary investigation using the NIfETy instrument. Am J Drug Alcohol Abuse. 2012; 38(6): 598–602.

40.

Ben-Joseph E, Lee JS, Cromley EK, Laden F, Troped PJ. Virtual and actual: relative accuracy of on-site and web-based instruments in auditing the environment for physical activity (Report). Health Place. 2013; 19: 138.

41.

Griew P, Hillsdon M, Foster C, Coombes E, Jones A, Wilkinson P. Developing and testing a street audit tool using Google Street View to measure environmental supportiveness for physical activity. Int J Behav Nutr Phys Act. 2013; 10: 103.

42.

Kelly CM, Wilson J, Baker E, Miller D, Schootman M. Using google street view to audit the built environment: inter-rater reliability results. Ann Behav Med. 2013; 45: S108–S112.

43.

Levine Less E, McKee P, Toomey TL, et al. Matching study areas using Google Street View: a new application for an emerging technology. Eval Program Plann. 2015; 53: 72–79.

44.

Odgers CL, Caspi A, Bates CJ, Sampson RJ, Moffitt TE. Systematic social observation of children's neighborhoods using Google Street View: a reliable and cost-effective method. J Child Psychol Psychiatry. 2012; 53(10): 1009–1017.

45.

Rundle AG, Bader M, Richards C, Neckerman K, Teitler J. Using Google Street View to audit neighborhood environments. Am J Prev Med. 2011; 40(1): 94–100.

46.

Eich B. Email to Patricia McKee. 2012 Oct 1.

47.

Goodison S. Email to Patricia McKee. 2013 Jun 21.

48.

SAS Institute, Inc. Base SAS® 9.3 Procedures Guide: Statistical Procedures. Cary, NC 2011.

49.

Gouvis Roman C, Reid SE, Bhati AS, Tereshchenko B. Alcohol Outlets as Attractors of Violence and Disorder. U.S. Department of Justice 2008. [Accessed online 2016 Feb 29] Available from: https://www.ncjrs.gov/pdffiles1/nij/grants/227646.pdf.

50.

Lane T. Mt. Pleasant Debate Renewing 4-year Single Sales Beer Ban. The InTowner. 2005 Feb. [Accessed online 2016 Feb 25]. Available from: http://thesitehub.com/InTowner_archive/2005February.pdf.

51.

Emerling G. Single-beer sales ban proposed for H Street. The Washington Times. 2007 Mar 14. [Accessed online 2016 Feb 25]. Available from: http://www.washingtontimes.com/news/2007/mar/13/20070313-103651-3001r/?page=al.

52.

Collins L. Viewpoint: what we have learned in Mt. Pleasant. The Northwest Current. 2008 Feb 20. [Accessed online 2016 Feb 25]. Available from: http://www.currentnewspapers.com/admin/uploadfiles/NW%20Feb.%2020%20Pgs.%201-22%201.pdf.

53.

Gould J. Take It Inside: authorities target outdoor drinking on a booming stretch of H street. Washington City Paper. 2007 Jan 26. [Accessed online 2016 Feb 25]. Available from: http://www.washingtoncitypaper.com/articles/536/take-it-inside.
Acknowledgement
This research was supported by funding from the National Institute on Alcohol Abuse and Alcoholism, grant number R01AA020496.
About this article
Cite this article
McKee, P., Erickson, D.J., Toomey, T. et al. The Impact of Single-Container Malt Liquor Sales Restrictions on Urban Crime. J Urban Health 94, 289–300 (2017). https://doi.org/10.1007/s11524-016-0124-z
Keywords
Alcohol

Local policy

Malt liquor

Chronic public inebriation