Abstract
Drug-related overdoses are now the leading injury-related death in the USA, and many of these deaths are associated with illicit opioids and prescription opiate pain medication. This study uses multiple sources of data to examine accidental opioid overdoses across 6 years, 2010 through 2015, in Marion County, IN, an urban jurisdiction in the USA. The primary sources of data are toxicology reports from the county coroner, which reveal that during this period, the most commonly detected opioid substance was heroin. During the study period, 918 deaths involved heroin, and there were significant increases in accidental overdose deaths involving both heroin and fentanyl. In order to disentangle the nature and source of opioid overdose deaths, we also examine data from Indiana's prescription drug monitoring program and the law enforcement forensic services agency. Results suggest that there have been decreases in the number of opiate prescriptions dispensed and increases in law enforcement detection of both heroin and fentanyl. Consistent with recent literature, we suggest that increased regulation of prescription opiates reduced the likelihood of overdoses from these substances, but might have also had an iatrogenic effect of increasing deaths from heroin and fentanyl. We discuss several policy implications and recommendations for Indiana.
Access options
Buy single article
Instant access to the full article PDF.
US$ 39.95
Tax calculation will be finalised during checkout.
Subscribe to journal
Immediate online access to all issues from 2019. Subscription will auto renew annually.
US$ 79
Tax calculation will be finalised during checkout.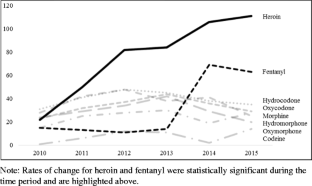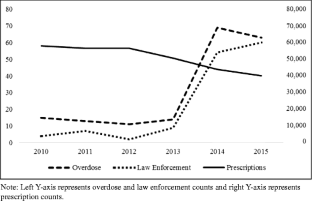 Notes
1.

In this paper, we use "opioid" to refer to the entire family of natural, synthetic, and semi-synthetic opiates, but use "opiate" to refer to synthetic prescription opiates.

2.

Missing data were largely due to what the MCCO referred to as a "green sheet": cases where the decedent died in a hospital and the coroner's office was not contacted, but instead the decedent went directly to the funeral home.
References
1.

CDC. Increases in drug and opioid overdose deaths—United States, 2000–2014. MMWR Morb Mortal Wkly Rep. 2016; 64(50): 1378–1382.

2.

ISDH. Indiana: special emphasis report: drug overdose deaths, 1999–2014. Indianapolis, Indiana: Indiana State Department of Health. Accessed August, 2016,

3.

Nunn S, Quinet K, Newby W, Burow S. Indiana Multi-Jurisdictional Drug Task Forces, 2002 and 2003. Cent Urban Policy Environ. 2005; 5: C12.

4.

Rudd RA, Aleshire N, Zibbell JE, Matthew Gladden R. Increases in drug and opioid overdose deaths—United States, 2000–2014. Am J Transplant. 2016; 16(4): 1323–1327.

5.

Wysowski DK. Surveillance of prescription drug-related mortality using death certificate data. Drug Saf. 2007; 30(6): 533–540.

6.

Linakis JG, Frederick KA. Poisoning deaths not reported to the regional poison control center. Ann Emerg Med. 1993; 22(12): 1822–1828.

7.

Hoppe-Roberts JM, Lloyd LM, Chyka PA. Poisoning mortality in the United States: comparison of national mortality statistics and poison control center reports. Ann Emerg Med. 2000; 35(5): 440–448.

8.

Hickman M, Madden P, Henry J, et al. Trends in drug overdose deaths in England and Wales 1993–98: methadone does not kill more people than heroin. Addiction. 2003; 98(4): 419–425.

9.

Fernandez W, Hackman H, Mckeown L, Anderson T, Hume B. Trends in opioid-related fatal overdoses in Massachusetts, 1990–2003. J Subst Abus Treat. 2006; 31(2): 151–156.

10.

Bryant WK, Galea S, Tracy M, Piper TM, Tardiff KJ, Vlahov D. Overdose deaths attributed to methadone and heroin in New York City, 1990–1998. Addiction. 2004; 99(7): 846–854.

11.

Coffin PO, Galea S, Ahern J, Leon AC, Vlahov D, Tardiff K. Opiates, cocaine and alcohol combinations in accidental drug overdose deaths in New York City, 1990–98. Addiction. 2003; 98(6): 739–747.

12.

Galea S, Ahern J, Tardiff K, et al. Racial/ethnic disparities in overdose mortality trends in New York City, 1990–1998. J Urban Health. 2003; 80(2): 201–211.

13.

Mueller MR, Shah NG, Landen MG. Unintentional prescription drug overdose deaths in New Mexico, 1994–2003. Am J Prev Med. 2006; 30(5): 423–429.

14.

Shah NG, Lathrop SL, Reichard RR, Landen MG. Unintentional drug overdose death trends in New Mexico, USA, 1990–2005: combinations of heroin, cocaine, prescription opioids and alcohol. Addiction. 2008; 103(1): 126–136.

15.

Scott G, Thomas SD, Pollack HA, Ray B. Observed patterns of illicit opiate overdose deaths in Chicago, 1999–2003. J Urban Health. 2007; 84(2): 292–306.

16.

United States Census Bureau U.S. Department of Commerce. http://www.census.gov/quickfacts/table/PST045215/1836003. Accessed Aug 2016.

17.

Indiana Code 36-2-14. http://iga.in.gov/legislative/laws/2016/ic/titles/036/articles/002/chapters/014/. Accessed 23 November 2016.

18.

Quinet K, Nunn S, Ballew A. Who are the unclaimed dead? J Forensic Sci. 2016; 61(S1): 1–3.

19.

Avella J, Katz M, Lehrer M. Assessing free and total morphine following heroin overdose when complicated by the presence of toxic amitriptyline levels. J Anal Toxicol. 2007; 31(8): 540–542.

20.

Harruff R, Couper F, Banta-Green C. Tracking the opioid drug overdose epidemic in King County, Washington using an improved methodology for certifying heroin-related deaths. Acad Forensic Pathol. 2015; 5: 499–506.

21.

Wright ER, Kooreman HE, Greene MS, Chambers RA, Banerjee A, Wilson J. The iatrogenic epidemic of prescription drug abuse: county-level determinants of opioid availability and abuse. Drug Alcohol Depend. 2014; 138: 209–215.

22.

Webster LR, Cochella S, Dasgupta N, et al. An analysis of the root causes for opioid‐related overdose deaths in the United States. Pain Med. 2011; 12(s2): S26–S35.

23.

Paulozzi LJ, Ryan GW. Opioid analgesics and rates of fatal drug poisoning in the United States. Am J Prev Med. 2006; 31(6): 506–511.

24.

Darke S, Zador D. Fatal heroin 'overdose': a review. Addiction. 1996; 91(12): 1765–1772.

25.

Darke S, Hall W. Heroin overdose: research and evidence-based intervention. J Urban Health. 2003; 80(2): 189–200.

26.

Darke S. Polydrug use and overdose: overthrowing old myths. Addiction. 2003; 98(6): 711.

27.

Park T. Benzodiazepine use increases risk of death from opioid overdose. Reactions. 2015; 1557: 7–27.

28.

Jann M, Kennedy WK, Lopez G. Benzodiazepines a major component in unintentional prescription drug overdoses with opioid analgesics. J Pharm Pract. 2014; 27(1): 5–16.

29.

Patrick SW, Fry CE, Jones TF, Buntin MB. Implementation of prescription drug monitoring programs associated with reductions in opioid-related death rates. Health Aff. 2016; 35(7): 1324–1332.

30.

Delcher C, Wagenaar AC, Goldberger BA, Cook RL, Maldonado-Molina MM. Abrupt decline in oxycodone-caused mortality after implementation of Florida's Prescription Drug Monitoring Program. Drug Alcohol Depend. 2015; 150: 63–68.

31.

Patrick S. Opioid-related death rates reduced by monitoring programs. Reactions. 1608; 2016: 7–2.

32.

Bohnert AS, Valenstein M, Bair MJ, et al. Association between opioid prescribing patterns and opioid overdose-related deaths. JAMA. 2011; 305(13): 1315–1321.

33.

Compton WM, Jones CM, Baldwin GT. Relationship between nonmedical prescription-opioid use and heroin use. N Engl J Med. 2016; 374(2): 154–163.

34.

Jones CM. The paradox of decreasing nonmedical opioid analgesic use and increasing abuse or dependence—An assessment of demographic and substance use trends, United States, 2003–2014. Addict Behav. 2017;65:229–5.

35.

Banerjee G, Edelman EJ, Barry DT, et al. Non‐medical use of prescription opioids is associated with heroin initiation among US veterans: a prospective cohort study. Addiction. 2016;11(11):2021–2031.

36.

Joranson DE, Ryan KM, Gilson AM, Dahl JL. Trends in medical use and abuse of opioid analgesics. JAMA. 2000; 283(13): 1710–1714.

37.

Volkow ND. America's addiction to opioids: heroin and prescription drug abuse. Washington, DC: Senate Caucus on International Narcotics Control; 2014.

38.

Kuehn BM. CDC: major disparities in opioid prescribing among states: some states crack down on excess prescribing. JAMA. 2014; 312(7): 684–686.

39.

Senate Enrolled Act 246. Indiana: http://www.in.gov/legislative/bills/2013/PDF/SE/SE0246.1.pdf. Accessed 23 November 2016.

40.

United States Drug Enforcement Agency. Owner and employees of Indiana Medical Center charged with multiple felony counts. 2016. https://www.dea.gov/divisions/chi/2013/chi041913.shtml. Accessed 23 November 2016.

41.

United States Drug Enforcement Agency. Cases against doctors. Last updated Nover 16, https://www.deadiversion.usdoj.gov/crim_admin_actions/doctors_criminal_cases.pdf. Accessed 23 November 2016.

42.

Klobuchar A, Grassley C, Brown S. 3397: Secure and Responsible Drug Disposal Act of 2010: to amend the Controlled Substances Act to provide for take-back disposal of controlled substances in certain instances, and for other purposes. Paper presented at: 111th US Congress (2009–2010) www.opencongress.org/bill/111-s3397/show, 2010.

43.

Bohnert AS, Nandi A, Tracy M, et al. Policing and risk of overdose mortality in urban neighborhoods. Drug Alcohol Depend. 2011; 113(1): 62–68.

44.

Binswanger IA, Stern MF, Deyo RA, et al. Release from prison—a high risk of death for former inmates. N Engl J Med. 2007; 356(2): 157–165.

45.

Merrall EL, Kariminia A, Binswanger IA, et al. Meta-analysis of drug-related deaths soon after release from prison. Addiction. 2010; 105(9): 1545–1554.

46.

SAMHSA. Opioid Treatment Program Directory. Augusta, Maine: Substance Abuse and Mental Health Services. http://dpt2.samhsa.gov/treatment/directory.aspx. Accessed August 2016.

47.

Williams M, Greene M, Wright E. Opioid Treatment Programs in Indiana: IUPUI (Campus). Center for Health Policy. 2013. Indianapolis, Indiana: Center for Health Policy. Available at: https://archives.iupui.edu/handle/2450/6872.

48.

ISDH. HIV outbreak in Southeastern Indiana. Indianapolis, Indiana: Indiana State Department of Health. http://www.in.gov/isdh/26649.htm. Accessed August 2016.

49.

Strathdee SA, Vlahov D. The effectiveness of needle exchange programs: a review of the science and policy. AIDScience. 2001; 1(16): 1–33.

50.

Young AM, Glover N, Havens JR. Nonmedical use of prescription medications among adolescents in the United States: a systematic review. J Adolesc Health. 2012; 51(1): 6–17.
Acknowledgments
We gratefully acknowledge Katharine Heinz, Brittany Hood, and Pamela Young for their assistance in collecting and coding death certificate and toxicology reports. We also want to thank Amanda Garrett for helping obtain prescription drug monitoring data and Mike Medler for forensic services data.
About this article
Cite this article
Ray, B., Quinet, K., Dickinson, T. et al. Examining Fatal Opioid Overdoses in Marion County, Indiana. J Urban Health 94, 301–310 (2017). https://doi.org/10.1007/s11524-016-0113-2
Keywords
Overdose

Opioids

Prescriptions opiates

Coroner records

Crime lab