Abstract
The China Healthy Cities initiative, a nationwide public health campaign, has been implemented for 25 years. As "Healthy China 2030" becomes the key national strategy for improving population health, this initiative is an important component. However, the effects of the initiative have not been well studied. This paper aims to explore its impact on urban environment using a multiple time series design. We adopted a stratified and systematic sampling method to choose 15 China healthy cities across the country. For the selected healthy cities, 1:1 matched non-healthy cities were selected as the comparison group. We collected longitudinal data from 5 years before cities achieved the healthy city title up to 2012. We used hierarchical models to calculate difference-in-differences estimates for examining the impact of the initiative. We found that the China Healthy Cities initiative was associated with increases in the proportion of urban domestic sewage treated (32 percentage points), the proportion of urban domestic garbage treated (30 percentage points), and the proportion of qualified farmers' markets (40 percentage points), all of which are statistically significant (P < 0.05). No significant change was found for increases in green coverage of urban built-up area (5 percentage points), green space per capita (2 square meter), and days with Air Quality Index/Air Pollution Index ≤ 100 (25 days). In conclusion, the China Healthy Cities initiative was associated with significant improved urban environment in terms of infrastructure construction, yet had little impact on green space and air quality.
Access options
Buy single article
Instant access to the full article PDF.
US$ 39.95
Tax calculation will be finalised during checkout.
Subscribe to journal
Immediate online access to all issues from 2019. Subscription will auto renew annually.
US$ 79
Tax calculation will be finalised during checkout.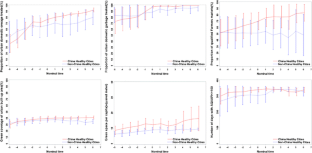 References
1.

UNPF, United Nations Population Fund. State of the world population 2007: unleashing the potential of urban growth. United Nations Population Fund. Available at: http://www.unfpa.org/publications/state-world-population-2007. Accessed 07, 2016.

2.

WHO. Reducing risks, promoting healthy life. World Health Report 2002. Geneva, Switzerland: WHO; 2002.

3.

WHO. Closing the gap in a generation. Health equity through action on the social determinants of health. Geneva, Switzerland: WHO; 2005.

4.

Konteh FH. Urban sanitation and health in the developing world: reminiscing the nineteenth century industrial nations. Health Place. 2009; 15(1): 69–78.

5.

Flynn BC. Healthy Cities: toward worldwide health promotion. Annu Rev Public Health. 1996; 17: 299–309.

6.

Green G, Jackisch J, Zamaro G. Healthy cities as catalysts for caring and supportive environments. Health Promot Int. 2015; 30(Suppl 1): i99–107.

7.

Webster P, Sanderson D. Healthy Cities indicators—a suitable instrument to measure health? J Urban Health. 2013; 90(Suppl 1): 52–61.

8.

Harpham T, Burton S, Blue I. Healthy city projects in developing countries: the first evaluation. Health Promot Int. 2001; 16(2): 111–25.

9.

Werna E, Harpham T. The implementation of the healthy cities project in developing countries: lessons from Chittagong. Habitat Int. 1996; 20(2): 221–8.

10.

de Leeuw E. Evidence for Healthy Cities: reflections on practice, method and theory. Health Promot Int. 2009; 24(Suppl 1): i19–36.

11.

de Leeuw E. Do healthy cities work? A logic of method for assessing impact and outcome of healthy cities. J Urban Health. 2012; 89(2): 217–31.

12.

Kenzer M. Healthy Cities: a guide to the literature. Public Health Rep. 2000; 115(2–3): 279–89.

13.

Zhang Y, Li B. Motivating service improvement with awards and competitions-hygienic city campaigns in China. Environ Urban. 2011; 23(1): 41–56.

14.

Li B, Huikuri S, Zhang Y, Chen W. Motivating intersectoral collaboration with the Hygienic City Campaign in Jingchang. China Environ Urban. 2015; 27(1): 285–302.

15.

Wang Y. Evaluation of creating healthy cities and towns in Henan province. Henan Med Res. 2013; 12: 949–52.

16.

Zhang SN, Liu ZB, Gu ZW. Disease control and prevention in China in the 20th century and prospects for the new millennium. Environ Health Prev Med. 2002; 7(3): 132–7.

17.

Xiao A. History of patriotic health campaign during 1960s–1990s. Contemp China Hist Stud. 2005;12(3):55–65.

18.

Zhao J. Towards sustainable cities in China: analysis and assessment of some Chinese cities in 2008. New York, NY: Springer; 2011.

19.

Shen L, Zhou J. Examining the effectiveness of indicators for guiding sustainable urbanization in China. Habitat Int. 2014; 44: 111–20.

20.

Campbell D, Stanley J. Experimental and quasi-experimental designs for research (Kindle Edition). Ravenio Books, 2015.

21.

NHFPC, National Health and Family Planning Commission of the People's Republic of China. The standard criteria for China Healthy Cities (Guojia Weisheng Chengshi Biaozhun). Available at: http://www.nhfpc.gov.cn/jkj/s5898/201006/00688285103749da9ccd1b16e6eaae71.shtml. Accessed 07, 2016.
Acknowledgments
We thank all the coordinators in the cities studied and the local governments for their invaluable support. We also thank our research assistants for their great work during data collection and field studies. Special thanks to Jingjin Yu, Yong Zhang, Xiaomeng Hu, Mingzhu Yu, Yang Mei, Hongliang Qi, and Chunzhu Luo, for their coordination and technical supports. We also appreciate the efforts from Zheng Chen, Yuansong Huang, Wen Wu, and Zheng Xin, who assisted us in design and data collection. We also thank Dr. Robert E. Weiss and Dr. Xiao Chen from the University of California, Los Angeles, for their statistical support.
Author's Contributions
QM and GC designed the study. All authors contributed to the data collection and revisions of the manuscript. DY analyzed the data and drafted the manuscript. QM coordinated the study. All authors have read and approved the final manuscript.
Ethics declarations
Funding Information
This study was supported by the Disease Prevention and Control Bureau, National Health and Family Planning Commission of the People's Republic of China with grant number NHFPC 2012-006.
Electronic Supplementary Material
Below is the link to the electronic supplementary material.
About this article
Cite this article
Yue, D., Ruan, S., Xu, J. et al. Impact of the China Healthy Cities Initiative on Urban Environment. J Urban Health 94, 149–157 (2017). https://doi.org/10.1007/s11524-016-0106-1
Keywords
China Healthy Cities

Urban environment

Inter-sector collaboration