Abstract
While Medicare provides health insurance coverage for those over 65 years of age, many still are underinsured, experiencing substantial out-of-pocket costs for covered and non-covered services as a proportion of their income. Using the Health and Retirement Study (HRS), this study found that being underinsured is a significant predictor of entering into Medicaid coverage over a 16-year period. The rate of entering Medicaid was almost twice as high for those who were underinsured and with physical and/or cognitive impairment than those who were not, while supplemental health insurance reduced the rate of entering Medicaid by 30 %. Providing more comprehensive coverage through the traditional Medicare program, including a ceiling on out-of-pocket expenditures or targeted support for those with physical or cognitive impairment, could postpone becoming covered by Medicaid and yield savings in Medicaid.
Access options
Buy single article
Instant access to the full article PDF.
USD 39.95
Price excludes VAT (USA)
Tax calculation will be finalised during checkout.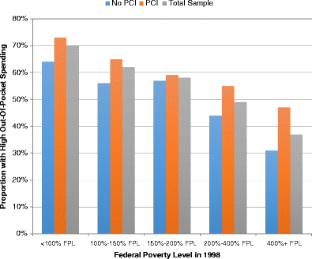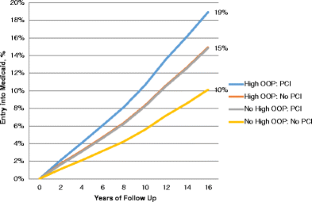 References
Paradise J. Medicaid Moving Forward. Kaiser Fam Found Issue Br. 2015. Available at: http://kff.org/health-reform/issue-brief/medicaid-moving-forward. May 2016.

Komisar HL, Feder J. Transforming care for medicare beneficiaries with chronic conditions and long-term care needs: coordinating care across all services. Washington, DC: Georgetown University; 2011.

Schoen C, Buttorff C, Andersen M, Davis K. Policy options to expand medicare's low-income provisions to improve access and affordability. Health Aff. 2015; 34(12): 2086–94.

Wiener JM, Anderson WL, Khatutsky G, Kaganova Y, O'Keeffe J. Medicaid spend down: new estimates and implications for long-term services and supports financing reform. Washington, DC: RTI International; 2013.

Brown JR, Finkelstein A. The interaction of public and private insurance: medicaid and the long-term care insurance market. Am Econ Rev. 2004; 98(3): 1083–1102.

Chien S, Campbell N, Chan C, et al. RAND HRS data documentation, version O. Washington, DC; 2015. http://hrsonline.isr.umich.edu/modules/meta/rand/randhrso/randhrs_O.pdf. Accessed May 2015.

Katz S, Ford AB, Moskowitz RW, Jackson BA, Jaffe MW. Studies of illness in the aged. J Am Med Assoc. 1963; 185(12): 914–9.

Crimmins EM, Kim JK, Langa KM, Weir DR. Assessment of cognition using surveys and neuropsychological assessment: the health and retirement study and the aging, demographics, and memory study. J Gerontol Ser B Psychol Sci Soc Sci. 2011; 66B(Supplement 1): i162–71.

Langa KM, Plassman BL, Wallace RB, et al. The aging, demographics, and memory study: study design and methods. Neuroepidemiology. 2005; 25(4): 181–91.

Ofstedal MB, Fisher GG, Herzog AR. Documentation of cognitive functioning measures in the health and retirement study. Ann Arbor, MI: University of Michigan; 2005. p. 10.

Schoen C, Doty MM, Collins SR, Holmgren AL. Insured but not protected: how many adults are underinsured? Health Aff. 2005; 24: W5.

Collins SR, Gunja M, Doty MM, Buetel S. How high is America's health care cost burden? Findings from the Commonwealth Fund Health Care Affordability Tracking Survey, July-August 2015. Issue Brief (Commonw Fund). 2015; 32: 1–15.

Hurd MD, Rohwedder S. The level and risk of out-of-pocket health care spending. Michigan Retirement Research Center, Ann Arbor, MI, USA. 2009; p. 218.

Zissimopoulos J, Goldman D, Lu Y. Medical expenditure measures in the health and retirement study. Forum Health Econ Policy. 2011; 14(3): 4. doi:10.2202/1558-9544.1267.

Borella M, De Nardi M, French E. Rich, poor, singles, and couples. Who Receives Medicaid in old age and why? (No. w21873). National Bureau of Economic Research, Cambridge, MA, USA; 2016.

Davis K, Willink A, Schoen C. Medicare help at home. Heal Aff Blog. 2016. Available at: http://healthaffairs.org/blog/2016/04/13/medicare-help-at-home/. April 2016.

Gawande A. Being mortal: medicine and what matters in the end. Metropolitan Books, New York, NY, USA; 2014.

Moon M, Hollin IL, Nicholas LH, Schoen C, Davis K. Serving older adults with complex care needs: a new benefit option for Medicare. Issue Brief (Commonw Fund). 2015; 23: 1–11.

Szanton SL, Samuel L, Wolff JL, Thorpe RJ, Mohamoud S, Betley C. Public benefits reduce risk for nursing home entry among Maryland's dual eligible older adults. In: Academy Health Annual Research Meeting. Academy Health, Minneapolis MN; 2015.
Acknowledgments
This work was made possible by funding from the Commonwealth Fund (20160346).
About this article
Cite this article
Willink, A., Davis, K., Schoen, C. et al. Physical and/or Cognitive Impairment, Out-of-Pocket Spending, and Medicaid Entry among Older Adults. J Urban Health 93, 840–850 (2016). https://doi.org/10.1007/s11524-016-0078-1
Published:

Issue Date:

DOI: https://doi.org/10.1007/s11524-016-0078-1
Keywords