Abstract
Housing quality (HQ) is associated with mental health, and may mediate outcomes in housing interventions. However, studies of housing interventions rarely report HQ. The purpose of this study was to describe HQ in a multi-site randomized controlled trial of Housing First (HF) in five Canadian cities and to examine possible differences by treatment group (HF recipients and treatment-as-usual (TAU) participants who were able to find housing through other programs or on their own). We also examined the association between HQ and the primary trial outcome: housing stability. The performance of a new multi-dimensional standardized observer-rated housing quality scale (the OHQS) in a relatively large cross-site sample was also of interest. HQ was rated by trained research assistants for 204 HF participants and 228 TAU participants using the OHQS. General linear regression models were used to examine unit/building quality scores by group and site adjusting for other group differences, and as a predictor of housing stability outcomes after 24 months of follow-up. The OHQS was found to have good reliability and validity, but because most of the neighborhood subscale items were negatively correlated with the overall scale, only unit and building items were included in the total HQ score (possible scores ranging from 13.5 to 135). Unit/building HQ was significantly better for the HF group overall (91.2 (95 % CI = 89.6–92.9) vs. 88.3 (95 % CI = 86.1–90.5); p = .036), and in one site. HQ in the TAU group was much more variable than the HF group overall (W (mean) = 24.7; p < .001) and in four of five sites. Unit/building HQ scores were positively associated with housing stability: (73.4 (95 % CI 68.3–78.5) for those housed none of the time; 91.1 (95 % CI 89.2–93.0) for those housed some of the time; and 93.1 (95 % CI 91.4–94.9)) for those housed all of the time (F = 43.9 p < .001). This association held after adjusting for site, housing characteristics, participant ethnocultural status, community functioning, and social support. This study demonstrates that HQ can be as good or better, and less variable, in HF programs in Canada that systematically and predominantly source housing stock from the private sector compared to housing procured outside of an HF program. HQ is also an important predictor of housing stability outcomes.
Access options
Buy single article
Instant access to the full article PDF.
USD 39.95
Price excludes VAT (USA)
Tax calculation will be finalised during checkout.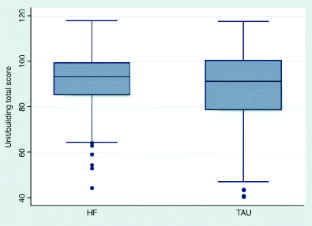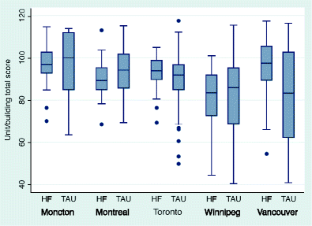 References
Adair CE, Kopp B, Lavoie J, Distasio J, Hwang SW, Watson A, Veldhuizen S, Chislett K, Voronka J, Ahmad M, Ahmed N, Goering P. Development and initial validation of the Observer-Rated Housing Quality Scale (OHQS) in a multisite trial of Housing First. J Urban Health. 2014; 91(2): 242–55.

Evans GW. The built environment and mental health. J Urban Health. 2003; 80(4): 536–55.

Hwang SW, Martin RE, Tolomiczenko GS, et al. The relationship between housing conditions and health status of rooming house residents in Toronto. Can J Public Health. 2003; 94(6): 436–40.

Suglia SF, Duarte CS, Sandel MT. Housing quality, housing instability and maternal mental health. J Urban Health. 2011; 88(6): 1105–16.

Harkness J, Newman SJ, Salkever D. The cost-effectiveness of independent housing for the chronically mentally ill: do housing and neighborhood features matter? Health Serv Res. 2004; 39(5): 1341–60.

Wells NM, Harris JD. Housing quality, psychological distress, and the mediating role of social withdrawal: a longitudinal study of low-income women. J Environ Psychol. 2007; 27: 69–78.

Lindberg RA, Shenassa ED, Acevedo-Garcia D, et al. Housing interventions at the neighborhood level and health: a review of the evidence. J Public Health Manag Pract. 2010;16(5) E-Supp: S44–52.

Toomey TL, Erickson DJ, Carlin BP, et al. The association between density of alcohol establishments and violent crime within urban neighborhoods. Alcohol Clin Exp Res. 2012. doi:10.1111/j.1530-0277.2012.01753.x.

Guite HF, Clark C, Ackrill G. The impact of the physical and urban environment on mental well-being. Public Health. 2006; 120(12): 1117–26.

Matheson FI, Moineddin R, Dunn JR, et al. Urban neighborhoods, chronic stress, gender and depression. Soc Sci Med. 2006; 63: 2604–16.

Ludwig J, Duncan GJ, Gennetian LA, et al. Neighborhood effects on the long-term well-being of low-income adults. Science. 2012; 337: 1505.

Wright PA, Kloos B. Housing environment and mental health outcomes: a levels of analysis perspective. J Environ Psychol. 2007; 27(1): 79–89.

Keall M, Baker MG, Howden-Chapman P, et al. Assessing housing quality and its impact on health, safety and sustainability. J Epidemiol Community Health. 2010; 64: 765–71.

Tsemberis S, Gulcur L, Nakae M. Housing first, consumer choice, and harm reduction for homeless individuals with a dual diagnosis. AJPH. 2004; 94(4): 651–6. doi:10.2105/AJPH.94.4.651.

Goering PN, Streiner DL, Adair CE, et al. The At Home/Chez Soi trial protocol: a pragmatic, multi-site, randomized controlled trial of a Housing First intervention for homeless individuals with mental illness in five Canadian cities. BMJ Open. 2011; 1: e000323. doi:10.1136/bmjopen-2011-00323.

Stergiopoulos V, Hwang SW, Gozdzik A, Nisenbaum R, Latimer E, Rabouin D, et al. Effect of scattered-site housing using rent supplements and intensive case management on housing stability among homeless adults with mental illness: a randomized controlled trial. JAMA. 2015; 313(9): 905–15. doi:10.1001/jama.2015.1163.

Aubry T, Goering P, Veldhuizen S, et al. A randomized controlled trial in five Canadian cities of the effectiveness of Housing First with assertive community treatment for persons with serious mental illness and a history of homelessness. Psychiatr Serv. 2016; 67: 275–281.

Carr LJ, Dunsiger SI, Marcus BH. Validation of Walk Score for estimating access to walkable amenities. Br J Sports Med. 2011; 45(14): 1144–8.

Duncan DT, Alstadt J, Whalen J, Melly SJ, Gortmaker SL. Validation of Walk Score for estimating neighborhood walkability: an analysis of four US metropolitan areas. Int J Environ Res Public Health. 2011; 8(11): 4160-4179.

Babyak C, Alavi A, Collins K, Halladay A, Tapper D. The Methodology of the Police-Reported Crime Severity Index. Working Paper #HSMD_2009-006E/F; Ottawa: Statistics Canada; September 2009.

Tsemberis S, Rogers ES, Rodis E, et al. Housing satisfaction for persons with psychiatric disabilities. J Community Psychol. 2003; 31(6): 581–90.

Toro PA, Bellavia CW, Daeschler CV, et al. Evaluating an intervention for homeless persons: results of a field experiment. J Consul Clin Psychol. 1997; 65(3): 476–84.

Tsemberis S, McHugo G, Williams V, et al. Measuring homelessness and residential stability: the residential time-line follow-back inventory. J Commun Psychol. 2007; 35: 29–42.

Somers JM, Patterson ML, Moniruzzaman A, Currie L, Rezansoff SN, Palepu A, et al. Vancouver at home: pragmatic randomized trials investigating Housing First for people who are homeless and mentally Ill. Trials. Trials. 2013; 14: 365. doi:10.1186/1745-6215-14-365. http://www.trialsjournal.com/content/14/1/365.

Somers JM, Moniruzzaman A, Rezansoff SN. Urban migration in a cohort of mentally ill homeless adults: a fourteen-year retrospective study. BMJ Open. 2016; 6: e009043. doi:10.1136/bmjopen-2015–009043. http://bmjopen.bmj.com/content/6/1/e009043.full.
Acknowledgments
The authors wish to dedicate this paper to the memory of our senior co-author Dr. Paula Goering, who passed away on May 24, 2016. Dr. Goering was the lead investigator on the At Home/Chez Soi trial – the largest study of its kind in the world, from 2007 to 2016.  She was a consummate collaborator, leader and visionary, lighting the way for our research and practice teams to succeed, and also had an unwavering commitment to the involvement of people with lived experience in research.  Through the study she not only oversaw the provision of housing and supports to more than 1000 Canadians, but her legacy lives on in national policy, including funding support for Housing First.  In the study, and more broadly, she was a champion for improving the lives of marginalized and vulnerable people and their families.
We are grateful for the privilege of working with her and learning from her. We also thank Jayne Barker (2008–11), Cameron Keller (2011–12), and Catharine Hume (2012–2015), Mental Health Commission of Canada At Home/Chez Soi National Project Leads, as well as the National Research Team, the five site research teams, the site coordinators, the numerous service and housing providers, and people with lived experience who contributed to the original At Home/Chez Soi research demonstration project. We would, most especially, like to acknowledge the contributions of At Home/Chez Soi participants, whose willingness to share their lives, and open their homes for quality assessments were central and essential to the project.
The original research was made possible through a financial contribution from Health Canada. The views expressed herein are solely those of the authors.
About this article
Cite this article
Adair, C.E., Kopp, B., Distasio, J. et al. Housing Quality in a Randomized Controlled Trial of Housing First for Homeless Individuals with Mental Illness: Correlates and Associations with Outcomes. J Urban Health 93, 682–697 (2016). https://doi.org/10.1007/s11524-016-0062-9
Published:

Issue Date:

DOI: https://doi.org/10.1007/s11524-016-0062-9
Keywords