Abstract
Hepatitis C virus (HCV) is the most common blood-borne infection in the USA, though seroprevalence is elevated in certain high-risk groups such as inmates. Correctional facility screening protocols vary from universal testing to opt-in risk-based testing. This project assessed the success of a risk-based HCV screening strategy in the Philadelphia Prison System (PPS) by comparing results from current testing practices during 2011–2012 (Risk-Based Screening Group) to a September 2012 blinded seroprevalence study (Philadelphia Department of Public Health (PDPH) Study Cohort). PPS processed 51,562 inmates in 2011–2012; 2,727 were identified as high-risk and screened for HCV, of whom 57 % tested HCV antibody positive. Twelve percent (n = 154) of the 1,289 inmates in the PDPH Study Cohort were anti-HCV positive. Inmates ≥30 years of age had higher rates of seropositivity in both groups. Since only 5.3 % of the prison population was included in the Risk-Based Screening Group, an additional 4,877 HCV-positive inmates are projected to have not been identified in 2011–2012. Gaps in case identification exist when risk-based testing is utilized by PPS. A more comprehensive screening model such as opt-out universal testing should be considered to identify HCV-positive inmates. Identification of these individuals is an important opportunity to aid underserved high-risk populations and to provide medical care and secondary prevention.
Access options
Buy single article
Instant access to the full article PDF.
US$ 39.95
Tax calculation will be finalised during checkout.
Subscribe to journal
Immediate online access to all issues from 2019. Subscription will auto renew annually.
US$ 79
Tax calculation will be finalised during checkout.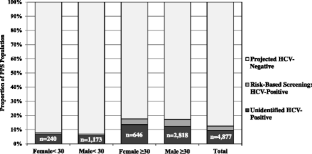 References
1.

Armstrong GL, Wasley A, Simard EP, McQuillan GM, Kuhnert WL, Alter MJ. The prevalence of hepatitis C virus infection in the United States, 1999 through 2002. Ann Intern Med. 2006; 144(10): 705–714.

2.

Larney S, Mahowald MK, Scharff N, Flanigan TP, Beckwith CG, Zaller ND. Epidemiology of hepatitis C virus in Pennsylvania state prisons, 2004–2012: limitations of 1945–1965 birth cohort screening in correctional settings. Am J Public Health. 2014; 104(6): e69–74.

3.

Fox RK, Currie SL, Evans J, et al. Hepatitis C virus infection among prisoners in the California state correctional system. Clin Infect Dis. 2005; 41(2): 177–186.

4.

Macalino GE, Vlahov D, Sanford-Colby S, et al. Prevalence and incidence of HIV, hepatitis B virus, and hepatitis C virus infections among males in Rhode Island prisons. Am J Public Health. 2004; 94(7): 1218–1223.

5.

Gough E, Kempf MC, Graham L, et al. HIV and hepatitis B and C incidence rates in US correctional populations and high risk groups: a systematic review and meta-analysis. BMC Public Health. 2010; 10: 777.

6.

Chak E, Talal AH, Sherman KE, Schiff ER, Saab S. Hepatitis C virus infection in USA: an estimate of true prevalence. Liver Int. 2011; 31(8): 1090–1101.

7.

Solomon L, Flynn C, Muck K, Vertefeuille J. Prevalence of HIV, syphilis, hepatitis B, and hepatitis C among entrants to Maryland correctional facilities. J Urban Health. 2004; 81(1): 25–37.

8.

Spradling PR, Rupp L, Moorman AC, et al. Hepatitis B and C virus infection among 1.2 million persons with access to care: factors associated with testing and infection prevalence. Clin Infect Dis. 2012; 55(8): 1047–1055.

9.

Fazel S, Baillargeon J. The health of prisoners. Lancet. 2011; 377(9769): 956–965.

10.

Tsang TH, Horowitz E, Vugia DJ. Transmission of hepatitis C through tattooing in a United States prison. Am J Gastroenterol. 2001; 96(4): 1304–1305.

11.

Denniston MM, Klevens RM, McQuillan GM, Jiles RB. Awareness of infection, knowledge of hepatitis C, and medical follow-up among individuals testing positive for hepatitis C: National Health and Nutrition Examination Survey 2001–2008. Hepatology. 2012; 55(6): 1652–1661.

12.

Wilper AP, Woolhandler S, Boyd JW, et al. The health and health care of US prisoners: results of a nationwide survey. Am J Public Health. 2009; 99(4): 666–672.

13.

Spaulding AS, Kim AY, Harzke AJ, et al. Impact of new therapeutics for hepatitis C virus infection in incarcerated populations. Top Antivir Med. 2013; 21(1): 27–35.

14.

Ghany MG, Strader DB, Thomas DL, Seeff LB. Diagnosis, management, and treatment of hepatitis C: an update. Hepatology. 2009; 49(4): 1335–1374.

15.

Prisons FBo. Clinical Practice Guidelines: Preventive Health Care. Washington, D.C. : Federal Bureau of Prisons April 2013.

16.

Kim AY, Nagami EH, Birch CE, Bowen MJ, Lauer GM, McGovern BH. A simple strategy to identify acute hepatitis C virus infection among newly incarcerated injection drug users. Hepatology. 2013; 57(3): 944–952.

17.

Macalino GE, Dhawan D, Rich JD. A missed opportunity: hepatitis C screening of prisoners. Am J Public Health. 2005; 95(10): 1739–1740.

18.

Philadelphia Prison System Performance Report. In: System PP, ed. Philadelphia, PA; July 8, 2014.

19.

Tohme RA, Xing J, Liao Y, Holmberg SD. Hepatitis C testing, infection, and linkage to care among racial and ethnic minorities in the United States, 2009–2010. Am J Public Health. 2013; 103(1): 112–119.

20.

Hennessey KA, Kim AA, Griffin V, Collins NT, Weinbaum CM, Sabin K. Prevalence of infection with hepatitis B and C viruses and co-infection with HIV in three jails: a case for viral hepatitis prevention in jails in the United States. J Urban Health. 2009; 86(1): 93–105.

21.

ABA. ABA Criminal justice standards on treatment of prisoners: American Bar Association; February 2010 2009.

22.

Shah BB, Wong JB. The economics of hepatitis C virus. Clin Liver Dis. 2006; 10(4): 717–734.

23.

Nave RL. Baby boomers and the hepatitis C boom. Ann Emerg Med. 2013; 62(6): 19A–21A.

24.

USPSTF. Screening for hepatitis C virus infection in adults: final recommendation statement. 2013; http://www.uspreventiveservicestaskforce.org/uspstf12/hepc/hepcfinalrs.htm. Accessed March 18, 2014.

25.

McNamara BC, Losikoff PT, Huguenin L, Macalino GE, Rich JD, Gregory SH. Increasing hepatitis C prevalence and associated risk behaviors among incarcerated young adults. J Urban Health. May 31 2013.

26.

Klein SJ, Wright LN, Birkhead GS, et al. Promoting HCV treatment completion for prison inmates: New York State's hepatitis C continuity program. Public Health Rep. 2007; 122(Suppl 2): 83–88.
Acknowledgments
The authors would like to acknowledge the work of the PPS staff, specifically Reed Domer-Shank. In addition, the Philadelphia Public Health Laboratory staff made this project possible. Funding for this analysis was provided, in part, through the Centers for Disease Control and Prevention Cooperative Agreement for Addressing Syndemics Through Program Collaboration and Service Integration (5U38PS003152).
About this article
Cite this article
Kuncio, D.E., Newbern, E.C., Fernandez-Viña, M.H. et al. Comparison of Risk-Based Hepatitis C Screening and the True Seroprevalence in an Urban Prison System. J Urban Health 92, 379–386 (2015). https://doi.org/10.1007/s11524-015-9945-4
Keywords
Hepatitis C virus

Correctional health

Testing strategies