Abstract
We examined the longitudinal effects of community risk and protective factors on asthma morbidity and healthcare utilization. Three hundred urban caregivers of children with poorly controlled asthma were enrolled in a randomized controlled trial testing the effectiveness of a behavioral/educational intervention and completed measures of exposure to community violence (ECV), social cohesion (SC), informal social control (ISC), child asthma control, child asthma symptom days/nights, and healthcare utilization. Latent growth curve modeling examined the direct and interaction effects of ECV, SC, and ISC on the asthma outcomes over 12 months. Caregivers were primarily the biological mother (92 %), single (70 %), and poor (50 % earned less than $10,000). Children were African American (96 %) and young (mean age = 5.5 years, SD = 2.2). ECV at baseline was high, with 24.7 % of caregivers reporting more than two exposures to violence in the previous 6 months (M = 1.45, SD = 1.61). Caregiver ECV-predicted asthma-related healthcare utilization at baseline (b = 0.19, SE = 0.07, p = 0.003) and 2 months (b = 0.12, s.e. = 0.05, p = 0.04). ISC and SC moderated the effect of ECV on healthcare utilization. Our findings suggest that multifaceted interventions that include strategies to curb violence and foster feelings of cohesion among low-income urban residents may be needed to reduce asthma-related emergency services.
Access options
Buy single article
Instant access to the full article PDF.
USD 39.95
Price excludes VAT (USA)
Tax calculation will be finalised during checkout.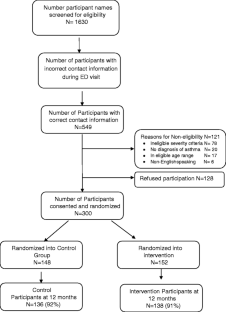 References
Williams DR, Sternthal M, Wright RJ. Social determinants: taking the social context of asthma seriously. Pediatrics. 2009; 123(Suppl. 3): S174–S184.

Gold DR, Wright R. Population disparities in asthma. Annu Rev Public Health. 2005; 26: 89–113.

Sterling Y, Peterson J. Characteristics of African American women caregivers of children with asthma. Res Nurs Health. 2003; 28: 32–38.

Grant EN, Lyttle CS, Weiss KB. The relation of socioeconomic factors and racial/ethnic differences in US asthma mortality. Am J Public Health. 2000; 90: 1923–1925.

Wright K. Disparities and predictors of emergency department use among California's African American, Latino, and White Children aged 1–11 years with asthma. Ethn Dis. 2009; 19: 71–77.

Newacheck PW, Halfon N. Prevalence, impact, and trends in childhood disability due to asthma. Arch Pediatr Adolesc Med. 2000; 154: 287–293.

Crocker D, Brown C, Moolenaar R, Moorman J, Bailey C, Mannino D, Holguin F. Racial and ethnic disparities in asthma medication usage and health-care utilization. Data from the National Asthma Survey. Chest. 2009. doi:10.1378/chest.09-0013.

Akinbami LJ, Schoendorf KC. Trends in childhood asthma: prevalence, health care utilization, and mortality. Pediatrics. 2002; 110: 315–322.

Bai Y, Hillemeier MM, Lengerich EJ. Racial/ethnic disparities in symptom severity among children hospitalized with asthma. J Health Care Poor Underserved. 2007; 18: 54–61.

Midodzi WK, Rowe BH, Majaesic CM, Saunders LD, Senthilselvan A. Early life factors associated with incidence of physician-diagnosed asthma in preschool children: results from the Canadian Early Childhood Development cohort study. J Asthma. 2010; 47: 7–13.

Sonnenschein-van der Voort AM, de Kluizenaar Y, Jaddoe VW, Gabriele C, Raat H, Moll HA, et al. Air pollution, fetal and infant tobacco smoke exposure, and wheezing in preschool children: a population-based prospective birth cohort. Environ Health. 2012; 11: 91.

Mitchell DK, Adams SK, Murdock KK. Associations among risk factors, individual resources, and indices of school-related asthma morbidity in urban, school-aged children. A pilot study. J Sch Health. 2005; 75: 375–383.

Yonas MA, Lange NE, Celedon JC. Psychosocial stress and asthma morbidity. Curr Opin Allergy Immunol. 2012; 12(2): 202–210.

Corburn J, Osleeb J, Porter M. Urban asthma and the neighborhood environment in New York City. Health Place. 2006; 12: 167–179.

Quinn K, Kaufman JS, Siddiqi A, Yeatts KB. Stress and city: housing stressors are associated with respiratory health among low socioeconomic status Chicago children. J Urban Health. 2010; 87: 688–702.

Rosenbaum E. Racial/ethnic differences in asthma prevalence: the role of housing and neighborhood environments. J Health Soc Behav. 2008; 49: 131–145.

Williams DR, Sternthal M, Wright RJ. Social determinants: taking the social context of asthma seriously. Pediatrics. 2009; 123: S174r.

Wright RJ, Steinbach SF. Violence: an unrecognized environmental exposure that may contribute to greater asthma morbidity in high risk inner-city populations. Environ Health Perspect. 2001; 109: 1085–1089.

Apter AJ, Garcia LA, Boyd RC, Wang X, Bogen DK, Ten Have T. Exposure to community violence is associated with asthma hospitalizations and emergency department visits. J Allergy Clin Immunol. 2010; 126: 552–557.

Alves GC, Santos DN, Feitosa CA, Barreto ML. Community violence and childhood asthma prevalence in peripheral neighborhoods in Salvador, Bahia State, Brazil. Cad Saude Public. 2012; 28: 86–94.

Sampson RJ, Raudenbush SW, Earls F. Neighborhoods and violent crime: a multilevel study of collective efficacy. Science. 1997; 277(5328): 918–924.

Drukker M, Buka SL, Kaplan C, McKenzie K, Van Os J. Social capital and young adoelscents' perceived health in different sociocultural settings. Soc Sci Med. 2005; 61: 185–198.

Browning CR, Cagney KA. Neighborhood structural disadvantage, collective efficacy, and self-rated physical health in an urban setting. J Health Soc Behav. 2002; 43: 383–399.

Quinn K, Kaufman JS, Siddiqi A, Yeatts KB. Parent perceptions of neighborhood stressors are associated with general health and child respiratory health among low-income, urban families. J Asthma. 2010; 47: 281–289.

Cagney KA, Browning C. Exploring neighborhood-level variation in asthma and other respiratory diseases. J Gen Intern Med. 2004; 19: 229–236.

Shalowitz MU, Mijanovich T, Berry CA, Clark-Kauffman E, Quinn KA, Perez EL. Context matters: a community-based study of maternal mental health, life stressors, social support, and children's asthma. Pediatrics. 2006; 117: e940–e948.

Ford JG, McCaffrey L. Understanding disparities in asthma outcomes among African Americans. Clin Chest Med. 2006; 27: 423–430.

Butz AM, Halterman JS, Bellin M, Kub J, Frick KD, Lewis-Land C, et al. Factors associated with successful delivery of a behavioral intervention in high-risk urban children with asthma. J Asthma. 2012; 49: 977–988.

U.S, Department of Health and Human Services. The National Asthma Education and Prevention Program. Expert Panel Report 3 (EPR3): guidelines for the diagnosis and management of asthma. NIH Publication No. 07-4051, August 2007.

Shalowitz MU, Berry CA, Rasinski KA, Dannhausen-Brun CA. A new measure of contemporary life stress: development, validation, and reliability of the CRISYS. Health Service Research. 1998; 33: 1381–402.

Muthén LK, Muthén BO. Mplus User's Guide. 6th ed. Los Angeles, CA: Muthén & Muthén; 1998–2011.

Preacher KJ, Coffman DL. Computing power and minimum sample size for RMSEA [Computer software]. Available from http://quantpsy.org/.

Soper DS. A-priori sample size calculator for structural equation models [Software]. 2013. Available from http://www.danielsoper.com/statcalc

Kline RB. Principles and Practices of Structural Equation Modeling. 2nd ed. New York, NY: Guilford Press; 2005.

Carmines EG, McIvar JP. Analyzing Models with Unobserved Variables: Analysis of Covariance Structures. In: Bohrnstedt GW, Borgatta EF, eds. Social Measurement: Current Issues. Beverly Hills, CA: Sage Publications; 1981.

Hu L, Bentler PM. Cutoff criteria for fit indexes in covariance structure analysis: conventional criteria versus new alternatives. Struct Equ Model. 1999; 6: 1–55.

Koinis Mitchell D, Adams SK, Murdock KK. Associations among risk factors, individual resources, and indices of school-related asthma morbidity in urban, school-aged children: a pilot study. J Sch Health. 2005; 75: 375–383.

Koinis Mitchell D, Murdock KK, McQuaid EL. Risk and resilience in urban children with asthma: a conceptual model and exploratory study. Child Health Care. 2004; 33: 275–297.

Mitchell SJ, Lewin A, Horn IB, Valentine D, Sander-Phillips K, Joseph JG. How does violence exposure affect the psychology health and parenting of young African–American mothers? Soc Sci Med. 2010; 70: 526–533.

Kiser LJ, Black MM. Family processes in the midst of urban poverty: what does the trauma literature tell us? Aggress Violent Behav. 2005; 10: 715–750.

Collins KS, Streider FH, DePanfilis D, Tabor M, Clarkson Freeman PA, Linde L, Greenberg P. Trauma adapted family connections: reducing developmental and complex trauma symptomatology to prevent child abuse and neglect. Child Welfare. 2011; 90: 29–47.

Strunk RC, Ford JG, Taggart V. Reducing disparities in asthma care: priorities for research—National Heart, Lung, and Blood Institute workshop report. J Allergy Clin Immunol. 2002; 109: 229–237.

Santati S, Wittaya-Sooporn J, Hanucharurnkul S, Vangveeravong M, Kanjanawasee S. Asthma management abilities causal model: an empirical test among parent caregivers of pre-school asthmatic children. Thai J Nurs Res. 2006; 10: 98–112.

Wright RJ, Cohen RT, Cohen S. The impact of stress on the development and expression of atopy. Curr Opin Allergy Clin Immunol. 2005; 5: 23–29.

Silva CM, Barros L. Asthma knowledge, subjective assessment of severity and symptom perception in parents of children with asthma. J Asthma. 2013; 50: 1002–1009.

Wright RJ, Mitchell H, Visness CM, Cohen S, Stout J, Evans R, Gold DR. Community violence and asthma morbidity: the Inner-City Asthma Study. Am J Public Health. 2004; 94: 625–632.
Acknowledgment
This research is supported by a National Institutes of Nursing Research grant to Arlene Butz (NR010546). We extend our gratitude to the families who participated in the study.
About this article
Cite this article
Bellin, M., Osteen, P., Collins, K. et al. The Influence of Community Violence and Protective Factors on Asthma Morbidity and Healthcare Utilization in High-Risk Children. J Urban Health 91, 677–689 (2014). https://doi.org/10.1007/s11524-014-9883-6
Published:

Issue Date:

DOI: https://doi.org/10.1007/s11524-014-9883-6
Keywords