Abstract
Nigeria is the most populous country in Africa, and its population is expected to double in <25 years (Central Intelligence Agency 2012; Fotso et al. 2011). Over half of the population already lives in an urban area, and by 2050, that proportion will increase to three quarters (United Nations, Department of Economic and Social Affairs, Population Division 2012; Measurement Learning & Evaluation Project, Nigerian Urban Reproductive Health Initiative, National Population Commission 2012). Reducing unwanted and unplanned pregnancies through reliable access to high-quality modern contraceptives, especially among the urban poor, could make a major contribution to moderating population growth and improving the livelihood of urban residents. This study uses facility census data to create and assign aggregate-level family planning (FP) supply index scores to 19 local government areas (LGAs) across six selected cities of Nigeria. It then explores the relationships between public and private sector FP services and determines whether contraceptive access and availability in either sector is correlated with community-level wealth. Data show pronounced variability in contraceptive access and availability across LGAs in both sectors, with a positive correlation between public sector and private sector supply environments and only localized associations between the FP supply environments and poverty. These results will be useful for program planners and policy makers to improve equal access to contraception through the expansion or redistribution of services in focused urban areas.
Access options
Buy single article
Instant access to the full article PDF.
US$ 39.95
Tax calculation will be finalised during checkout.
Subscribe to journal
Immediate online access to all issues from 2019. Subscription will auto renew annually.
US$ 79
Tax calculation will be finalised during checkout.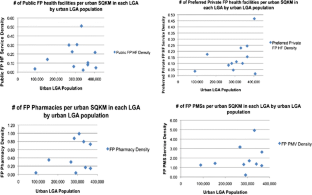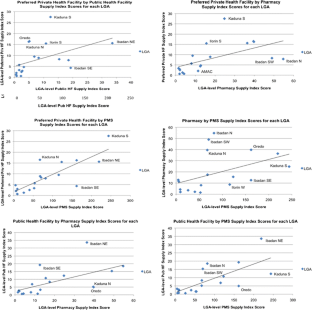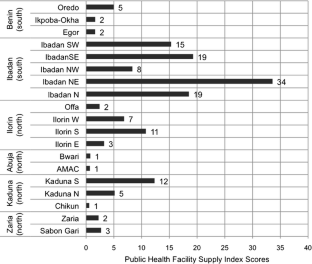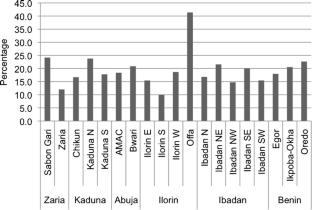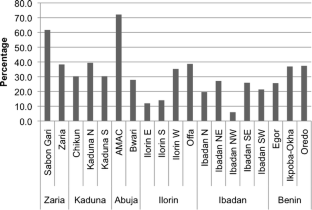 Notes
1.

Nigeria is subdivided into states, which are further subdivided into LGAs. This study looks at the urban portions of the LGAs that lie within six cities of Nigeria. Please see the "Research Design and Methods" section for more details.

2.

The MLE project was funded by the Bill & Melinda Gates Foundation to conduct a rigorous impact evaluation of their Urban Reproductive Health Initiative (URHI). The URHI aims to promote innovative FP programs in urban areas of four countries: Uttar Pradesh, India; Nigeria; Kenya; and Senegal. The goal of the MLE is to identify the most effective and cost-efficient programmatic approaches to increase access to, demand for, and use of high-quality FP among the urban poor in each of the URHI intervention sites.

3.

The agencies included the National Bureau of Statistics, Federal Ministry of Health (MoH), National Primary Health Care Development Agency, State MoH offices, Guild of Medical Directors, Association of General Private Medical Practitioners, Association of Private Nurse Practitioners, Association of Community Pharmacists, Association of Proprietary and Patent Medicine Dealers, and a list of registered pharmacies.

4.

In Ibadan, due to the large number of facilities, only the health facility most commonly mentioned by women in the same cluster was considered to be the preferred facility.32

5.

This measure is being used to reflect the availability of a marker method. According to representative data collected by MLE in 2010, the most commonly used or ever-used modern contraceptive methods among women in union, living in urban areas of Nigeria is the male condom or injectable.2

6.

It is more difficult to obtain an IUD in Nigeria than other reversible modern methods, and yet, it is one of the more effective contraceptive choices for preventing pregnancy.2 Therefore, this measure is being used as a high-level marker of method choice. Note that pharmacies and PMSs do not sell the IUD, so it is only included for public and private health facilities.

7.

MLE calculated household wealth scores using principal component analysis and assigned those scores to the respective household members. They then ranked the individuals living in the same city from poorest to least poor and divided the resulting data into quintiles.

8.

These correlations were not quite statistically significance at the 5 % level.

9.

Reminder: The sample was designed to produce estimates with acceptable precision at the city level not the LGA level; therefore, there will be potentially large sampling error at the LGA level.
References
1.

Central Intelligence Agency. The world factbook. https://www.cia.gov/library/publications/the-world-factbook/geos/ni.html (2012). Accessed March 2012.

2.

Fotso JC, Ajayi JO, Idoko EE, et al. Family planning and reproductive health in urban Nigeria: levels trends and differentials. MLE Technical Working Paper 2-2010. Measure, Learning & Evaluation Project; 2011.

3.

United Nations, Department of Economic and Social Affairs, Population Division. World population prospects: the 2010 revision, highlights and advance tables. http://www.un.org/esa/population/unpop.htm (2011). Accessed February 2012.

4.

Measurement Learning & Evaluation Project, Nigerian Urban Reproductive Health Initiative, National Population Commission. 2010–2011 Nigeria baseline survey for the Urban Reproductive Health Initiative. http://www.nurhi.org/sites/nurhi.k4health.org/files/2011_Nigeria_Urban_Reproductive_Health_Survey_FINAL.pdf (2012). Accessed March 2012.

5.

United Nations Statistics Division, Department of Economic and Social Affairs, United Nations. Millennium development goals indicators: the official United Nations site for the MDG indicators. http://mdgs.un.org/unsd/mdg/SeriesDetail.aspx?srid=710&crid=566 (2012). Accessed February 2013.

6.

World Health Organization Centre for Health Development UNHSP. Hidden cities: unmasking and overcoming health inequities in urban settings. http://www.hiddencities.org/report.html (2010). Accessed February 2013.

7.

Brockerhoff MA. An urbanizing world. Popul Bull. 2000; 55(3): 1–44.

8.

Ezech AC, Kodzi I, Emina J. Reaching the urban poor with family planning services. Stud Fam Plan. 2010; 41(2): 109–116.

9.

National Population Commission (NPC) [Nigeria] and ICF Macro. Nigeria demographic and health survey 2008. Abuja, Nigeria: National Population Commission and ICF Macro; 2009.

10.

Bongaarts J. A framework for analyzing the proximate determinants of fertility. Popul Dev Rev. 1978; 4(11): 104–132.

11.

Nigeria National Population Commission. Population policy and action. http://www.population.gov.ng/index.php/population-programmes/population-policy (2012). Accessed January 2013.

12.

Winfrey W, Heaton L, Fox T, Adamchak S. Factors influencing the growth of the commercial sector family planning service provision. The POLICY Project Working Paper No. 6. Washington, DC: The Futures Group International; 2000.

13.

Khan S, Mishra V, Arnold F, Abderrahim N. Contraceptive trends in developing countries. DHS Comparative Reports No. 16. Calverton, MD: Macro International; 2007.

14.

Speizer IS, Nanda P, Achyut P, Pillai G, Guilkey DK. Family planning use among urban poor women from six cities of Uttar Pradesh, India. J Urban Health. 2012. doi:10.1007/s11524-011-9667-1.

15.

Stephenson R, Hennink M. Barriers to family planning service use among the urban poor in Pakistan. Opportunities and Choices Working Paper No. 2; 2004.

16.

Kongsri S, Limwattananon S, Sirilak S, Prakongsai P, Tangcharoensathien V. Equity of access to and utilization of reproductive health services in Thailand: national Reproductive Health Survey data, 2006 and 2009. Reprod Health Matters. 2011; 19(37): 86–97.

17.

Foreit K. Addressing poverty: a guide for considering poverty-related and other inequities in health. USAID and MEASURE evaluation. http://www.cpc.unc.edu/measure/publications/ms-08-27:70 (2012).

18.

Sedgh G, Hussain R, Bankole A, Singh S. Women with an unmet need for contraception in developing countries and their reasons for not using a method. Occasional Report No. 37. New York: Guttmacher Institute; June 2007.

19.

Gillespie D, Ahmed S, Tsui A, Radloff S. Unwanted fertility among the poor: an inequity? Bull World Health Organ. 2007; 85: 100–107.

20.

Federal Government of Nigeria. Health policy project. RAPID: the change we seek, Nigeria. http://www.healthpolicyproject.com/pubs/37_FINALRAPIDNigeriaFertilityMCHNovFORWEfinal.pdf (2011). Accessed January 2013.

21.

Guengant J-P, May J. Proximate determinants of fertility in sub-Saharan Africa and their possible use in fertility projections. United Nations, Department of Economic and Social Affairs, Expert Paper No. 2011/13. Paper presented at the United Nations Expert Group Meeting on Completing the Fertility Transition, New York; 2011.

22.

Ogbaje E, Igharo E. Contraceptive security in Nigeria: assessing strengths and weaknesses. USAID | DELIVER PROJECT, Task Order 1. Arlington, MD: USAID; 2009.

23.

SHOPS Project, USAID. Nigeria private health sector assessment. Brief. Strengthening Health Outcomes through the Private Sector Project, Abt Associates. Bethesda: USAID; 2012.

24.

Sharma S, Dayaratna V. Creating conditions for greater private sector participation in achieving contraceptive security. Health Policy. 2005; 71: 347–357.

25.

Peters DH, Mirchandani GG, Hansen PM. Strategies for engaging the private sector in sexual and reproductive health: how effective are they? Health Policy Plan. 2004; 19(Suppl. 1): i5–i21.

26.

Berman P, Rose L. The role of private providers in maternal and child health and family planning services in developing countries. Health Policy Plan. 1996; 11(2): 142–155.

27.

Patouillard E, Goodman CA, Hanson KG, Mills AJ. Can working with the private for-profit sector improve utilization of quality health services by the poor? A systematic review of the literature. Int J Equity Health. 2007;6:17.

28.

Montagu D, Prata N, Campbell MM, Walsh J, Orero S. Kenya: reaching the poor through the private sector—a network model for expanding access to reproductive health services. Washington, DC: The International Bank for Reconstruction and Development/The World Bank; 2005.

29.

Gage A, Zomahoun D. Influence of the service delivery environment on family planning outcomes in Nigeria. USAID and MEASURE Evaluation; 2011.

30.

MEASURE Evaluation PRH. Commodity security and logistics. http://www.cpc.unc.edu/measure/prh/rh_indicators/crosscutting/commodity-security-and-logistics-1 (2011). Accessed December 2011.

31.

Guilkey D, Speizer I, Lance P. Study design for the Measurement, Learning & Evaluation Project. Technical Working Paper: Measurement, Learning & Evaluation Project for the Urban Reproductive Health Initiative; 2009.

32.

Measurement Learning & Evaluation Project, Nigerian Urban Reproductive Health Initiative, National Population Commission. 2010–2011 Baseline facility survey for the Nigerian urban reproductive health initiative. http://www.urbanreproductivehealth.org/sites/mle/files/nurhi_baseline_facility_report_23feb12_final.pdf (2012). Accessed March 2012.

33.

Consultative Group on International Agricultural Research. Poverty mapping: income poverty, vitamin A and iodine in Nigeria. http://gisweb.ciat.cgiar.org/povertymapping/ (2006). Accessed January 2012.

34.

City Population States and local government areas: the population of the states and local government areas of Nigeria. http://www.citypopulation.de/php/nigeria-admin.php (2012). Accessed October 2012.

35.

Hanson K, Kumaranayake L, Thomas I. Ends versus means: the role of markets in expanding access to contraceptives. Health Policy Plan. 2001; 16(2): 125–136.

36.

USAID | DELIVER PROJECT, Task Order 4. Nigeria: Contraceptive logistics management system assessment report. http://deliver.jsi.com/dhome/resources/publications/allpubs/pubsforcountry?p_persp=PERSP_DLVR_CNTRY_NG (2011). Accessed January 2012.

37.

DELIVER and Task Order 1 of the USAID/Health Policy Initiative. Contraceptive security index 2006: a tool for priority setting and planning. Arlington: DELIVER, for the US Agency for International Development; December 2006.

38.

Entwisle B, Hermalin A, Kamnuansilpa P, Chamratrithirong A. A multi-level model of family planning availability and contraceptive use in rural Thailand. Demography. 1984; 21(4): 559–574.

39.

Tsui AO, Hogan DP, Teachman JD, Chanes CW. Community availability of contraceptives and family limitation. Demography. 1981; 18(4): 615–625.
Acknowledgments
The data for this research were made possible by the support from the Bill & Melinda Gates Foundation (BMGF) under the terms of the Measurement, Learning & Evaluation for the Urban Reproductive Health Project (MLE). The author's views expressed in this publication do not necessarily reflect the views of BMGF or the MLE project. The authors would also like to thank Meghan Corroon for her insights into the data collection and analysis process, as well as Karen Foreit, Ph.D., and Herbert Peterson, M.D., for their review of earlier versions of the paper.
Appendix
Appendix
About this article
Cite this article
Levy, J.K., Curtis, S., Zimmer, C. et al. Assessing Gaps and Poverty-Related Inequalities in the Public and Private Sector Family Planning Supply Environment of Urban Nigeria. J Urban Health 91, 186–210 (2014). https://doi.org/10.1007/s11524-013-9841-8
Keywords
Family planning

Supply environment

Access

Availability

Inequality

Wealth distribution

Urban

Supply

Contraception

Service distribution

Poverty

Nigeria

Public-sector

Private-sector

Community-level