Abstract
Cities are increasingly adopting CeaseFire, an evidence-based public health program that uses specialized outreach workers, called violence interrupters (VIs), to mediate potentially violent conflicts before they lead to a shooting. Prior research has linked conflict mediation with program-related reductions in homicides, but the specific conflict mediation practices used by effective programs to prevent imminent gun violence have not been identified. We conducted case studies of CeaseFire programs in two inner cities using qualitative data from focus groups with 24 VIs and interviews with eight program managers. Study sites were purposively sampled to represent programs with more than 1 year of implementation and evidence of program effectiveness. Staff with more than 6 months of job experience were recruited for participation. Successful mediation efforts were built on trust and respect between VIs and the community, especially high-risk individuals. In conflict mediation, immediate priorities included separating the potential shooter from the intended victim and from peers who may encourage violence, followed by persuading the parties to resolve the conflict peacefully. Tactics for brokering peace included arranging the return of stolen property and emphasizing negative consequences of violence such as jail, death, or increased police attention. Utilizing these approaches, VIs are capable of preventing gun violence and interrupting cycles of retaliation.
Access options
Buy single article
Instant access to the full article PDF.
US$ 39.95
Tax calculation will be finalised during checkout.
Subscribe to journal
Immediate online access to all issues from 2019. Subscription will auto renew annually.
US$ 79
Tax calculation will be finalised during checkout.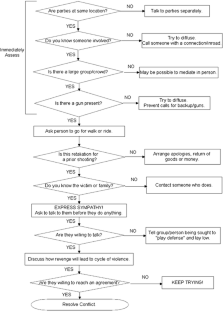 References
1.

U.S. Department of Justice, Federal Bureau of Investigation. Crime in the United States, 2010. In Washington, D.C.; 2011.

2.

Christoffel KK. Firearm injuries: epidemic then, endemic now. Am J Public Health. 2007; 97(4): 626–629.

3.

Singh G, Azuine R, Siahpush M, Kogan M. All-cause and cause-specific mortality among US youth: socioeconomic and rural–urban disparities and international patterns. J Urban Health. 2013 (in press).

4.

Fabio A, Tu L-C, Loeber R, Cohen J. Neighborhood socioeconomic disadvantage and the shape of the age–crime curve. Am J Public Health. 2011; 101(S1): S325–S332.

5.

Institute of Medicine, National Academy of Sciences. The contagion of violence—a workshop. In Washington, D.C.: National Academy of Sciences; 2011.

6.

Copeland-Linder N, Johnson SB, Haynie DL, Chung SE, Cheng TL. Retaliatory attitudes and violent behaviors among assault-injured youth. J Adolesc Health. 2012; 50(3): 215–220.

7.

Anderson E. Code of the street: decency, violence and the moral life of the inner city. New York: Norton; 1999.

8.

Rich JA, Grey CM. Pathways to recurrent trauma among young black men: traumatic stress, substance use, and the "code of the street". Am J Public Health. 2005; 95(5): 816–824.

9.

Skogan WG, Hartnett SM, Bump N, Dubois J. Evaluation of CeaseFire-Chicago. Chicago: Northwestern University; 2008.

10.

The model. Cure Violence. http://cureviolence.org/what-we-do/the-model. Accessed October 15, 2012.

11.

Webster D, Whitehill J, Vernick J, Curriero F. Effects of Baltimore's Safe Streets Program on gun violence: a replication of Chicago's CeaseFire program. J Urban Health. 2013 (in press)

12.

International partners. Cure Violence. http://cureviolence.org/community-partners/international-partners. Accessed October 15, 2012.

13.

National partners. Cure Violence. http://cureviolence.org/community-partners/national-partners. Accessed October 15, 2012.

14.

Frattaroli S, Pollack KM, Jonsberg K, Croteau G, Rivera J, Mendel JS. Streetworkers, youth violence prevention, and peacemaking in Lowell, Massachusetts: lessons and voices from the community. Prog Community Health Partnersh. 2010; 4(3): 171–179.

15.

Wilson JM, Chermak S. Community-driven violence reduction programs. Criminology & Public Policy. 2011; 10(4): 993–1027.

16.

Whitehill JM, Webster DW, Vernick JS. Street conflict mediation to prevent youth violence: conflict characteristics and outcomes. Inj Prev. 2013 (in press)

17.

Yin RK. Case study research design and methods. 3rd ed. Thousand Oaks: Sage Publications, Inc; 2003.

18.

Kitzinger J. Qualitative research: introducing focus groups. BMJ. 1995; 311(7000): 299–302.

19.

Morgan DL. Focus groups as qualitative research. 2nd ed. Thousand Oaks: Sage Publications; 1997.

20.

Atlas.Ti qualitative data analysis [computer program]. Version 6.2. Berlin, Germany: Scientific Software Development GmbH; 2010.

21.

Miles MB, Huberman AM. An expanded sourcebook: qualitative data analysis. Thousand Oaks: SAGE Publications, Inc.; 1994.

22.

Brunson RK. "Police don't like black people": African–American young men's accumulated police experiences. Criminology & Public Policy. 2007; 6(1): 71–101.

23.

Asbury BD. Anti-snitching norms and community loyalty. Oregon Law Review. 2011; 89(4): 1257–1312.

24.

Dunworth T, Hayeslip D, Lyons M, Denver M. Evaluation of the Los Angeles gang reduction and youth development project: final Y1 report. Washington, D.C.: Urban Institute; 2010.
Acknowledgments
This study was supported by the CDC (grant R36CE001683), the Johns Hopkins Urban Health Institute–Small Grants Program, and the Melissa Institute for Violence Prevention Belfer–Aptman Dissertation Research Award. The authors are grateful to the study participants and the staff at the Baltimore City Health Department and CeaseFire Chicago who helped to arrange data collection.
About this article
Cite this article
Whitehill, J.M., Webster, D.W., Frattaroli, S. et al. Interrupting Violence: How the CeaseFire Program Prevents Imminent Gun Violence through Conflict Mediation. J Urban Health 91, 84–95 (2014). https://doi.org/10.1007/s11524-013-9796-9
Keywords
Youth violence prevention

Conflict mediation

Community outreach