Abstract
Vacant land is a significant economic problem for many cities, but also may affect the health and safety of residents. In order for community-based solutions to vacant land to be accepted by target populations, community members should be engaged in identifying local health impacts and generating solutions. We conducted 50 in-depth semi-structured interviews with people living in Philadelphia, Pennsylvania, a city with high vacancy, about the impact of vacant land on community and individual health and safety, as well as ideas for solutions to vacant land. Participants described a neighborhood physical environment dominated by decaying abandoned homes and overgrown vacant lots which affected community well-being, physical health, and mental health. Vacant land was thought to affect community well-being by overshadowing positive aspects of the community, contributing to fractures between neighbors, attracting crime, and making residents fearful. Vacant land was described as impacting physical health through injury, the buildup of trash, and attraction of rodents, as well as mental health through anxiety and stigma. Participants had several ideas for solutions to vacant land in their community, including transformation of vacant lots into small park spaces for the elderly and playgrounds for youth, and the use of abandoned homes for subsidized housing and homeless shelters. A few participants took pride in maintaining vacant lots on their block, and others expressed interest in performing maintenance but lacked the resources to do so. Public health researchers and practitioners, and urban planners should engage local residents in the design and implementation of vacant land strategies. Furthermore, municipalities should ensure that the health and safety impact of vacant land helps drive policy decisions around vacant land.
Access options
Buy single article
Instant access to the full article PDF.
US$ 39.95
Tax calculation will be finalised during checkout.
Subscribe to journal
Immediate online access to all issues from 2019. Subscription will auto renew annually.
US$ 79
Tax calculation will be finalised during checkout.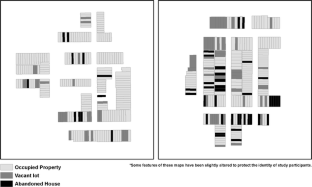 References
1.

Carlson C, Aytur S, Gardner K, Rogers S. Complexity in built environment, health, and destination walking: a neighborhood-scale analysis. J Urban Health. 2012; 89: 270–284.

2.

Jackson RJ. The impact of the built environment on health: an emerging field. Am J Public Health. 2003; 93: 1382–1384.

3.

Branas CC, Elliott MR, Richmond TS, Culhane DP, Wiebe DJ. Alcohol consumption, alcohol outlets, and the risk of being assaulted with a gun. Alcohol Clin Exp Res. 2009; 33: 906–915.

4.

Mair C, Roux AVD, Galea S. Are neighbourhood characteristics associated with depressive symptoms? A review of evidence. J Epidemiol Community Health. 2008; 62: 940–946.

5.

Burdette AM, Hill TD, Hale L. Household disrepair and the mental health of low-income urban women. J Urban Health. 2011; 88: 142–153.

6.

Woolf SH, Braveman P. Analysis & commentary where health disparities begin: the role of social and economic determinants—and why current policies may make matters worse. Health Affair. 2011; 30: 1852–1859.

7.

Making Cities Work: Prospects and Policies for Urban America Princeton, NJ Princeton University Press; 2009.

8.

Vacant Properties—The True Cost to Communities Washington DC National Vacant Properties Campaig; 2005.

9.

Bowman AO, Pagano MA. Transforming America's cities—policies and conditions of vacant land. Urban Aff Rev. 2000; 35: 559–581.

10.

Accordino J, Johnson GT. Addressing the vacant and abandoned property problem. J Urban Aff. 2000; 22: 301–315.

11.

Vacant Land Management in Philadelphia. Philadelphia: Econsult Corporation, Penn Institute for Urban Research, May 8 Consulting; 2010.

12.

Cohen DA, Mason K, Bedimo A, Scribner R, Basolo V, Farley TA. Neighborhood physical conditions and health. Am J Public Health. 2003; 93: 467–471.

13.

Furr-Holden CDM, Lee MH, Milam AJ, Johnson RM, Lee KS, Ialongo NS. The growth of neighborhood disorder and marijuana use among urban adolescents: a case for policy and environmental interventions. J Stud Alcohol Drugs. 2011; 72: 371–379.

14.

Cohen D, Spear S, Scribner R, Kissinger P, Mason K, Wildgen J. "Broken windows" and the risk of gonorrhea. Am J Public Health. 2000; 90: 230–236.

15.

Spelman W. Abandoned buildings—magnets for crime. J Crim Just. 1993; 21: 481–495.

16.

Shai D. Income, housing, and fire injuries: a census tract analysis. Public Health Rep. 2006; 121: 149–154.

17.

Schachterle SE, Bishai D, Shields W, Stepnitz R, Gielen AC. Proximity to vacant buildings is associated with increased fire risk in Baltimore, Maryland, homes. Injury Prev. 2012; 18: 98–102.

18.

Skogan W. Disorder and decline: crime and the spiral of decay in American cities. Berkeley: University of California Press; 1990.

19.

Ross CE, Mirowsky J. Disorder and decay—the concept and measurement of perceived neighborhood disorder. Urban Aff Rev. 1999; 34: 412–432.

20.

Ross CE, Jang SJ. Neighborhood disorder, fear, and mistrust: the buffering role of social ties with neighbors. American Journal of Community Psychology. 2000; 28: 401–420.

21.

Keizer K, Lindenberg S, Steg L. The spreading of disorder. Science. 2008; 322: 1681–1685.

22.

Lagrange RL, Ferraro KF, Supancic M. Perceived risk and fear of crime—role of social and physical incivilities. J Res Crime Delinq. 1992; 29: 311–334.

23.

Perkins DD, Taylor RB. Ecological assessments of community disorder: their relationship to fear of crime and theoretical implications. American Journal of Community Psychology. 1996; 24: 63–107.

24.

Wilson J, Kelling, GL. Broken windows. Atlantic Monthly 1982 March; 1992:29.

25.

Sampson RJ, Raudenbush SW, Earls F. Neighborhoods and violent crime: a multilevel study of collective efficacy. Science. 1997; 277: 918–924.

26.

Ross CE, Mirowsky J. Neighborhood disadvantage, disorder, and health. J Health Soc Behav. 2001; 42: 258–276.

27.

Sampson RJ, Raudenbush SW. Systematic social observation of public spaces: a new look at disorder in urban neighborhoods. Am J Sociol. 1999; 105: 603–651.

28.

Ellaway A, Morris G, Curtice J, Robertson C, Allardice G, Robertson R. Associations between health and different types of environmental incivility: a Scotland-wide study. Public Health. 2009; 123: 708–713.

29.

Chappell AT, Monk-Turner E, Payne BK. Broken windows or window breakers: the influence of physical and social disorder on quality of life. Justice Q. 2011; 28: 522–540.

30.

Stafford M, Chandola T, Marmot M. Association between fear of crime and mental health and physical functioning. Am J Public Health. 2007; 97: 2076–2081.

31.

Wei E, Hipwell A, Pardini D, Beyers JM, Loeber R. Block observations of neighbourhood physical disorder are associated with neighbourhood crime, firearm injuries and deaths, and teen births. J Epidemiol Community Health. 2005; 59: 904–908.

32.

Mujahid MS, Roux AVD, Cooper RC, Shea S, Williams DR. Neighborhood stressors and race/ethnic differences in hypertension prevalence (the multi-ethnic study of atherosclerosis). Am J Hypertens. 2011; 24: 187–193.

33.

Augustin T, Glass TA, James BD, Schwartz BS. Neighborhood psychosocial hazards and cardiovascular disease: the Baltimore memory study. Am J Public Health. 2008; 98: 1664–1670.

34.

Chang VW, Hillier AE, Mehta NK. Neighborhood racial isolation, disorder and obesity. Soc Forces. 2009; 87: 2063–2092.

35.

Heinrich KM, Lee RE, Suminski RR, et al. Associations between the built environment and physical activity in public housing residents. Int J Behav Nutr Phy. 2007; 4: 1479–1488.

36.

Galea S, Rudenstine S, Vlahov D. Drug use, misuse, and the urban environment. Drug Alcohol Rev. 2005; 24: 127–136.

37.

Gapen M, Cross D, Ortigo K, et al. Perceived neighborhood disorder, community cohesion, and PTSD symptoms among low-income African Americans in an urban health setting. Am J Orthopsychiat. 2011; 81: 31–37.

38.

Latkin CA, Curry AD. Stressful neighborhoods and depression: a prospective study of the impact of neighborhood disorder. J Health Soc Behav. 2003; 44: 34–44.

39.

Mair C, Roux AVD, Morenoff JD. Neighborhood stressors and social support as predictors of depressive symptoms in the Chicago community adult health study. Health Place. 2010; 16: 811–819.

40.

Wallace R, Wallace D. Socioeconomic determinants of health—community marginalisation and the diffusion of disease and disorder in the United States. Brit Med J. 1997; 314: 1341–1345.

41.

Hill TD, Ross CE, Angel RJ. Neighborhood disorder, psychophysiological distress, and health. J Health Soc Behav. 2005; 46: 170–186.

42.

McEwen BS. Stress, adaptation, and disease—allostasis and allostatic load. Neuroimmunomodulation. 1998; 840: 33–44.

43.

Black PH, Garbutt LD. Stress, inflammation and cardiovascular disease. J Psychosom Res. 2002; 52: 1–23.

44.

Kruger DJ, Reischl TM, Gee GC. Neighborhood social conditions mediate the association between physical deterioration and mental health. American Journal of Community Psychology. 2007; 40: 261–271.

45.

Sampson RJ. The neighborhood context of well-being. Perspect Biol Med. 2003; 46: S53–S64.

46.

Kennedy BP, Kawachi I, Prothrow-Stith D, Lochner K, Gupta V. Social capital, income inequality, and firearm violent crime. Soc Sci Med. 1998; 47: 7–17.

47.

Miller WD, Pollack CE, Williams DR. Healthy homes and communities putting the pieces together. Am J Prev Med. 2011; 40: S48–S57.

48.

Israel BA, Schulz AJ, Estrada-Martinez L, et al. Engaging urban residents in assessing neighborhood environments and their implications for health. J Urban Health. 2006; 83: 523–539.

49.

Elo IT, Mykyta L, Margolis R, Culhane JF. Perceptions of neighborhood disorder: the role of individual and neighborhood characteristics. Soc Sci Q. 2009; 90: 1298–1320.

50.

Warr D, Feldman P, Tacticos T, Kelaher M. Sources of stress in impoverished neighbourhoods: insights into links between neighbourhood environments and health. Aust Nz J Publ Heal. 2009; 33: 25–33.

51.

Haney TJ. "Broken windows" and self-esteem: subjective understandings of neighborhood poverty and disorder. Soc Sci Res. 2007; 36: 968–994.

52.

Severance JH, Zinnah SL. Community-based perceptions of neighborhood health in urban neighborhoods. J Commun Health Nurs. 2009; 26: 14–23.

53.

Warr DJ, Tacticos T, Kelaher M, Klein H. 'Money, stress, jobs': residents' perceptions of health-impairing factors in 'poor' neighbourhoods. Health Place. 2007; 13: 743–756.

54.

O'Campo P, Salmon C, Burke J. Neighbourhoods and mental well-being: what are the pathways. Health Place. 2009; 15: 56–68.

55.

Cannuscio CC, Weiss EE, Fruchtman H, Schroeder J, Weiner J, Asch DA. Visual epidemiology: photographs as tools for probing street-level etiologies. Soc Sci Med. 2009; 69: 553–564.

56.

Trayers T, Deem R, Fox KR, Riddoch CJ, Ness AR, Lawlor DA. Improving health through neighbourhood environmental change: are we speaking the same language? A qualitative study of views of different stakeholders. J Public Health. 2006; 28: 49–55.

57.

Lawlor D, Frankel S, Shaw M, Ebrahim S, Smith G. Smoking and ill health: does lay epidemiology explain the failure of smoking cessation programs among deprived populations? Am J Public Health. 2003; 93: 266–270.

58.

Garvin E, Cannuscio, C, Branas C. Greening vacant lots to reduce violent crime: a randomised controlled trial. Injury Prev. e-publication: August 7, 2012.

59.

Bernard H, Ryan GW. Analyzing qualitative data: systematic approaches. London: SAGE; 2010.

60.

United States Census Data. 2000. (Accessed April 18, 2012, at http://www.cml.upenn.edu/nis/.)

61.

Editorial-Board. This Year's Housing Crisis. New York Times. 2010.

62.

Jacobs J. The death and life of great American cities. New York, NY: Random House; 1961.

63.

Lopez RP. Public health, the APHA, and urban renewal. Am J Public Health. 2009; 99: 1603–1611.

64.

McGovern S. Philadelphia's neighborhood transformation initiative: a case study of mayoral leadership, bold planning, and conflict. Housing Policy Debate. 2006; 17: 529–570.

65.

Taylor RB. Breaking away from broken windows: Baltimore neighborhoods and the nationwide fight against crime, grime, fear, and decline. Boulder: Westview Press; 2001.

66.

Hill M. Philadelphia cracking down on owners of rundown properties. In: Philadelphia Inquirer October 27; 2011.

67.

Mayor Announces. "Vacants to Value" Plan to Reduce Blight. November 3, 2010. (Accessed December 20, 2011, at http://www.baltimorehousing.org/wgo_detail.aspx?id=417.)

68.

Gillotti T, Kildee D. Land banks as revitalization tools: the example of Genesee County and the City of Flint, Michigan Center for Global Metropolital Studies, Institute of Urban and Regional Development.

69.

Mantua Community Improvement Committee (Accessed December 9, 2011, at http://mcic1.org/.)

70.

Pennsylvania Horticulture Society (Accessed October 5, 2011, at http://www.pennsylvaniahorticulturalsociety.org/aboutus/index.html.)

71.

Wachter SM, Wong G. What is a tree worth? Green-city strategies, signaling and housing prices. Real Estate Econ. 2008; 36: 213–239.

72.

Branas CC, Cheney RA, Macdonald JM, Tam VW, Jackson TD, Ten Have TR. A difference-in-differences analysis of health, safety, and greening vacant urban space. Am J Epidemiol. 2011; 174: 1–11.
Acknowledgments
We would like to thank our community-based interviewers, Denise Heard and Keith Gant, for their wonderful work as well as the two communities that participated in the study.
This project was funded by a grant from the Robert Wood Johnson Health and Society Education Fund.
Financial Disclosures
None of the authors have financial disclosures.
About this article
Cite this article
Garvin, E., Branas, C., Keddem, S. et al. More Than Just An Eyesore: Local Insights And Solutions on Vacant Land And Urban Health. J Urban Health 90, 412–426 (2013). https://doi.org/10.1007/s11524-012-9782-7
Keywords
Vacant land

Neighborhood conditions

Public health

Safety

Local perspective

Qualitative research

Urban blight

Urban renewal