Abstract
Low-income households in the contemporary city often lack adequate access to healthy foods, like fresh produce, due to a variety of social and spatial barriers that result in neighborhoods being underserved by full-service supermarkets. Because of this, residents commonly resort to purchasing food at fast food restaurants or convenience stores with poor selections of produce. Research has shown that maintaining a healthy diet contributes to disease prevention and overall quality of life. This research seeks to increase low-income residents' access to healthy foods by addressing spatial constraints through the characterization of a mobile market distribution system model that serves in-need neighborhoods. The model optimally locates mobile markets based on the geographic distribution of these residents. Using data from the medium-sized city of Buffalo, New York, results show that, with relatively few resources, the model increases these residents' access to healthy foods, helping to create a healthier city.
Access options
Buy single article
Instant access to the full article PDF.
US$ 39.95
Tax calculation will be finalised during checkout.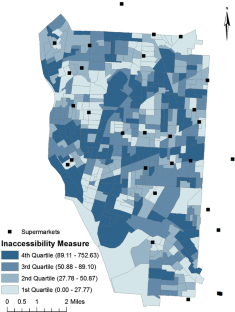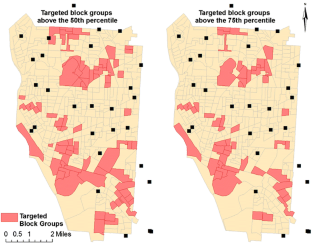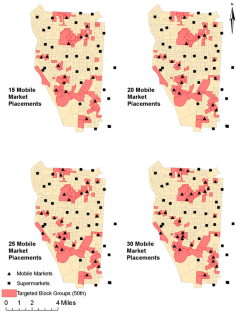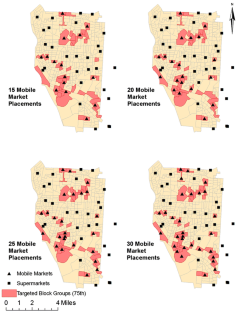 References
1.

Bertrand L, Therien F, Cloutier M. Measuring and mapping disparities in access to fresh fruits and vegetables in Montreal. Can J Public Health. 2008; 99(1): 6–11.

2.

Bodor J, Rose D, Farley T, Swalm C, Scott S. Neighbourhood fruit and vegetable availability and consumption: the role of small food stores in an urban environment. Public Health Nutr. 2007; 11(04): 413–420.

3.

Burns C, Inglis A. Measuring food access in Melbourne: access to healthy and fast foods by car, bus and foot in an urban municipality in Melbourne. Health Place. 2007; 13(4): 877–885.

4.

Clarke G, Eyre H, Guy C. Deriving indicators of access to food retail provision in British cities: studies of Cardiff, Leeds and Bradford. Urban Stud. 2002; 39(11): 2041–2060.

5.

Donkin A, Dowler E, Stevenson S, Turner S. Mapping access to food at a local level. Br Food J. 1999; 101(7): 554.

6.

Donkin A, Dowler E, Stevenson S, Turner S. Mapping access to food in a deprived area: the development of price and availability indices. Public Health Nutr. 2007; 3(01): 31–38.

7.

Larsen K, Gilliland J. Mapping the evolution of'food deserts' in a Canadian city: supermarket accessibility in London, Ontario, 1961 ñ 2005. Int J Health Geogr. 2008; 7(1): 16.

8.

Lee G, Lim H. A spatial statistical approach to identifying areas with poor access to grocery foods in the City of Buffalo, New York. Urban Stud. 2009; 46(7): 1299.

9.

Maxwell D. Measuring food insecurity: the frequency and severity of. Food Policy. 1996; 21(3): 291–303.

10.

Morland K, Wing S, Diez Roux A, Poole C. Neighborhood characteristics associated with the location of food stores and food service places. Am J Prev Med. 2002; 22(1): 23–29.

11.

Pearce J, Witten K, Bartie P. Neighbourhoods and health: a GIS approach to measuring community resource accessibility. J Epidemiol Community Health. 2006; 60(5): 389.

12.

Raja S, Ma C, Yadav P. Beyond food deserts: measuring and mapping racial disparities in neighborhood food environments. J Plann Educ Res. 2008; 27(4): 469.

13.

Rex D, Blair A. Unjust des (s) erts: food retailing and neighbourhood health in Sandwell. Int J Retail Distrib Manag. 2003; 31(9): 459–465.

14.

Thayer J, Murphy C, Cook J, Ettinger de Cuba S, DaCosta R, Chilton M. Coming up short: high food costs outstrip food stamp benefits. C-SNAP at Boston Medical Center and Philadelphia Grow Project at Drexel University. 2008.

15.

Powell L, Slater S, Mirtcheva D, Bao Y, Chaloupka F. Food store availability and neighborhood characteristics in the United States. Prev Med. 2007; 44(3): 189–195.

16.

Shaw H. Food deserts: towards the development of a classification. Geogr Ann B Hum Geogr. 2006; 88(2): 231–247.

17.

Block J, Scribner R, DeSalvo K. Fast food, race/ethnicity, and income: a geographic analysis. Am J Prev Med. 2004; 27(3): 211–217.

18.

Algert S, Agrawal A, Lewis D. Disparities in access to fresh produce in low-income neighborhoods in Los Angeles. Am J Prev Med. 2006; 30(5): 365–370.

19.

Bazzano L, He J, Ogden L, et al. Fruit and vegetable intake and risk of cardiovascular disease in US adults: the first National Health and Nutrition Examination Survey epidemiologic follow-up study. Am J Clin Nutr. 2002; 76(1): 93.

20.

Ebbeling C, Pawlak D, Ludwig D. Childhood obesity: public-health crisis, common sense cure. Lancet. 2002; 360(9331): 473–482.

21.

He K, Hu F, Colditz G, Manson J, Willett W, Liu S. Changes in intake of fruits and vegetables in relation to risk of obesity and weight gain among middle-aged women. Int J Obes. 2004; 28(12): 1569–1574.

22.

Higdon J, Delage B, Williams D, Dashwood R. Cruciferous vegetables and human cancer risk: epidemiologic evidence and mechanistic basis. Pharmacol Res. 2007; 55(3): 224–236.

23.

Joshipura K, Hu F, Manson J, et al. The effect of fruit and vegetable intake on risk for coronary heart disease. Ann Intern Med. 2001; 134(12): 1106.

24.

Mokdad A, Bowman B, Ford E, Vinicor F, Marks J, Koplan J. The continuing epidemics of obesity and diabetes in the United States. JAMA. 2001; 286(10): 1195.

25.

Mouradian W, Huebner C, Ramos-Gomez F, Slavkin H. Beyond access: the role of family and community in children's oral health. J Dent Educ. 2007; 71(5): 619.

26.

Dunkley B, Helling A, Sawicki D. Accessibility versus scale: examining the tradeoffs in grocery stores. J Plann Educ Res. 2004; 23(4): 387.

27.

Pothukuchi K. Attracting supermarkets to inner-city neighborhoods: economic development outside the box. Econ Dev Q. 2005; 19(3): 232.

28.

Jetter K, Cassady D. The availability and cost of healthier food alternatives. Am J Prev Med. 2006; 30(1): 38–44.

29.

Cope M, Latcham F. Narratives of decline: race, poverty, and youth in the context of postindustrial urban angst. Prof Geogr. 2009; 61(2): 150–163.

30.

Getis A, Ord J. The analysis of spatial association by use of distance statistics. Geogr Anal. 1992; 24: 189–206.

31.

Horner M, Downs J. Testing a flexible geographic information system-based network flow model for routing hurricane disaster relief goods. Trans Res Rec J Trans Res Board. 2007; 2022(−1): 47–54.

32.

Horner M, Downs J. Analysis of effects of socioeconomic status on hurricane disaster relief plans. Trans Res Rec J Trans Res Board. 2008; 2067(−1): 1–10.

33.

Horner M, Widener M. How do socioeconomic characteristics interact with equity and efficiency considerations? An analysis of hurricane disaster relief goods provision. Geospatial Anal Model Urban Struct Dyn. 2010; 99: 393–414.

34.

Drezner T, Drezner Z. Retail facility location under changing market conditions. IMA J Manag Math. 2002; 13(4): 283.

35.

Carreras M, Serra D. On optimal location with threshold requirements. Socioecon Plann Sci. 1999; 33(2): 91–103.

36.

Teixeira J, Antunes A. A hierarchical location model for public facility planning. Eur J Oper Res. 2008; 185(1): 92–104.

37.

Verter V, Lapierre S. Location of preventive health care facilities. Ann Oper Res. 2002; 110(1): 123–132.

38.

Daskin M. What you should know about location modeling. Nav Res Logist. 2008; 55(4): 283–294.

39.

Tansel B, Francis R, Lowe T. Location on networks: a survey. Part I: the p-center and p-median problems. Manag Sci. 1983; 29(4): 482–497.

40.

USDA. Agriculture Fact Book. USDA Washington, DC. http://www.usda.gov/factbook/. Accessed August 1, 2010.
About this article
Cite this article
Widener, M.J., Metcalf, S.S. & Bar-Yam, Y. Developing a Mobile Produce Distribution System for Low-Income Urban Residents in Food Deserts. J Urban Health 89, 733–745 (2012). https://doi.org/10.1007/s11524-012-9677-7
Keywords
Access to healthy food

Food deserts

Spatial optimization model

Mobile market

Buffalo, NY