Abstract
Physical activity (MVPA) levels during home-based cardiac rehabilitation (CR) remain problematic. Consequently, the present study examined the association between MVPA and urban vs. rural residential status and the perceived environment in patients attending home-based CR. A total of 280 patients completed a questionnaire assessing demographic, clinical, MVPA, and perceived environmental variables measured at baseline and 3 months later. Patient addresses were geocoded and linked to the 2006 Canadian census to establish the urban/rural distinction. Results showed that urban and rural patients had similar baseline MVPA and improvements in MVPA by 3 months. Several perceived environmental variables were significantly related to MVPA throughout home-based CR that were common and urban/rural-specific. Therefore, although there does not appear to be an urban vs. rural advantage in MVPA levels during home-based CR, there does appear to be environmental/MVPA-specific relationships specific to urban and rural patients that may warrant attention.
Access options
Buy single article
Instant access to the full article PDF.
US$ 39.95
Tax calculation will be finalised during checkout.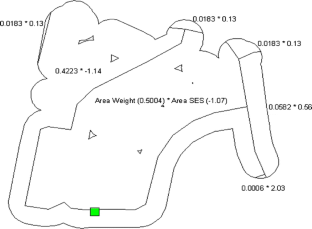 References
1.

Arthur HM, Smith KM, Kodis J, McKelvie R. A controlled trial of hospital versus home-based exercise in cardiac patients. Med Sci Sports Exerc. 2002; 34(10): 1544–1550.

2.

Smith KM, Arthur HM, McKelvie RS, Kodis J. Differences in sustainability of exercise and health-related quality of life outcomes following home or hospital-based cardiac rehabilitation. Eur J Cardiovasc Prev Rehabil. 2004; 11(4): 313–319.

3.

Blanchard C, Reid R, Morrin L, et al. Demographic and clinical determinants of moderate to vigorous physical activity during home-based cardiac rehabilitation: the home-based determinants of exercise (HOME) study. J Cardpulm Rehabil. 2010; 30(4): 240–245.

4.

Petter M, Blanchard C, Kemp K, Mazoff A, Ferrier S. Correlates of exercise among coronary heart diseaes patients: review, implications, and future directions. Eur J Cardiovasc Prev Rehabil. 2009; 16(5): 515–526.

5.

Sallis J, Owen N. Ecological models. In: Glanz K, Lewis F, Rimer B, eds. Health Behavior and Health Education: Theory, Research, and Practice. San Francisco, CA: Jossey Bass; 1999: 403–424.

6.

Parks S, Housemann R, Brownson RC. Differential correlates of physical activity in urban and rural adults of various socioeconomic backgrounds in the United States. J Epidemiol Community. 2003; 57: 29–35.

7.

Wilcox S, Castro C, King A, Housemann R, Brownson R. Determinants of leisure time physical activity in rural compared with urban older and ethnically diverse women in the United States. J Epidemiol Community. 2000; 54: 667–672.

8.

Tucker-Seeley R, Subramanian S, Sorensen G. Neighborhood safety, socioeconomic status, and physical activity in older adults. Am J Prev Med. 2009; 37(3): 207–213.

9.

Wilson D, Kirtland K, Ainsworth B, Addy C. Socioeconomic status and perceptions of access and safety for physical activity. Ann Beh Med. 2004; 28(1): 20–28.

10.

Jakicic J, Wing R, Butler B, Jeffrey R. The relationship between presence of exercise equipment in the home and physical activity. Am J Health Promot. 1997; 11(5): 363–365.

11.

Sallis J, Johnson M, Calfas K, Caparosa S, Nichols J. Assessing perceived physical environmental variables that may influence physical activity. Res Q Exerc Sport. 1997; 68(4): 345–351.

12.

Humpel N, Owen N, Leslie E. Environmental factors associated with adults' perception in physical activity. Am J Prev Med. 2002; 22(3): 188–199.

13.

Saelens B, Handy S. Built environment correlates of walking: a review. Med Sci Sports Exerc. 2008; 40: S550–S566.

14.

INTERXVENT, CANADA. 12-week mentored health program. https://store.intervent.ca/. Accessed January 2, 2010.

15.

Godin G, Shepard RJ. A simple method to assess exercise behavior in the community. Can J Appl Sport Sci. 1985; 10: 141–146.

16.

Jacobs DR, Ainsworth BE, Hartman TJ, Leon AS. A simultaneous evaluation of ten commonly used physical activity questionnaires. Med Sci Sports Exerc. 1993; 25: 81–89.

17.

International, Physical, Activity, Prevalence, Study. Self-administered environmental module. http://w.drjamessallis.sdsu.edu/Documents/IPAQIPS.pdf. Accessed January 1, 2006

18.

Land Information Ontario. Ontario Road Net Element File. Ontario, Canada: Ministry of Natural Resources; 2010.

19.

Bollman R. Rural and small town canada analysis bulletin. Statistics Canada. http://www.statcan.ca/cgi-bin/downpub/freepub.cgi. Accessed January 2, 2010.

20.

Demissie K, Hanley J, Menzies D, Joseph L, Ernst P. Agreement in measuring socio-economic status: area-based versus individual measures. http://www.phac-aspc.gc.ca/publicat/cdic-mcc/21-1/a_e.html. Accessed January 2, 2010.

21.

Oliver L, Schuurman N, Hall A. Comparing circular and network buffers to examine the influence of land use on walking for leisure and errands. Int J Health Geographics. 2007; 6(41): 1–11.

22.

Raudenbush SW, Bryk TA. Hierarchical Linear Model: Applications and Data Analysis Methods. 2nd ed. Thousand Oaks, CA: 2002.

23.

Giles-Corti B, Donovan R. Socioeconomic status differences in recreational physical activity levels and real and perceived access to a supportive physical environment. Prev Med. 2002; 35: 601–611.

24.

Cohen A. A power primer. Psychol Bull. 1992; 112: 155–159.
Acknowledgments
This research was supported by the Social Sciences and Humanities Research Council of Canada. Dr. Blanchard is supported by the Canada Research Chairs program.
About this article
Cite this article
Blanchard, C., Rainham, D., McSweeney, J. et al. Community SES, Perceived Environment, and Physical Activity During Home-Based Cardiac Rehabilitation: Is There a Need to Consider the Urban vs. Rural Distinction?. J Urban Health 89, 285–295 (2012). https://doi.org/10.1007/s11524-011-9661-7
Keywords
Physical activity

Home-Based cardiac rehabilitation

Urban

Rural

Community SES

Perceived Environment