Abstract
This study investigates the relationships between the built environment, the physical attributes of the neighborhood, and the residents' perceptions of those attributes. It focuses on destination walking and self-reported health, and does so at the neighborhood scale. The built environment, in particular sidewalks, road connectivity, and proximity of local destinations, correlates with destination walking, and similarly destination walking correlates with physical health. It was found, however, that the built environment and health metrics may not be simply, directly correlated but rather may be correlated through a series of feedback loops that may regulate risk in different ways in different contexts. In particular, evidence for a feedback loop between physical health and destination walking is observed, as well as separate feedback loops between destination walking and objective metrics of the built environment, and destination walking and perception of the built environment. These feedback loops affect the ability to observe how the built environment correlates with residents' physical health. Previous studies have investigated pieces of these associations, but are potentially missing the more complex relationships present. This study proposes a conceptual model describing complex feedback relationships between destination walking and public health, with the built environment expected to increase or decrease the strength of the feedback loop. Evidence supporting these feedback relationships is presented.
This is a preview of subscription content, log in to check access.
Access options
Buy single article
Instant access to the full article PDF.
US$ 39.95
Price includes VAT for USA
Subscribe to journal
Immediate online access to all issues from 2019. Subscription will auto renew annually.
US$ 99
This is the net price. Taxes to be calculated in checkout.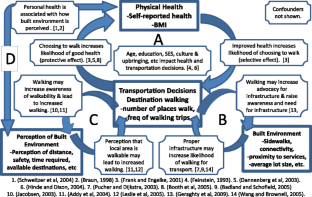 References
1.

Addy CL, Wilson DK, Kirtland KA, Ainsworth BE, Sharpe P, Kimsey D. Associations of perceived social and physical environmental supports with physical activity and walking behavior. Am J Public Health. 2004; 94(3): 440–443.

2.

Auchincloss A, Diez Roux A. A new tool for epidemiology: the usefulness of dynamic-agent models in understanding place effects on health. Am J Epidemiol. 2008; 168: 1–8.

3.

Badland HM, Schofield GM. The built environment and transport-related physical activity: what we do and do not know. Am J Public Health. 2005; 2: 433–442.

4.

Berke EM, Koepsell TD, Moudon AV, Hoskins RE, Larson EB. Association of the built environment with physical activity and obesity in older persons. Am J Public Health. 2007; 97(3): 486–492.

5.

Berrigan D, McKinno RA. Built environment and health. Prev Med. 2008; 47(3): 239–240.

6.

Braun B. Knowledge and perception of fall-related risk factors and fall-reduction techniques among community-dwelling elderly individuals. Phys Ther. 1998; 78(12): 1262–1276.

7.

Brownson RC, Change JJ, Eyler AA, et al. Measuring the environment for friendliness toward physical activity: a comparison of the reliability of 3 questionnaires. Am J Public Health. 2004; 94(3): 473–483.

8.

Cao X, Handy SL, Mokhtarian PL. The influences of the built environment and residential self-selection on pedestrian behavior: evidence from Austin, TX. Transportation. 2006; 33: 1–20.

9.

Casti JL. On system complexity: identification, measurement, and management. In: Casti JL, Karlquist A, eds. Complexity, Language, and Life: Mathematical Approaches. Berlin, Germany: Springer; 1986.

10.

Center for Disease Control (CDC). BRFSS: Turning information into health. http://www.cdc.gov/BRFSS/. Accessed June 9, 2011.

11.

Center for Disease Control (CDC). CDC Recommendations for Improving Health through Transportation Policy. http://www.cdc.gov/transportation/default.htm. Accessed June 9, 2011.

12.

Cook C, Heath F, Thompson RL. Meta-analysis of response rates in web- or internet-based surveys. Educ Psychol Meas. 2000; 60: 821–836.

13.

Dannenberg AL, Jackson RJ, Frumkin H, Schieber RA, Pratt M, Kochtitzky C, Tilson HH. The impact of community design and land-use choices on public health: a scientific research agenda. Am J Public Health. 2003; 93(9): 1500–1508.

14.

Des Jarlais DC, Lyles C, Crepaz N, TREND Group, et al. Improving the reporting quality of nonrandomized evaluations of behavioral and public health interventions: the TREND statement. AJPH. 2004; 94: 361–366.

15.

Edwards P, Roberts I, Clarke M, et al. Increasing response rates to postal questionnaires: a systematic review. BMJ. 2002; 324: 1–9.

16.

Ewing R, Cervero R. Travel and the built environment: a synthesis. Transp Res Rec. 2001; 1780: 87–114. Paper No. 01–3515.

17.

Eyler AA, Brownson RC, Bacak SJ, Housemann RA. The epidemiology of walking for physical activity in the United States. Med Sci Sports Exerc. 2003; 35(9): 1529–1536.

18.

Fisher KJ, Li F. A community-based walking trial to improve neighborhood quality of life in older adults: a multilevel analysis. Ann Behav Med. 2004; 28(3): 186–194.

19.

Folke C. Resilience: the emergence of a perspective for social-ecological systems analyses. Glob Environ Chang. 2006; 16: 253–267.

20.

Fox RJ, Crask MR, Kim J. A meta-analysis of selected techniques for inducing response. Public Opin Q. 1988; 52(4): 467–491.

21.

Frank LD, Andresen MA, Schmid TL. Obesity relationships with community design, physical activity and time spent in cars. Am J Prev Med. 2004; 27: 2.

22.

Frank LD, Engelke P. Multiple impacts of the built environment on public health: walkable places and the exposure to air pollution. Int Reg Sci Rev. 2005; 28(2): 193–216.

23.

Frank LD, Sallis JF, Conway TL, Chapman JE, Saelens BE, Bachman W. Many pathways from land use to health: associations between neighborhood walkability and active transportation, body mass index, and air quality. J Am Plan Assoc. 2006; 72(1): 75–87.

24.

Garrow JS, Webster J. Quetelet's index (W/H2) as a measure of fatness. Int J Obes. 1985; 9(2): 147–153.

25.

Geraghty AB, Seifert W, Preston T, Holm CV, Duarte TH, Farrar SM. Partnership moves community toward complete streets. Am J Prev Med. 2009; 37(6S2): S420–S427.

26.

Glass TA, McAtee MJ. Behavioral science at the crossroads in public health: extending horizons, envisioning the future. Soc Sci Med. 2005; 62: 1650–1671.

27.

Gordon-Larsen P, Nelson MC, Page P, Popkin BM. Inequality in the built environment underlies key health disparities in physical activity and obesity. Pediatrics. 2006; 117: 417–424.

28.

Hammond, RA. Complex systems modeling for obesity research. Prev Chronic Dis. 2009; 6(3). http://www.cdc.gov/pcd/issues/2009/jul/09_0017.htm. Accessed June 9, 2011.

29.

Handy SL, Clifton KJ. Local shopping as a strategy for reducing automobile travel. Transportation. 2001; 28: 317–346.

30.

Heckman JJ, Smith JA. Assessing the case for social experiments. J Econ Perspect. 1995; 9(2): 85–110.

31.

Heinrich KM, Lee RE, Regan GR, et al. How does the built environment relate to body mass index and obesity prevalence among public housing residents? Am J Health Promot. 2008; 22(3): 187–194.

32.

Hoehner CM, Brennan Ramirez LK, Elliott MB, Handy SL, Brownson RC. Perceived and objective environmental measures and physical activity among urban adults. Am J Prev Med. 2005; 28(2S2): 105–116.

33.

Jackson RJ. The impact of the built environment on health: an emerging field. Am J Public Health. 2003; 93(9): 1382–1384. Editorial for Special Issue.

34.

Jacobsen PL. Safety in numbers: more walkers and bicyclists, safer walking and biking. Inj Prev. 2003; 9: 205–209.

35.

Kansas State University (KSU). Low-income women living in small cities have higher chance of obesity, study finds. Science Daily. March 9, 2010. http://www.sciencedaily.com/releases/2010/03/100309111641.htm. Accessed June 9, 2011.

36.

Krieger J, Higgins DL. Housing and health: time again for public health action. Am J Public Health. 2002; 92(5): 758–768.

37.

Leslie E, Saelens B, Frank L, et al. Residents' perceptions of walkability attributes in objectively different neighborhoods: a pilot study. Health Place. 2005; 11: 227–236.

38.

Leung MW, Yen I, Minkler M. Community-based participatory research: a promising approach for increasing epidemiology's relevance in the 21st century. Int J Epidemiol. 2004; 33: 499–506.

39.

Leyden KM. Social capital and the built environment: the importance of walkable neighborhoods. Am J Public Health. 2003; 93(9): 1546–1551.

40.

Newman P, Kenworthy J. Sustainability and Cities: Overcoming Automobile Dependence. Washington, D.C.: Island; 1999.

41.

Northridge ME, Sclar ED, Biswas P. Sorting out the connections between the built environment and health: a conceptual framework for navigating pathways and planning healthy cities. J Urban Health. 2003; 80(4): 556–568.

42.

Pucher J, Dijkstra L. Promoting safe walking and cycling to improve public health: lessons from the Netherlands and Germany. Am J Public Health. 2003; 93(9): 1509–1516.

43.

Ross CE, Wu C-L. Education, age, and the cumulative advantage in health. J Health Soc Behav. 1996; 37: 104–120.

44.

Sallis JF, Glanz K. The role of built environments in physical activity, eating, and obesity in childhood. Futur Child. 2006; 16(1): 89–108.

45.

Schweitzer M, Gilpin L, Frampton S. Healing spaces: elements of environmental design that make an impact on health. J Altern Complement Med. 2004; 10(sup1): 71–83.

46.

Shay E, Fan Y, Rodriguez DA, Khattak AJ. Drive or walk? Utilitarian trips within a neotraditional neighborhood. Transp Res Rec. 2006; 1985: 154–161.

47.

Srinivasan S, O'Fallon LR, Dearry A. Creating healthy communities, healthy homes, healthy people: initiating a research agenda on the built environment and public health. Am J Public Health. 2003; 93: 1446–1450.

48.

Susser M, Susser E. Choosing a future for epidemiology: II. From a black box to Chinese boxes and eco-epidemiology. Am J Public Health. 1996; 86(5): 674–677.

49.

Wang SS, Brownell KD. Public policy and obesity: the need to marry science with advocacy. Psychiatr Clin N Am. 2005; 28: 235–252.
About this article
Cite this article
Carlson, C., Aytur, S., Gardner, K. et al. Complexity in Built Environment, Health, and Destination Walking: A Neighborhood-Scale Analysis. J Urban Health 89, 270–284 (2012). https://doi.org/10.1007/s11524-011-9652-8
Keywords
Health

Built environment

Transportation

Multi-level modeling

Complex systems