Abstract
One promising public health intervention for promoting physical activity is the Ciclovía program. The Ciclovía is a regular multisectorial community-based program in which streets are temporarily closed for motorized transport, allowing exclusive access to individuals for recreational activities and physical activity. The objective of this study was to conduct an analysis of the cost–benefit ratios of physical activity of the Ciclovía programs of Bogotá and Medellín in Colombia, Guadalajara in México, and San Francisco in the USA. The data of the four programs were obtained from program directors and local surveys. The annual cost per capita of the programs was: US $6.0 for Bogotá, US $23.4 for Medellín, US $6.5 for Guadalajara, and US $70.5 for San Francisco. The cost–benefit ratio for health benefit from physical activity was 3.23–4.26 for Bogotá, 1.83 for Medellín, 1.02–1.23 for Guadalajara, and 2.32 for San Francisco. For the program of Bogotá, the cost–benefit ratio was more sensitive to the prevalence of physically active bicyclists; for Guadalajara, the cost–benefit ratio was more sensitive to user costs; and for the programs of Medellín and San Francisco, the cost–benefit ratios were more sensitive to operational costs. From a public health perspective for promoting physical activity, these Ciclovía programs are cost beneficial.
Access options
Buy single article
Instant access to the full article PDF.
US$ 39.95
Tax calculation will be finalised during checkout.
Subscribe to journal
Immediate online access to all issues from 2019. Subscription will auto renew annually.
US$ 79
Tax calculation will be finalised during checkout.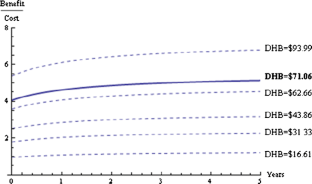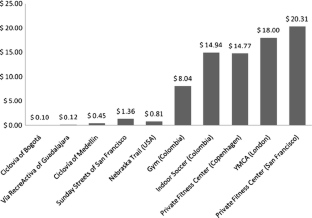 References
1.

WHO. Preventing Chronic Disease: a Vital Investment. Geneva, Switzerland: World Health Organization; 2005.

2.

Global health risks: mortality and burden of disease attributable to selected major risks. http://www.whoint/healthinfo/global_burden_disease/GlobalHealthRisks_report_ful.pdf. Accessed April 1, 2010.

3.

Hoehner CM, Soares J, Parra PD, et al. Physical activity interventions in Latin America: a systematic review. Am J Prev Med. 2008; 34(3): 224–233.

4.

Sarmiento OL, Schmid T, Parra D, et al. Quality of life, physical activity and built environment characteristics among Colombian adults. J Phys Act Health. 2010; 7(Suppl 2): S181–S195.

5.

Sarmiento O, Torres A, Jacoby E, et al. The Ciclovía-recreativa: a mass recreational program with public health potential. J Phys Act Health. 2010; 7(suppl 2): S163–S180.

6.

Díaz-del-Castillo A, Sarmiento OL, Reiss R, et al. Translating evidence to policy: urban interventions and physical activity promotion in Bogotá, Colombia and Curitiba, Brazil. Transl Behav Med. 2011; 1(2): 350–360.

7.

World Health Day 2010. http://www.whoint/world-health-day/2010/en/. Accessed August 2010.

8.

Kahlmeier S, Racioppi F, Cavill N, et al. "Health in all policies" in practice: guidance and tools to quantifying the health effects of cycling and walking. J Phys Act Health. 2010; 7(Suppl 1): S120–S125.

9.

Roux L, Pratt M, Tengs TO, et al. Cost effectiveness of community-based physical activity interventions. Am J Prev Med. 2008; 35(6): 578–588.

10.

Resultados del estudio de Ciclovía y Recreovía. Estudio Universidad Nacional. Convenio inter administrativo N0311 entre el IDRD y la facultad de ciencias de la Universidad Nacional. Bogotá, Colombia: 2005.

11.

World Health Organization. Global Recommendations on Physical Activity for Health. Geneva, Switzerland: World Health Organization; 2010.

12.

U.S. Department of Health and Human Services (HHS). Physical Activity Guidelines for Americans 2008. http://www.health.gov/paguidelines/guidelines. Accessed November 2008.

13.

Pratt M, Macera CA, Wang G. Higher direct medical costs associated with physical inactivity. Phys Sportsmed. 2000; 28(10): 63–70.

14.

Wang G, Macera CA, Scudder-Soucie B, et al. A cost–benefit analysis of physical activity using bike/pedestrian trails. Health Promot Pract. 2005; 6(2): 174–179.

15.

Inflation Calculator. Inflationdata.com [website]. http://inflationdata.com/inflation/Inflation_Calculators/Inflation_Calculator.asp#calcresults. Accessed June 7, 2011.

16.

Musgrove P. Colombia: approaching universal coverage. Health Aff. 2010; 29(4): 739–740.

17.

Health Economic Assestment Tool for Cycling (HEAT for Cycling).Version 1.02. http://www.thepep.org/en/workplan/candw/documents/illustrative%20tool.zip. Accessed August 2010.

18.

Cavill N, Kahlmeier S, Rutter H, et al. Methodological Guidance on the Economic Appraisal of Health Effects Related to Walking and Cycling: Summary. Copenhagen, Denmark: World Health Organization Regional Office for Europe; 2008.

19.

Cavill N, Kahlmeier S, Rutter H, et al. Economic analyses of transport infrastructure and policies including health effects related to cycling and walking: a systematic review. Transport Pol. 2008; 15: 291–304.

20.

Kniesner TJ, Kip Viscusi W, Ziliak JP. Policy relevant heterogeneity in the value of statistical life: new evidence from panel data quantile regressions. J Risk Uncertainty. 2010; 40(1): 15–31.

21.

Martínez G, Aguilera N, Quintana M. Preferencias, Gasto En Salud Y El Valor De La Vida Estaditica En América. Inter-American Conference on Social Security, Mexico D.F. CISS/WP/09/01. 2009/01, 2009b.

22.

Flake GW. The Computational Beauty of Nature: Computer Explorations of Fractals, Chaos, Complex Systems, and Adaptation. Cambridge, MA: The MIT Press; 2000.

23.

Gaylord RJ, D'Andria LJ. Simulating Society: a Mathematical Toolkit for Modeling Socioeconomic Behavior. New York, NY: Springer; 1998.

24.

Johnson N. Two's Company, Three is Complexity. Oxford, England: Oneworld Publications; 2007.

25.

Wang G, Macera CA, Scudder-Soucie B, et al. Cost effectiveness of a bicycle/pedestrian trail development in health promotion. Prev Med. 2004; 38(2): 237–242.

26.

Shayler M, Rowell A, Fergusson M. Bikes not Fumes: the Emission and Health Benefits of a Modal Shift from Motor Vehicles to Cycling. Cyclist's Touring Club (England), 1993.

27.

Costo planes Bodytech. http://www.bodytech.com.co/component/option.com_virtuemart/Itemid,31/. Accessed November 18, 2009.

28.

Costo alquiler Fútbol In. http://www.canchafutbolin.com/. Accessed November 18, 2009.

29.

Barcelo A, Rajpathak S. Incidence and prevalence of diabetes mellitus in the Americas. Rev Panam Salud Publica. 2001; 10(5): 300–308.

30.

Lobelo F, Pate R, Parra D, et al. Burden of mortality associated to physical inactivity in Bogota, Colombia. Rev Salud Publica (Bogota). 2006; 8(Suppl 2): 28–41.

31.

Litman T. Quantifying the Benefits of Non-motorized Transportation for Achieving Mobility Management Objectives. Victoria Transport Policy Institute. Canada; 2010.

32.

Sælensminde K. Cost–benefit analysis of walking and cycling track networks taking into account insecurity, health effects and external costs of motor vehicle traffic. Transport Res Gen. 2004; 38(8): 593–606.
Acknowledgements
The authors of the research would like to acknowledge the Center for Interdisciplinary Studies in Basic and Applied Complexity, CeiBA (Bogotá, Colombia), Colciencias grant 519 2010, and the grant from sustainable mobility research projects by La Universidad de los Andes in Bogotá. We also would like to acknowledge Pablo Lemoine and Gina Rojas from El Centro Nacional de Consultoria (Bogotá, Colombia); Rocío Gámez of the IDRD of Bogotá; Claudia Arango, Claudia Garzón, Fabián Higuita, and Andrés Felipe García of the INDER of Medellín, the Municipal Council of Sports of Guadalajara, Livable City of San Francisco for providing the data of the Ciclovía programs; and Claudia Guedes, Mi-Sook Kim, Patrick Tierney, and Jackson Wilson of the Active Living Across the Lifespan Research Group of San Francisco State University, California, for the data collection. We would like to thank Maria Luis Latorre, Juan Carlos Mendieta, and Candace Rutt who provided valuable comments on earlier versions of the manuscript. The findings and conclusions in this report are those of the authors and do not necessarily represent the official position of the Centers for Disease Control and Prevention or the Pan American Health Organization.
About this article
Cite this article
Montes, F., Sarmiento, O.L., Zarama, R. et al. Do Health Benefits Outweigh the Costs of Mass Recreational Programs? An Economic Analysis of Four Ciclovía Programs. J Urban Health 89, 153–170 (2012). https://doi.org/10.1007/s11524-011-9628-8
Keywords
Ciclovía program

Complex system

Urban organization

Physical activity

Economic assessment

Cost–benefit ratio

Nonmotorized transport

Human behavior

Dynamics of large cities