Abstract
In response to increasing obesity, diabetes, and food-related contributions to climate change, many individuals and organizations are mobilizing to advocate for healthier and more just local and national food policies and systems. In this report, we describe and analyze the food movement in New York City, examine tensions within it, and consider its potential role in improving health and nutrition. We conclude by suggesting that public health professionals can amplify the health effects of such movements by creating opportunities for dialog with movement participants, providing resources such as policy-relevant scientific evidence, documenting problems and evaluating policies, and offering technical, political, and organizational development expertise.
Access options
Buy single article
Instant access to the full article PDF.
US$ 39.95
Tax calculation will be finalised during checkout.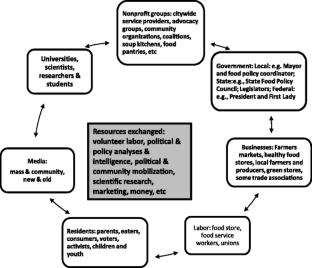 References
1.

Tilly C. Social Movements, 1768–2004. Boulder, CO: Paradigm Press; 2004.

2.

della Porta D, Diani M. Social Movement: An Introduction. Oxford, England: Blackwell; 2006.

3.

Szreter S. Rethinking McKeown: the relationship between public health and social change. Am J Public Health. 2002; 92(5): 722–725.

4.

Brown P, Zavestoski S. Social movements in health: an introduction. Sociol Health Illn. 2004; 26(6): 679–694.

5.

Munch S. The women's health movement: making policy, 1970–1995. Soc Work Health Care. 2006; 43(1): 17–32.

6.

Nathanson CA. Social movements as catalysts for policy change: the case of smoking and guns. J Health Polit Policy Law. 1999; 24(3): 421–488.

7.

Keefe RH, Lane SD, Swarts HJ. From the bottom up: tracing the impact of four health-based social movements on health and social policies. J Health Soc Policy. 2006; 21(3): 55–69.

8.

McCally M. Medical activism and environmental health. Ann Am Acad Pol Soc Sci. 2002; 584: 145–158.

9.

Diani M. The concept of social movement. Sociol Rev. 1992; 40: 1–25.

10.

McCarthy JD, Zald MN. The enduring vitality of the resource mobilization theory of social movements. In: Turner JH, McCarthy JD, eds. Handbook of Sociological Theory. New York, NY: Springer; 2001: 535–565.

11.

Williams RH. The cultural contexts of collective action: constraints, opportunities, and the symbolic life of social movements. In: Snow DA, Soule SA, Kriesi H, eds. The Blackwell Companion to Social Movements. Malden, MA: Blackwell; 2004: 91–115.

12.

Pollan M. Food movement rising. New York Review of Books. 2010; 57(10): 31–33.

13.

Manhattan Borough President. Food New York City: a blueprint for a sustainable food system. http://www.mbpo.org/uploads/foodnyc.pdf. Accessed 7 Mar 2011.

14.

Quinn C. Food Works: A Vision to Improve NYC's Food System. New York, NY: The New York City Council; 2010.

15.

United Food and Commercial Workers. Building blocks policy platform. http://buildingblocksproject.org/page/policy-platform. Accessed 7 Mar 2011.

16.

Levkoe C. Learning democracy through food justice movements. Agric Human Values. 2006; 23: 89.

17.

Wekerle GR. Food justice movements: policy, planning, and networks. J Plan Educ Res. 2004; 23: 378.

18.

Nestle M. Reading the food social movement. World Lit Today. 2009; 83(1): 37–39.

19.

Gottlieb R, Josji A. Food Justice. Cambridge, MA: MIT Press; 2010.

20.

Edwards B, McCarthy JD. Resources and social movement mobilization. In: Snow DA, Soule SA, Kriesi H, eds. The Blackwell Companion to Social Movements. Malden, MA: Blackwell; 2004: 116–152.

21.

Burlingham CC. The city's huge relief battle and the plans for fighting it. New York Times October 23, 1932: XX3.

22.

Pocock M, Trivedi D, Wills W, Bunn F, Magnusson J. Parental perceptions regarding healthy behaviours for preventing overweight and obesity in young children: a systematic review of qualitative studies. Obes Rev. 2010; 11(5): 338–353.

23.

Drewnowski A, Specter SE. Poverty and obesity: the role of energy density and energy costs. Am J Clin Nutr. 2004; 79(1): 6–16.

24.

Brownell KD, Frieden TR. Ounces of prevention—the public policy case for taxes on sugared beverages. N Engl J Med. 2009; 360(18): 1805–8.

25.

Cardwell D. A plan to add supermarkets to poor areas, with healthy results. New York Times. September 23, 2009. http://www.nytimes.com/2009/09/24/nyregion/24super.html. Accessed 7 Mar 2011.

26.

Angotti T. Food deserts could bloom if City Hall helps. Gotham Gazette. January 2010. http://www.gothamgazette.com/article/landuse/20100128/12/3166. Accessed 7 Mar 2011.

27.

Dinour L, Fuentes L, Freudenberg N. Reversing Obesity in New York City: An Action Plan for Reducing the Promotion and Accessibility of Unhealthy Food, Public Health Association of New York City. New York, NY: City University of New York Campaign Against Diabetes and the Public Health Association of New York City; 2008.

28.

Frieden TR, Bassett MT, Thorpe LE, Farley TA. Public health in New York City, 2002–2007: confronting epidemics of the modern era. Int J Epidemiol. 2008; 37(5): 966–977.

29.

Harvard Evaluation Exchange. Advocacy and policy change. Eval Exch. 2007; 13:1;1–16. http://www.hfrp.org/var/hfrp/storage/original/application/6bdf92c3d7e970e7270588109e23b678.pdf. Accessed 7 Mar 2011.

30.

Organizational Research Services. A guide to measuring advocacy and policy 2007. http://www.organizationalresearch.com/publications/a_guide_to_measuring_advocacy_and_policy.pdf. Accessed 7 Mar 2011.

31.

Sayre WS, Kaufman H. Governing New York City: Politics in the Metropolis. New York, NY: Russell Sage Foundation; 1960.

32.

Patient Protection and Affordable Care Act of 2010. [Affordable Care Act]. Title IV, Subtitle C, Section 4205. March 23, 2010.

33.

Hartocolis A. Failure of state soda tax plan reflects power of an antitax message. New York Times. July 3, 2010: A14.

34.

Lenzer J. New York City push against sugary drinks sparks controversy. BMJ. 2010; 14(341): c5763.

35.

Brustein J. Fast food and zoning. Gotham Gazette. June 26, 2006. http://www.gothamgazette.com/blogs/wonkster/2006/06/26/fast-food-and-zoning/. Accessed 7 Mar 2011.

36.

Wallack L, Lawrence R. Talking about public health: developing America's "second language". Am J Public Health. 2005; 95(4): 567–570.

37.

Kingdon JW. Agendas, Alternatives, and Public Policies. 2nd ed. New York, NY: Longman; 1995.

38.

Taylor DE. The rise of the environmental justice paradigm injustice framing and the social construction of environmental discourses. Am Behav Sci. 2000; 43(4): 508–580.

39.

Sondik EJ, Huang DT, Klein RJ, Satcher D. Progress toward the healthy people 2010 goals and objectives. Annu Rev Public Health. 2010; 31: 271–281.

40.

Summers C, Cohen L, Havusha A, Sliger F, Farley T. Take Care New York 2012: A Policy for a Healthier New York City. New York, NY: New York City Department of Health and Mental Hygiene; 2009.

41.

Rowitz L. Public Health Leadership. Putting Principles into Practice. 2nd ed. Sudbury, MA: Jones and Bartlet; 2009.
Acknowledgments
We thank the individuals listed below who participated in the June 2010 workshop at Hunter College on the NYCfm or suggested changes in drafts of this paper. The views expressed herein are those of the authors and do not necessarily represent the view of our institutions or the participants in the workshop.
Agnes Molnar, Aine Duggan, Alexandra Hanson, Alison Cohen, Ana Garcia, Andrew Rundle, Arlene Spark, Benjamin Thomases, Christine Yu, Dennis Rivera, Devanie Jackson, Gail Gordon, Isabel Contento, Jan Poppendieck, Javier Lopez, Jenifer Clapp, Joe Holtz, Jon Deutsch, Kathy Goldman, Kim Libman, Kristen Mancinelli, Lauren Dinour, Monica Gagnon, Mark Dunlea, Melissa Cebollero, Mo Kinberg, Nadia Johnson, Nancy Romer, Peggy Shepard, Robert Jackson, Sabrina Baronberg, Sarita Daftary, Tom Angotti, and Triada Stampas.
About this article
Cite this article
Freudenberg, N., McDonough, J. & Tsui, E. Can a Food Justice Movement Improve Nutrition and Health? A Case Study of the Emerging Food Movement in New York City. J Urban Health 88, 623 (2011). https://doi.org/10.1007/s11524-011-9598-x
Keywords
Food environment

Social movements

Food policy

New York City