Abstract
Serial forced displacement has been defined as the repetitive, coercive upheaval of groups. In this essay, we examine the history of serial forced displacement in American cities due to federal, state, and local government policies. We propose that serial forced displacement sets up a dynamic process that includes an increase in interpersonal and structural violence, an inability to react in a timely fashion to patterns of threat or opportunity, and a cycle of fragmentation as a result of the first two. We present the history of the policies as they affected one urban neighborhood, Pittsburgh's Hill District. We conclude by examining ways in which this problematic process might be addressed.
This is a preview of subscription content, log in to check access.
Access options
Buy single article
Instant access to the full article PDF.
US$ 39.95
Price includes VAT for USA
Subscribe to journal
Immediate online access to all issues from 2019. Subscription will auto renew annually.
US$ 99
This is the net price. Taxes to be calculated in checkout.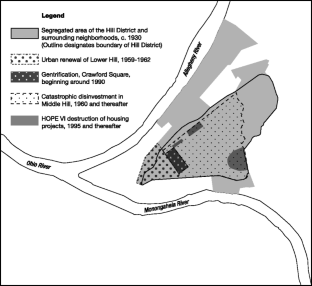 References
1.

Wallace D, Wallace R. A Plague on Your Houses: How New York Was Burned Down and National Public Health Crumbled. London, England: Verso; 1998.

2.

Fullilove MT. Root shock: the consequences of African American dispossession. J Urban Health. 2001; 78: 72–80.

3.

Fullilove MT. Root shock: how tearing up city neighborhoods hurts America and what we can do about it. New York, NY: Ballantine Books; 2004.

4.

Fryer RG, Heaton, Levitt SD, Murphy KM. Measuring the Impact of Crack Cocaine. Cambridge, MA: National Bureau of Economic Research; 2005. Working Paper No. 11318.

5.

Watkins BX, Fullilove MT. The crack epidemic and the failure of epidemic response. Temple Political Civil Rights Law Rev. 2001; 10(2): 371.

6.

Hanchett TW. Sorting Out the New South City: Race, Class, and Urban Development in Charlotte, 1875–1975. Chapel Hill, NC: University of North Carolina Press; 1998.

7.

Massey DS, Denton NA. American Apartheid: Segregation and the Making of the Underclass. Cambridge, MA: Harvard University Press; 1993.

8.

Weiss MA. The origins and legacy of urban renewal. In: Mitchell JP, ed. Federal Housing Policy and Programs: Past and Present. New Brunswick, NJ: Rutgers University; 1985: 253–76.

9.

Wallace R. A synergism of plagues: "planned shrinkage," contagious housing destruction, and AIDS in the Bronx. Environ Res. 1988; 47(1): 1–33.

10.

Barry B, Bennett H. The Deindustrialization of America: Plant Closings, Community Abandonment, and the Dismantling of Basic Industry. New York, NY: Basic Books; 1982.

11.

Wallace R, Ullmann J, Wallace D, Andrews H. Deindustrialization, inner city decay, and the hierarchical diffusion of AIDS in the US. Environ Plan A. 1999; 31: 113–39.

12.

Mauer M. Rush to Incarcerate: The Sentencing Project. New York, NY: The New Press; 2001.

13.

Lane SD. Why Are Our Babies Dying? Pregnancy, Birth and Death in America. Boulder, CO: Paradigm Publishers; 2008.

14.

Lees L, Slater T, Wyly E. Gentrification. New York, NY: Routledge; 2008.

15.

Powell JA, Spencer ML. Giving them the old "one-two": gentrification and the K.O. of impoverished urban dwellers of color. Howard Law Rev. 2003; 46: 433–490.

16.

Hyra DS. The New Urban Renewal: The Economic Transformation of Harlem and Bronzeville. Chicago, IL: The University of Chicago Press; 2008.

17.

Hernandez J. Redlining revisited: mortgage lending patterns in Sacramento 1930–2004. Int J Urban Reg Res. 2009; 33: 291–313.

18.

Fullilove MT. AIDS and social context. Chapter in AIDS-related Cancers and Their Treatment. Eds. Feigal EG, Biggar R, Levine A. New York, NY: Marcel Dekker; 2000: 371–385.

19.

Leighton AH. My Name is Legion: Foundations for a Theory of Man in Relation to Culture. New York, NY: Basic Books, Inc.; 1959.

20.

Watkins BX. Fantasy, Decay, Abandonment, Defeat, and Disease: Community Disintegration in Central Harlem 1960–1990. New York, NY: Columbia University; 2000.

21.

Wallace R, Fullilove MT, Flisher AJ. AIDS, violence and behavioral coding: information theory, risk behavior and dynamic process on core-group sociogeographic networks. Soc Sci Med. 1996; 43: 339–52.

22.

Wallace R, Wallace D. Gene Expression and Its Discontents: The Social Production of Chronic Disease. New York, NY: Springer; 2010.

23.

Barker D, Forsen T, Uutela A, Osmond C, Erikson J. Size at birth and resilience to effects of poor living conditions in adult life: longitudinal study. BMJ. 2002; 323: 1261–2.

24.

Memmi A. The Colonizer and the Colonized. Boston, MA: Beacon; 1991.

25.

Darden JT. Afro-Americans in Pittsburgh: The Residential Segregation of a People. Lexington, MA D.C. Health and Company; 1973.

26.

Trotter JW, Day JN. Race and renaissance: African Americans in Pittsburgh since World War II. Pittsburgh, PA: University of Pittsburgh Press; 2010.

27.

Simms EM. Children's lived spaces in the inner city: historical and political aspects of the psychology of place. Humanistic Psychol. 2008; 36: 72–89.

28.

Acker CJ. How crack found a niche in the American ghetto: the historical epidemiology of drug-related harm. BioSocieties. 2010; 5: 70–88.

29.

Lubove R. Twentieth Century Pittsburgh: The Post Steel Era. Vol. 2. Pittsburgh, PA: The University of Pittsburgh Press; 1996.

30.

Belko M. Hill District leaders see a new beginning as arena agreement is signed. Pittsburgh Post-Gazette, http://www.post-gazette.com/pg/08233/905581-53.stm. Accessed January 6, 2011.

31.

Thompson E, Thompson M. Homeboy Came to Orange: a Story of People's Power. Newark, NJ: Bridgebuilder Press; 1976.

32.

Fullilove MT, Green LL, Fullilove RE. Building momentum: an ethnographic study of inner-city redevelopment. Am J Public Health. 1999; 89: 840–4.

33.

Wallace, R. How to Overcome Neighborhood Marginalization. Paper presented at New York Stop AIDS Conference, March 23, 2006. New York City, New York.
About this article
Cite this article
Fullilove, M.T., Wallace, R. Serial Forced Displacement in American Cities, 1916–2010. J Urban Health 88, 381–389 (2011). https://doi.org/10.1007/s11524-011-9585-2
Keywords
Serial forced displacement

Segregation

Redlining

Urban renewal

Planned shrinkage

HOPE VI

Gentrification

Foreclosure

Community disintegration