Abstract
In this paper we offer a conceptualization of mortgage foreclosure as serial displacement by highlighting the current crisis in the context of historically repeated extraction of capital—economic, social, and human—from communities defined at different scales: geographically, socially, and that of embodied individuals. We argue that serial displacement is the loss of capital, physical resources, social integration and collective capacity, and psycho-social resources at each of these scales, with losses at one level affecting other levels. The repeated extraction of resources has negative implications for the health of individuals and groups, within generations as well as across generations, through the accumulation of loss over time. Our analysis of the foreclosure crisis as serial displacement for African American households in the United States begins with the "housing niche" model. We focus on the foreclosure crisis as an example of the interconnectedness of structured inequality in health and housing. Then we briefly review the history of policies related to racial inequality in homeownership in the twentieth and twenty-first centuries. We end with an analysis of the scales of displacement and the human, social, and capital asset extraction that accompany them.
This is a preview of subscription content,
to check access.
Access this article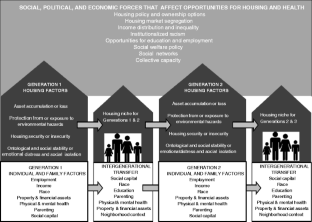 References
Apgar W, Calder A. The dual mortgage market: the persistence of discrimination in mortgage lending. In: de Souza Briggs X, ed. The Geography of Opportunity: Race and Housing Choice in Metropolitan America. Washington, DC: Brookings Institution Press; 2005:101-126.

Newman K. Post-industrial widgets: capital flows and the production of the urban. Int J Urban Reg Res. 2009;33(2):314-331.

Williams R, Nesiba R, Diaz McConnell E. The changing face of inequality in home mortgage lending. Soc Probl. 2005;52(2):181-208.

Wyly E, Moos M, Hammel D, Kabahizi E. The class-monopoly rents of American subprime mortgage capital. Int J Urban Reg Res. 2009;33(2):332-354.

Schwartz A. Housing Policy in the United States. 2nd ed. New York, NY: Routledge; 2010.

Saegert S, Evans G. Poverty, housing niches, and health in the United States. J Soc Issues. 2003;59(3):569-589.

U.S. Department of Health and Human Services. National Plan for Action. Washington, DC: Office of Minority Health, U.S. Department of Health and Human Services; 2010.

Shrestha LB. Life Expectancy in the United States. Washington, DC: Congressional Research Service; 2006.

Bond Huie SA, Krueger PM, Rogers RG, Hummer RA. Wealth, race, and mortality. Soc Sci Q. 2003;3:667-684.

Oliver M, Shapiro TM. Black Wealth/White Wealth: a New Perspective on Racial Inequality. New York, NY: Routledge; 1996.

Segal LM, Sullivan DG. Trends in homeownership: race, demographics, and income. Econ Perspect. 1998;2:53-72.

Turner TM, Luea H. Homeownership, wealth accumulation and income status. J Hous Econ. 2009;2:104-114.

Keister LA, Moller S. Wealth inequality in the United States. Annu Rev Sociol. 2000;26:63-81.

Saez E. Striking It Richer: The Evolution of Top Incomes in The United States (Update Using 2006 Preliminary Estimates). Berkeley, CA: University of California Department of Economics; 2008.

Saez E. Striking it richer: the evolution of top incomes in the United States. Pathways Magazine. Vol Winter 2008. Palo Alto CA: Stanford Center for the Study of Poverty and Inequality; 2008.

Saez E. Striking It Richer: The Evolution of Top Incomes in The United States (Update Using 2008 Preliminary Estimates). Berkeley, CA: University of California Department of Economics; 2010.

Di ZX. Do homeowners have higher future household income? Hous Stud. 2007;4:459-472.

Di ZX, Belsky E, Liu X. Do homeowners achieve more household wealth in the long run? J Hous Econ. 2007;3–4:274-290.

Hilber CAL, Liu Y. Explaining the black-white homeownership gap: the role of own wealth, parental externalities and locational preferences. J Hous Econ. 2008;2:152-174.

Lusardi A, Mitchell OS. Baby Boomer retirement security: the roles of planning, financial literacy, and housing wealth. J Monet Econ. 2007;54(1):205-224.

Bhargava V, Lown JM. Preparedness for financial emergencies: evidence from the survey of consumer finances. Financ Couns Plan. 2006;17(2):17-26.

Shapiro TM, Meschede T, Sullivan L. The racial wealth gap increases fourfold. Institute on Assets and Social Policy Research and Policy Brief. Boston MA: Brandeis University, May 2010;1–4.

Szanton SL, Allen JK, Thorpe RJ, Seeman T, Bandeen-Roche K, Fried LP. Effect of financial strain on mortality in community-dwelling older women. J Gerontol B Psychol Sci Soc Sci. 2008;63(6):S369-S374.

Smith S, Easterlow D, Munro M, Turner K. Housing as health capital: how health trajectories and housing paths are linked. J Soc Issues. 2003;59(3):501-525.

Smith SJ, Easterlow D. The strange geography of health inequalities. Trans Inst Br Geogr. 2005;30(2):173-190.

Penningroth DC. The Claims of Kinfolk: African American Property and Community in the Nineteenth-Century South. Chapel Hill, NC: The University of North Carolina Press; 2003.

Mitchell TW. From reconstruction to deconstruction: undermining black landownership, political independence, and community through partition sales of tenancies in common. Northwest Univ Law Rev. 2000;95:505-580.

Link B, Phelan J. Social conditions as fundamental causes of disease. J Health Soc Behav. 1995;35:80-94 (Extra Issue: Forty Years of Medical Sociology: The State of the Art and Directions for the Future).

Knox PL, McCarthy L. Urbanization: an Introduction to Urban Geography. 2nd ed. Engelwood Cliffs, New Jersey: Pearson Prentice Hall; 2005.

Fullilove M. Root Shock: How Tearing Up City Neighborhoods Hurts America, and What We Can Do About It. New York, NY: One World/Ballantine; 2005.

Wallace D, Wallace R. A Plague on Your Houses: How New York Was Burned Down and National Public Health Crumbled. New York: Verso Books; 1998.

Wallace R. A synergism of plagues. Environ Res. 1988;47(1):1-33.

Wallace R, Fullilove MT, Flisher AJ. AIDS, violence and behavioral coding: information theory, risk behavior and dynamic process on core-group sociogeographic networks. Soc Sci Med. 1996;43(3):339-352.

Wallace R, Wallace D. Origins of public health collapse in New York City: the dynamics of planned shrinkage, contagious urban decay and social disintegration. Bull NY Acad Med. 1990;66(5):391-434.

Saegert S, Fields D, Libman K. Deflating the dream: radical risk and the neoliberalization of homeownership. J Urban Aff. 2009;31(3):297-317.

Newman K, Wyly E. Geographies of mortgage market segmentation: the case of Essex County, New Jersey. Hous Stud. 2004;19(1):53-83.

Krugman P. Punks and Plutocrats. The New York Times. March 29, 2010. http://www.nytimes.com/2010/03/29/opinion/29krugman.html. Accessed May 27, 2011.

Engel KC, McCoy PA. A tale of three markets: the law and economics of predatory lending. Tex Law Rev. 2002;80(6):1259-1381.

Freeman L. Black homeownership: the role of temporal changes and residential segregation at the end of the 20th century. Soc Sci Q. 2005;86(2):403-426.

Friedman S, Squires GD. Does the community reinvestment act help minorities access traditionally inaccessible neighborhoods? Soc Probl. 2005;52(2):209-231.

Wyly E, Atia M, Foxcroft H, Hammel D, Phillips-Watts K. American home: predatory mortgage capital and neighborhood spaces of race and class exploitation in the United States. Geogr Ann. 2006;88(1):105-132.

Aalbers M. Why the community reinvestment act cannot be blamed for the subprime crisis. C&C. 2009;8(3):346-350.

Immergluck D. Foreclosed: High-Risk Lending, Deregulation, and the Undermining of America's Mortgage Market. Ithaca, NY: Cornell University Press; 2009.

Been V, Gould Ellen I, Madar J. The high cost of segregation: exploring racial disparities in high-cost lending. Fordham Urb LJ. 2009;6:361-393.

Ashton P. Advantage or disadvantage? The changing institutional landscape of underserved mortgage markets. Urban Aff Rev. 2008;43:352-402.

Apgar W, Duda M. Collateral Damage: The Municipal Impact of Today's Mortgage Foreclosure Boom. Minneapolis, MN: Homeownership Preservation Foundation; 2005.

Immergluck D, Smith G. The external costs of foreclosure: the impact of single-family mortgage foreclosures on property values. Hous Policy Debate. 2006;17(1):57-79.

Immergluck D, Smith G. The impact of single-family mortgage foreclosures on neighborhood crime. Hous Stud. 2006;21(6):851-866.

Schloemer E, Li W, Ernst K, Keest K. Losing Ground: Foreclosures in the Subprime Market and Their Cost to Homeowners. Durham, NY: Center for Responsible Lending; 2006.

Schuetz J, Been V, Gould EI. Neighborhood effects of concentrated mortgage foreclosures. J Housing Econ. 2008;17:306-319.

DeFilippis J, Wyly E. Running to stand still: through the looking glass with federally subsidized housing in New York City. Urban Aff Rev. 2008;43(6):777-816.

Immergluck D. The foreclosure crisis, foreclosed properties, and federal policy: some implications for housing and community development planning. J Am Plann Assoc. 2009;75(4):406-423.

Immergluck D. The local wreckage of global capital: the subprime crisis, federal policy and high-foreclosure neighborhoods in the US. Int J Urban Reg Res. 2011;35(1):130-146.

Braconi F. In rem: innovation and expediency in New York City's housing policy. In: Schill M, ed. Housing and Community Development in New York City. Albany, NC: State University of New York Press; 1999.

Leavitt J, Saegert S. The community-household: responding to housing abandonment. J Am Plann Assoc. 1988;54(4):489-500.

Bratt RG. Homeownership for low-income households: a comparison of the Section 235, Nehemian, and Habitat for Humanity programs. In: Rohe W, Watson H, eds. Chasing the American Dream: New Perspectives on Affordable Homeownership. Ithaca, NY: Cornell University Press; 2007.

Gerardi K, Willen P. Subprime mortgages, foreclosures, and urban neighborhoods. BE J Econ Anal Policy. 2009;9(3):12.

Kim S. Race and home price appreciation in urban neighborhoods: evidence from Milwaukee, Wisconsin. Rev Black Polit Econ. 2000;28(2):9-28.

Kahn ME, Cummings J, DiPasquale D. Measuring the consequences of promoting inner city homeownership. J Hous Econ. 2001;11:330-359.

Harvey D. The New Imperialism. Oxford, England: Oxford University Press; 2003.

Fields D, Libman K, Saegert S. Turning everywhere, getting nowhere: experiences of seeking help for mortgage delinquency and their implications for foreclosure prevention. Hous Policy Debate. 2010;20(4):647-686.

Ross LM, Squires GD. The personal costs of subprime lending and the foreclosure crisis: a matter of trust, insecurity, and institutional deception*. Soc Sci Q. 2011;92(1):140-163.

Libman K, Fields D, Saegert S. Housing and health: insights from the United States foreclosure crisis. Hous Theory Soc. (in press)

Krieger N, Davey Smith G. Bodies count, and body counts: social epidemiology and embodying inequality. Epidemiol Rev. 2004;26(1):92-103.

Bures RM. Childhood residential stability and health at midlife. Am J Public Health. 2003;93(7):1144-1148.

Jellyman T, Spencer N. Residential mobility in childhood and health outcomes: a systematic review. J Epidemiol Community Health. 2008;62:584-592.

Geronimus AT. Black/white differences in the relationship of maternal age to birthweight: a population-based test of the weathering hypothesis. Soc Sci Med. 1996;42(4):589-597.

Geronimus AT, Hicken M, Keene D, Bound J. "Weathering" and age patterns of allostatic load scores among blacks and whites in the United States. Am J Public Health. 2006;96(5):826-832.

Geronimus AT, Bound J, Waidmann TA, Hillemeier MM, Burns PB. Excess mortality among blacks and whites in the United States. N Engl J Med. 1996;335(21):1552-1559.
Additional information
African American and black are used somewhat interchangeably. African American is preferred by the authors, but when discussing works on black–white differences, the term black is sometimes used in keeping with the source.
About this article
Cite this article
Saegert, S., Fields, D. & Libman, K. Mortgage Foreclosure and Health Disparities: Serial Displacement as Asset Extraction in African American Populations. J Urban Health 88, 390–402 (2011). https://doi.org/10.1007/s11524-011-9584-3
Published:

Issue Date:

DOI: https://doi.org/10.1007/s11524-011-9584-3
Keywords