Abstract
Volunteer service opportunities for older adults may soon be expanded. Although volunteering is thought to provide health benefits for healthier older adults, it is not known whether older adults in less than very good health are suitable candidates for high-intensity volunteering and can derive health benefits. This manuscript presents a prospective analysis of 174 older adult volunteers serving in Experience Corps Baltimore®, a high-intensity senior volunteer program in Baltimore, Maryland. Volunteers served ≥15 h per week, for a full school year, in elementary schools helping children with reading and other skills between 1999 and 2002. Volunteers were assessed with standardized questionnaires and performance-based testing including grip strength, walking speed, chair stand speed, and stair-climbing speed prior to school volunteering and at the end of the school year. Results were stratified by health status. Among 174 volunteers, 55% initially reported "good" and 12% "fair" or "poor" health status. At baseline, those in fair health reported higher frequencies of disease and disability than volunteers in excellent or very good health. After volunteering, a majority of volunteers in every baseline health status category described increased strength and energy. Those in fair health were significantly more likely to display improved stair-climbing speed than those in good or excellent/very good health (100.0% vs. 53.4% vs. 37.5%, p = 0.05), and many showed clinically significant increases in walking speed of >0.5 m/s. Satisfaction and retention rates were high for all health status groups. Clinicians should consider whether their patients in fair or good health, as well as those in better health, might benefit from high-intensity volunteer programs. Productive activity such as volunteering may be an effective community-based approach to health promotion for older adults.
This is a preview of subscription content, log in to check access.
Access options
Buy single article
Instant access to the full article PDF.
US$ 39.95
Price includes VAT for USA
Subscribe to journal
Immediate online access to all issues from 2019. Subscription will auto renew annually.
US$ 99
This is the net price. Taxes to be calculated in checkout.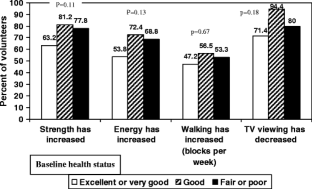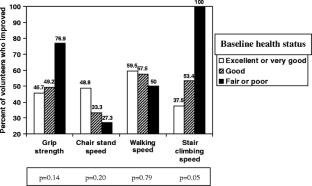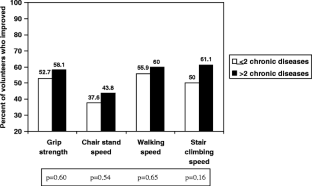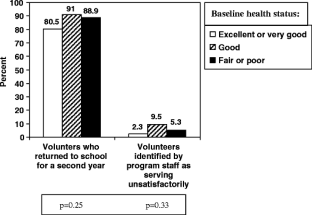 References
1.

Corporation for National Service. Serve America Act Summary. 2008. www.nationalservice.gov/pdf/08_0912_serveamericaact.pdf. Accessed on November 20 2008.

2.

Volunteering in the United States, 2007. News Release. Bureau of Labor Statistics. United States Department of Labor. 2008. www.bls.gov/news.release/volun.nr0.htm. Accessed on November 20 2008.

3.

Zedlewski SR, Schaner SG. Older adults engaged as volunteers. Urban Institute. Retirement project: Perspectives on Productive Aging. 2006;5:1–7.

4.

Musick MA, Herzog AR, House JS. Volunteering and mortality among older adults: findings from a national sample. J Gerontol B Psychol Sci Soc Sci. 1999;54:S173–S180.

5.

Morrow-Howell N, Hinterlong J, Rozario PA, Tang F. Effects of volunteering on the well-being of older adults. J Gerontol B Psychol Sci Soc Sci. 2003;58:S137–S145.

6.

Van Willigen M. Differential benefits of volunteering across the life course. J Gerontol B Psychol Sci Soc Sci. 2000;55:S308–S318.

7.

Lum TY, Lightfoot E. The Effects of volunteering on the physical and mental health of older people. Res Aging. 2005;27:31–55.

8.

Luoh MC, Herzog AR. Individual Consequences of volunteer and paid work in old age: health and mortality. J Health Soc Behav. 2002;43:490–509.

9.

de Souza LM, Lautert L. Trabalho voluntário: uma alternativa para a promoção da saúde de idosos. Rev Esc Enferm USP. 2008 Jun; 42(2):371–376.

10.

Wu AMS, Tang CSK, Yan ECW. Post-retirement voluntary work and psychological functioning among older Chinese in Hong Kong. J Cross Cult Gerontol. 2005;20(1):27–45.

11.

Shmotkin D, Blumstein T, Modan B. Beyond keeping active: concomitants of being a volunteer in old-old age. Psychol Aging. 2003;18(3):602–607.

12.

Sheets DJ. Aging with disabilities: ageism and more. Generations. 2005;29:37–41.

13.

Taranto SE, Johnson SO. Educational Volunteerism: A New look. Springfield IL: Charles C. Thomas; 1984.

14.

Cai L, Kalb G. Health status and labour force participation: evidence from Australia. Health Econ. 2006;15:241–261.

15.

Glass TA, Seeman TE, Herzog AR, Kahn R, Berkman LF. Change in productive activity in late adulthood: MacArthur studies of successful aging. J Gerontol B Psychol Sci Soc Sci. 1995;50:S65–S76.

16.

Balandin S, Llewellyn G, Dew A, Ballin L. 'We couldn't function without volunteers': volunteering with a disability, the perspective of not-for-profit agencies. Int J Rehabil Res. 2006;29:131–136.

17.

Fried LP. Older women: health status, knowledge, and behavior. In: Falik MM, Collins KS, eds. Women's Health, The Commonwealth Fund Survey. Baltimore: Johns Hopkins Univ Pr; 1996.

18.

Balandin S, Llewellyn G, Dew A, Ballin L, Schneider J. Older disabled workers' perceptions of volunteering. Disabil Soc. 2006;21:677–692.

19.

Owen MJ. New Resource: volunteers who happen to be disabled. Special report. President's Committee on Employment of the Handicapped, Washington DC; 1984.

20.

Rebok GW, Carlson MC, Glass TA, et al. Short-term impact of Experience Corps participation on children and schools: results from a pilot randomized trial. J Urban Health. 2004;81(1):79–93.

21.

Fried LP, Carlson MC, Freedman M, et al. A social model for health promotion for an aging population: initial evidence on the Experience Corps model. J Urban Health. 2004;81(1):64–78.

22.

Colcombe S, Kramer A. Fitness effects on the cognitive function of older adults: a meta-analytic study. Psychol Sci. 2003;14:125–130.

23.

Fillit HM, Butler RN, O'Connell AW, et al. Achieving and maintaining cognitive vitality with aging. Mayo Clin Proc. 2002;77:681–696.

24.

Simonsick EM, Guralnik JM, Volpato S, et al. Just get out the door! Importance of walking outside the home for maintaining mobility: findings from the women's health and aging study. J Am Geriatr Soc. 2005;53:198–203.

25.

Mendes de Leon CF, Glass TA, Berkman LF. Social engagement and disability in a community population of older adults: the New Haven EPESE. Am J Epidemiol. 2003;157:633–642.

26.

Manini TM, Everhart JE, Patel KV, et al. Daily activity energy expenditure and mortality among older adults. JAMA. 2006;296:171–179.

27.

Glass TA, de Leon CM, Marottoli RA, Berkman LF. Population based study of social and productive activities as predictors of survival among elderly Americans. BMJ. 1999;319:478–483.

28.

Tan EJ, Xue QL, Li T, Carlson MC, Fried LP. Volunteering: a physical activity intervention for older adults-the Experience Corps® program in Baltimore. J Urban Health. 2006;83(5):954–969.

29.

Singh-Manoux A, Martikainen P, Ferrie J, Zins M, Marmot M, Goldberg M. What does self rated health measure? Results from the British Whitehall II and French Gazel cohort studies. J Epidemiol Community Health. 2006;60:364–372.

30.

Schoenfeld DE, Malmrose LC, Blazer DG, Gold DT, Seeman TE. Self-rated health and mortality in the high-functioning elderly–a closer look at healthy individuals: MacArthur field study of successful aging. J Gerontol. 1994;49:M109–M115.

31.

Idler EL, Kasl SV. Self-ratings of health. Do they also predict changes in functional ability? J Gerontol B Psychol Sci Soc Sci. 1995;50:S344–S353.

32.

Lee Y. The Predictive value of self-assessed general, physical, and mental health on functional decline and mortality in older adults. J Epidemiology Community Health. 2000;54:123–129.

33.

Martinez IL, Frick K, Glass TA, Carlson M, Tanner E, Ricks M. Engaging older adults in high impact volunteering that enhances health: recruitment and retention in The Experience Corps Baltimore. J Urban Health. 2006;83:941–953.

34.

Folstein MF, Folstein SE, McHugh PR. "Mini-Mental State: " a practical method for grading the cognitive state of patients for the clinician. J Psychiatr Res. 1975;12:189–198.

35.

Reitan RM, Wolfson D. The Halstead-Reitan Neuropsychological Test Battery: Theory and Clinical Interpretation. Tuczon, AZ: Neuropsychology; 1993.

36.

Paffenbarger RS, Blair SN, Lee IM, Hyde RT. Measurement of physical activity to assess health effects in free-living populations. Med Sci Sports Exerc. 1993;25:60–70.

37.

Guralnik JM, Fried LP, Simonsick EM, et al. eds. The Women's Health and Aging Study: Health and social characteristics of older women with disability. National Institute on Aging, Bethesda, MD. 1995. NIH Publication No. 95–4009.

38.

Verghese J, Wong C, Xue X, Holtzer R. Self-reported difficulty in climbing up and down stairs in nondisabled elderly. Arch Phys Med Rehabil. 2008;89:100–104.

39.

Bean JF, Kiely DK, LaRose S, Alian J, Frontera WR. Is stair climb power a clinically relevant measure of leg power impairments in at-risk older adults? Arch Phys Med Rehabil. 2007;88:604–609.

40.

Guralnik JM, Ferrucci L, Pieper CF, et al. Lower extremity function and subsequent disability: Consistency across studies, predictive models, and value of gait speed alone compared with the short physical performance battery. J Gerontol A Biol Sci Med Sci. 2000;55:M221–M231.

41.

Montero-Odasso M, Schapira M, Soriano ER, et al. Gait velocity as a single predictor of adverse events in healthy seniors aged 75 years and older. J Gerontol Biol Sci Med Sci. 2005;60A:1304–1309.

42.

Studenski S, Perera S, Wallace D, et al. Physical performance measures in the clinical setting. J Am Geriatr Soc. 2003;51:314–322.

43.

Hardy SE, Perera S, Roumani YF, Chandler JM, Studenski SA. Improvement in usual gait speed predicts better survival in older adults. J Am Geriatr Soc. 2007;55:1727–1734.

44.

Fried LP, Tangen CM, Walston J, et al. Frailty in older adults: evidence of a phenotype. J Gerontol A Biol Sci Med Sci. 2001;56:M146–M156.

45.

Foster JA, Gore SA, West DS. Altering TV viewing habits: an unexplored strategy for adult obesity intervention? Am J Health Behav. 2006;30:3–14.

46.

Greenfield EA, Marks NF. Formal Volunteering as a protective factor for older adults psychological well-being. J Gerontol Psychol Sci Soc Sci. 2004;59:S258–S264.

47.

Erikson EH, Erikson JM, Kivnick HQ. Vital Involvement in Old Age. New York: Norton; 1986.

48.

Rowe JW, Kahn RL. Successful Aging. New York: Pantheon Books; 1998.

49.

Miller DK, Carter ME, Miller JP, et al. Inner-city older blacks have high levels of functional disability. J Am Geriatr Soc. 1996;44:1166–1173.

50.

Wilson J. Volunteering. Annu Rev Sociol. 2000;26(1):215–240.

51.

Reddy DM, Fried LP, Rand C, McGill S, Simpson CF. Can older adult volunteers serve effectively to improve asthma management for children? Experience Corps Baltimore. J Asthma. 2007;44:177–181.

52.

Foster-Bey, J, Dietz N, Grimm R. Volunteers Mentoring Youth: Implications for Closing the Mentoring Gap, Corporation for National and Community Service, 2006, Office of Research and Policy Development.

53.

Henkens K, van Solinge H, Gallo WT. Effects of retirement voluntariness on changes in smoking, drinking, and physical activity among older Dutch workers. Eur J Public Health. 2008;18(6):644–649.

54.

Adler NE. Community preventive services. Do we know what we need to know to improve health and reduce disparities? Am J Prevent Med. 2003;24(3 Suppl):10–11.

55.

Inui TS. The need for an integrated biopsychosocial approach to research on successful aging. Ann Intern Med. 2003;139:391–394.
Acknowledgments
Financial disclosure
Jeremy Barron, Erwin Tan, Qilu Yu, Sylvia McGill, and Linda Fried are supported, in part, by NIH grant P01 AG027735 from the National Institute on Aging. Ms. McGill is employed by a nonprofit organization that manages Experience Corps Baltimore. Meilin Song has no disclosures. This work was also performed with the support of the Retirement Research Foundation and a Hugh Cosner Scholar Translational Award to Dr. Fried.
Author Contributions
The study concept and design, interpretation of data, and preparation of manuscript were done by Jeremy Barron and Erwin Tan. Data analysis and review of manuscript was by Qilu Yu. Data analysis was also done by Meilin Song. Sylvia McGill did the acquisition and interpretation of data. Linda Fried did the study concept and design, preparation and review of manuscript.
Sponsor's role
The funders had no role in the design or conduct of the study and no role in preparation of the manuscript.
About this article
Cite this article
Barron, J.S., Tan, E.J., Yu, Q. et al. Potential for Intensive Volunteering to Promote the Health of Older Adults in Fair Health. J Urban Health 86, 641–653 (2009). https://doi.org/10.1007/s11524-009-9353-8
Received:

Accepted:

Published:

Issue Date:
Keywords
Volunteering

Productive aging

Health status