Abstract
On August 29, 2005, Hurricane Katrina made landfall resulting in catastrophic damage and flooding to New Orleans, LA, and the Gulf Coast, which may have had significant mental health effects on the population. To determine rates and predictors of symptoms consistent with a diagnosis of posttraumatic stress disorder (PTSD) in New Orleans residents following Hurricane Katrina, we conducted a web-based survey 6 months after Hurricane Katrina made landfall. Participants included 1,542 employees from the largest employer in New Orleans. The prevalence of PTSD symptoms was 19.2%. Predictors of PTSD symptoms in a multivariate-adjusted regression model included female sex, non-black race, knowing someone who died in the storm, not having property insurance, having had a longer evacuation, a much longer work commute compared to before Hurricane Katrina, and currently living in a newly purchased or rented house or in a temporary trailer. Despite universal health coverage and the benefits of an employee assistance program for all employees, only 28.5% of those with PTSD symptoms had talked to a health professional about the events of Hurricane Katrina or issues encountered since the storm. A significant burden of PTSD symptoms was present 6 months following Hurricane Katrina among a large group of adults who had returned to work in New Orleans. Given their key role in the economic redevelopment of the region, there is a tremendous need to identify those in the workforce with symptoms consistent with PTSD and to enhance treatment options. The strong relationship between displacement from ones' pre-Katrina residence and symptoms of PTSD suggests a need to focus resource utilization and interventions on individuals living in temporary housing.
This is a preview of subscription content, log in to check access.
Access options
Buy single article
Instant access to the full article PDF.
US$ 39.95
Tax calculation will be finalised during checkout.
Subscribe to journal
Immediate online access to all issues from 2019. Subscription will auto renew annually.
US$ 99
Tax calculation will be finalised during checkout.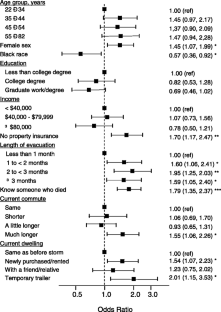 References
1.

NOAA National Climatic Data Center. Climate of 2005. Summary of Hurricane Katrina. Available at: http://www.ncdc.noaa.gov/oa/climate/research/2005/katrina.html. Accessed December 5, 2006.

2.

DeSalvo KB, Muntner P, Fox CE. Community-based health care for "the city that care forgot." J Urban Health. 2005;82:520–523.

3.

Census Bureau Quick Facts Page. US Census Bureau. Available at: http://quickfacts.census.gov/qfd/states/22/22071.html. Accessed December 5, 2006.

4.

Galea S, Ahern J, Resnick H, et al. Psychological sequelae of the September 11 terrorist attacks in New York City. N Engl J Med. 2002;346:982–987.

5.

Norris FH, Friedman MJ, Watson PJ, Byrne CM, Diaz E, Kaniasty K. 60,000 disaster victims speak: part I. An empirical review of the empirical literature, 1981–2001. Psychiatry. 2002;65:207–239.

6.

Norris FH, Perilla J, Riad J. Stability and change in stress, resources, and psychological distress following natural disaster: findings from Hurricane Andrew. Anxiety Stress Coping. 1999;12:363–396.

7.

American Psychiatric Association. Diagnostic and Statistical Manual of Mental Disorders, Fourth Edition (DSM-IV TR). Washington, DC: American Psychiatric Association Ed; 2000.

8.

Blanchard EB, Jones-Alexander J, Buckley TC, Forneris CA. Psychometric properties of the PTSD Checklist (PCL). Behav Res Ther. 1996;34:669–673.

9.

Weathers FW, Litz BT, Herman DS, Huska JA, Keane TM. The PTSD checklist: reliability, validity, and diagnostic utility. Abstract presented at the Annual Meeting of the International Society for Traumatic Stress Studies. 1993.

10.

National Institute of Mental Health. "Facts about Post-Traumatic Stress Disorder." OM-99 4157 (Revised). 2002. Available at: http://www.nimh.nih.gov/publicat/ptsdfacts.cfm. Accessed December 5, 2006.

11.

Breslau N, Kessler RC, Chilcoat HD, Schultz LR, Davis GC, Andreski P. Trauma and posttraumatic stress disorder in the community: the 1996 Detroit Area Survey of Trauma. Arch Gen Psychiatry. 1998;55:626–632.

12.

Canino G, Bravo M, Rubio-Stipec M. The impact of disaster on mental health: prospective and retrospective analyses. Int J Ment Health. 1990;19:51–69.

13.

Madakasira S, O'Brien KF. Acute posttraumatic stress disorder in victims of a natural disaster. J Nerv Ment Dis. 1987;175:286–290.

14.

Carr VJ, Lewin TJ, Webster RA, Kenardy JA, Hazell PL, Carter GL. Psychosocial sequelae of the 1989 Newcastle earthquake: II. Exposure and morbidity profiles during the first 2 years post-disaster. Psychol Med. 1997;27:167–178.

15.

McFarlane AC. The longitudinal course of posttraumatic morbidity. The range of outcomes and their predictors. J Nerv Ment Dis. 1988;176:30–39.

16.

Burnett K, Ironson G, Benight C, et al. Measurement of perceived disruption during rebuilding following Hurricane Andrew. J Trauma Stress. 1997;10:673–681.

17.

Fukuda S, Morimoto K, Mure K, Maruyama S. Posttraumatic stress and change in lifestyle among the Hanshin-Awaji earthquake victims. Prev Med. 1999;29:147–151.

18.

Koopman C, Classen C, Spiegel D. Predictors of posttraumatic stress symptoms among survivors of the Oakland/Berkeley, Calif., firestorm. Am J Psychiatry. 1994;151:888–894.

19.

Carr VJ, Lewin TJ, Carter GL, Webster RA. Patterns of service utilisation following the 1989 Newcastle earthquake: findings from phase 1 of the Quake Impact Study. Aust J Public Health. 1992;16:360–369.

20.

Boscarino JA, Adams RE, Figley CR. Mental health service use 1-year after the World Trade Center disaster: implications for mental health care. Gen Hosp Psychiatry. 2004;26:346–358.

21.

Mann CE, Himelein MJ. Factors associated with stigmatization of persons with mental illness. Psychiatr Serv. 2004;55:185–187.

22.

Carlos OJ, Njenga FG. Lessons in posttraumatic stress disorder from the past: Venezuela floods and Nairobi bombing. J Clin Psychiatry. 2006;67(Suppl 2):56–63.

23.

Schlenger WE, Caddell JM, Ebert L, et al. Psychological reactions to terrorist attacks: findings from the National Study of Americans' Reactions to September 11. JAMA. 2002;288:581–588.
Acknowledgements
We would like to thank the employees of Tulane University for their time in participating in this study, particularly in the face of their many ongoing challenges. We would also like to acknowledge the assistance of the Disaster Research Education and Mentoring Center (http://www.disasterresearch.org/).
Additional information
DeSalvo, Tynes, and Muntner are with the Section of General Internal Medicine and Geriatrics, Tulane University School of Medicine, New Orleans, LA, USA; DeSalvo, Hyre, Menke, and Muntner are with the Department of Epidemiology, Tulane University School of Public Health and Tropical Medicine, New Orleans, LA, USA; Ompad is with the Center of Urban Epidemiologic Studies, New York Academy of Medicine, New York, NY, USA; Tynes is with the Department of Psychiatry, Tulane University School of Medicine, New Orleans, LA, USA; Tynes is with the Jefferson Parish Human Services Authority, Metairie, LA, USA.
About this article
Cite this article
DeSalvo, K.B., Hyre, A.D., Ompad, D.C. et al. Symptoms of Posttraumatic Stress Disorder in a New Orleans Workforce Following Hurricane Katrina. J Urban Health 84, 142–152 (2007). https://doi.org/10.1007/s11524-006-9147-1
Keywords
Hurricane Katrina

Natural disaster

Posttraumatic stress disorder

Risk factors.