Abstract
Legislation passed in 2000 allowed syringe exchange programs (SEPs) in California to operate legally if local jurisdictions declare a local HIV public health emergency. Nonetheless, even in locales where SEPs are legal, the possession of drug paraphernalia, including syringes, remained illegal. The objective of this paper is to examine the association between the legal status of SEPs and individual arrest or citation for drug paraphernalia among injection drug users (IDUs) in California from 2001 to 2003. Using data from three annual cross-sections (2001-03) of IDUs attending 24 SEPs in 16 California counties (N = 1,578), we found that overall, 14% of IDUs in our sample reported arrest or citation for paraphernalia in the 6 months before the interview. Further analysis found that 17% of IDUs attending a legal SEP (defined at the county level) reported arrest or citation for drug paraphernalia compared to 10% of IDUs attending an illegal SEP (p = 0.001). In multivariate analysis, the adjusted odds ratio of arrest or citation for drug paraphernalia was 1.6 [95% confidence interval (CI) = 1.2, 2.3] for IDUs attending legal SEPs compared to IDUs attending illegal SEPs, after controlling for race/ethnicity, age, homelessness, illegal income, injection of amphetamines, years of injection drug use, frequency of SEP use, and number of needles received at last visit. IDUs attending SEPs with legal status may be more visible to police, and hence, more subject to arrest or citation for paraphernalia. These findings suggest that legislative efforts to decriminalize the operation of SEPs without concurrent decriminalization of syringe possession may result in higher odds of arrest among SEP clients, with potentially deleterious implications for the health and well-being of IDUs. More comprehensive approaches to removing barriers to accessing sterile syringes are needed if our public health goals for reducing new HIV/HCV infections are to be obtained.
Access options
Buy single article
Instant access to the full article PDF.
USD 39.95
Price excludes VAT (USA)
Tax calculation will be finalised during checkout.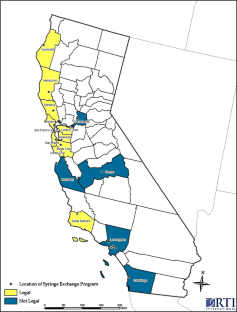 References
Macalino GE, Hou JC, Kumar MS, Taylor LE, Sumantera IG, Rich JD. Hepatitis C infection and incarcerated populations. Int J Drug Policy. 2004;15(2):103–114, 2004/4.

Curry AD, Latkin CA. Gender differences in street economy and social network correlates of arrest among heroin injectors in Baltimore, Maryland. J Urban Health. 2003;80(3):482–493, Sep.

Rotily M, Delorme C, Galinier A, Escaffre N, Moatti JP. HIV risk behavior in prison and factors related to reincarceration among injecting drug users. Presse Med. 2000;29(28):1549–1556, Sep 30.

Clear TR, Rose DR, Ryder JA. Incarceration and the community: The problem of removing and returning offenders. Crime Delinq. 2001;47(3):335–351, Jul.

Estebanez P, Zunzunegui MV, Aguilar MD, Russell N, Cifuentes I, Hankins C. The role of prisons in the HIV epidemic among female injecting drug users. Aids Care-Psychological and Socio-Medical Aspects of Aids/Hiv. 2002;14(1):95–104, Feb.

Strathdee SA, Patrick DM, Archibald CP, et al. Social determinants predict needle-sharing behaviour among injection drug users in Vancouver, Canada. Addiction. 1997;92(10):1339–1347.

McClelland GM, Teplin LA, Abram KM, Jacobs N. HIV and AIDS risk behaviors among female jail detainees: implications for public health policy. Am J Public Health. 2002;92(5):818–825, May.

Wood E, Kerr T, Small W, Jones J, Schechter MT, Tyndall MW. The impact of a police presence on access to needle exchange programs. Jaids-J Acquir Immune Defic Syndr. 2003;34(1):116–118, Sep 1.

Wood E, Spittal PM, Small W, et al. Displacement of Canada's largest public illicit drug market in response to a police crackdown. Can Med Assoc J. 2004;170(10):1551–1556, May 11.

Wood E, Tyndall MW, Spittal P, et al. Impact of supply-side policies for control of illicit drugs in the face of the AIDS and overdose epidemics: investigation of a massive heroin seizure. Can Med Assoc J. 2003;168:165–169.

Case P, Meehan T, Jones TS. Arrests and incarceration of injection drug users for syringe possession in Massachusetts: implications for HIV prevention. J Acquir Immune Defic Syndr Human Retrovirol. 1998;18:S71–S75, Jul.

Galea S, Vlahov D. Social determinants and the health of drug users: socioeconomic status, homelessness, and incarceration. Public Health Rep. 2002;117(3):S135–S145.

Choopanya K, Des Jarlais DC, Vanichseni S, et al. Incarceration and risk for HIV infection among injection drug users in Bangkok. J Acquir Immune Defic Syndr. 2002;29(1):86–94, Jan 1.

Beyrer C, Jittiwutikarn J, Teokul W, et al. Drug use, increasing incarceration rates, and prison-associated HIV risks in Thailand. AIDS Behav. 2003;7(2):153–161, Jun.

Bluthenthal RN, Kral AH, Lorvick J, Watters JK. Impact of law enforcement on syringe exchange programs: a look at Oakland and San Francisco. Med Anthropol. 1997; 18(1):61–83, Dec.

Davis CG, Burris S, Kraut-Becher J, Lynch KG, Metzger DS. Effects of an intensive street-level police intervention on syringe exchange program use in Philadelphia, Pa. Am J Public Health. 2005;95:233–236, February.

Bluthenthal RN, Lorvick J, Kral AH, Erringer EA, Kahn JG. Collateral damage in the war on drugs: HIV risk behaviors among injection drug users. Int J Drug Policy. 1999;10:25–38.

Bluthenthal RN, Kral AH, Erringer EA, Edlin BR. Drug paraphernalia laws and injection-related infectious disease risk among drug injectors. J Drug Issues. 1999;29(1):1–16, Win.

Grund JPC, Heckathorn DD, Broadhead RS, Anthony DL. In Eastern Connecticut, Idus purchase syringes from pharmacies but don't carry syringes. J Acquir Immune Defic Syndr Human Retrovirol. 1995;10(1):104–105, Sep 1.

Buavirat A, Sacks R, Chiamwongpaet S. HIV risk behaviors during incarceration among intravenous-drug users in Bangkok, Thailand: A qualitative approach. AIDS Public Policy J. 2002;17(3):77–89, Fal.

Hammett TM, Harmon P, Rhodes W. The burden of infectious disease among inmates of and releases from US correctional facilities, 1997. Am J Public Health. 2002;92(11):1789–1794, Nov.

Friedman SR, Kottiri BJ, Neaigus A, Curtis R, Vermund SH, Des Jarlais DC. Network-related mechanisms may help explain long-term HIV-1 seroprevalence levels that remain high but do not approach population-group saturation. Am J Epidemiol. 2000;152:913–922.

Rhodes T, Mikhailova L, Sarang A, et al. Situational factors influencing drug injecting, risk reduction and syringe exchange in Togliatti City, Russian Federation: A qualitative study of micro risk environment. Soc Sci Med. 2003;57(1):39–54, Jul.

Levi R, Appel J. Collateral Consequences: Denial Of Basic Social Services Based Upon Drug Use. San Francisco: Drug Policy Alliance; 2003, June.

Davies S, Tanner J. The long arm of the law: Effects of labeling on employment. Sociol Q. 2003;44(3):385–404, Sum.

Nagin D, Waldfogel J. The effect of conviction on income through the life cycle. Int Rev Law Econ. 1998;18(1):25–40, Mar.

Bushway SD. The impact of an arrest on the job stability of young white American men. J Res Crime Delinq. 1998;35(4):454–479, Nov.

Kerley KR, Copes H. The effects of criminal justice contact on employment stability for white-collar and street-level offenders. Int J Offender Ther Comp Criminol 2004;48(1):65–84, Feb.

Blankenship KM, Koester S. Criminal law, policing policy, and HIV risk in female street sex workers and injection drug users. J Law Med Ethics. 2002;30(4):548–559, Win.

Needle Exchange Authorization Law in California; 2000.

Bluthenthal RN, Heinzerling K, Anderson R, Flynn N, Kral AH. Legalization of Syringe Exchange Programs in California: Mixed Results From a Local Approach to HIV Prevention. Am J Public Health. 2005 (in press).

Collins C, Summers T. Syringe Exchange and AB 136: The Dynamics of Local Consideration in Six California Communities. Menlo Park: The Henry J. Kaiser Family Foundation; 2002.

Prashad U, Collins B, et al. Crime in California. Criminal Justice Statistics Center Report Series. Sacramento, California Department of Justice, Bureau of Criminal Information and Analysis; 2003:1–7.

Anderson RL, Clancy L, Flynn N, Kral AH, Bluthenthal RN. Delivering syringe exchange services through "Satellite Exchangers": Sacramento area needle exchange, USA. Int J Drug Policy. 2003;14:461–463.

Bluthenthal RN, Malik MR, Grau LE, Singer M, Marshall P, Heimer R. Sterile syringe access conditions and variations in HIV risk among drug injectors in three cities. Addiction. 2004;99(9):1136–1146, Sep.

Backes G. Counties authorizing SB1159. In: Martinez AN, ed. Drug Policy Alliance; 2005.

Burris S, Blankenship KM, Donoghoe M, et al. Addressing the "risk environment" for injection drug users: the mysterious case of the missing cop. Milbank Q. 2004;82(1):125–156.

Beletsky L, Macalino GE, Burris S. Attitudes of police officers towards syringe access, occupational needle-sticks, and drug use: a qualitative study of one city police department in the United States. Int J Drug Policy. 2005;16(4):267–274, Aug.

Cooper H, Moore L, Gruskin S, Krieger N. Characterizing perceived police violence: implications for public health. Am J Public Health. 2004;94(7):1109–1118, Jul.

Weatherby N, Needle RH, Cesari H. Validity of self-reported drug use among injection drug users recruited through street outreach. Eval Plann. 1994;17:347–355.

Watters JK, Needle R, Brown BS, Weatherby N, Booth R, Williams M. The self-reporting of cocaine use. JAMA. 1992;268(17):2375–2376, November 4.
Acknowledgement
The authors would like to thank the Centers for Disease Control and Prevention for funding the California Syringe Exchange Program Study (Grant# R06/CCR918667) and the National Institute of Drug Abuse (Grant #DA14210). We also thank project coordinators Mary-Lou Gilbert and Andrea Scott, the syringe exchange programs and their clients that participated in this study.
Additional information
Martinez is with the Center for AIDS Prevention Studies, University of California, San Francisco, 50 Beale Street, Suite 1300, San Francisco, CA 94105, USA; Bluthenthal is with the Drug Policy Research Center, RAND, Santa Monica, CA, USA and the Urban Community Research Center, Department of Sociology, California State University Dominguez Hills, Carson, CA, USA; Lorvick is with the Urban Health Program, RTI International, San Francisco, CA, USA; Anderson is with the Sacramento Area Needle Exchange, Sacramento, CA, USA; Flynn is with the Department of Internal Medicine, University of California, Davis, CA, USA; Kral is with the Urban Health Program, RTI International, San Francisco, CA, USA and the Department of Family and Community Medicine, University of California, San Francisco, CA, USA.
About this article
Cite this article
Martinez, A.N., Bluthenthal, R.N., Lorvick, J. et al. The Impact of Legalizing Syringe Exchange Programs on Arrests Among Injection Drug Users in California. J Urban Health 84, 423–435 (2007). https://doi.org/10.1007/s11524-006-9139-1
Published:

Issue Date:

DOI: https://doi.org/10.1007/s11524-006-9139-1
Keywords