Abstract
This study investigated correlates of outdoor advertising panel density in predominantly African American neighborhoods in New York City. Research shows that black neighborhoods have more outdoor advertising space than white neighborhoods, and these spaces disproportionately market alcohol and tobacco advertisements. Thus, understanding the factors associated with outdoor advertising panel density has important implications for public health. We linked 2000 census data with property data at the census block group level to investigate two neighborhood-level determinants of ad density: income level and physical decay. Results showed that block groups were exposed to an average of four ad spaces per 1,000 residents and that vacant lot square footage was a significant positive predictor of ad density. An inverse relationship between median household income and ad density did not reach significance, suggesting that relative affluence did not protect black neighborhoods from being targeted for outdoor advertisements.
This is a preview of subscription content, log in to check access.
Access options
Buy single article
Instant access to the full article PDF.
US$ 39.95
Tax calculation will be finalised during checkout.
Subscribe to journal
Immediate online access to all issues from 2019. Subscription will auto renew annually.
US$ 99
Tax calculation will be finalised during checkout.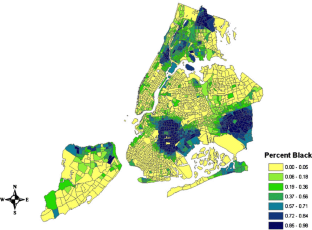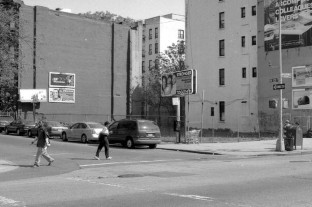 References
1.

Hyland A, Travers MJ, Cummings K, Bauer J, Alford T, Wieczorek WF. Tobacco outlet density and demographics in Erie County, New York. Am J Public Health. 2003;93(7):1075–1076.

2.

LaVeist TA, Wallace JM. Health risk and inequitable distribution of liquor stores in African American neighborhoods. Soc Sci Med. 2000;51:613–617.

3.

Hackbarth D, Silvestri B, Cosper W. Tobacco and alcohol billboards in 50 Chicago neighborhoods: market segmentation to sell dangerous products to the poor. J Public Health Policy. 1995;16:213–230.

4.

Hackbarth DP, Schnopp-Wyatt D, Katz D, Williams J, Silvestri B, Pfleger M. Collaborative research and action to control the geographic placement of outdoor advertising of alcohol and tobacco products in Chicago. Public Health Rep. 2001;116:558–567.

5.

Mitchell O, Greenberg M. Outdoor advertising of addictive products. New Engl J Med. 1991;88(5):331–333.

6.

Niemeyer D, Miner KR, Carlson LM, Baer K, Shorty L. The 1998 Master Settlement Agreement: a public health opportunity realized—or lost? Health Promot Pract. 2004;5(3):21S–32S.

7.

Lee WN, Callcott MF. Billboard advertising: a comparison of vice products across ethnic groups. J Bus Res. 1994;30:85–94.

8.

Altman D, Schooler C, Basil M. Alcohol and cigarette advertising on billboards. Health Educ Res. 1991;6:487–490.

9.

DeNitto E. Outdoor furnishings. Crain's New York, December 9, 1996. Accessed on: May 24, 2005. Available at: http://proquest.umi.com/pqdweb?index=0&did=44575874& SrchMode=1&sid=1&Fmt=3&Vlnst=PROD&VType=PQD&RQT=309&VName= PQD&TS=1164046256&clientId=15403.

10.

TNS Media Intelligence/LMR. Ad $ Summary Multi Media Service: January–December 2003. New York: Leading National Advertisers; 2004.

11.

8 Sheet-Product Information. Accessed on: December 28, 2005. Available at: http://www.clearchanneloutdoor.com/products/8_sheet/8sheetOverview.htm.

12.

SRDS Media Solutions. SRDS Out-of-Home Advertising Source. Des Plaines, IL: SRDS Media Solutions; 2003.

13.

Pattillo M. Extending the boundaries and definition of the ghetto. Ethnic Racial Stud. 2003;26(6):1046–1057.

14.

Iceland J, Sharpe C, Steinmetz E. Class differences in African American residential patterns in U.S. metropolitan areas: 1990–2000. Soc Sci Res. 2005;34(1):252.

15.

Massey DS, Denton NA. American Apartheid: segregation and the Making of the Underclass. Cambridge: Harvard University Press; 1993.

16.

Sampson RJ, Raudenbush SW. Systematic social observation of public spaces: a new look at disorder in urban neighborhoods. Am J Sociol. 1999;105(3):603–651.

17.

Sampson RJ, Raudenbush SW. Seeing disorder: neighborhood stigma and the social construction of "broken windows". Soc Psychol Quart. 2004;67(4):319–342.

18.

Accordino JJ, Gary T. Addressing the vacant and abandoned property problem. J Urban Aff. 2000;22:301–315.

19.

Fullilove M. Neighborhoods and Infectious Diseases. In: Kawachi I, Berkman L, eds. Neighborhoods and Health. New York: Oxford University Press; 2003.

20.

Acevedo-Garcia D, Lochner KA, Osypuk TL, Subramanian SV. Future directions in residential segregation and health research: a multilevel approach. Am J Public Health. 2003;93(2):215–221.

21.

Williams DR, Collins C. Racial residential segregation: a fundamental cause of racial disparities in health. Public Health Rep. 2001;116:404–416.

22.

Segregation: Dissimilarity Indices. Accessed on: April 28, 2006. Available at: http://www.censusscope.org/us/s36/p51000/chart_dissimilarity.html.

23.

New York City Department of City Planning. Census FactFinder. Accessed on: May 1, 2006. Available at: http://gis.nyc.gov/dcp/pa/address.jsp.

24.

Property Shark. Accessed on: October 4, 2005. Available at: http://www.propertyshark.com/mason.

25.

Wallace D, Wallace R. A Plague on Your Houses: how New York Was Burned Down and National Public Health Crumbled. New York: Verso; 1998.

26.

Vergara CJ. American Ruins. New York: Monacelli Press; 2003.

27.

The Madison. Accessed on: May 2, 2006. Available at: http://www.thedevelopersgroup.com/buildings/building.aspx?buildingid=1047&.

28.

Jackson DZ. These signs not welcome. The Boston Globe. April 6, 1990. Available from: LEXIS-NEXIS Academic Universe, General News. Accessed on December 28, 2005.

29.

Jackson DZ. A lonely soldier in the tobacco war. The Boston Globe. May 30, 1997. Available from: LEXIS-NEXIS Academic Universe, General News. Accessed on December 28, 2005.

30.

Jones-Webb RJ, Baranowski S, Fan D, Finnegan J, Wagenaar AC. Content analysis of coverage of alcohol control policy issues in black-oriented and mainstream newspapers in the U.S. J Public Health Policy. 1997;18(1):49–66.

31.

Hayden D, Wark J. A Field Guide to Sprawl. New York: Norton; 2004.

32.

Billboards and Sign Control. Accessed on: December 28, 2005. Available at: http://www.scenic.org/Default.aspx?tabid=61.

33.

Small ML. Villa Victoria: the Transformation of Social Capital in a Boston Barrio. Chicago: University of Chicago Press; 2004.

34.

Downey L, Van Willigen MV. Environmental stressors: the mental health impacts of living near industrial activity. J Health Soc Behav. 2005;46:289–305.

35.

Steptoe A, Feldman PJ. Neighborhood problems as sources of chronic stress: development of a measure of neighborhood problems, and associations with socioeconomic status and health. Ann Behav Med. 2001;23(3):177–185.

36.

Latkin CA, Curry AD. Stressful neighborhoods and depression: a prospective study of the impact of neighborhood disorder. J Health Soc Behav. 2003;44(1):34–44.

37.

Clark R, Anderson NB, Clark VR, Williams DR. Racism as a stressor for African Americans: a biopsychosocial model. Am Psychol. 1999;54:805–816.

38.

Jackson JS, Brown TN, Williams D, Torres M, Sellers SL, Brown K. Racism and the physical and mental health status of African Americans: a thirteen year national panel study. Ethn Dis. 1996;6:132–47.

39.

Thompson V. Racism: perceptions of distress among African Americans. Community Ment Health J. 2002;38(2):111–18.

40.

Klonoff E, Landrine H, Ullman J. Racial discrimination and psychiatric symptoms among Blacks. Cultur Divers Ethnic Minor Psychol. 1999;5(4):329–339.

41.

Stuber J, Galea S, Ahern J, Blaney S, Fuller C. The association between multiple domains of discrimination and self-assessed health: a multilevel analysis of Latinos and blacks in four low-income New York City neighborhoods. Health Serv Res. 2003;38(6 Pt 2):1735–1759.

42.

Kwate NOA, Valdimarsdottir HB, Guevarra JS, Bovbjerg DH. Experiences of racist events have negative health consequences for African American women. J Natl Med Assoc. 2003;95:450–460.

43.

Landrine H, Klonoff E. Racial discrimination and cigarette smoking among blacks: findings from two studies. Ethn Dis. 2000;10(2):195–202.

44.

Krieger N, Sidney S. Racial discrimination and blood pressure: the CARDIA study of young black and white adults. Am J Public Health. 1996;86(10):1370–1378.

45.

Steffen P, McNeilly M, Anderson N, Sherwood A. Effects of perceived racism and anger inhibition on ambulatory blood pressure in African Americans. Psychosom Med. 2003;65:746–750.

46.

Wyatt SB, Williams DR, Calvin R, Henderson FC, Walker ER, Winters K. Racism and cardiovascular disease in African Americans. Am J Med Sci. 2003;325:315–331.

47.

Williams DR, Neighbors H. Racism, discrimination and hypertension: evidence and needed research. Ethn Dis. 2001;11:800–816.
Acknowledgment
Research was supported by a grant from the Department of Defense, The U.S. Army Medical Research and Materiel Command: W81XWH- 041-0829. We are required to indicate that the views, opinions and findings contained in this report are those of the authors and should not be construed as an official Department of Defense position, policy or decision unless so designated by other documentation. We would like to thank Ghairunisa Galeta for her assistance in data collection, and Meghan Jernigan and Dorothy Louis for assistance with manuscript preparation.
Additional information
Kwate and Lee are with the Department of Sociomedical Sciences, Mailman School of Public Health, Columbia University, New York, NY, USA.
About this article
Cite this article
Kwate, N.O.A., Lee, T.H. Ghettoizing Outdoor Advertising: Disadvantage and Ad Panel Density in Black Neighborhoods. J Urban Health 84, 21–31 (2007). https://doi.org/10.1007/s11524-006-9127-5
Keywords
African American/black

Neighborhoods

Outdoor advertising

Disorder.