Abstract
Background
Droplet digital polymerase chain reaction (ddPCR) is an emerging technology for quantitative cell-free DNA oncology applications. However, a ddPCR assay for the epidermal growth factor receptor (EGFR) p.Thr790Met (T790M) mutation suitable for clinical use remains to be established with analytical and clinical validations.
Objective
We aimed to develop and validate a new ddPCR assay to quantify the T790M mutation in plasma for monitoring and predicting the progression of advanced non-small-cell lung cancer (NSCLC).
Methods
Specificity of the ddPCR assay was evaluated with genomic DNA samples from healthy individuals. The inter- and intraday variations of the assay were evaluated using mixtures of plasmid DNA containing wild-type EGFR and T790M mutation sequences. We assessed the clinical utility of the T790M assay in a multicenter prospective study in patients with advanced NSCLC receiving tyrosine kinase inhibitor (TKI) treatment by analyzing longitudinal plasma DNA samples.
Results
We set the criteria for a positive call when the following conditions were satisfied: (1) T790M mutation frequency > 0.098% (3 standard deviations above the background signal); (2) at least two positive droplets in duplicate ddPCR reactions. Among the 62 patients with advanced NSCLC exhibiting resistance to TKI treatment, 15 had one or more serial plasma samples that tested positive for T790M. T790M mutation was detected in the plasma as early as 205 days (median 95 days) before disease progression, determined by imaging analysis. Plasma T790M concentrations also correlated with intervention after disease progression.
Conclusions
We developed a ddPCR assay to quantify the T790M mutation in plasma. Quantification of longitudinal plasma T790M mutation may allow noninvasive assessment of drug resistance and guide follow-up treatment in TKI-treated patients with NSCLC.
Trial Registration
Clinical Trials.gov identifier: NCT02804100.
This is a preview of subscription content, log in to check access.
Access options
Buy single article
Instant access to the full article PDF.
US$ 39.95
Price includes VAT for USA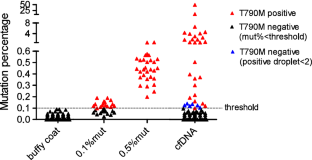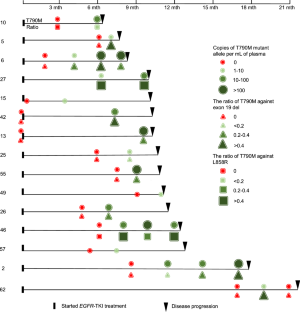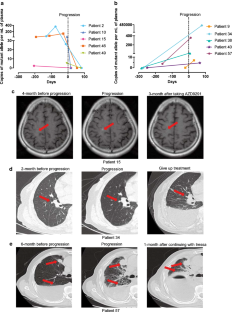 Acknowledgements
The authors thank all the patients who participated in the study and all the support from the doctors and nurses for the collection of samples from 16 centers throughout Zhejiang Province.
Ethics declarations
Funding
The study was funded by Innovation Team in Zhejiang Province Universities, Innovation Discipline of Zhejiang Province in Nucleic Acid Molecular Diagnostics (437201702G), Key Discipline of Zhejiang Province in Medical Technology (First Class, Category A) (No. 437601607) and Zhejiang Provincial Natural Science Foundation (No. LY18H200007).
Conflict of Interest
Zhengquan Yang, Jialu Li, Yujie Hu, Meihua Chen, Danli Peng, Dan Zong, Qingjuan Shang, Lianqin Tao, Yanling Zhao, Yiyun Ni, Jinyan Ye, Yupeng Xie, Li Yang, Quan Lin, Chang Cai, Ning Xu, Xiaoping Huang, Xiaoting Dong, Zhonghui Zhou, Yali Yu, Zongxiao Shangguan, Yangyang Xu, Weiping Ying, Meiling Weng, Zuguo Yuan, Zhijun Dong, Jifa Li, Zhe Zheng, Jiongwei Pan, Lu Liu, Junhui Ye, Zhan Zhang, Wenfeng Li, Junfei Zhu, Shengnan Jin, Yuping Li and Chunming Ding have no conflicts of interest that might be relevant to the contents of this manuscript.
Ethics Approval and Consent to Participate
The study was approved by the Clinical Research Ethics Committee of Wenzhou Medical University. Written informed consent was obtained from participants.
Electronic supplementary material
Below is the link to the electronic supplementary material.
About this article
Cite this article
Yang, Z., Li, J., Hu, Y. et al. Dynamics of Plasma EGFR T790M Mutation in Advanced NSCLC: A Multicenter Study. Targ Oncol 14, 719–728 (2019). https://doi.org/10.1007/s11523-019-00682-0