Abstract
Background
Chronic lymphocytic leukemia (CLL) is a malignancy of late B cells. In another late B-cell malignancy (multiple myeloma), levels of solubilized B-cell maturation antigen (sBCMA) are elevated and predict outcomes.
Objective
We sought to evaluate sBCMA as a possible prognostic factor and monitoring tool for patients with CLL.
Patients and Methods
Using an enzyme-linked immunosorbent assay (ELISA), we assessed plasma (p) levels of BCMA in 171 CLL patients and compared them with levels in healthy individuals.
Results
pBCMA levels were significantly higher among patients with CLL than those from healthy donors (p < 0.0001). Among patients with aggressive disease, pBCMA was elevated compared with patients with indolent disease (p < 0.001). Those with an initial pBCMA level in the highest quartile had a shorter time to first treatment compared with CLL patients with pBCMA levels in the lowest three quartiles (p < 0.0001). Among those in the highest quartile (pBCMA > 110.9 ng/mL), overall survival was shorter than those in the lowest three quartiles (p = 0.0007). Finally, among those patients who underwent serial pBCMA testing, changes in these levels correlated with changes in their clinical status.
Conclusions
Together, our findings show that pBCMA is a promising new prognostic and predictive indicator for patients with CLL.
Access options
Buy single article
Instant access to the full article PDF.
US$ 39.95
Tax calculation will be finalised during checkout.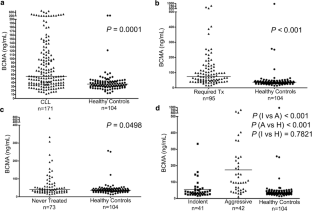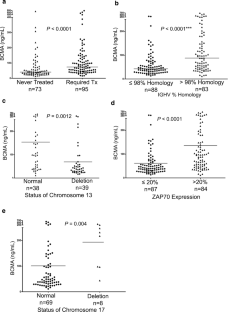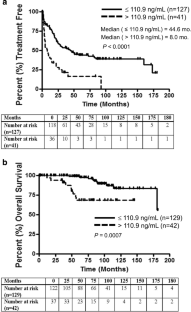 References
1.

Jemal A, Siegel R, Ward E, Murray T, Xu J, Thun MJ. Cancer statistics, 2007. CA Cancer J Clin. 2007;57(1):43–66.

2.

Guieze R, Robbe P, Clifford R, de Guibert S, Pereira B, Timbs A, et al. Presence of multiple recurrent mutations confers poor trial outcome of relapsed refractory CLL. Blood. 2015;126(18):2110–7.

3.

Nishio M, Endo T, Tsukada N, Ohata J, Kitada S, Reed JC, et al. Nurselike cells express BAFF and APRIL, which can promote survival of chronic lymphocytic leukemia cells via a paracrine pathway distinct from that of SDF-1alpha. Blood. 2005;106(3):1012–20.

4.

Laurent SA, Hoffman FS, Kuhn PH, Cheng Q, Chu Y, Schmidt-Supprian M, et al. γ-Secretase directly shed the survival receptor BCMA from plasma cells. Nat Commun. 2015;6:7333.

5.

Kopan R, Ilagan MX. Gamma-secretase: proteasome of the membrane? Nat Rev Mol Cell Biol. 2004;5(6):499–504.

6.

Ghermezi M, Li M, Vardanyan S, Harutyunyan NM, Gottlieb J, Berenson A, et al. Serum B-cell maturation antigen: a novel biomarker to predict outcomes for multiple myeloma patients. Haematologica. 2017;102(4):785–95.

7.

Endo T, Nishio M, Enzler T, Cottam HB, Fukuda T, James DF, et al. BAFF and APRIL support chronic lymphocytic leukemia B-cell survival through activation of the canonical NF-kappaB pathway. Blood. 2007;109(2):703–10.

8.

Hamblin TJ, Davis Z, Gardiner A, Oscier DG, Stevenson FK. Unmutated Ig V(H) genes are associated with a more aggressive form of chronic lymphocytic leukemia. Blood. 1999;94(6):1848–54.

9.

Döhner H, Stilgenbauer S, Benner A, Leupolt E, Krober A, Bullinger L, et al. Genomic aberrations and survival in chronic lymphocytic leukemia. N Engl J Med. 2000;343(26):1910–6.

10.

Wierda WG, O'Brien S, Wang X, Faderl S, Ferrajoli A, Do KA, et al. Characteristics associated with important clinical end points in patients with chronic lymphocytic leukemia at initial treatment. J Clin Oncol. 2009;27(10):1637–43.

11.

Hallek M, Cheson BD, Catovsky D, Califaris-Cappio F, Dighiero G, Dohner H, et al. iwCLL guidelines for the diagnosis, indications for treatment, response assessment, and supportive management of CLL. Blood. 2018;131(25):2745–60.

12.

Novak AJ, Darce JR, Arendt BK, Harder B, Henderson K, Kindsvogel W, et al. Expression of BCMA, TACI, and BAFF-R in multiple myeloma; a mechanism for growth and survival. Blood. 2004;103(2):689–94.

13.

Sanchez E, Li M, Kitto A, Li J, Wang CS, Kirk DT, et al. Serum B-cell maturation antigen is elevated in multiple myeloma and correlates with disease status and survival. Br J Haematol. 2012;158(6):727–38.

14.

Pflug N, Bahlo J, Shanafelt TD, Eichhorst BF, Bergmann MA, Elter T, et al. Development of a comprehensive prognostic index for patients with chronic lymphocytic leukemia. Blood. 2014;124(1):49–62.

15.

Rossi S, Shimizu M, Barabarotto E, Nicoloso MS, Dimitri F, Sampath D, et al. microRNA fingerprinting of CLL patients with chromosome 17p deletion identify a miR-21 score that stratifies early survival. Blood. 2010;116(6):945–52.

16.

Rossi D, Rasi S, Fabbri G, Spina V, Fangazio M, Forconi F, et al. Mutations of NOTCH1 are an independent predictor of survival in chronic lymphocytic leukemia. Blood. 2012;119(2):521–9.

17.

Rossi D, Fangazio M, Rasi S, Vaisitti T, Monti S, Cresta S, et al. Disruption of BIRC3 associates with fludarabine chemorefractoriness in TP53 wild-type chronic lymphocytic leukemia. Blood. 2012;119(12):2854–62.

18.

Crassini KR, Zhang E, Balendran S, Freeman JA, Best OG, Forsyth CJ, et al. Humoral immune failure defined by immunoglobulin class and immunoglobulin G subclass deficiency is associated with shorter treatment-free and overall survival in chronic lymphocytic leukaemia. Br J Haematol. 2018;181(1):97–101.

19.

Sun C, Soof C, Taneja A, Herman SE, Cook E, Udd K, et al. Serum B-cell maturation antigen as a biomarker for chronic lymphocytic leukemia treated with ibrutinib. Blood. 2017;130 Suppl:abstract no. 4031.

20.

Bujarski S, Udd K, Soof C, Chen H, Li M, Sanchez E, et al. Changes in Serum B-cell maturation antigen levels rapidly indicate changes in clinical status among multiple myeloma patients undergoing new treatments. Blood. 2017;130 Suppl:abstract no. 4371.
Ethics declarations
Conflict of interest
Dr. James R. Berenson is a director, employee, and shareholder in OncoTracker, Inc., a company that is involved in the development of BCMA as a marker. Haiming Chen, Eric Sanchez, and Mingjie Li are shareholders in OncoTracker, Inc. Kyle A. Udd, Sean Bujarski, Eric Wirtschafter, Tanya M. Spektor, Matthew Ghermezi, Laura Z. Rassenti, Michael E. David, Jason D. Nosrati, Ashkon A. Rahbari, James Wang, Suzie Vardanyan1, Nika M. Harutyunyan, Julia Linesch and Thomas J. Kipps have no conflicts of interest to declare.
Funding
No external funding was used in the preparation of this manuscript.
Electronic supplementary material
Below is the link to the electronic supplementary material.
About this article
Cite this article
Udd, K.A., Bujarski, S., Wirtschafter, E. et al. Plasma B-Cell Maturation Antigen Levels are Elevated and Correlate with Disease Activity in Patients with Chronic Lymphocytic Leukemia. Targ Oncol 14, 551–561 (2019). https://doi.org/10.1007/s11523-019-00666-0