Abstract
Background
Overexpression of epidermal growth factor receptor (EGFR) is common in pancreatic cancer and associated with the poor prognosis of this malignancy.
Objective
To develop anti-EGFR antibody–drug conjugates (ADCs) for use in a novel EGFR-targeting approach to treat pancreatic cancer.
Methods
A humanized anti-EGFR monoclonal antibody (RC68) was generated by mouse immunization and complementary-determining region grafting technology. Two RC68-based ADCs, RC68-MC-VC-PAB-MMAE and RC68-PY-VC-PAB-MMAE, were synthesized by conjugating monomethyl auristatin E (MMAE), a small-molecule cytotoxin, to RC68 through two distinct linkers (MC and PY). Internalization of the RC68-based ADCs was examined by flow cytometry. The in vitro and in vivo antitumor activities of RC68-based ADCs were evaluated in human pancreatic cancer cells and in a BXPC-3 xenograft nude mouse model, respectively.
Results
The RC68-based ADCs bound to EGFR on the surface of tumor cells and were effectively internalized, resulting in the death of EGFR-positive cancer cell lines. The RC68-based ADCs (at 5 or 10 mg/kg) were more potent than gemcitabine hydrochloride (60 mg/kg) at inhibiting the growth of BXPC-3 xenografts. Moreover, RC68-PY-VC-PAB-MMAE was found to have superior stability in human plasma compared with RC68-MC-VC-PAB-MMAE.
Conclusion
A novel EGFR-targeting ADC, RC68-PY-VC-PAB-MMAE, shows promise as an effective, selective, and safe therapeutic agent for EGFR-positive pancreatic cancer.
This is a preview of subscription content, log in to check access.
Access options
Buy single article
Instant access to the full article PDF.
US$ 39.95
Price includes VAT for USA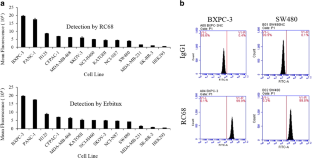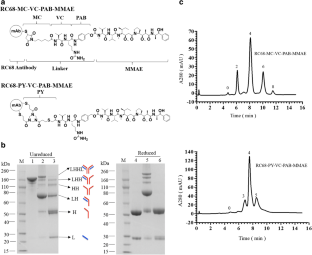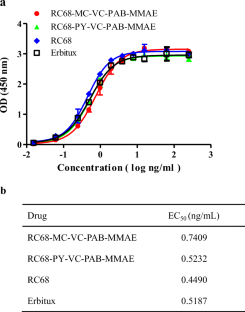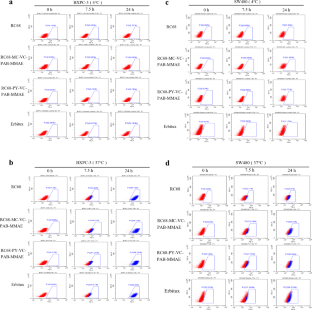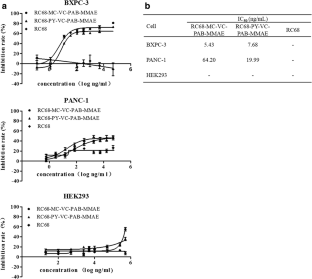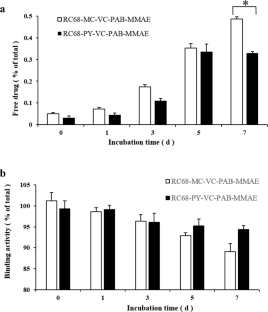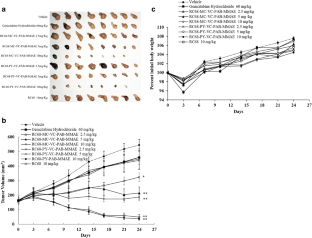 References
1.

Yarden Y, Sliwkowski MX. Untangling the ErbB signaling network. Nat Rev Mol Cell Biol. 2001;2(2):127–37.

2.

Jorissen RN, Walker F, Pouliot N, Garrett TP, Ward CW, Burgess AW. Epidermal growth factor receptor: mechanisms of activation and signaling. Exp Cell Res. 2003;284(1):31–53.

3.

Alroy I, Yarden Y. The ErbB signaling network in embryogenesis and oncogenesis: signal diversification through combinatorial ligand-receptor interactions. FEBS Lett. 1997;410(1):83–6.

4.

Castillo L, Etienne-Grimaldi MC, Fischel JL, Formento P, Magné N, Milano G. Pharmacological background of EGFR targeting. Ann Oncol. 2004;15(7):1007–12.

5.

Lewis TS, Shapiro PS, Ahn NG. Signal transduction through MAP kinase cascades. Adv Cancer Res. 1998;74:49–139.

6.

Kuan CT, Wikstrand CJ, Bigner DD. EGF mutant receptor vIII as a molecular target in cancer therapy. Endocr Relat Cancer. 2001;8(2):83–96.

7.

Liu D, Aquirre Ghiso J, Estrada Y, Ossowski L. EGFR is a transducer of the urokinase receptor initiated signal that is required for in vivo growth of a human carcinoma. Cancer Cell. 2002;1(5):445–57.

8.

Olayioye MA, Neve RM, Lane HA, Hynes NE. The EerbB signaling network: receptor heterodimerzation in development and cancer. EMBO J. 2000;19(13):3159–67.

9.

Baselga J. Why the epidermal growth factor receptor? The rationale for cancer therapy. Oncologist. 2002;7(4):2–8.

10.

Mendelsohn J, Baselga J. Status of epidermal growth factor receptor antagonists in the biology and treatment of cancer. J Clin Oncol. 2003;21(14):2787–99.

11.

Moran T, Sequist LV. Timing of epidermal growth factor receptor tyrosine kinase inhibitor therapy in patients with lung cancer with EGFR mutations. J Clin Oncol. 2012;30(27):3330–6.

12.

Pao W, Miller VA, Politi KA, Riely GJ, Somwar R, Zakowski MF, et al. Acquired resistance of lung adenocarcinomas to gefitinib or erlotinib is associated with a second mutation in the EGFR kinase domain. PLoS Med. 2005;2(3):225–35.

13.

Yun CH, Mengwasser KE, Toms AV, Woo MS, Greulich H, Wong KK, et al. The T790M mutation in EGFR kinase causes drug resistance by increasing the affinity for ATP. Proc Natl Acad Sci U S A. 2008;105(6):2070–5.

14.

Zheng D, Hu M, Bai Y, Zhu X, Lu X, Wu C, et al. EGFR G796D mutation mediates resistance to osimertinib. Oncotarget. 2017;8(30):49671–9.

15.

Planchard D, Loriot Y, Andre F, Gobert A, Auger N, Lacroix L, et al. EGFR-independent mechanisms of acquired resistance to AZD9291 in EGFR T790M-positive NSCLC patients. Ann Oncol. 2015;26(10):2073–8.

16.

Lu X, Yu L, Zhang Z, Ren X, Smaill JB, Ding K. Targeting EGFRL858R/T790M and EGFRL858R/T790M/C797S resistance mutations in NSCLC: current developments in medicinal chemistry. Med Res Rev. 2018;38:1550–1581.

17.

Cunningham D, Humblet Y, Siena S. Cetuximab monotherapy and cetuximab plus irinotecan in irinotecan refractory metastatic colorectal cancer. N Engl J Med. 2004;351(4):337–45.

18.

Wu M, Rivkin A, Pham T. Panitumumab: human monoclonal antibody against epidermal growth factor for the treatment of metastatic colorectal cancer. Clin Ther. 2008;30(1):14–30.

19.

Lu M, Wang X, Shen L, Jia J, Gong J, Li J, et al. Nimotuzumab plus paclitaxel and cisplatin as the first line treatment for advanced esophageal squamous cell cancer: a single centre prospective phase II trial. Cancer Sci. 2016;170(4):486–90.

20.

Thatcher N, Hirsch FR, Luft AV, Szczesna A, Ciuleanu TE, Dediu M, et al. Necitumumab plus gemcitabine and cisplatin versus gemcitabine and cisplatin alone as first-line therapy in patients with stage IV squamous non-small-cell lung cancer (SQUIRE): an open-label, randomised, controlled phase 3 trial. Lancet Oncol. 2015;16(7):763–74.

21.

Diamantis N, Banerji U. Antibody-drug conjugates-an emerging class of cancer treatment. Br J Cancer. 2016;114(4):362–7.

22.

Lambert JM, Berkenblit A. Antibody-drug conjugates for Cancer treatment. Annu Rev Med. 2018;69:191–207.

23.

Hamblett KJ, Kozlosky CJ, Siu S, Chang WS, Liu H, Foltz IN, et al. AMG 595, an anti-EGFRvIII antibody-drug conjugate, induces potent antitumor activity against EGFRvIII-expressing glioblastoma. Mol Cancer Ther. 2015;14(7):1614–24.

24.

van den Bent M, Gan HK, Lassman AB, Kumthekar P, Merrell R, Butowski N, et al. Efficacy of depatuxizumab mafodotin (ABT-414) monotherapy in patients with EGFR-amplified, recurrent glioblastoma: results from a multi-center, international study. Cancer Chemother Pharmacol. 2017;80(6):1209–17.

25.

Phillips AC, Boghaert ER, Vaidya KS, Falls HD, Mitten MJ, DeVries PJ, et al. Characterization of ABBV-221, a tumor-selective EGFR targeting antibody drug conjugate. Mol Cancer Ther. 2018;17(4):795–805.

26.

Siegel RL, Miller KD, Jemal A. Cancer statistics, 2017. CA Cancer J Clin. 2017;67:7–30.

27.

Oberstein PE, Olive KP. Pancreatic cancer: why is it so hard to treat? Ther Adv Gastroenterol. 2013;6(4):321–37.

28.

Fjallskog ML, Lejonklou MH, Oberg KE, Eriksson BK, Janson ET. Expression of molecular targets for tyrosine kinase receptor antagonists in malignant endocrine pancreatic tumors. Clin Cancer Res. 2003;9(4):1469–73.

29.

Huang C, Fang J, Ye H, Zhang L. Covalent linkers in antibody-drug conjugates and methods of making and using the same [P]. WO 2017/031034 A2.

30.

Dosio F, Brusa P, Cattel L. Immunotoxins and anticancer drug conjugate assemblies: the role of the linkage between components. Toxins. 2011;3:848–83.

31.

Tsuchikama K, An Z. Antibody-drug conjugates: recent advances in conjugation and linker chemistries. Protein Cell. 2018;9(1):33–46.

32.

Yao X, Jiang J, Wang X, Huang C, Li D, Xie K, et al. A novel humanized anti-HER2 antibody conjugated with MMAE exerts potent anti-tumor activity. Breast Cancer Res Treat. 2015;153(1):123–33.

33.

Riedl T, van Boxtel E, Bosch M, Parren PW, Gerritsen AF. High-throughput screening for internalizing antibodies by homogeneous fluorescence imaging of a pH-activated probe. J Biomol Screen. 2016;21(1):12–23.

34.

Li Z, Wang M, Yao X, Li H, Li S, Liu L, et al. Development of novel anti-CD19 antibody-drug conjugates for B-cell lymphoma treatment. Int Immunopharmacol. 2018;2:299–308.

35.

Francisco JA, Cerveny CG, Meyer DL, Mixan BJ, Klussman K, Chace DF, et al. cAC10-vcMMAE, an anti-CD30-monomethyl auristatin E conjugate with potent and selective antitumor activity. Blood. 2003;102(4):1458–65.

36.

Kamisawa T, Wood LD, Itoi T, Takaori K. Pancreatic cancer. Lancet. 2016;388:73–85.

37.

Sheahan AV, Biankin AV, Parish CR, Khachigian LM. Targeted therapies in the management of locally advanced and metastatic pancreatic cancer: a systematic review. Oncotarget. 2018;9(30):21613–27.

38.

Zeitouni D, Pylayeva-Gupta Y, Der CJ, Bryant KL. KRAS mutant pancreatic cancer: no lone path to an effective treatment. Cancer. 2016;6:166–175.

39.

Cardillo TM, Govindan SV, Sharkey RM, Trisal P, Arrojo R, Liu D, et al. Sacituzumab Govitecan (IMMU-132), an anti-Trop-2/SN-38 antibody-drug conjugate: characterization and efficacy in pancreatic, gastric, and other cancers. Bioconjug Chem. 2015;26(5):919–31.

40.

Koga Y, Manabe S, Aihara Y, Sato R, Tsumura R, Iwafuji H, et al. Antitumor effect of antitissue factor antibody-MMAE conjugate in human pancreatic tumor xenografts. Int J Cancer. 2015;137(6):1457–66.

41.

Yao H, Feng L, Weng T, Hu C, Suthe SR, Mostofa AGM, et al. Preclinical efficacy of anti-RON antibody-drug conjugate Zt/g4-MMAE for targeted therapy of pancreatic cancer overexpressing RON receptor tyrosine kinase. Mol Pharm. 2018;15(8):3260–71.

42.

Singh SK, Luisi DL, Pak RH. Antibody-drug conjugates: design formulation and physicochemical stability. Pharm Res. 2015;32(11):3541–71.

43.

McCombs JR, Owen SC. Antibody drug conjugates: design and selection of linker, payload and conjugation chemistry. AAPS J. 2015;17(2):339–51.

44.

Jones OP, Melling JD, Ghaneh P. Adjuvant therapy in pancreatic cancer. World J Gastroenterol: WJG. 2014;20:14733–46.

45.

Mihailidou C, Papakotoulas P, Papavassiliou AG, Karamouzis MV. Superior efficacy of the antifungal agent ciclopirox olamine over gemcitabine in pancreatic cancer models. Oncotarget. 2017;9(12):10360–74.

46.

Lewis Phillips GD, Li G, Dugger DL, Crocker LM, Parsons KL, Mai E, et al. Targeting HER2-positive breast cancer with transtuzumab-DM1, an antibody-cytotoxic drug. Cancer Res. 2008;68(22):9280–90.

47.

Moore MJ, Goldstein D, Hamm J, Figer A, Hecht JR, Gallinger S, et al. Erlotinib plus gemcitabine compared with gemcitabine alone in patients with advanced pancreatic cancer: a phase III trial of the National Cancer Institute of Canada clinical trials group. J Clin Oncol. 2007;25(15):1960–6.
Acknowledgments
The authors thank both Hongwen Li and Xiaoyu Xu at RemeGen Ltd. for their input regarding the preparation of the RC68 antibody.
Ethics declarations
Funding
This work was supported by a grant from the National Science and Technology Major Project of China (Grant number: 2014ZX09508004–003).
Conflicts of Interest
Zhuanglin Li, Xuejing Yao, Jianmin Fang, and Changjiang Huang are stock holders of RemeGen, Ltd. All other authors declare no conflicts of interest.
Electronic supplementary material
About this article
Cite this article
Li, Z., Wang, M., Yao, X. et al. Development of a Novel EGFR-Targeting Antibody-Drug Conjugate for Pancreatic Cancer Therapy. Targ Oncol 14, 93–105 (2019). https://doi.org/10.1007/s11523-018-0616-8