Abstract
Background
Imatinib is a first-line tyrosine kinase inhibitor for treating chronic myelogenous leukaemia (CML) and has greatly improved the prognosis of this disease. An increasing number of CML patients of reproductive age are diagnosed each year, and the impact of imatinib on fertility is a major concern. Providing useful advice to these patients regarding the choice of their therapeutic treatment is very important.
Objective
This study examined the impact of imatinib on the fertility of male patients with CML in the chronic phase.
Patients and Methods
We performed a study of 48 adult male CML patients in the chronic phase (CML-CP), 50 healthy control subjects, and 10 male patients with infertility. Imatinib levels in semen and plasma were measured using high-performance liquid chromatography/mass spectrometry. We examined the effects of imatinib on sperm parameters and the male reproductive system using a computer-assisted sperm assay and ultrasound, respectively. We analysed sex hormone levels in the sera of CML-CP patients using an enzyme-linked immunosorbent assay.
Results
Imatinib levels in semen were comparable to plasma levels in CML-CP patients. CML-CP patients treated with imatinib exhibited reduced sperm density, counts, survival rates, and activity. Ultrasound demonstrated that the shape and size of the testis and epididymis in CML-CP patients undergoing imatinib treatment were normal. However, 19 of these patients exhibited a hydrocele in their tunica vaginalis, with a large dark area of effusion (0.7–2.9 cm in width). Sex hormone levels in the sera of the CML-CP patients were normal.
Conclusions
These results suggest that imatinib crosses the blood-testis barrier and reduces sperm density, sperm count, survival rates, and activity in CML-CP patients. However, imatinib did not affect the structure of reproductive organs or sex hormone levels.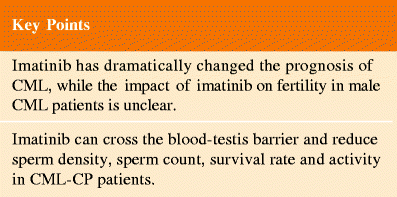 Access options
Buy single article
Instant access to the full article PDF.
US$ 39.95
Tax calculation will be finalised during checkout.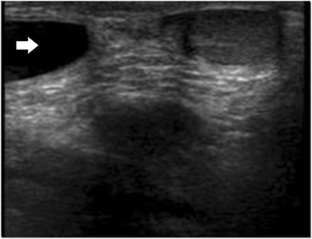 References
1.

Rowley JD. A New Consistent Chromosomal Abnormality in Chronic Myelogenous Leukaemia identified by Quinacrine Fluorescence and Giemsa Staining. Nature. 1973;243:290–3.

2.

Avilésvázquez S, Chávezgonzález A, Mayani H. Tyrosine kinase inhibitors (TKI): a new revolution in the treatment of chronic myeloid leukemia (CML). Gac Med Mex. 2013;149(6):646–54.

3.

Miura M. Therapeutic drug monitoring of Imatinib, Nilotinib, and Dasatinib for patients with chronic myeloid leukemia. Biol Pharm Bull. 2015;38(5):645–54.

4.

Sacha T. Imatinib in chronic myeloid leukemia: an overview. Mediterr J Hematol Infect Dis. 2014;6(1):e2014007.

5.

Mendizabal AM, Garciagonzalez P, Levine PH. Regional variations in age at diagnosis and overall survival among patients with chronic myeloid leukemia from low and middle income countries. Cancer Epidemiol. 2013;37(3):247–54.

6.

Wang J, Shen ZX, Saglio G, et al. Phase 3 study of nilotinib vs imatinib in Chinese patients with newly diagnosed chronic myeloid leukemia in chronic phase: ENESTchina. Blood. 2015;125(18):2771–8.

7.

Esteves SC, Zini A, Aziz N, et al. Critical appraisal of World Health Organization's new reference values for human semen characteristics and effect on diagnosis and treatment of subfertile men. Urology. 2012;79(1):16–22.

8.

Fava C, Rege-Cambrin G, Saglio G. The choice of first-line chronic myelogenous leukemia treatment. Ann Hematol. 2015;94(2):S123–31.

9.

Jabbour EJ, Cortes JE, Kantarjian HM. Tyrosine kinase inhibition: a therapeutic target for the management of chronic-phase chronic myeloid leukemia. Expert Rev Anticancer Ther. 2013;13(12):1433–52.

10.

Apperley J. CML in pregnancy and childhood. Best Pract Res Clin Haematol. 2009;22(3):455–74.

11.

XiaoHui C, Huai G, Yang X. Imatinib effects on fertility and reproductive in patients with chronic myelogenous leukemia (in Chinese, review). Carcinog Teratog Mutagen. 2010;22(6):477–9.

12.

Steegmann JL, Baccarani M, Breccia M, et al. European leukemia net recommendations for the management and avoidance of adverse events of treatment in chronic myeloid leukaemia. Leukemia. 2016;30(8):1648–71.

13.

Prasad AM, Ramnarayan K, Nalini K, et al. Effect of imatinib on the biochemical parameters of the reproductive function in male Swiss albino mice. Indian J Pharm. 2011;43(4):389–92.

14.

Seshadri T, Seymour JF, McArthur GA. Oligospermia in a patient receiving imatinib therapy for the hypereosinophilic syndrome. N Engl J Med. 2004;351(20):2134–5.

15.

Mariani S, Basciani S, Fabbri A, et al. Severe oligozoospermia in a young man with chronic myeloid leukemia on long-term treatment with imatinib started before puberty. Fertil Steril. 2011;95(3):e15–7.

16.

Nurmio M, Toppari J, Zaman F, et al. Inhibition of tyrosine kinases PDGFR and C-kit by imatinib mesylate interferes with postnatal testicular development in the rat. Int J Androl. 2007;30(4):366–76.

17.

Nurmio M, Kallio J, Toppari J, et al. Adult reproductive functions after early postnatal inhibition by imatinib of the two receptor tyrosine kinases, c-kit and PDGFR, in the rat testis. Reprod Toxicol. 2008;25(4):442–6.

18.

Heim C, Minniear K, Dann CT. Imatinib has deleterious effects on differentiating spermatogonia while sparing spermatogonial stem cell self renewal. Reprod Toxicol. 2011;31(4):454–63.

19.

Abruzzese E, Trawinska MM, De FP, et al. Management of pregnant chronic myeloid leukemia patients. Expert Rev Hematol. 2016;9(8):781–91.

20.

Nicolini FE, Alcazer V, Huguet F, et al. CML patients show sperm alterations at diagnosis that are not improved with imatinib treatment. Leuk Res. 2016;48(9):80–3.

21.

Jain A, Khadwal A, Prakashet G, al. Cytopathological diagnosis of an unusual cause of malignant Hydrocele. Clin Medicine Insights Pathol. 2016;9(9):29–31.

22.

Kim H, Chang HM, Ryu MH, et al. Concurrent male Gynecomastia and testicular Hydrocele after Imatinib Mesylate treatment of a gastrointestinal Stromal tumor. J Korean Med Sci. 2005;20(3):512–5.

23.

Seymour JF, Grigg A, Reynolds J, et al. Imatinib's potential effects on fertility, immunity and pulmonary function: a prospective study in patients with previously untreated CML. Blood. 2004;104(11):1020.

24.

Xiaohui C, Huai G, Yubin C, et al. One case report: a male patient with chronic myeloid leukemia treated with imatinib involved in healthy pregnancies [article in Chinese]. Zhong Guo Yi Yao Dao Bao. 2013;10(1):116–7.

25.

Mukhopadhyay A, Dasgupta S, Kanti RU, et al. Pregnancy outcome in chronic myeloid leukemia patients on imatinib therapy. Ir J Med Sci. 2015;184(1):183–8.

26.

Jiang Q, Jiang B, Chen SS, et al. Pregnancy outcome among patients with chronic myelogenous leukemia treated with tyrosine kinase inhibitors [article in Chinese]. Zhonghua Xue Ye Xue Za Zhi. 2012;33(1):6–9.
Ethics declarations
Funding
This study was supported by a grant from the National Nature Science Foundation of Liaoning Province (number: 2,015,020,411–301).
Conflict of Interest
The authors declare no conflicts of interest.
About this article
Cite this article
Chang, X., Zhou, L., Chen, X. et al. Impact of Imatinib on the Fertility of Male Patients with Chronic Myelogenous Leukaemia in the Chronic Phase. Targ Oncol 12, 827–832 (2017). https://doi.org/10.1007/s11523-017-0521-6