Abstract
Background
Recently, in advanced non-small cell lung cancer (NSCLC), standard chemotherapy was flanked by biological agents directed against genomic abnormalities, including EGFR and ALK alterations, that significantly improved patient outcome. Despite these achievements, tumour progression almost always occurs and a reassessment of the tumour genetic profile may contribute to modulating the therapeutic regimen. Resampling may provide tissue for additional tests to detect acquired resistance and/or new genetic alterations, but the currently available information is limited.
Patients and Methods
Histological and genetic reassessments of biopsy or surgical tissue samples from 50 non-squamous NSCLC patients before and after at least one systemic treatment were performed. EGFR, KRAS, BRAF, PIK3CA and HER2 mutations were sequenced, p.T790M was identified with real-time PCR, and ALK and MET genomic alterations by fluorescence in situ hybridization.
Results
Overall in baseline biopsies, 37/50 (74 %) tumours had genetic alterations, either single (52 %) or multiple (22 %). Among them, 16 were EGFR mutations and 6 ALK rearrangements. In the second tissue sampling, 54 % of cases had additional genomic changes, including newly acquired alterations (81 %) or losses (18 %). The commonest changes were MET amplification and p.T790M mutation. One case had a histological shift from adenocarcinoma to small cell carcinoma.
Conclusions
The remarkable number of molecular changes following systemic therapy and the genetic complexity of some cases underline the value of histological and molecular re-evaluation of lung cancer to tailor the most appropriate therapy during disease progression.
This is a preview of subscription content, log in to check access.
Access options
Buy single article
Instant access to the full article PDF.
US$ 39.95
Price includes VAT for USA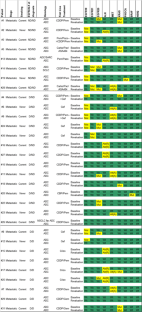 References
1.

Alberg AJ, Brock MV, Ford JG et al (2013) Epidemiology of lung cancer: diagnosis and management of lung cancer, 3rd ed: American College of Chest Physicians evidence-based clinical practice guidelines. Chest 143(5 Suppl):e1S–e29S. doi:10.1378/chest.12-2345

2.

Rosell R, Carcereny E, Gervais R et al (2012) Erlotinib versus standard chemotherapy as first-line treatment for European patients with advanced EGFR mutation-positive non-small-cell lung cancer (EURTAC): a multicentre, open-label, randomised phase 3 trial. Lancet Oncol 13(3):239–246. doi:10.1016/S1470-2045(11)70393-X

3.

Mok T, Wu YL, Zhang L (2009) A small step towards personalized medicine for non-small cell lung cancer. Discov Med 8(43):227–231

4.

Shaw AT, Kim DW, Nakagawa K et al (2013) Crizotinib versus chemotherapy in advanced ALK-positive lung cancer. N Engl J Med 368(25):2385–2394. doi:10.1056/NEJMoa1214886

5.

Inoue A, Kobayashi K, Maemondo M et al (2013) Updated overall survival results from a randomized phase III trial comparing gefitinib with carboplatin-paclitaxel for chemo-naive non-small cell lung cancer with sensitive EGFR gene mutations (NEJ002). Ann Oncol 24(1):54–59. doi:10.1093/annonc/mds214

6.

Sequist LV, Yang JC, Yamamoto N et al (2013) Phase III study of afatinib or cisplatin plus pemetrexed in patients with metastatic lung adenocarcinoma with EGFR mutations. J Clin Oncol 31(27):3327–3334. doi:10.1200/JCO.2012.44.2806

7.

Wu YL, Fukuoka M, Mok TS et al (2013) Tumor response and health-related quality of life in clinically selected patients from Asia with advanced non-small-cell lung cancer treated with first-line gefitinib: post hoc analyses from the IPASS study. Lung Cancer 81(2):280–287. doi:10.1016/j.lungcan.2013.03.004

8.

Lovly CM, Pao W (2012) Escaping ALK inhibition: mechanisms of and strategies to overcome resistance. Sci Transl Med 4(120):120ps2. doi:10.1126/scitranslmed.3003728

9.

Righi L, Cuccurullo A, Vatrano S et al (2013) Detection and characterization of classical and "uncommon" exon 19 epidermal growth factor receptor mutations in lung cancer by pyrosequencing. BMC Cancer 13:114. doi:10.1186/1471-2407-13-114

10.

Lindeman NI, Cagle PT, Beasley MB et al (2013) Molecular testing guideline for selection of lung cancer patients for EGFR and ALK tyrosine kinase inhibitors: guideline from the College of American Pathologists, International Association for the Study of Lung Cancer, and Association for Molecular Pathology. J Thorac Oncol 8(7):823–859. doi:10.1097/JTO.0b013e318290868f

11.

Cappuzzo F, Marchetti A, Skokan M et al (2009) Increased MET gene copy number negatively affects survival of surgically resected non-small-cell lung cancer patients. J Clin Oncol 27(10):1667–1674. doi:10.1200/JCO.2008.19.1635

12.

Park S, Choi YL, Sung CO et al (2012) High MET copy number and MET overexpression: poor outcome in non-small cell lung cancer patients. Histol Histopathol 27(2):197–207

13.

Kris MG, Johnson BE, Berry LD et al (2014) Using multiplexed assays of oncogenic drivers in lung cancers to select targeted drugs. JAMA 311(19):1998–2006. doi:10.1001/jama.2014.3741

14.

Barlesi F, Blons H, Beau-Faller M et al (2013) Results of routine EGFR, HER2, KRAS, BRAF, PI3KCA mutations detection and EML4-ALK gene fusion assessment on the first 10,000 non-small cell lung cancer (NSCLC) patients (pts). J Clin Oncol Suppl:Abst 8000

15.

Remon J, Moran T, Majem M et al (2014) Acquired resistance to epidermal growth factor receptor tyrosine kinase inhibitors in EGFR-mutant non-small cell lung cancer: a new era begins. Cancer Treat Rev 40(1):93–101. doi:10.1016/j.ctrv.2013.06.002

16.

Schildhaus H, Schultheis AM, Ruschoff J et al (2014) MET amplification status in therapy-naive adeno- and squamous cell carcinomas of the lung. Clin Cancer Res 21(4):907–915. doi:10.1158/1078-0432.CCR-14-0450

17.

Rosell R, Molina MA, Costa C et al (2011) Pretreatment EGFR T790M mutation and BRCA1 mRNA expression in erlotinib-treated advanced non-small-cell lung cancer patients with EGFR mutations. Clin Cancer Res 17(5):1160–1168. doi:10.1158/1078-0432.CCR-10-2158

18.

Bean J, Brennan C, Shih JY et al (2007) MET amplification occurs with or without T790M mutations in EGFR mutant lung tumors with acquired resistance to gefitinib or erlotinib. Proc Natl Acad Sci U S A 104(52):20932–20937. doi:10.1073/pnas.0710370104

19.

Sequist LV, Waltman BA, Dias-Santagata D et al (2011) Genotypic and histological evolution of lung cancers acquiring resistance to EGFR inhibitors. Sci Transl Med 3(75):75ra26. doi:10.1126/scitranslmed.3002003

20.

Minuti G, D'Incecco A, Landi L et al (2014) Protein kinase inhibitors to treat non-small-cell lung cancer. Expert Opin Pharmacother 15(9):1203–1213. doi:10.1517/14656566.2014.909412

21.

Guo B, Cen H, Tan X et al (2014) Prognostic value of MET gene copy number and protein expression in patients with surgically resected non-small cell lung cancer: a meta-analysis of published literatures. PLoS One 9(6):e99399. doi:10.1371/journal.pone.0099399

22.

Gelsomino F, Facchinetti F, Haspinger ER et al (2014) Targeting the MET gene for the treatment of non-small-cell lung cancer. Crit Rev Oncol Hematol 89(2):284–299. doi:10.1016/j.critrevonc.2013.11.006

23.

Cancer Genome Atlas Research Network (2014) Comprehensive molecular profiling of lung adenocarcinoma. Nature 511:543–550

24.

Gherardi E, Birchmeier W, Birchmeier C et al (2012) Targeting MET in cancer: rationale and progress. Nat Rev Cancer 12(2):89–103. doi:10.1038/nrc3205

25.

Nguyen KS, Kobayashi S, Costa DB (2009) Acquired resistance to epidermal growth factor receptor tyrosine kinase inhibitors in non-small-cell lung cancers dependent on the epidermal growth factor receptor pathway. Clin Lung Cancer 10(4):281–289. doi:10.3816/CLC.2009.n.039

26.

Zakowski MF, Ladanyi M, Kris MG (2006) EGFR mutations in small-cell lung cancers in patients who have never smoked. N Engl J Med 355(2):213–215. doi:10.1056/NEJMc053610

27.

Morinaga R, Okamoto I, Furuta K et al (2007) Sequential occurrence of non-small cell and small cell lung cancer with the same EGFR mutation. Lung Cancer 58(3):411–413. doi:10.1016/j.lungcan.2007.05.014

28.

Fukui T, Tsuta K, Furuta K et al (2007) Epidermal growth factor receptor mutation status and clinicopathological features of combined small cell carcinoma with adenocarcinoma of the lung. Cancer Sci 98(11):1714–1719. doi:10.1111/j.1349-7006.2007.00600.x

29.

Visvader JE, Lindeman GJ (2008) Cancer stem cells in solid tumours: accumulating evidence and unresolved questions. Nat Rev Cancer 8(10):755–768. doi:10.1038/nrc2499

30.

Rosen JM, Jordan CT (2009) The increasing complexity of the cancer stem cell paradigm. Science 324(5935):1670–1673. doi:10.1126/science.1171837

31.

Ross JS, Wang K, Elkadi OR et al (2014) Next-generation sequencing reveals frequent consistent genomic alterations in small cell undifferentiated lung cancer. J Clin Pathol 67(9):772–776. doi:10.1136/jclinpath-2014-202447
Acknowledgments
This work was partially supported by a grant from the Fondazione Guido Berlucchi, Brescia (approved 24 April 2013) to M.P. and HEALTH-F2- 2010-258677-CURELUNG from the European Community's Seventh Framework Program (FP7/2007-2013) to G.V.S.
S.V. is a Ph.D. fellow at the University of Turin, Doctorate School of Biomedical Sciences and Oncology.
Conflict of Interest
A.V.: honoraria from Cook Medical, AstraZeneca, Amgen, Eli Lilly, Roche, Mundipharma, Bristol Myers Squibb, Novartis; M.P.: honoraria from Eli Lilly, Novartis, Pfizer, Clovis Oncology; G.V.S.: honoraria from Eli Lilly, AstraZeneca, Pfizer, Roche, Clovis Oncology, Icon; S.N.: honoraria from Eli Lilly, Boehringer Ingelheim, Roche, AstraZeneca, MSD. S.V., L.R., T.V., I.R., M.B., S.I. and S.C. have no conflicts of interest to declare.
About this article
Cite this article
Vatrano, S., Righi, L., Vavalá, T. et al. Molecular and Histological Changes in Post-Treatment Biopsies of Non-Squamous Non-Small Cell Lung Cancer: A Retrospective Study. Targ Oncol 11, 157–166 (2016). https://doi.org/10.1007/s11523-015-0383-8
Keywords
Epidermal Growth Factor Receptor

Epidermal Growth Factor Receptor Mutation

Anaplastic Lymphoma Kinase

Crizotinib

Anaplastic Lymphoma Kinase Rearrangement