Sinusoidal vibrotactile stimulation differentially improves force steadiness depending on contraction intensity
Abstract
Studies have reported the benefits of sensory noise in motor performance, but it is not clear if this phenomenon is influenced by muscle contraction intensity. Additionally, most of the studies investigated the role of a stochastic noise on the improvement of motor control and there is no evidence that a sinusoidal vibrotactile stimulation could also enhance motor performance. Eleven participants performed a sensorimotor task while sinusoidal vibrations were applied to the finger skin. The effects of an optimal vibration (OV) on force steadiness were evaluated in different contraction intensities. We assessed the standard deviation (SD) and coefficient of variation (CoV) of force signals. OV significantly decreased force SD irrespective of contraction intensity, but the decrease in force CoV was significantly higher for low-intensity contraction. To the best of our knowledge, our findings are the first evidence that sinusoidal vibrotactile stimulation can enhance force steadiness in a motor task. Also, the significant improvement caused by OV during low-intensity contractions is probably due to the higher sensitivity of the motor system to the synaptic noise. These results add to the current knowledge on the effects of vibrotactile stimulation in motor control and have potential implications for the development of wearable haptic devices.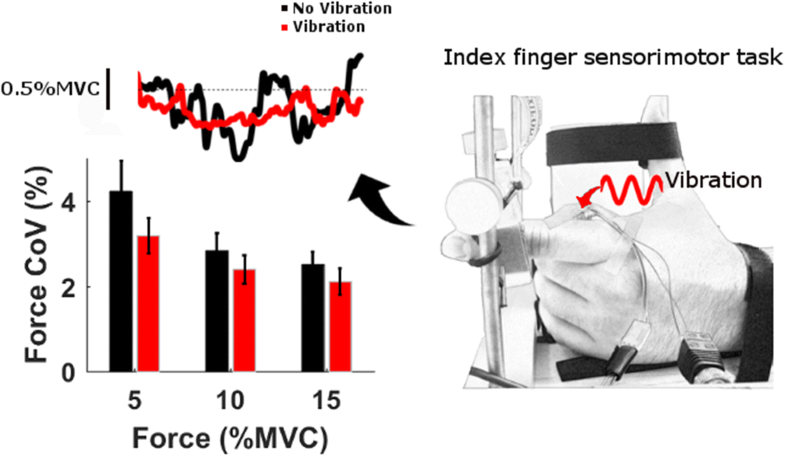 Keywords
Cutaneous mechanoreceptors 
Motor control 
Sensorimotor system 
Synaptic noise 
Notes
Acknowledgments
The authors are thankful to Mr. Carlos Silva, Mr. Mauro Martinazo, Mr. Renato Moura, and Mr. Flavio Santos (Center for Biomedical Engineering, UNICAMP) for their technical support. C.M.G and L.S.M are recipients of PhD scholarships from Coordination for the Improvement of Higher Education Personnel (CAPES, Brazil).
Funding information
L.A.E was funded by Research Grants from Teaching, Research, and Extension Support Fund of the University of Campinas (FAEPEX/UNICAMP, procs. nos. 1483/14 and 3289/16), CNPq (Brazilian NSF, proc. no. 312442/2017-3), and FAPESP (The Sao Paulo Research Foundation, proc. no. 2017/22191-3).
Compliance with ethical standards
Ethical approval
All procedures performed in studies involving human participants were in accordance with the ethical standards of the institutional and/or national research committee and with the 1964 Helsinki declaration and its later amendments or comparable ethical standards.
Copyright information
© International Federation for Medical and Biological Engineering 2019