Head-mounted interface for intuitive vision control and continuous surgical operation in a surgical robot system
Abstract
Although robot-assisted surgeries offer various advantages, the discontinuous surgical operation flow resulting from switching the control between the patient-side manipulators and the endoscopic robot arm can be improved to enhance the efficiency further. Therefore, in this study, a head-mounted master interface (HMI) that can be implemented to an existing surgical robot system and allows continuous surgical operation flow using the head motion is proposed. The proposed system includes an HMI, a four degrees of freedom endoscope control system, a simple three-dimensional endoscope, and a da Vinci Research Kit. Eight volunteers performed seven head movements and their data from HMI was collected to perform support vector machine (SVM) classification. Further, ten-fold cross-validation was performed to optimize its parameters. Using the ten-fold cross-validation result, the SVM classifier with the Gaussian kernel (σ = 0.85) was chosen, which had an accuracy of 92.28%. An endoscopic control algorithm was developed using the SVM classification result. A peg transfer task was conducted to check the time-related effect of HMI's usability on the system, and the paired t test result showed that the task completion time was reduced. Further, the time delay of the system was measured to be 0.72 s.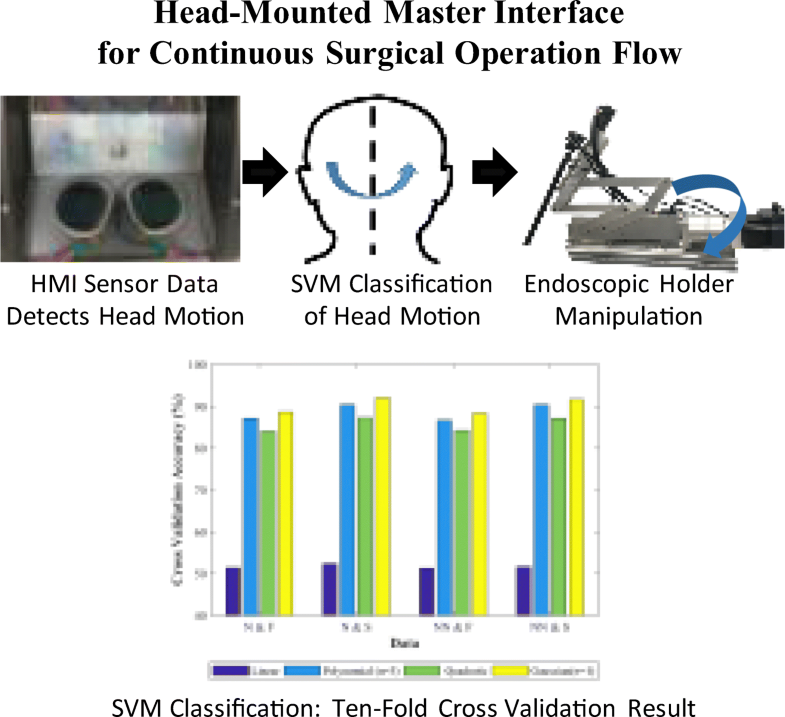 Keywords
Minimally invasive surgical procedure 
Endoscopic control interface 
da Vinci Research Kit 
Machine learning 
Head movement 
Abbreviations
HMI

Head-mounted master interface

dVRK

da Vinci Research Kit

SVM

Support vector machine

MIS

Minimally invasive surgery

DOFs

Degrees of freedom

MTM

Master tool manipulator

PSM

Patient-side manipulator

NMI

Novel master interface

iNMI

Improved novel master interface

ECS

Endoscope control system

HOTAS

Hands-on-throttle-and-stick

3D

Three-dimensional

CMOS

Complementary metal-oxide-semiconductor

DAQ

Data acquisition device

FLS

Fundamentals of laparoscopic surgery
Notes
Acknowledgments
The da Vinci Research Kit was donated by Intuitive Surgical, Inc. (Sunnyvale, CA, USA) in 2014.
Funding information
This work was supported by the National Research Foundation of Korea grant funded by the Korea Government (MSIP) (Grant No. 2017R1A2B2006163).
Copyright information
© International Federation for Medical and Biological Engineering 2018