Classification of pressure ulcer tissues with 3D convolutional neural network
Abstract
A 3D convolution neural network (CNN) of deep learning architecture is supplied with essential visual features to accurately classify and segment granulation, necrotic eschar, and slough tissues in pressure ulcer color images. After finding a region of interest (ROI), the features are extracted from both the original and convolved with a pre-selected Gaussian kernel 3D HSI images, combined with first-order models of current and prior visual appearance. The models approximate empirical marginal probability distributions of voxel-wise signals with linear combinations of discrete Gaussians (LCDG). The framework was trained and tested on 193 color pressure ulcer images. The classification accuracy and robustness were evaluated using the Dice similarity coefficient (DSC), the percentage area distance (PAD), and the area under the ROC curve (AUC). The obtained preliminary DSC of 92%, PAD of 13%, and AUC of 95% are promising.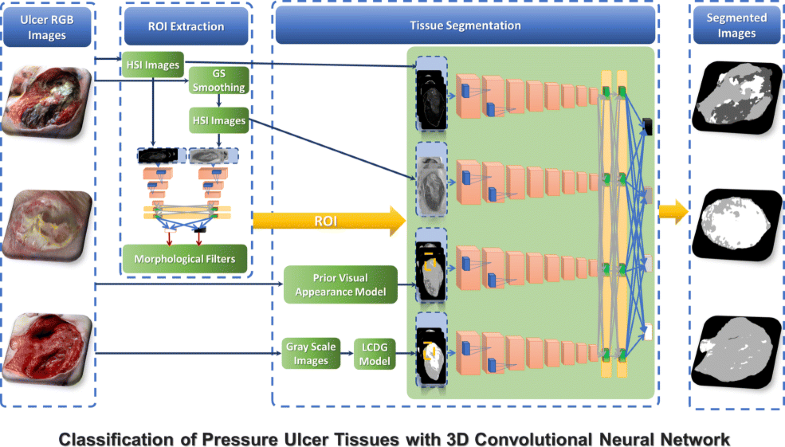 Keywords
Pressure ulcer 
3D convolution neural network (CNN) 
Tissue classification 
Linear combinations of discrete Gaussians (LCDG) 
Notes
Acknowledgements
The authors thank Prof. Dr. Georgy Gimel'farb, Department of Computer Science, University of Auckland, Auckland, New Zealand, for his help in revising the paper. In addition, the authors want to thank Sofia Zahia, Connor Burns, and Daniel Sierra-Sosa for their support in summarizing the related work and preparing the masks for the GT images.
Funding information
The grants that have contributed with partial funding of the study are IT − 905 − 16 to eVIDA research group from the Basque Government, JC2015 − 00305 Josè Castillejo Research Stay Grant from the Spanish Ministry, and ACM2017_09 from the University of Deusto.
Copyright information
© International Federation for Medical and Biological Engineering 2018