The inter-tester repeatability of a model for analysing elbow flexion-extension during overhead sporting movements
Abstract
This study investigates the inter-tester repeatability of an upper limb direct kinematic (ULDK) model specifically for the reporting of elbow flexion-extension (FE) during overhead sporting movements, such as cricket bowling. The ULDK model consists of an upper arm and a forearm connected with a 6° of freedom elbow joint. The ULDK model was assessed for inter-tester repeatability by calculating elbow FE during cricket bowling in two sessions, with unique testers applying the kinematic marker set in each session. Analysis of both elbow FE time-varying waveforms (statistical parametric mapping = 0% time different) and extracted discrete events (no statistical differences, strong correlations > 0.9) support that this model is inter-tester repeatable at assessing elbow FE within the context of cricket bowling. This model is recommended as a framework in future studies for measuring elbow kinematics during other overhead sporting tasks, with recommendations for further participant-specific considerations.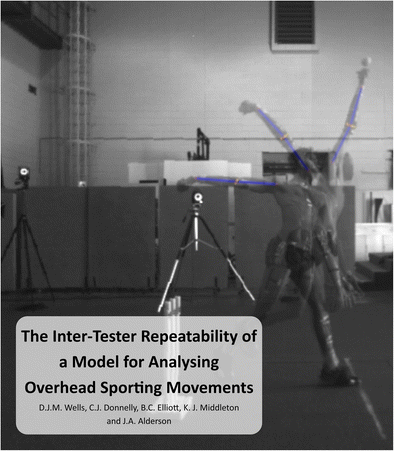 Keywords
Kinematics 
Direct kinematics 
Upper limb 
Cricket 
Statistical parametric mapping 
Notes
Compliance with ethical standards
All procedures performed were in accordance with the ethical standards of the institutional and/or national research committee (University of Western Australia's Human Research Ethics Committee, RA/4/1/5927) and with the 1964 Helsinki declaration and its later amendments or comparable ethical standards.
Conflict of interest
The authors declare that they have no conflict of interest.
Copyright information
© International Federation for Medical and Biological Engineering 2018