An automated behavior analysis system for freely moving rodents using depth image
Abstract
A rodent behavior analysis system is presented, capable of automated tracking, pose estimation, and recognition of nine behaviors in freely moving animals. The system tracks three key points on the rodent body (nose, center of body, and base of tail) to estimate its pose and head rotation angle in real time. A support vector machine (SVM)-based model, including label optimization steps, is trained to classify on a frame-by-frame basis: resting, walking, bending, grooming, sniffing, rearing supported, rearing unsupported, micro-movements, and "other" behaviors. Compared to conventional red-green-blue (RGB) camera-based methods, the proposed system operates on 3D depth images provided by the Kinect infrared (IR) camera, enabling stable performance regardless of lighting conditions and animal color contrast with the background. This is particularly beneficial for monitoring nocturnal animals' behavior. 3D features are designed to be extracted directly from the depth stream and combined with contour-based 2D features to further improve recognition accuracies. The system is validated on three freely behaving rats for 168 min in total. The behavior recognition model achieved a cross-validation accuracy of 86.8% on the rat used for training and accuracies of 82.1 and 83% on the other two "testing" rats. The automated head angle estimation aided by behavior recognition resulted in 0.76 correlation with human expert annotation.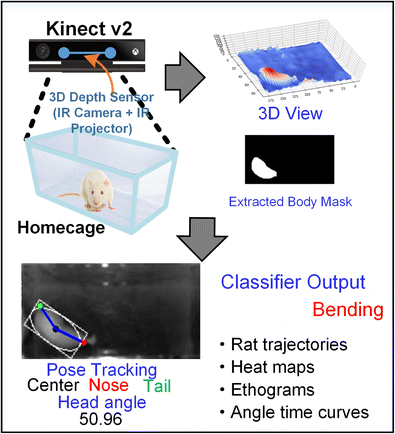 Keywords
Kinect sensor 
Depth image 
Animal tracking 
Pose estimation 
Feature extraction 
Behavior recognition 
Support vector machine 
Notes
Acknowledgements
This work was supported in part by the National Institutes of Health award 1R21EB018561 and the National Science Foundation under award ECCS-1407880 and ECCS-1408318. The authors would like to thank Prof. Rainnie and members of his lab at the Emory University Department of Psychiatry for their assistance in conducting the in vivo experiments.
Compliance with ethical standards
The experiment, which was conducted as part of the evaluation of the EnerCage-HC2 system, was approved by the Institutional Animal Care and Use Committees (IACUC) at Emory University and Georgia Tech.
All procedures performed in studies involving animals were in accordance with the ethical standards of the institution or practice at which the studies were conducted.
Copyright information
© International Federation for Medical and Biological Engineering 2018