A generalised porous medium approach to study thermo-fluid dynamics in human eyes
Abstract
The present work describes the application of the generalised porous medium model to study heat and fluid flow in healthy and glaucomatous eyes of different subject specimens, considering the presence of ocular cavities and porous tissues. The 2D computational model, implemented into the open-source software OpenFOAM, has been verified against benchmark data for mixed convection in domains partially filled with a porous medium. The verified model has been employed to simulate the thermo-fluid dynamic phenomena occurring in the anterior section of four patient-specific human eyes, considering the presence of anterior chamber (AC), trabecular meshwork (TM), Schlemm's canal (SC), and collector channels (CC). The computational domains of the eye are extracted from tomographic images. The dependence of TM porosity and permeability on intraocular pressure (IOP) has been analysed in detail, and the differences between healthy and glaucomatous eye conditions have been highlighted, proving that the different physiological conditions of patients have a significant influence on the thermo-fluid dynamic phenomena. The influence of different eye positions (supine and standing) on thermo-fluid dynamic variables has been also investigated: results are presented in terms of velocity, pressure, temperature, friction coefficient and local Nusselt number. The results clearly indicate that porosity and permeability of TM are two important parameters that affect eye pressure distribution.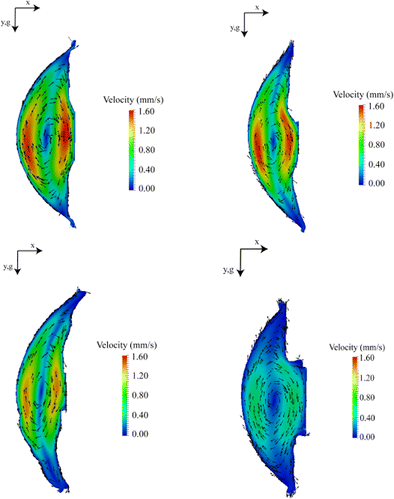 Keywords
Generalised porous medium model 
Eye modelling 
Aqueous humor flow 
Intraocular pressure (IOP) 
Patient oriented 
Heat transfer 
Nomenclature
Cf

Skin friction coefficient

cp

Specific heat (J/g/K)

Da

Darcy number

F

Forchheimer coefficient

g

Gravity (m/s2)

k

Thermal conductivity (W/m K)

L

Characteristic length (m)

n

Normal direction

NuL

Local Nusselt number

p

Pressure (Pa)

Pr

Prandtl number

t

Time (s)

T

Temperature (°C)

u

Velocity (m/s)
Greek symbols
α

Thermal diffusivity (m2/s)

β

Thermal expansion coefficient (1/°C)

ε

Porosity

κ

Permeability (m2)

μ

Viscosity (Pa s)

ρ

Density (kg/m3)

τw

Wall shear stress (Pa)
Acronyms
AC

Anterior chamber

AH

Aqueous humor

CC

Collector channel

HE

Healthy eye

GE

Glaucomatous eye

IOP

Intraocular pressure

SC

Schlemm's canal

TM

Trabecular meshwork
Subscripts
e

Effective

f

Fluid

m

Mean

o

Ocular

ref

Reference

s

Solid
Notes
Funding information
Alessandro Mauro, Nicola Massarotti and Mario R. Romano gratefully acknowledge the financial support of TeVR SIR project no. RBSI149484, CUP E62I15000760008. Alessandro Mauro also gratefully acknowledges the local program of the University of Napoli "Parthenope" for the support to individual research.
Compliance with ethical standards
The study was conducted according to the tenets of the Declaration of Helsinki.
Copyright information
© International Federation for Medical and Biological Engineering 2018