Abstract
This study proposed a registration framework to fuse 2D echocardiography images of the aortic valve with preoperative cardiac CT volume. The registration facilitates the fusion of CT and echocardiography to aid the diagnosis of aortic valve diseases and provide surgical guidance during transcatheter aortic valve replacement and implantation. The image registration framework consists of two major steps: temporal synchronization and spatial registration. Temporal synchronization allows time stamping of echocardiography time series data to identify frames that are at similar cardiac phase as the CT volume. Spatial registration is an intensity-based normalized mutual information method applied with pattern search optimization algorithm to produce an interpolated cardiac CT image that matches the echocardiography image. Our proposed registration method has been applied on the short-axis "Mercedes Benz" sign view of the aortic valve and long-axis parasternal view of echocardiography images from ten patients. The accuracy of our fully automated registration method was 0.81 ± 0.08 and 1.30 ± 0.13 mm in terms of Dice coefficient and Hausdorff distance for short-axis aortic valve view registration, whereas for long-axis parasternal view registration it was 0.79 ± 0.02 and 1.19 ± 0.11 mm, respectively. This accuracy is comparable to gold standard manual registration by expert. There was no significant difference in aortic annulus diameter measurement between the automatically and manually registered CT images. Without the use of optical tracking, we have shown the applicability of this technique for effective fusion of echocardiography with preoperative CT volume to potentially facilitate catheter-based surgery.
This is a preview of subscription content,
to check access.
Access this article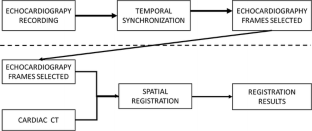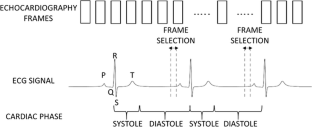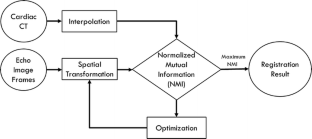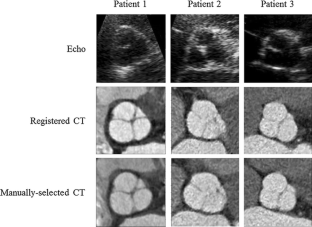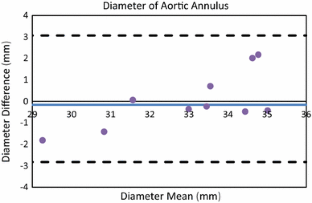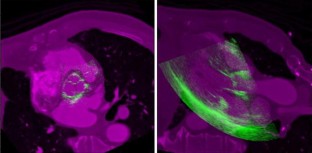 References
Audet C (2004) Convergence results for generalized pattern search algorithms are tight. Optim Eng 5(2):101–122

Audet C, Dennis JE Jr (2002) Analysis of generalized pattern searches. SIAM J Optim 13(3):889–903

Cai J, Chu JC, Recine D, Sharma M, Nguyen C, Rodebaugh R, Saxena A, Ali A (1999) CT and PET lung image registration and fusion in radiotherapy treatment planning using the chamfer-matching method. Int J Radiat Oncol Biol Phys 43(4):883–891

Carabello BA (2007) Aortic valve disease. In: Cardiovascular medicine. Springer, London, pp 381–392

Chun EJ, Choi SI, Lim C, Park K-H, Chang H-J, Choi D-J, Kim DH, Lee W, Park JH (2008) Aortic stenosis: evaluation with multidetector CT angiography and MR imaging. Korean J Radiol 9(5):439–448

Driscoll DJ (2016) Normal cardiac anatomy and clinical evaluation. In: Rickert-Sperling S, Kelly RG, Driscoll DJ (eds) Congenital heart diseases: the broken heart. Springer, Vienna, pp 11–21

Faber TL, McColl RW, Opperman RM, Corbett JR, Peshock RM (1991) Spatial and temporal registration of cardiac SPECT and MR images: methods and evaluation. Radiology 179(3):857–861

Gilardi MC, Rizzo G, Savi A, Landoni C, Bettinardi V, Rossetti C, Striano G, Fazio FN (1998) Correlation of SPECT and PET cardiac images by a surface matching registration technique. Comput Med Imag Graph 22:391–398

Grau V, Becher H, Noble JA (2007) Registration of multiview real-time 3-D echocardiographic sequences. IEEE Trans Med Imaging 26(9):1154–1165

Hahn RT (2013) Use of imaging for procedural guidance during transcatheter aortic valve replacement. Curr Opin Cardiol 28(5):512–517

Hill DLG, Hawkes DJ (2000) Handbook of medical imaging: processing and analysis. Academic, New York 2000, ch. Across modality registration using intensity-based cost functions, pp 537–553

Huang X, Ren J, Guiraudon G, Boughner D, Peters TM (2009) Rapid dynamic image registration of the beating heart for diagnosis and surgical navigation. IEEE Trans Med Imaging 28(11):1802–1814

Huang X, Moore J, Guiraudon G, Jones DL, Bainbridge D, Ren J, Peters TM (2009) Dynamic 2D ultrasound and 3D CT image registration of the beating heart. IEEE Trans Med Imaging 28(8):1179–1189

Huttenlocher DP, Klanderman GA, Rucklidge WJ (1993) Comparing images using the Hausdorff distance. IEEE Trans Pattern Anal Mach Intell 15(9):850–863

Kiss G, Ford S, Claus P, D'hooge J, Torp H (2013) Fusion of 3D echo and cardiac magnetic resonance volumes during live scanning. IEEE International ultrasonics symposium (IUS), pp 832–835

Ledesma-Carbayo MJ, Kybic J, Desco M, Santos A, Sühling M, Hunziker P, Unser M (2005) Spatio-temporal nonrigid registration for ultrasound cardiac motion estimation. IEEE Trans Med Imaging 24(9):1113–1126

Leon MB, Smith CR, Mack M, Miller DC, Moses JW, Svensson LG, Tuzcu EM, Webb JG, Fontana GP, Makkar RR (2010) Transcatheter aortic-valve implantation for aortic stenosis in patients who cannot undergo surgery. N Engl J Med 363(17):1597–1607

Li FP, Rajchl M, White JA, Goela A, Peters TM (2015) Ultrasound guidance for beating heart mitral valve repair augmented by synthetic dynamic CT. IEEE Trans Med Imaging 34(10):2025–2035

Liew YM, McLaughlin RA, Chan BT, Aziz YFA, Chee KH, Ung NM, Tan LK, Lai KW, Ng S-C, Lim E (2015) Motion corrected LV quantification based on 3D modelling for improved functional assessment in cardiac MRI. Phys Med Biol 60:2715–2733

Maes F, Collignon A, Vandermeulen D, Marchal G, Suetens P (1997) Multimodality image registration by maximization of mutual information. IEEE Trans Med Imaging 16:187–198

Maffessanti F, Addetia K, Murtagh G, Weinert L, Patel AR, Lang RM, Mor-Avi V (2014) Fusion imaging of computed tomography and 3D echocardiography: combined assessment of coronary anatomy and myocardial function. Computing in cardiology conference (CinC) pp 701–704

Mikić I, Krucinski S, Thomas JD (1998) Segmentation and tracking in echocardiographic sequences: active contours guided by optical flow estimates. IEEE Trans Med Imaging 17(2):274–284

Nishimura RA (2002) Aortic valve disease. Circulation 106(7):770–772

O'Connor MK (2000) Evaluation of motion-correction techniques in cardiac SPECT. J Nucl Med 41(7):1298

Osnabrugge RL, Mylotte D, Head SJ, Van Mieghem NM, Nkomo VT, LeReun CM, Bogers AJ, Piazza N, Kappetein AP (2013) Aortic stenosis in the elderly: disease prevalence and number of candidates for transcatheter aortic valve replacement: a meta-analysis and modeling study. J Am Coll Cardiol 62(11):1002–1012

Pallotta S, Gilardi MC, Bettinardi V, Rizzo G, Landoni C, Striano G, Masi R, Fazio F (1995) Application of a surface matching image registration technique to the correlation of cardiac studies in positron emission tomography by transmission images. Phys Med Biol 40:1695–1708

Singh JP, Evans JC, Levy D, Larson MG, Freed LA, Fuller DL, Lehman B, Benjamin EJ (1999) Prevalence and clinical determinants of mitral, tricuspid, and aortic regurgitation (the Framingham Heart Study). Am J Cardiol 83(6):897–902

Sinha S, Sinha U, Czernin J, Porenta G, Schelbert HR (1995) Noninvasive assessment of myocardial perfusion and metabolism: feasibility of registering gated MR and PET images. Am J Roentgenol 36:301–307

Slogoff S, Reul G, Keats A, Curry G, Crum M, Elmquist B, Giesecke N, Jistel J, Rogers L, Soderberg J (1990) Role of perfusion pressure and flow in major organ dysfunction after cardiopulmonary bypass. Annu Thorac Surg 50(6):911–918

Tavard F, Simon A, Leclercq C, Donal E, Hernández AI, Garreau M (2014) Multimodal registration and data fusion for cardiac resynchronization therapy optimization. IEEE Trans Med Imaging 33(6):1363–1372

Thévenaz P, Unser M (2000) Optimization of mutual information for multiresolution image registration. IEEE Trans Image Process 9(12):2083–2099

Tsang MY, Choi J-O, Borlaug BA, Greason KL, Cha SS, Nishimura RA, Oh JK (2015) Low-flow, low-gradient severe aortic stenosis in the setting of constrictive pericarditis clinical characteristics, echocardiographic features, and outcomes. Circ Cardiovasc Imaging 8(7):e002812

Tsao J, Ji JX, Liang ZP (2005) Interpolation techniques in multimodality image registration and their application. In: Medical imaging systems technology: analysis and computational methods, pp 255–295

Viola P, Wells WM III (1997) Alignment by maximization of mutual information. Int J Comput Vis 24(2):137–154

Wirth MA, Choi C, Jennings A (1997) Point-to-point registration of nonrigid medical images using local elastic transformation methods. In: IEEE international conference image processing and its applications, pp 780–784

Zheng Y, John M, Liao R, Boese J, Kirschstein U, Georgescu B, Zhou SK, Kempfert J, Walther T, Brockmann G (2010) Automatic aorta segmentation and valve landmark detection in C-arm CT: application to aortic valve implantation medical image computing and computer-assisted intervention–MICCAI 2010, Springer, pp 476–483

Zijdenbos AP, Dawant BM, Margolin RA, Palmer C (1994) Morphometric analysis of white matter lesions in MR images: method and validation. IEEE Trans Med Imaging 13(4):716–724

Zou KH, Warfield SK, Bharatha A, Tempany C, Kaus MR, Haker SJ, Wells WM III, Jolesz FA, Kikinis R (2004) Statistical validation of image segmentation quality based on a spatial overlap index: scientific reports. Acad Radiol 11(2):178–189
Acknowledgements
The authors would like to thank Dr. Ahmad Khairuddin from National Heart Institute, Kuala Lumpur, Malaysia for the assistance of data collection. This work was supported in part by the Postgraduate Research Grant (PG027-2014B), the Ministry of Science, Technology and Innovation Science Fund (01-01-03-SF0973), University of Malaya Research Grant (RP028A/B/C-14HTM) and Islamic Science University of Malaysia (USIM/SLAB).
About this article
Cite this article
Khalil, A., Faisal, A., Lai, K.W. et al. 2D to 3D fusion of echocardiography and cardiac CT for TAVR and TAVI image guidance. Med Biol Eng Comput 55, 1317–1326 (2017). https://doi.org/10.1007/s11517-016-1594-6
Received:

Accepted:

Published:

Issue Date:

DOI: https://doi.org/10.1007/s11517-016-1594-6
Keywords