Abstract
The paper proposes a novel method for an accurate and unobtrusive reconstruction of the upper-limb kinematics of stroke patients during robot-aided rehabilitation tasks with end-effector machines. The method is based on a robust analytic procedure for inverse kinematics that simply uses, in addition to hand pose data provided by the robot, upper arm acceleration measurements for computing a constraint on elbow position; it is exploited for task space augmentation. The proposed method can enable in-depth comprehension of planning strategy of stroke patients in the joint space and, consequently, allow developing therapies tailored for their residual motor capabilities. The experimental validation has a twofold purpose: (1) a comparative analysis with an optoelectronic motion capturing system is used to assess the method capability to reconstruct joint motion; (2) the application of the method to healthy and stroke subjects during circle-drawing tasks with InMotion2 robot is used to evaluate its efficacy in discriminating stroke from healthy behavior. The experimental results have shown that arm angles are reconstructed with a RMSE of 8.3 × 10−3 rad. Moreover, the comparison between healthy and stroke subjects has revealed different features in the joint space in terms of mean values and standard deviations, which also allow assessing inter- and intra-subject variability. The findings of this study contribute to the investigation of motor performance in the joint space and Cartesian space of stroke patients undergoing robot-aided therapy, thus allowing: (1) evaluating the outcomes of the therapeutic approach, (2) re-planning the robotic treatment based on patient needs, and (3) understanding pathology-related motor strategies.
Access options
Buy single article
Instant access to the full article PDF.
US$ 39.95
Tax calculation will be finalised during checkout.
Subscribe to journal
Immediate online access to all issues from 2019. Subscription will auto renew annually.
US$ 119
Tax calculation will be finalised during checkout.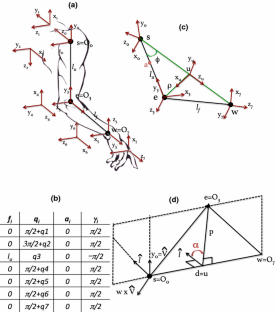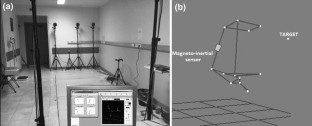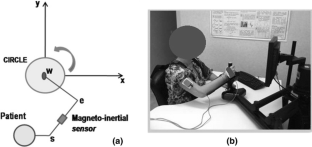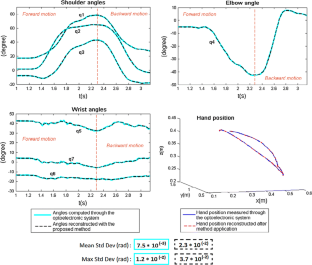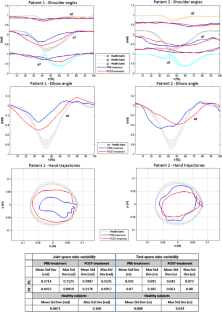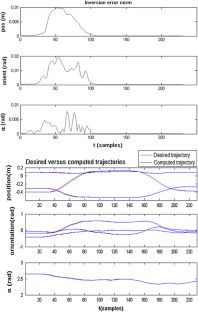 References
1.

Badler N, Tolani D (1996) Real-time inverse kinematics of the human arm. Presence 5:393–401

2.

Balasubramanian S, Colombo R, Sterpi I, Sanguineti V, Burdet E (2012) Robotic assessment of upper limb motor function after stroke. Am J Phys Med Rehabil 91:S255–S269

3.

Bosecker C, Dipietro L, Volpe BT, Krebs HI (2010) Kinematic robot-based evaluation scales and clinical counterparts to measure upper limb motor performance in patients with chronic stroke. Neurorehabil Neural Repair 24:62–69

4.

Cirstea MC, Levin MF (2000) Compensatory strategies for reaching in stroke. Brain 123:940–953

5.

Colombo R, Pisano F, Micera S et al (2008) Assessing mechanisms of recovery during robot-aided neurorehabilitation of the upper limb. Neurorehabil Neural Repair 22:50–63

6.

Colombo R, Sterpi I, Mazzone A, Pisano F, Delconte C (2011) Modeling upper limb clinical scales by robot-measured performance parameters. In: IEEE international conference on rehabilitation robotics (ICORR) (pp 1–5)

7.

Denavit J, Hartenberg SH (1955) A kinematic notation for lower-pair mechanisms based on matrices. ASME J Appl Mech 22:215–221

8.

Dipietro L, Krebs HI, Fasoli SE, Volpe BT, Stein J, Bever C, Hogan N (2007) Changing motor synergies in chronic stroke. J Neurophys 98:757–768

9.

Dipietro L, Krebs HI, Fasoli SE, Volpe BT, Hogan N (2009) Submovement changes characterize generalization of motor recovery after stroke. Cortex 45:318–324

10.

Flash T, Meirovitch Y, Barliya A (2012) Models of human movement: trajectory planning and inverse kinematics studies. Rob Auton Syst 61:330–339

11.

Fugl-Meyer AR, Jaasko L, Leyman I, Olsson S, Steglind S (1975) The post stroke hemiplegic patient. A method for evaluation of physical performance. Scand J Rehabil Med 7:1331

12.

Go AS, Mozaffarian D, Roger VL (2013) Heart disease and stroke statistics—2013 update : a report from the American heart association. Circulation 127:e6–e245

13.

Guglielmelli E, Johnson MJ, Shibata T (2009) Guest editorial special issue on rehabilitation robotics. IEEE TRO 25:477–480

14.

Kim H, Miller LM, Byl N, Abrams G, Rosen J (2012) Redundancy resolution of the human arm and an upper limb exoskeleton. IEEE Trans Biomed Eng 59:1770–1779

15.

Kreutz-Delgado K, Long M, Seraji H (1990) Kinematic analysis of 7 DoF anthropomorphic limb. Proc IEEE Int Conf Robot Autom 2:824–830

16.

Langhorne P, Bernhardt J, Kwakkel G (2011) Stroke rehabilitation. Lancet 377:1693–1702 (review. Neurorehabil Neural Repair. 22:111121)

17.

Li Z, Kim H, Milutinovi D, Rosen J (2013) Synthesizing redundancy resolution criteria of the human arm posture in reaching movements. In: Milutinovi D, Rosen J (eds) Redundancy in robot manipulators and multi-robot systems. Springer, Berlin, pp 201–240

18.

Mayagoitia Ruth E, Nene Anand V, Veltink Peter H (2002) Accelerometer and rate gyroscope measurement of kinematics: an inexpensive alternative to optical motion analysis systems. J Biomech 35(4):537–542

19.

Medendorp WP, Crawford JD, Henriques DYP, Van Gisbergen JAM, Gielen CCAM (2000) Kinematic strategies for upper arm-forearm coordination in three dimensions. J Neurophys 84:2302–2316

20.

Mehrholz J, Hdrich A, Platz T, Kugler J, Pohl M (2012) Electromechanical and robot-assisted arm training after stroke updated review. Stroke 43(12):e172–e173

21.

Mihelj M (2006) Hum Arm Kinemat Robot Based Rehabil. Robotica 24:377–383

22.

Norouzi-Gheidari N, Archambault PS, Fung J (2012) Effects of robot-assisted therapy on stroke rehabilitation in upper limbs: systematic review and meta-analysis of the literature. J Rehabil Res Dev 49:479–496

23.

OBrien MD (1986) Aids to the examination of the peripheral nervous system (3rd edn). London. Bailliere Tindall

24.

Papaleo E, Zollo L, Sterzi S, Guglielmelli E (2012) An inverse kinematics algorithm for upper-limb joint reconstruction during robot-aided motor therapy. In: BIOROB-IEEE/RAS-EMBS international conference on biomedical robotics and biomechatronics (pp 1983–1988)

25.

Patel S, Park H, Bonato P, Chan L, Rodgers M (2012) A review of wearable sensors and systems with application in rehabilitation. J Neuroeng Rehabil 9:1–17

26.

Rab G, Petuskey K, Bagley A (2002) A method for determination of upper extremity kinematics. Gait posture 15(2):113–119

27.

Richards L, Pohl P (1999) Therapeutic interventions to improve upper extremity recovery and function. Clin Geriatr Med 15:819–832

28.

Rohrer B, Fasoli S, Krebs HI et al (2002) Movement smoothness changes during stroke recovery. J Neurosci 22:8297–8304

29.

Sciavicco L, Villani L (2009) Robotics: modelling, planning and control. Springer, Berlin

30.

Siciliano B (1990) Kinematic control of redundant robot manipulators: a tutorial. J Intell Robot Syst 3(3):201–212

31.

Soechting JF, Buneo CA, Herrmann U, Flanders M (1995) Moving effortlessly in three dimensions: Does donders law apply to arm movement? J Neurosci 15:6271–6280

32.

Tolani D, Goswami A, Badler NI (2000) Realtime inverse kinematics techniques for anthropomorphic limbs. Graph Models 62:353–388
Acknowledgments
This work was partly supported by the European project  H2020/AIDE (CUP J42I15000030006) and the Italian project Industria2015/DAHMS (CUP B85E10003020008).
About this article
Cite this article
Papaleo, E., Zollo, L., Garcia-Aracil, N. et al. Upper-limb kinematic reconstruction during stroke robot-aided therapy. Med Biol Eng Comput 53, 815–828 (2015). https://doi.org/10.1007/s11517-015-1276-9
Received:

Accepted:

Published:

Issue Date:
Keywords
Upper-limb kinematics

Rehabilitation robotics

Stroke rehabilitation