Abstract
The arterial baroreflex regulates blood pressure by modifying heart rate and systemic vascular resistance. Baroreflex sensitivity is expressed as the relation between changes in blood pressure and the resulting changes in reciprocal values of heart rate (cardBRS) and in reciprocal values of vascular resistance (vascBRS). This study investigated determinants of vascBRS and cardBRS and their relationship in a random population sample. Continuous noninvasive arterial pressure was analyzed in 105 adults (43 males) with a median age of 45 (range 18–95) years and body mass index of 24.5 (range 18.1–39.1) kg m−2. Systolic and diastolic blood pressures were 130 (range 95–205) and 80 (range 47–141) mmHg, and heart rate was 66 (range 42–109) beats min−1. Pulse contour (CO-trek)-determined vascular resistance was 1.37 (range 0.60–7.75) mmHg s ml−1. The results of vascBRS and cardBRS were log-transformed; linear regression analysis revealed that age, resistance−1, systolic and diastolic blood pressures were major determinants of log(vascBRS) explaining 30.5 % of the variance. Determinants of log(cardBRS) were age, body mass index, heart rate, systolic and diastolic blood pressures, explaining 70.4 % of the variance. Thus, some established determinants of cardBRS were not correlated with vascBRS. There was no correlation between log(cardBRS) and log(vascBRS) after correction for age, supporting that vascBRS is an independent description of baroreflex regulation. These findings suggest that vascBRS and cardBRS report different modalities of cardiovascular autonomic function.
This is a preview of subscription content, log in to check access.
Access options
Buy single article
Instant access to the full article PDF.
US$ 39.95
Price includes VAT for USA
Subscribe to journal
Immediate online access to all issues from 2019. Subscription will auto renew annually.
US$ 199
This is the net price. Taxes to be calculated in checkout.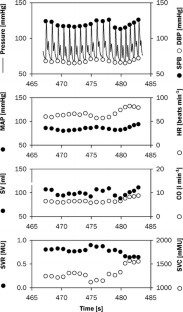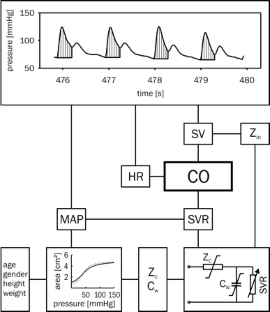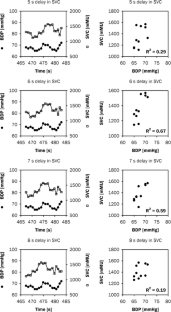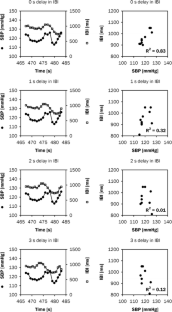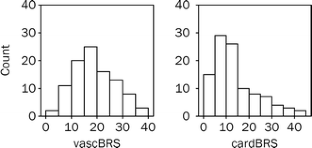 Abbreviations
BMI:

Body mass index (kg m−2)

BP:

Blood pressure (mmHg)

BRS:

Baroreflex sensitivity

DBP:

Diastolic blood pressure (mmHg)

CO:

Cardiac output rate (l min−1)

cardBRS:

Sensitivity of the heart rate control baroreflex loop (ms mmHg−1): change in IBI per change in BP

HR:

Heart rate (beats min−1)

IBI:

Interbeat interval (ms)

MAP:

Mean arterial pressure (mmHg)

MU:

Medical units (mmHg, ml s−1)

SBP:

Systolic blood pressure (mmHg)

SV:

Stroke volume (ml)

SVC:

Systemic vascular conductance: 1,000 SVR−1 (mMU)

SVR:

Systemic vascular resistance (mmHg s ml−1)

vascBRS:

Sensitivity of the vascular conductance control baroreflex loop (mMU mmHg−1): change in SVC per change in BP
References
1.

Agapitov AV, Correia ML, Sinkey CA, Haynes WG (2008) Dissociation between sympathetic nerve traffic and sympathetically mediated vascular tone in normotensive human obesity. Hypertension 52:687–695

2.

Anderson EA, Hoffman RP, Balon TW, Sinkey CA, Mark AL (1991) Hyperinsulinemia produces both sympathetic neural activation and vasodilation in normal humans. J Clin Invest 87:2246–2252

3.

Bogert LW, Wesseling KH, Schraa O, Van Lieshout EJ, De Mol BA, Van GJ, Westerhof BE, Van Lieshout JJ (2010) Pulse contour cardiac output derived from non-invasive arterial pressure in cardiovascular disease. Anaesthesia 65:1119–1125

4.

Broch O, Renner J, Gruenewald M, Meybohm P, Schottler J, Caliebe A, Steinfath M, Malbrain M, Bein B (2012) A comparison of the Nexfin(R) and transcardiopulmonary thermodilution to estimate cardiac output during coronary artery surgery. Anaesthesia 67:377–383

5.

Burattini R, Borgdorff P, Westerhof N (2004) The baroreflex is counteracted by autoregulation, thereby preventing circulatory instability. Exp Physiol 89:397–405

6.

Charkoudian N, Joyner MJ, Johnson CP, Eisenach JH, Dietz NM, Wallin BG (2005) Balance between cardiac output and sympathetic nerve activity in resting humans: role in arterial pressure regulation. J Physiol 568:315–321

7.

Davy KP, Tanaka H, Andros EA, Gerber JG, Seals DR (1998) Influence of age on arterial baroreflex inhibition of sympathetic nerve activity in healthy adult humans. Am J Physiol 275:H1768–H1772

8.

Eckberg DL, Sleight P (1992) Human baroreflexes in health and disease. Oxford University Press, Oxford

9.

Eeftinck Schattenkerk DW, Van Lieshout JJ, Van den Meiracker AH, Wesseling KR, Blanc S, Wieling W, Van Montfrans GA, Settels JJ, Wesseling KH, Westerhof BE (2009) Nexfin noninvasive continuous blood pressure validated against Riva-Rocci/Korotkoff. Am J Hypertens 22:378–383

10.

Fu Q, Witkowski S, Levine BD (2004) Vasoconstrictor reserve and sympathetic neural control of orthostasis. Circulation 110:2931–2937

11.

Gizdulich P, Imholz BPM, van den Meiracker AH, Parati G, Wesseling KH (1996) Finapres tracking of systolic pressure and baroreflex sensitivity improved by waveform filtering. J Hypertens 14:243–250

12.

Gizdulich P, Prentza A, Wesseling KH (1997) Models of brachial to finger pulse wave distortion and pressure decrement. Cardiovasc Res 33:698–705

13.

Grassi G, Seravalle G, Colombo M, Bolla G, Cattaneo BM, Cavagnini F, Mancia G (1998) Body weight reduction, sympathetic nerve traffic, and arterial baroreflex in obese normotensive humans. Circulation 97:2037–2042

14.

Harrington F, Murray A, Ford GA (2000) Relationship of baroreflex sensitivity and blood pressure in an older population. J Hypertens 18:1629–1633

15.

Hart EC, Charkoudian N, Wallin BG, Curry TB, Eisenach JH, Joyner MJ (2009) Sex differences in sympathetic neural-hemodynamic balance: implications for human blood pressure regulation. Hypertension 53:571–576

16.

Kardos A, Watterich G, de Menezes R, Csanady M, Casadei B, Rudas L (2001) Determinants of spontaneous baroreflex sensitivity in a healthy working population. Hypertension 37:911–916

17.

Karemaker JM (2002) Why do we measure baroreflex sensitivity the way we do? Clin Auton Res 12:427–428

18.

Keet SW, Bulte CS, Boer C, Bouwman RA (2011) Reproducibility of non-standardised autonomic function testing in the pre-operative assessment screening clinic*. Anaesthesia 66:10–14

19.

La Rovere MT, Pinna GD, Maestri R, Robbi E, Caporotondi A, Guazzotti G, Sleight P, Febo O (2009) Prognostic implications of baroreflex sensitivity in heart failure patients in the beta-blocking era. J Am Coll Cardiol 53:193–199

20.

Martina JR, Westerhof BE, Van GJ, de Beaumont EM, Truijen J, Kim YS, Immink RV, Jobsis DA, Hollmann MW, Lahpor JR, De Mol BA, Van Lieshout JJ (2012) Noninvasive continuous arterial blood pressure monitoring with Nexfin(R). Anesthesiology 116:1092–1103

21.

Minson CT, Halliwill JR, Young TM, Joyner MJ (2000) Influence of the menstrual cycle on sympathetic activity, baroreflex sensitivity, and vascular transduction in young women. Circulation 101:862–868

22.

Minson CT, Halliwill JR, Young TM, Joyner MJ (2000) Sympathetic activity and baroreflex sensitivity in young women taking oral contraceptives. Circulation 102:1473–1476

23.

Montano N, Cogliati C, Porta A, Pagani M, Malliani A, Narkiewicz K, Abboud FM, Birkett C, Somers VK (1998) Central vagotonic effects of atropine modulate spectral oscillations of sympathetic nerve activity. Circulation 98:1394–1399

24.

Mukkamala R, Toska K, Cohen RJ (2003) Noninvasive identification of the total peripheral resistance baroreflex. Am J Physiol Heart Circ Physiol 284:H947–H959

25.

Parati G, Saul JP, Castiglioni P (2004) Assessing arterial baroreflex control of heart rate: new perspectives. J Hypertens 22:1259–1263

26.

Persson PB (1996) Modulation of cardiovascular control mechanisms and their interaction. Physiol Rev 76:193–244

27.

Reed AS, Tschakovsky ME, Minson CT, Halliwill JR, Torp KD, Nauss LA, Joyner MJ (2000) Skeletal muscle vasodilatation during sympathoexcitation is not neurally mediated in humans. J Physiol 525(Pt 1):253–262

28.

Rosenbaum M, Race D (1968) Frequency-response characteristics of vascular resistance vessels. Am J Physiol 215:1397–1402

29.

Taddei S, Virdis A, Mattei P, Natali A, Ferrannini E, Salvetti A (1995) Effect of insulin on acetylcholine-induced vasodilation in normotensive subjects and patients with essential hypertension. Circulation 92:2911–2918

30.

Timmers HJ, Wieling W, Karemaker JM, Lenders JW (2003) Denervation of carotid baro- and chemoreceptors in humans. J Physiol 553:3–11

31.

Truijen J, Van Lieshout JJ, Wesselink WA, Westerhof BE (2012) Noninvasive continuous hemodynamic monitoring. J Clin Monit Comput 26:267–278

32.

van Geldorp IE, Delhaas T, Hermans B, Vernooy K, Broers B, Klimusina J, Regoli F, Faletra FF, Moccetti T, Gerritse B, Cornelussen R, Settels JJ, Crijns HJ, Auricchio A, Prinzen FW (2011) Comparison of a non-invasive arterial pulse contour technique and echo Doppler aorta velocity-time integral on stroke volume changes in optimization of cardiac resynchronization therapy. Europace 13:87–95

33.

Wallin BG, Eckberg DL (1982) Sympathetic transients caused by abrupt alterations of carotid baroreceptor activity in humans. Am J Physiol 242:H185–H190

34.

Wesseling KH (1995) A century of noninvasive arterial pressure measurement: from Marey to Penaz and Finapres. Homeostasis 36:2–3

35.

Wesseling KH, De Wit B, Van der Hoeven GMA, Van Goudoever J, Settels JJ (1995) Physiocal, calibrating finger vascular physiology for Finapres. Homeostasis 36:67–82

36.

Westerhof BE, Gisolf J, Karemaker JM, Wesseling KH, Secher NH, Van Lieshout JJ (2006) Time course analysis of baroreflex sensitivity during postural stress. Am J Physiol Heart Circ Physiol 291:H2864–H2874

37.

Westerhof BE, Gisolf J, Stok WJ, Wesseling KH, Karemaker JM (2004) Time-domain cross-correlation baroreflex sensitivity: performance on the EUROBAVAR data set. J Hypertens 22:1371–1380

38.

Westerhof BE, Guelen I, Parati G, Groppelli A, Van MG, Wieling W, Wesseling KH, Bos WJW (2002) Variable day/night bias in 24-h non-invasive finger pressure against intrabrachial artery pressure is removed by waveform filtering and level correction. J Hypertens 20:1981–1986

39.

Westerhof BE, Guelen I, Stok WJ, Lasance HA, Ascoop CA, Wesseling KH, Westerhof N, Bos WJ, Stergiopulos N, Spaan JA (2008) Individualization of transfer function in estimation of central aortic pressure from the peripheral pulse is not required in patients at rest. J Appl Physiol 105:1858–1863
Acknowledgments
A.A. received a VENI-grant of the Netherlands Organization for Health Research and Development (Grant No. 916.86.020).
Conflict of interest
B.E.W. is employee of Edwards Lifesciences BMEYE. The remaining authors report no disclosures.
About this article
Cite this article
Borgers, A.J., van den Born, B.H., Alkemade, A. et al. Determinants of vascular and cardiac baroreflex sensitivity values in a random population sample. Med Biol Eng Comput 52, 65–73 (2014). https://doi.org/10.1007/s11517-013-1111-0
Received:

Accepted:

Published:

Issue Date:
Keywords
Cardiac baroreflex

Vascular baroreflex

Autonomic function

Nexfin

Finapres method