Abstract
The aim of this research was to study which kind of conformational changes in gluten proteins were induced by addition of four dietary fibre (apple-cranberry, cacao, carob and oat) by using FT-Raman spectroscopy and to find relationships between conformational changes and rheological behaviour of bread dough in mixing and extensional tests. Structural studies showed that all fibres induced formation of β-like structures between two protein molecules (pseudo-β-sheets) with the band at 1616 cm−1 in the Raman spectrum. According to Principal Component Analysis, the strongest dependence was between changes in gluten structure and two extensographic parameters (resistance to extension and extensibility). Resistance to extension was positively correlated with content of α-helix and pseudo-β-sheets, while a negative correlation was observed between the parameter and content of β-sheets and β-turns. Gauche-gauche-gauche conformation of disulphide bridges and ability of tyrosine residues to hydrogen bonds creation improved mixing properties as stability of dough.
Access options
Buy single article
Instant access to the full article PDF.
USD 39.95
Price excludes VAT (USA)
Tax calculation will be finalised during checkout.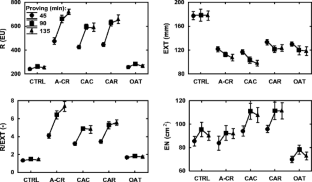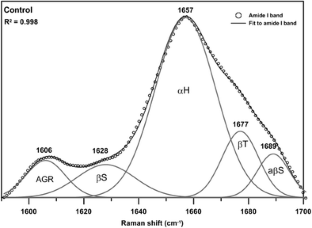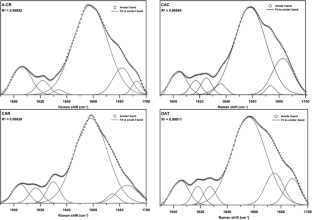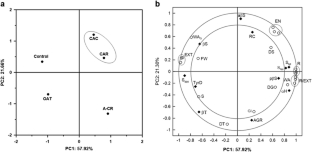 References
S. Kaur, M. Das, Food Sci. Biotechnol. 20, 861 (2011)

A.S. Sivam, D. Sun-Waterhouse, S.Y. Quek, C.O. Perera, J. Food Sci. 75, R163 (2010)

J. Wang, C.M. Rosell, C.B. de Barber, Food Chem. 79, 221 (2002)

M. Gomez, F. Ronda, C.A. Blanco, P.A. Caballero, A. Apesteguia, Eur. Food Res. Technol. 216, 51 (2003)

D. Peressini, A. Sensidoni, J. Cereal Sci. 49, 190 (2009)

A. Skendi, M. Papageorgiou, C.G. Biliaderis, J. Food Eng. 91, 594 (2009)

A. Miś, J. Food Eng. 102, 369 (2011)

A. Miś, D. Dziki, J. Cereal Sci. 57, 471 (2013)

N.N. Rosa, C. Baron, C. Gaiani, C. Dufour, V. Micard, J. Cereal Sci. 57, 84 (2013)

C. Collar, E. Santos, C.M. Rosell, J. Food Eng. 78, 820 (2007)

H. Wieser, Food Microbiol. 24, 115 (2007)

A.S. Sivam, D. Sun-Waterhouse, C.O. Perera, G.I.N. Waterhouse, Food Chem. 131, 802 (2012)

B.W. Seabourn, O.K. Chung, P.A. Seib, P.R. Mathewson, J. Agric. Food Chem. 56, 4236 (2008)

M. Mejri, B. Roge, A. BenSouissi, F. Michels, M. Mathlouni, Food Chem. 92, 7 (2005)

A. Rygula, K. Majzner, K.M. Marzec, A. Kaczor, M. Pilarczyk, M. Barańska, J. Raman Spectrosc. 44, 1061 (2013)

E.G. Ferrer, A.V. Gomez, M.C. Anon, M.C. Puppo, Spectrochim. Acta A 79, 278 (2011)

A.V. Gomez, E.G. Ferrer, M.C. Anon, M.C. Puppo, J. Mol. Struct. 1033, 51 (2013)

A.S. Sivam, D. Sun-Waterhouse, C.O. Perera, G.I.N. Waterhouse, Food Res. Int. 2013(50), 574 (2013)

R. Kuktaite, H. Larsson, E. Johansson, J. Cereal Sci. 40, 31 (2004)

E. Pena, A. Bernardo, C. Soler, N. Jouve, Euphytica 143, 169 (2005)

V.L. Singleton, J.A. Rossi Jr., Am. J. Enol. Vitic. 16, 144 (1965)

A. Miś, Acta Agrophysica 128, 1 (2005) (in Polish)

K. Nakamura, S. Era, Y. Ozaki, M. Sogami, T. Hayashi, M. Murakami, FEBS Lett. 417, 375 (1997)

H. Chen, G.L. Rubenthaler, E.G. Schanus, J. Food Sci. 53, 304 (1988)

C.M. Rosell, E. Santos, C. Collar, Eur. Food Res. Technol. 231, 535 (2010)

C.M. Rosell, J.A. Rojas, C.B. de Barber, Food Hydrocoll. 15, 75 (2001)

M.W.J. Noort, D. van Haaster, Y. Hemery, H.A. Schols, R.J. Hamer, J. Cereal Sci. 52, 59 (2010)

A. Nawrocka, Intensiv. Agric. 28, 311 (2014)

D.C. Lee, P.I. Haris, D. Chapman, R.C. Mitchell, Biochemistry 29, 9185 (1990)

P. Juszczyk, A.S. Kołodziejczyk, Z. Grzonka, J. Pept. Sci. 15, 23 (2008)

P.R. Shewry, A.S. Tatham, J. Cereal Sci. 25, 207 (1997)

H. Sugeta, Spectrochim. Acta A 1975(31), 1729 (1975)

A. Nawrocka, M. Szymańska-Chargot, A. Miś, A.A. Ptaszyńska, R. Kowalski, P. Waśko, W.I. Gruszecki, J. Raman Spectrosc. 46, 309 (2015)

J.S. Wall, J. Agric. Food Chem. 19, 619 (1971)

Y. Zhou, D. Zhao, T.J. Foster, Y. Liu, Y. Wang, S. Nirasawa, E. Tatsumi, Y. Cheng, Food Chem. 143, 163 (2014)

G. Meng, C.-Y. Ma, D.L. Phillips, Food Chem. 81, 411 (2003)

M.N. Siamwiza, R.C. Lord, M.C. Chen, Biochemistry 14, 4870 (1975)

P.R. Carey, in Biochemical Applications of Raman and Resonance Raman Spectroscopies, ed. by P.R. Carey, (Academic Press, New York 1982), p.65.

L. Lindlaud, E. Ferrer, M.C. Puppo, C. Ferrero, J. Agric. Food Chem. 59, 713 (2011)

A. Angioloni, C. Collar, J. Food Eng. 91, 526 (2009)

P.S. Belton, J. Cereal Sci. 29, 103 (1999)

A.N. Bloksma, Cereal Chem. 52, 170r (1975).

P. Köhler, H.-D. Beltz, H. Wieser, Z. Lebensm, Unters. Forsch. 196, 239 (1993)

M. Piber, P. Koehler, J. Agric. Food Chem. 53, 5276 (2005)

M. Wang, G. Oudgenoeg, T. van Vliet, R. Hamer, J. Cereal Sci. 38, 95 (2003)

M. Wang, T. van Vliet, R. Hamer, J. Cereal Sci. 39, 395 (2004)
Electronic supplementary material
About this article
Cite this article
Nawrocka, A., Miś, A. & Szymańska-Chargot, M. Characteristics of Relationships Between Structure of Gluten Proteins and Dough Rheology – Influence of Dietary Fibres Studied by FT-Raman Spectroscopy. Food Biophysics 11, 81–90 (2016). https://doi.org/10.1007/s11483-015-9419-y
Received:

Accepted:

Published:

Issue Date:

DOI: https://doi.org/10.1007/s11483-015-9419-y
Keywords
Dietary fibre supplementation

Bread dough

Raman spectroscopy

Amid I band

Secondary structure

Rheological properties