Abstract
Chefs have known that whipping egg white proteins (EWP) in a copper bowl will improve foam stability. The improved stability is attributed to a copper–conalbumin complex or alteration of sulfhydryl reactivity. Whey proteins bind copper and show copper-induced changes in disulfide bonds; therefore, they may also be responsive to whipping in a copper bowl. EWP and whey protein isolate (WPI) solutions were whipped in the presence of 1 mM CuSO4 or in a copper bowl with and without sugar followed by overrun and yield stress measurements and angel food cake formation. Dilational elasticity and surface tension were also measured for WPI solutions. Whipping in a copper bowl or adding 1 mM CuSO4 significantly improved stability of EWP foams while having no effect on WPI foams. Copper caused disulfide-linked dimer formation of β-lactoglobulin and decreased dilational elasticity and surface tension, but these modifications were insufficient to change the bulk properties of foams. The addition of 10 mM CuSO4 to WPI solutions was sufficient to increase foam stability to levels similar to EWP; however, the more stable foams formed less stable cakes. It was concluded that the effect of whipping in a copper bowl on foam properties is mainly dependent on the specific proteins forming the foam.
Access options
Buy single article
Instant access to the full article PDF.
USD 39.95
Price excludes VAT (USA)
Tax calculation will be finalised during checkout.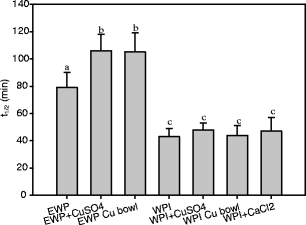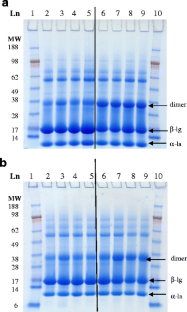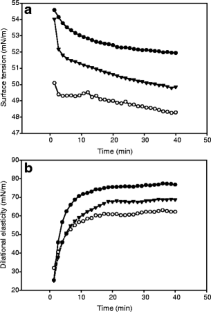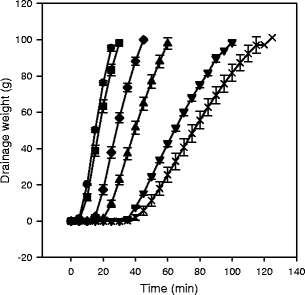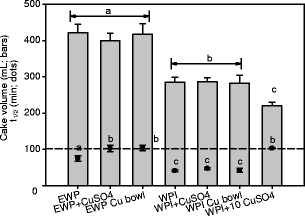 References
H.J. McGee, S.R. Long, W.R. Briggs, Nature 308, 667 (1984)

L.G. Phillips, Z. Haque, J.E. Kinsella, J. Food. Sci. 52, 1074 (1987)

L.M.C. Sagis, A.E.A. de Groot-Mostert, A. Prins, E. van der Linden, Colloids Surf. A. 180, 163 (2001)

J.M. Gonzalez, S. Damodaran, J. Food Sci. 55, 1559 (1990)

I. Roy, M.V.S. Rao, M.N. Gupta, Biotechnol. Appl. Biochem. 37, 9 (2003)

J.J. Baumy, G. Brule, Lait 68, 33 (1988)

S. Bouhallab, G. Henry, F. Caussin, T. Croguennec, J. Fauquant, D. Molle, Lait 84, 517 (2004)

C.W. Pernell, E.A. Foegeding, C.R. Daubert, J. Food. Sci. 65, 110 (2000)

P.J. Luck, N. Bray, E.A. Foegeding, J. Food. Sci. 67, 1677 (2002)

C.W. Pernell, P.J. Luck, E.A. Foegeding, C.R. Daubert, J. Food. Sci. 67, 2945 (2002)

U.K. Laemmli, Nature 227, 680 (1970)

J.P. Davis, D. Doucet, E.A. Foegeding, J. Colloid Interface Sci. 288, 412 (2005)

M. Hammershoj, A. Prins, K.B. Qvist, J. Sci. Food Agric. 79, 859 (1999)

S.P.F.M. Roefs, K.G. De Kruif, Eur. J. Biochem. 226, 883 (1994)
Acknowledgments
The authors gratefully acknowledge the assistance of Yvette Thibault in foam analysis. Support from the North Carolina Agricultural Research Service, Dairy Management, and The Southeast Dairy Foods Research Center are gratefully acknowledged. The use of trade names in this publication does not imply endorsement by the North Carolina Agricultural Research Service of the products named nor criticism of similar ones not mentioned.
Additional information
Paper no. FSR-07-29 of the Journal Series of the Department of Food Science, North Carolina State University, Raleigh, NC 27695-7624.
About this article
Cite this article
Luck, P.J., Foegeding, E.A. The Role of Copper in Protein Foams. Food Biophysics 3, 255–260 (2008). https://doi.org/10.1007/s11483-008-9060-0
Received:

Accepted:

Published:

Issue Date:

DOI: https://doi.org/10.1007/s11483-008-9060-0
Keywords
Sugar

Egg white protein

Whey protein isolate

Copper

β-Lactoglobulin dimerization