Abstract
Data from the General Social Survey are used to examine the political polarization in the United States, by examining presidential periods from 1972 to 2018. Our findings indicate that there has been an increased correlation between party identification and ideological identification, resulting in a steady shift towards the extremes. Furthermore, we explore how subjective wellbeing plays a role in driving this polarization. American politics is polarized between happy conservative Republicans and unhappy liberal Democrats. Oscillating in the "happiness gap" between these extremes are median voters whose happiness, low on average, falls the longer in power the party of the opposing ideology. It is the rise and fall of median voters' unhappiness that drives the regime change between the two major political parties in the United States.
Access options
Buy single article
Instant access to the full article PDF.
USD 39.95
Price excludes VAT (USA)
Tax calculation will be finalised during checkout.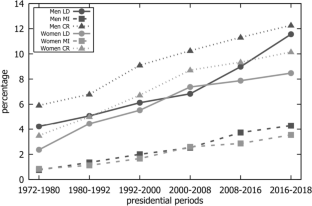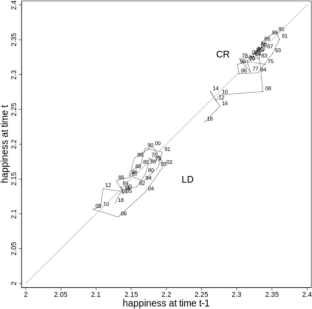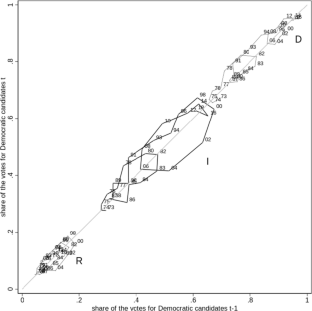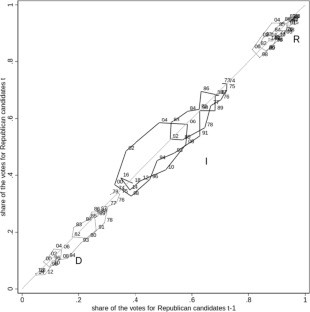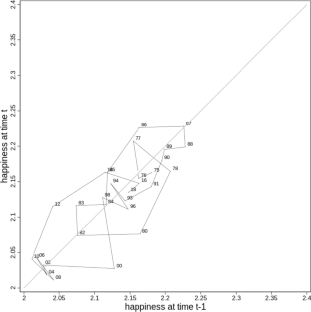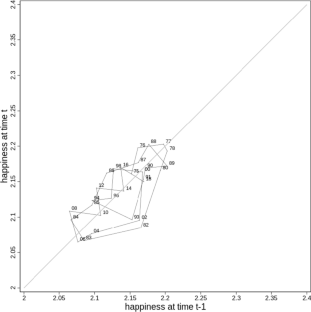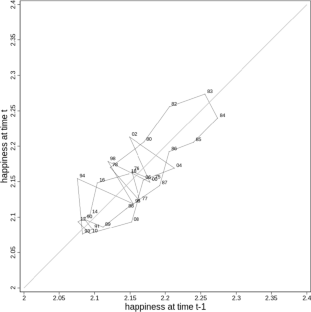 Notes
People sorting themselves in communities based on like-mindedness.

We use subjective well-being and happiness interchangeably in this article.

There are interesting subcultural variations. Podhoretz (2010) asks why American Jews "live rich but vote poor." American Jews, despite their material success in America, vote predominantly for Democrats. Podhoretz says this is because the Democratic Party represents the closest counterparts to the forces on the left that favored Jewish emancipation in Europe. As a result, the American Jewish attitude towards Christian conservatives is most frequently one of contempt. There is a strong echo of the Menshevik Jews who fled to America, with a gradual attenuation of Marxism into social democracy and social democracy into the liberalism that has become the very essence of American Jewish culture.

Few studies have explored the topic. Di Tella and MacCulloch 2005 found that people are happier when their chosen party is in power, while Flavin and Keane (2012) observed that SWB is related to turnover intentions. Goldman et al (2019), found that despair is associate with the county-level Trump vote swing in 2016, while a few studies have found that SWB is correlated with voting intention and outcome in Europe and the US (Herrin et al., 2018; Liberini, Redoano and Proto 2017; Ward 2020).
References
Abramowitz, A. I., & Saunders, K. L. (1998). 'Ideological Realignment in the U.S. Electorate.' Journal of Politics, 60(3), 634–652.

Abramowitz, A. I., & Saunders, K. L. (2008). Is polarization a myth? The Journal of Politics, 70(02), 542–555.

Autor, D., Dorn, D., Hanson, G., & Majlesi, K. (2017). A note on the effect of rising trade exposure on the 2016 presidential election. Appendix to "Importing Political Polarization, 3139–83.

Bartels, L. M., & Zaller, J. (2001). Presidential vote models: A recount. PS: Political Science and Politics, 34(1), 9–20.

Baumeister, R. F., & Leary, M. R. (1995). The need to belong: Desire for interpersonal attachmentsas a fundamental human motivation. Psychological Bulletin, 117(3), 497.

Baumol, W. J., & Benhabib, J. (1989). Chaos: Significance, mechanism, and economic applications. The Journal of Economic Perspectives, 3(1), 77–105.

Benabou, R., & Tirole, J. (2005). Belief in a just world and redistributive politics. Quarterly Journal of Economic Research, 121, 699–749.

Bishop, B. (2009). The big sort: Why the clustering of like-minded America is tearing us apart. Houghton Mifflin.

Bishop, B., & Cushing, R. (2008). The big sort: Migration, community, and politics in the United States of 'those people'. Red, blue and purple America: The future of election demographics, 50–75.

Brooks, A. C. (2008). Gross national happiness: Why happiness matters for America–and how we can get more of It. Basic Books.

Brooks, A. C. (2007). The Left's Inequality Obsession. Wall Street Journal, A15.

Campbell, A., Converse, P. E., Miller, W. E., & Stokes, D. E. (1980). The American voter. University of Chicago Press.

Di Tella, R., & MacCulloch, R. (2005). Partisan social happiness. The Review of Economic Studies, 72(2), 367–393.

DiMaggio, P., Evans, J., & Bryson, B. (1996). Have Americans social attitudes become more polarized? American Journal of Sociology, 120, 690–755.

Enke, B. (2020). Moral values and voting. Journal of Political Economy. Advance online publication. https://doi.org/10.1086/708857

Fiorina, M. P., & Abrams, S. J. (2008). Political polarization in the American public. Annual Review of Political Science, 11, 563–588.

Fiorina, M. P., Abrams, S. J., & Pope, J. C. (2006). Culture war? The myth of a polarized America (2nd ed.). Pearson Longman.

Fiorina, M. P., Abrams, S. A., & Pope, J. C. (2008). Polarization in the American public: Misconceptions and misreadings. The Journal of Politics, 70(02), 556–560. https://doi.org/10.1017/S002238160808050X

Flavin, P., & Keane, M. J. (2012). Life satisfaction and political participation: Evidence from the United States. Journal of Happiness Studies, 13, 63–78.

Florida, R. (2018). How unhappiness helped elect Trump. City Lab https://www.bloomberg.com/news/articles/2023-09-29/austin-i-35-highway-expansion-moves-ahead-despite-climate-fears. Accessed 25 Oct 2023

Fowler, J. H., & Christakis, N. A. (2008). Dynamic spread of happiness in a large social network: longitudinal analysis over 20 years in the Framingham Heart Study. BMJ, 337, a2338.

Frey, C. B., Berger, T., & Chen, C. (2018). Political machinery: Did robots swing the 2016 U.S. presidential election? Oxford Review of Economic Policy, 34, 418–442.

Gelman, A. B., Shor, J. B., & Park, D. (2008). Red state, blue state, rich state, poor state: Why Americans vote the way they do. Princeton University Press.

Goldman, L., Lim, M. P., Chen, Q., Jin, P., Muennig, P., & Vagelos, A. (2019). Independentrelationship of changes in death rates with changes in U.S. presidential voting. Journal of General Internal Medicine, 34, 363–371.

Haidt, J. (2022). Why the past 10 years of American life have been uniquely stupid. The Atlantic, 11.

Herrin, J., Witters, D., Roy, B., Riley, C., Liu, D., & Krumholz, H. M. (2018). Population well-being and electoral shifts. PLoS ONE, 13, e0193401.

Hetherington, M. J. (2001). Resurgent mass partisanship: The role of elite polarization. American Political Science Review, 95(3), 619–631.

Hofstede, G. (1980). Culture's consequences: National differences in thinking and organizing. Sage.

Holcombe, R. G. (2006). Public sector economics: The role of government in the American economy. Prentice Hall.

Hotelling, H. (1929). Stability in competition. Economic Journal, 39(153), 41–57.

Jacobson, G. C. (2004). Partisan and ideological polarization in the California electorate. State Politics and Policy Quarterly, 4(1), 113–139.

Jacobson, G. C. (2005). Polarized politics and the 2004 congressional and presidential elections. Political Science Quarterly, 120(2), 199–218.

Jelen, T. G., & Wilcox, C. (2003). Causes and consequences of public attitudes toward abortion: A review and research agenda. Political Research Quarterly, 56(4), 489–500.

Johnston, R., Manley, D., & Jones, K. (2016). Spatial polarization of presidential voting in the United States, 1992–2012: The "big sort" revisited. Annals of the American Association of Geographers, 106(5), 1047–1062.

Jost, J. T. (2006). The end of the end of ideology. American Psychologist, 61(7), 651.

Jost, J. T., Federico, C. M., & Napier, J. L. (2009). Political ideology: Its structure, functions, and elective affinities. Annual Review of Psychology, 60, 307–337.

Knowles, E. D., & Tropp, L. R. (2018). The racial and economic context of Trump support: Evidence for threat, identity, and contact effects in the 2016 Presidential Election. Social Psychological and Personality Science, 9, 275–284.

Lane, R. E. (2000). The loss of happiness in market democracies. Yale University Press.

Layman, G. C. (1997). Religion and political behavior in the United States: The impact of beliefs, affiliations, and commitment from 1980 to 1994. Public Opinion Quarterly, 61(2), 288–316.

Layman, G. C. (2001). The great divide: Religious and cultural conflict in American PartyPolitics. Columbia University Press.

Layman, G. C., & Carmines, E. G. (1997). Cultural conflict in American Politics: Religious traditionalism, post-materialism, and U.S. political behavior. Journal of Politics, 59(3), 751–777.

Layman, G. C., & Carsey, T. M. (2002). Party polarization and '"Conflict Extension"' in the American electorate. American Journal of Political Science, 46(4), 786–802.

Layman, G. C., Carsey, T. M., & Horowitz, J. M. (2006). Party polarization in American politics: Characteristics, causes, and consequences. Annual Review of Political Science, 9, 83–110.

Levendusky, M. S. (2009). The partisan sort: How liberals became Democrats and conservatives became Republicans. University of Chicago Press.

Liberini, F., Redoano, M., & Proto, E. (2017). Happy voters. Journal of Public Economics, 146, 41–57.

Lindaman, K., & Haider-Markel, D. P. (2002). Issue evolution, political parties, and the culture wars. Political Research Quarterly, 55(1), 91–110.

Marietta, M. (2012). A citizen's guide to american ideology: Conservatism and liberalism in contemporary politics. Routledge.

McPherson, M., Smith-Lovin, L., & Cook, J. M. (2001). Birds of a feather: Homophily in social networks. Annual Review of Sociology, 27(1), 415–444.

Merrill, S., Grofman, B., & Brunell, T. L. (2008). Cycles in American national electoral politics, 1854–2006: Statistical evidence and an explanatory model. American Political Science Review, 102(01), 1–17.

Montgomery, D. (2008). A happiness gap: Doomacrats and Republigrins. Washington Post, 10–24.

Napier, J. L., & Jost, J. T. (2008). Why are conservatives happier than liberals? Psychological Science, 19(6), 565–572.

Okulicz-Kozaryn, A. (2010). Religiosity and life satisfaction across nations. Mental Health, Religion & Culture, 13(2), 155–169.

Piketty, T. (1995). Social mobility and redistributive politics. The Quarterly Journal of Economics, 110(3), 551–584.

Podhoretz, N. (2010). Why are Jews Liberals? Vintage Books New York, USA.

Poole, K. T., & Rosenthal, H. (1998). The dynamics of interest group evaluations of Congress. Public Choice, 97(3), 323–361.

Poole, K. T., & Rosenthal, H. (2001). D-Nominate after 10 years: A comparative update to congress: A political-economic history of roll-call voting. Legislative Studies Quarterly, 26(1), 5–29.

Putnam, R. D. (2007). E Pluribus Unum: Diversity and community in the twenty-first century. The 2006 Johan Skytte prize lecture. Scandinavian Political Studies, 30(2), 137–174.

Samuels, D. (2004). Presidentialism and accountability for the economy in comparative perspective. American Political Science Review, 98(3), 425–436.

Schlesinger, A. M. (1939). Tides of American politics. Yale Review, 29(2), 217–230.

Smelser, N. J., & Alexander, J. C. (Eds.). (1999). Diversity and its discontents: cultural conflict and common ground in contemporary American society. Princeton University Press, New Jersey, NJ.

Smith, E. R. (1980). The levels of conceptualization: False measures of ideological sophistication. American Political Science Review, 74(3), 685–696.

Stimson, J. A. (2015). Tides of consent: How public opinion shapes American politics. Cambridge University Press.

Stonecash, J. M., Brewer, M. D., & Marianai, M. D. (2003). Diverging parties: Social change, realignment, and party polarization. Westview Press.

Subramanian, S. V., & Perkins, J. M. (2010). Are Republicans healthier than Democrats? International Journal of Epidemiology, 39(3), 930–931.

Tajfel, H. (1982). Social psychology of intergroup relations. Annual Review of Psychology, 33(1), 1–39.

Tajfel, H., Flament, C., Billig, M. G., & Bundy, R. F. (1971). Social categorization and Intergroup behaviour. European Journal of Social Psychology, 1, 149–177.

Taylor, P., Funk, C., & Craighill, P. (2006). Are we happy yet? A Pew Research Center Social Trends Report. https://www.pewresearch.org/social-trends/2006/02/13/are-we-happy-yet/. Accessed 25 Oct 2023. 

Ward, G. (2020). Happiness and voting: Evidence from four decades of elections in Europe. American Journal of Political Science, 64(3), 504–518.

Ward, G., De Neve, J. E., Ungar, L. H., & Eichstaedt, J. C. (2021). (Un) happiness and voting in US presidential elections. Journal of Personality and Social Psychology, 120(2), 370.

White, J. K. (2003). The values divide. Chatham House.

Wildavsky, A. (1987). Choosing preferences by constructing institutions: A cultural theory of preference formation. American Political Science Review, 81(01), 3–21.
Acknowledgements
We would like to thank two anonymous reviewers for their suggestions.
Ethics declarations
Conflict of Interest
The authors declare that they have no conflict of interest.
Additional information
Publisher's Note
Springer Nature remains neutral with regard to jurisdictional claims in published maps and institutional affiliations.
Appendix
Appendix
Distribution of GSS Respondents by Party and Political Ideology by Gender
Table
Table
Table
Table
Table
Table
Table
Table
Table
Table
Table
Table
Robustness check:
Table
Rights and permissions
Springer Nature or its licensor (e.g. a society or other partner) holds exclusive rights to this article under a publishing agreement with the author(s) or other rightsholder(s); author self-archiving of the accepted manuscript version of this article is solely governed by the terms of such publishing agreement and applicable law.
About this article
Cite this article
Berry, B.J.L., Valente, R.R. & Okulicz-Kozaryn, A. Median Voters' Happiness Cycles in the United States Along the Nation's Principal Political Fault Line. Applied Research Quality Life (2023). https://doi.org/10.1007/s11482-023-10243-3
Received:

Accepted:

Published:

DOI: https://doi.org/10.1007/s11482-023-10243-3
Keywords