Abstract
The aim of this study is to contribute to the growing research on the effect of female political empowerment and quality of life. In particular, we explore the relationship between women's parliamentary representation and sustainable development goals using cross-country spanning from 2015 to 2019. We find that an increase in the seat share of women in parliaments is positively and significantly related to SDGs. This relationship remains intact even after we introduce potential mediating channels and confounding factors. Moreover, using the instrumental variable regression method, we find that women in parliament are positively and causally related to sustainable development goals.
Access options
Buy single article
Instant access to the full article PDF.
USD 39.95
Price excludes VAT (USA)
Tax calculation will be finalised during checkout.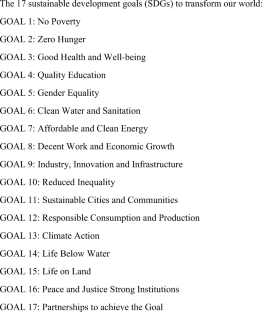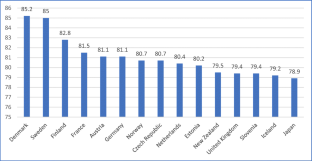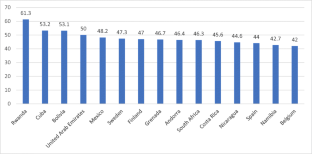 References
Agénor, P. R., & Canuto, O. (2015). Gender equality and economic growth in Brazil: A long-run analysis. Journal of Macroeconomics, 43, 155–172.

Aidt, T. S. (2011). Corruption and sustainable development. International Handbook on the Economics of Corruption, 2, 3–51.

Alesina, A., Giuliano, P., & Nunn, N. (2013). On the origins of gender roles: Women and the plough. The Quarterly Journal of Economics, 128(2), 469–530.

Anderson, E., Jalles D'Orey, M. A., Duvendack, M., & Esposito, L. (2017). Does government spending affect income inequality? A meta-regression analysis. Journal of Economic Surveys, 31(4), 961–987.

Asongu, S. A., & Odhiambo, N. M. (2021). Income levels, governance and inclusive human development in sub-Saharan Africa. Applied Research in Quality of Life, 16, 71–103.

Bojnec, Š., & Papler, D. (2011). Economic efficiency, energy consumption and sustainable development. Journal of Business Economics and Management, 12(2), 353–374.

Collischon, M., & Eberl, A. (2020). Let's talk about fixed effects: Let's talk about all the good things and the bad things. KZfSS Kölner Zeitschrift für Soziologie und Sozialpsychologie, 72(2), 289–299.

Diebolt, C., & Perrin, F. (2013). From stagnation to sustained growth: The role of female empowerment. American Economic Review, 103(3), 545–549.

DiRienzo, C. E. (2019). The effect of women in government on country-level peace. Global Change, Peace & Security, 31(1), 1–18.

DiRienzo, C. E., & Das, J. (2019). Women in government, environment, and corruption. Environmental Development, 30, 103–113.

Fokum, V. Y., Fonjong, L. N., & Adams, M. J. (2020). Increasing women's representation in the Cameroon parliament: Do numbers really matter?. Women's Studies International Forum, 80, 102369–102376.

Funk, K. D., & Philips, A. Q. (2019). Representative budgeting: Women mayors and the composition of spending in local governments. Political Research Quarterly, 72(1), 19–33.

Gulistan, A., Tariq, Y. B., & Bashir, M. F. (2020). Dynamic relationship among economic growth, energy, trade openness, tourism, and environmental degradation: Fresh global evidence. Environmental Science and Pollution Research, 27(12), 13477–13487.

Güvercin, D. (2020). Women in politics and child labor: An instrumental variable approach. The European Journal of Development Research, 32, 873–888.

Hicks, D. L., Hicks, J. H., & Maldonado, B. (2015). Are female politicians more responsive to international crises? Applied Economics Letters, 22(6), 493–498.

Jayasuriya, D. S., & Burke, P. J. (2013). Female parliamentarians and economic growth: Evidence from a large panel. Applied Economics Letters, 20(3), 304–307.

Licumba, E. A., Dzator, J., & Zhang, J. X. (2015). Gender equality in education and economic growth in selected southern African countries. The Journal of Developing Areas, 49(6), 349–360.

Majeed, M. T. (2018). Quality of life and globalization: Evidence from Islamic countries. Applied Research in Quality of Life, 13(3), 709–725.

Maniyalath, N., & Narendran, R. (2016). The human development index predicts female entrepreneurship rates. International Journal of Entrepreneurial Behavior & Research, 22(5), 745–766.

Martín, J. A. R., Molina, M. D. M. H., & Fernández, J. A. S. (2015). An assessment of millennium development goal (MDG) 3 in least developed countries of Asia. Applied Research in Quality of Life, 10(1), 49–62.

Mavisakalyan, A. (2014). Women in cabinet and public health spending: Evidence across countries. Economics of Governance, 15(3), 281–304.

Mavisakalyan, A., & Tarverdi, Y. (2019). Gender and climate change: Do female parliamentarians make difference? European Journal of Political Economy, 56, 151–164.

Ngwakwe, C. C. (2019). Relating women in parliament and economic growth in an emerging economy–South Africa. Acta Universitatis Danubius. Œconomica, 15(1), 253–266.

Nobles, J., Brown, R., & Catalano, R. (2010). National independence, women's political participation, and life expectancy in Norway. Social Science & Medicine, 70(9), 1350–1357.

O'Brien, D. Z., & Piscopo, J. M. (2019). The impact of women in parliament. In The Palgrave handbook of women's political rights (pp. 53–72). London: Palgrave Macmillan.

Panday, P. K. (2008). Representation without participation: Quotas for women in Bangladesh. International Political Science Review, 29(4), 489–512.

Quamruzzaman, A., & Lange, M. (2016). Female political representation and child health: Evidence from a multilevel analysis. Social Science & Medicine, 171, 48–57.

Rubin, A., & Segal, D. (2015). The effects of economic growth on income inequality in the US. Journal of Macroeconomics, 45, 258–273.

Salahodjaev, R., & Azam, S. (2015). Intelligence and gender (in) equality: Empirical evidence from developing countries. Intelligence, 52, 97–103.

Salahodjaev, R., & Jarilkapova, D. (2019). Female parliamentarism and genuine savings: A cross-country test. Sustainable Development, 27(4), 637–646.

Salahodjaev, R., & Jarilkapova, D. (2020). Women in parliament and deforestation: Cross-country evidence. Journal for Nature Conservation, 55, 125830.

Salahodjaev, R., Abdullaeva, B., Tosheva, S., & Isaeva, A. (2020). Female parliamentarians and the distribution of national happiness. Applied Research in Quality of Life, 1–15.

Shari, I. (2000). Economic growth and income inequality in Malaysia, 1971–1995. Journal of the Asia Pacific Economy, 5(1–2), 112–124.

Sharma, E. (2020). Women and politics: A case study of political empowerment of Indian women. International Journal of Sociology and Social Policy, 40, 607–626.

Smith, A. R. (2014). Cities where women rule: Female political incorporation and the allocation of community development block grant funding. Politics & Gender, 10(3), 313–340.

Söderbaum, P. (2004). Democracy, markets and sustainable development: The European Union as an example. European Environment, 14(6), 342–355.

Stern, D. I., Common, M. S., & Barbier, E. B. (1996). Economic growth and environmental degradation: The environmental Kuznets curve and sustainable development. World Development, 24(7), 1151–1160.

Swiss, L., Fallon, K. M., & Burgos, G. (2012). Does critical mass matter? Women's political representation and child health in developing countries. Social Forces, 91(2), 531–558.

Tripp, A. M. (2005). Legislative quotas for women: Implications for governance in Africa. In African parliaments (pp. 48–60). New York: Palgrave Macmillan.

Tsaurai, K., & Chimbo, B. (2019). The impact of information and communication technology on carbon emissions in emerging markets. International Journal of Energy Economics and Policy, 9(4), 320–326.

Woods, D. (2004). Latitude or rectitude: Geographical or institutional determinants of development. Third World Quarterly, 25(8), 1401–1414.
Ethics declarations
Conflict of Interest
The authors declare no conflict of interest.
Additional information
Publisher's Note
Springer Nature remains neutral with regard to jurisdictional claims in published maps and institutional affiliations.
About this article
Cite this article
Mirziyoyeva, Z., Salahodjaev, R. Women's Parliamentary Representation and Sustainable Development Goals: a Cross-Country Evidence. Applied Research Quality Life 17, 871–883 (2022). https://doi.org/10.1007/s11482-021-09940-8
Received:

Accepted:

Published:

Issue Date:

DOI: https://doi.org/10.1007/s11482-021-09940-8
Keywords
Women in parliament

Sustainable development goals