Abstract
This study investigates the relationship between sport participation and the life satisfaction scores reported by people without and with disabilities, wherein overall life satisfaction is seen as an aggregate of satisfaction levels regarding various domains of life (and consistent with the bottom-up spillover theory). Using longitudinal data taken from the German Socio-Economic Panel for the period 1984–2013, this study presents estimates from a two-layer model that allows life satisfaction to be explained by the satisfaction scores reported by individuals with respect to six different domains of life satisfaction (i.e. job, health, housework, household income, dwelling, and leisure). We found that sport participation has a positive and significant correlation with the levels of satisfaction with health, housework, and leisure reported by people with disabilities. Furthermore, the domains of satisfaction with health, housework and household income are the main contributors to the enhancement of their levels of overall life satisfaction. However, the interrelations of these domains of life satisfaction with overall life satisfaction are mainly transitory. From a public policy perspective, it is necessary to undertake the design and implementation of inclusive public and private sport programs for people with disabilities that contribute to increasing not only their levels of overall life satisfaction but also other facets of life satisfaction.
This is a preview of subscription content, log in to check access.
Access options
Buy single article
Instant access to the full article PDF.
US$ 39.95
Price includes VAT for USA
Subscribe to journal
Immediate online access to all issues from 2019. Subscription will auto renew annually.
US$ 99
This is the net price. Taxes to be calculated in checkout.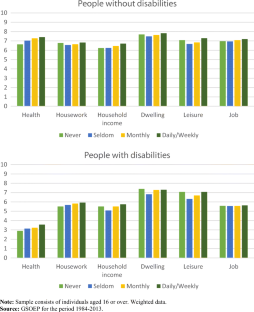 Notes
1.

Although we can find different instruments to measure subjective well-being (e.g. single versus multiple-item measures), the use of single-item measures (Gurin et al. 1960) has been very popular because of its high face validity and the widespread use of life-satisfaction ratings in the wellbeing literature (Scimmack 2008). According to Veenhoven (1995) this single-item measure is generally as reliable and valid as multi-item measures. In addition, well-known international datasets (e.g. the International Social Survey Programme, the European Social Survey, the European Community Household Panel, the British Household Panel Study, and the German Socio-Economic Panel Study) have included in its main questionnaire this single-item measure of well-being. See, for example, Fujita and Diener (2005) and Kroh (2006) for additional information on the single-item used in the GSOEP and its validity and proprieties.

2.

Once again, we have used a single-item instrument to measure our key variable "sport participation" which has been previously employed within the existing literature on sport participation in Germany (e.g. Becchetti et al. 2008; Lechner 2009; Pagan 2015; Schmiedeberg and Schröder 2016; Schüttoff et al. 2018 and medical literature (e.g. Becker et al. 2006).

3.

Although disability and health can be potentially correlated, Pagan (2010) demonstrates they do not share exactly the same information. For example, if we take the example of blindness, when it is generated by a chronic illness (such as diabetes), it is probably linked to poor health status; but when blindness is related to a congenital problem of the eyes, this disability and the health status of the individual will probably be orthogonal. In our case, 28% of people with disabilities have "very good" or "good" health status, whereas 40% have "poor" health. In addition, Grimby et al. (1988) conclude that the domain of disability extends far beyond health-related concerns to encompass the person's well-being, definition of self and social position.

4.

The inclusion of the additional variable Z in Eq. [1] is similar to the Heckman correction term (lambda).

5.

This test is based on the inclusion of three additional variables in our model: (1) the number of waves in which the ith individual participates in the panel; (2) a binary variable taking the value 1 if and only if the ith individual is observed over the entire sample and 0 otherwise; and (3) a binary variable indicating whether the individual was observed in the previous period.

6.

We have also calculated the level effects when we include job satisfaction in our LS Eq. [1]. Once again, satisfaction with health and household income are the domains with the highest contribution to LS. The contribution of satisfaction with job is 0.177 for the non-disabled sample (fourth place), whereas for the disabled one it is in third place (0.153).
References
Becchetti, L., Pelloni, A., & Rossetti, F. (2008). Relational goods, sociability and happiness. Kyklos, 61(3), 343–363.

Becchetti, L., Ricca, E., & Pelloni, A. (2012). The relationship between social leisure and life satisfaction: Causality and policy implications. Social Indicators Research, 108, 453–490.

Becker, S., Klein, T., & Schneider, S. (2006). Sportaktivität in Deutschland im 10-Jahres Vergleich. Deutsche Zeitschrift für Sportmedizin, 57, 226–232.

Bouchard, C., Shephard, J., & Stephens, T. (1994). Physical Activity, Fitness, and Health. In Physical activity, fitness, and health: International proceedings and consensus statement. Champaign, IL: Hum. Kinet.

Burkhauser, R., & Schroeder, M. (2007). A method for comparing the economic outcomes of the working-age population with disabilities in Germany and the United States. Journal of Applied Social Science Studies, 127(2), 227–258.

Chafetz, L., White, M., Collins-Bride, G., Cooper, B., & Nickens, J. (2008). Clinical trial of wellness training: Health promotion for severely mentally ill adults. The Journal of Nervous and Mental Disease, 196, 475–483.

Csikszentmihalyi, M. (1990). Flow: The psychology of optimal experience. New York: Harper Perennial.

Darcy, S., & Dowse, L. (2013). In search of a level playing field- the constraints and benefits of sport participation for people with intellectual disability. Disability & Society, 28(3), 393–407.

Devine, M., & Lashua, B. (2002). Constructing social acceptance in inclusive leisure contexts: The role of individuals with disabilities. Therapeutic Recreation Journal, 36, 65–83.

Diener, E. (1984). Subjective well-being. Psychological Bulletin, 95(3), 542–575.

Diener, E., Suh, M., Lucas, R., & Smith, H. (1999). Subjective well-being: Three decades of Progress. Psychological Bulletin, 125(2), 276–302.

Dimeo, F., Bauer, M., Varahram, I., & Halter, U. (2001). Benefits from aerobic exercise in patients with major depression: A pilot study. British Journal of Sports Medicine, 35(2), 114–117.

Dong, X., Li, Y., & Simon, M. A. (2014). Social engagement among us Chinese older adults-findings from the PINE study. The Journals of Gerontology Series A: Biological Sciences and Medical Sciences, 69, s82–S89.

Downward, P., & Rasciute, S. (2011). Does sport make you happy? An analysis of the well-being derived from sports participation. International Review of Applied Economics, 25(3), 331–348.

Dupuis, S., Whyte, C., Carson, J., Genoe, R., Meshino, L., & Sadler, L. (2012). Just dance with me: An authentic partnership approach to understanding leisure in the dementia context. World Leisure Journal, 54(3), 240–254.

Friedman, M. (1957). A theory of the consumption function. Princeton, NJ: Princeton University Press.

Fujita, F., & Diener, E. (2005). Life satisfaction set point: Stability and change. Journal of Personality and Social Psychology, 88, 158–164.

Gatward, R., & Burrell, T. (2002). Adults with a disability and sport. National survey 2000–2001. London: Sport England.

Gauvin, L., & Spence, J. (1996). Physical activity and psychological well-being: Knowledge base, current issues, and caveats. Nutrition Review, 54(4), S53–S65.

Grimby, G., Finnstram, J., & Jette, A. (1988). On application of the WHO handicap classification in rehabilitation. Scandinavian Journal of Rehabilitation Medicine, 20, 93–98.

Gurin, G., Veroff, J., & Feld, S. (1960). Americans view of their mental health. New York: Basic.

Huang, H., & Humphreys, B. (2012). Sports participation and happiness: Evidence from U.S. micro data. Journal of Economic Psychology, 33, 776–793.

International Sport and Culture Association (2015). The economic cost of physical inactivity in Europe. Available at: http://inactivity-time-bomb.nowwemove.com/download-report/The%20Economic%20Costs%20of%20Physical%20Inactivity%20in%20Europe%20(June%202015).pdf.

Kim, J., Lee, S., Chun, S., Han, A., & Heo, J. (2016). The effects of leisure-time physical activity for optimism, life satisfaction, psychological well-being, and positive affect among older adults with loneliness. Annals of Leisure Research, 20, 406–415. https://doi.org/10.1080/11745398.2016.1238308.

Kroh, M. (2006). An experimental evaluation of popular well-being measure. IW Discussion Papers, No. 546, Deutsches Institut für Wirtschaftsforschung (DIW), Berlin.

Kuykendall, L., Tay, L., & Ng, V. (2015). Leisure engagement and subjective well-being: A meta-analysis. Psychological Bulletin, 141, 364–403.

Lapointe, M. C., & Perreault, S. (2013). Motivation: understanding leisure engagement and disengagement. Society and Leisure, 36, 136–144.

Lechner, M. (2009). Long-run labour market and health effects of individual sports activities. Journal of Health Economics, 28(4), 839–854.

Lee, Y., & Park, I. (2010). Happiness and physical activity in special populations: Evidence from Korean survey data. Journal of Sports Economics, 11, 136–156.

Lucas, R. (2007). Long-term disability is associated with lasting changes in subjective well-being: Evidence from two national representative longitudinal studies. Journal of Personality and Social Psychology, 92(4), 717–780.

Lundberg, N. (2010). Quality of life and mood state outcomes through participation in adaptive sports for individuals with physical disabilities: A preexperimental examination. Annual in Therapeitic Recreation, 19, 104–112.

McDevitt, J., Snyder, M., Miller, A., & Wilbur, J. (2006). Perceptions of barriers and benefits to physical activity among outpatients in psychiatric rehabilitation. Journal of Nursing Scholarship, 38(1), 50–55.

Newman, D., Tay, L., & Diener, E. (2014). Leisure and subjective well-being: A model of psychological mechanisms as mediating factors. Journal of Happiness Studies, 15, 555–578.

Oswald, A., & Powdthavee, N. (2008). Does happiness adapt? A longitudinal study of disability with implications for economists and judges. Journal of Public Economics, 92, 1061–1077.

Pagan, R. (2010). Onset of disability and life satisfaction: Evidence from the German socio-economic panel. European Journal of Health Economics, 11, 471–485.

Pagan, R. (2012). Longitudinal analysis of the domains of satisfaction before and after disability: Evidence from the German socio-economic panel. Social Indicators Research, 108, 365–385.

Pagan, R. (2015). How do leisure activities impact on life satisfaction: Evidence for German people with disabilities? Applied Research in Quality of Life, 10(4), 557–572.

Phillips, S., Wójicki, T., & McAuley, E. (2013). Physical activity and quality of life in older adults: An 18-month panel analysis. Quality of Life Research, 22, 1647–1654.

Rasciute, S., & Downward, P. (2010). Health or happiness? What is the impact of physical activity on the individual? Kyklos, 63(2), 256–270.

Rimmer, J., Riley, B., Wang, E., Rauworth, A., & Jurkowski, J. (2004). Physical activity participation among persons with disabilities: Barriers and facilitators. American Journal Preventive Medicine, 26(5), 419–425.

Ruseski, J., Humphreys, B., Hallman, K., Wicker, P., & Breuer, C. (2014). Sport participation and subjective well-being: Instrumental variable results from German survey data. Journal of Physical Activity and Health, 11, 396–403.

Ryan, R. M., & Deci, E. L. (2000). Self-determination theory and the facilitation of intrinsic motivation, social development, and well-being. American Psychologist, 55, 68–78.

Scelza, W., Kalpakjian, C., Zemper, E., & Tate, D. (2005). Perceived barriers to exercise in people with spinal cord injury. American Journal of Physical Medicine & Rehabilitation, 84, 576–583.

Schmiedeberg, C., & Schröder, J. (2016). Leisure activities and life satisfaction: An analysis with German panel data. Applied Research of Quality of Life., 12, 137–151. https://doi.org/10.1007/s11482-016-9458-7.

Schüttoff, U., Pawlowski, T., Downward, P., & Lechner, M. (2018). Sports participation and social capital formation during adolescence. Social Science Quarterly, 99, 683–698.

Scimmack, U. (2008). Measuring wellbeing in the SOEP. SOEP papers on Multidisciplinary Panel Data Research, n°, 145.

Sherwood, N., & Jeffery, R. (2000). The behavioral determinants of exercise: Implications for physical activity interventions. Annual Review of Nutrition, 20(1), 21–44.

Sirgy, M., Uysal, M., & Kruger, S. (2017). Towards a benefits theory of leisure well-being. Applied Research of Quality of Life, 12, 205–228.

Sotiriadou, P., & Wicker, P. (2014). Examining the participation patterns of an ageing population with disabilities in Australia. Sport Management Review, 7, 35–48.

Stevenson, P. (2009). The pedagogy of inclusive youth sport: Working towards real solutions. In H. Fitzgerald (Ed.), Disability and youth sport. London: Routledge.

Terza, J. (1987). Estimating linear models with ordinal qualitative regressors. Journal of Econometrics, 34, 275–291.

Toepoel, V. (2013). Ageing, leisure and social connectedness: How could leisure help reduce social isolation of older people? Social Indicators Research, 113, 355–372.

Van Praag, B., Frijters, P., & Ferrer-i-Carbonell, A. (2003). The anatomy of subjective well-being. Journal of Economic Behavior & Organization, 51, 29–49.

Veenhoven, R. (1995). The cross-national pattern of happiness: Test of predictions implied in three theories of happiness. Social Indicators Research, 34, 33–68.

Verbeek, M., & Nijman, T. (1992). Non-response in panel data: The impact on estimates of a life cycle consumption function. Journal of Applied Econometrics, 7(3), 243–257.

Wang, M., & Wong, M. (2014). Happiness and leisure across countries: Evidence from international survey data. Journal of Happiness Studies, 15, 85–118.

Wilhite, B., & Shank, J. (2009). In praise of sport: Promoting sport participation as a mechanism of health among persons with a disability. Disability and Health Journal, 2, 116–127.

World Health Organization (2014a). Global Status Report on Non-communicable Diseases 2014. Geneva: World Health Organization. Available at (retrieved 11/12/2017): http://apps.who.int/iris/bitstream/10665/148114/1/9789241564854_ eng.pdf?ua =1.

World Health Organization (2014b). Draft WHO global disability action plan 2014–2021: Better health for all people with disability. Geneva: World Health Organization. Available at (retrieved 11/12/2017): http://apps.who.int/gb/ebwha/pdf_files/WHA67/A67_16-en.pdf.

World Health Organization. (2017). Draft WHO global action plan on physical activity 2018-2030. Geneva: World Health Organization. In Available at (retrieved 11/12/2017) http://www.who.int/ncds/governance/gappa_version_4August2017.pdf.

Yazicioglu, K., Yavuz, F., Goktepe, A., & Tan, A. (2012). Influence of adapted sports on quality of life and life satisfaction in sport participants and non-sport participants with physical disabilities. Disability and Health Journal, 5, 249–253.
Ethics declarations
Conflict of Interest
The authors declare that they have no conflict of interest.
Additional information
Publisher's Note
Springer Nature remains neutral with regard to jurisdictional claims in published maps and institutional affiliations.
Appendix
Appendix
About this article
Cite this article
Pagan, R. Sport Participation, Life Satisfaction and Domains of Satisfaction among People with Disabilities. Applied Research Quality Life 15, 893–911 (2020). https://doi.org/10.1007/s11482-019-9711-y
Received:

Accepted:

Published:

Issue Date:
Keywords
Sports

Disability

Life satisfaction

Domains of life satisfaction

Germany