Abstract
This research comes to empirical investigate the influence of income on the level of happiness. Can money buy happiness? It's one of the most frequently disputed and researched questions of all time. At first sight, it seems easy to assign a simple answer: yes or no, but the correct answer is more difficult than these. We start from the assumption that people need to be happy but also need financial resources to feel safe. We used a panel analysis on a sample of 26 European countries over the period 2008–2016. We found that happiness increases with individual income until a threshold of 27,913 Euro per year (rounded to 35,000 USD) in European countries. Also, we found that culture plays an essential role in the perception of happiness. Moreover, our results indicate that a lower power distance, a high individualism, a low level of uncertainty avoidance and a high indulgence statistically increase the level of happiness.
Access options
Buy single article
Instant access to the full article PDF.
US$ 39.95
Tax calculation will be finalised during checkout.
Subscribe to journal
Immediate online access to all issues from 2019. Subscription will auto renew annually.
US$ 79
Tax calculation will be finalised during checkout.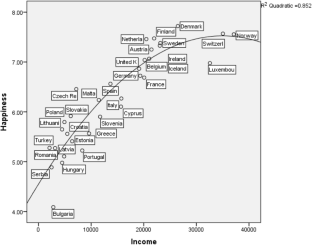 References
Akay, A., & Martinsson, P. (2011). Does relative income matter for the very poor? Evidence from rural Ethiopia. Economics Letters, 110(3), 213–215.

Arrindell, W. A., Hatzichristou, C., Wensink, J., Rosenberg, E., van Twillert, B., Stedema, J., & Meijer, D. (1997). Dimensions of national culture as predictors of cross-national differences in subjective well-being. Personality and Individual Differences, 23(1), 37–54.

Churchill, A. S., Appau, S. & Farrell, L. (2017). Empirical Economics, Religiosity, income and wellbeing in developing countries, https://doi.org/10.1007/s00181-017-1380-9

DeVoe, S. E., & Pfeffer, J. (2009). When is happiness about how much you earn? The effect of hourly payment on the money—Happiness connection. Personality and Social Psychology Bulletin, 35, 1602–1618.

Easterlin, R. A. (1974). Does economic growth improve the human lot? Some empirical evidence. In Nations and households in economic growth, New York, Academic Press, 89–125.

Easterlin, R. A. (1995). Will raising the incomes of all increase the happiness of all?. Journal of Economic Behavior & Organization, 27(1), 35–47.

Eurostat (2017). Income and living conditions, available at https://ec.europa.eu/eurostat/cache/metadata/en/ilc_esms.htm. Accessed September 2018.

Frey, B. S., & Stutzer, A. (2002). What can economists learn from happiness research? Journal of Economic Literature, 40(2), 402–435.

Frey, B. S., & Stutzer, A. (2010). Happiness and economics: How the economy and institutions affect human well-being. Princeton University Press.

Gerdtham, U. G., & Johannesson, M. (2001). The relationship between happiness, health, and socio-economic factors: Results based on Swedish microdata. The Journal of Socio-Economics, 30(6), 553–557.

Graham, C. (2010). Adaptation amidst prosperity and adversity: Insights from happiness studies from around the world. The World Bank Research Observer, 26(1), 105–137.

Helliwell, J. F. (2003). How's life? Combining individual and national variables to explain subjective well-being. Economic Modelling, 20(2), 331–360.

Hofstede Centre (2018) available at http://geert-hofstede.com/, accessed on February 2018.

Javidan, M., House, R. J., Dorfman, P. W., Hanges, P. J., & De Luque, M. S. (2006). Conceptualizing and measuring cultures and their consequences: A comparative review of globe's and Hofstede's approaches. Journal of International Business Studies, 37(6), 897–914.

Kahneman, D., & Deaton, A. (2010). High income improves evaluation of life but not emotional well-being. Proceedings of the National Academy of Sciences, 107(38), 16489–16493.

Lane, R. E. (2000). The loss of happiness in market economies. New Haven: Yale University Press.

Layard, R. (2006). Happiness and public policy: A challenge to the profession. Economic Journal, 116(510), C24–C33.

Leung, A., Kier, C., Fung, T., Fung, L., & Sproule, R. (2011). Searching for happiness: The importance of social capital. Journal of Happiness Studies, 12(3), 443–462.

Minkov, M., & Hofstede, G. (2011). The evolution of Hofstede's doctrine. Cross Cultural Management: An International Journal, 18(1), 10–20.

Powdthavee, N. (2010). How much does money really matter? Estimating the causal effects of income on happiness. Empirical Economics, 39(1), 77–92.

Proto, E., & Rustichini, A. (2013). A reassessment of the relationship between GDP and life satisfaction. PLoS One, 8(11), e79358.

Putnam, R. D. (2001). Bowling alone: The collapse and revival of American community. Simon and Schuster.

Sabatini, F. (2014). The relationship between happiness and health: Evidence from Italy. Social Science & Medicine, 114, 178–187.

Schyns, P. (2001). Income and satisfaction in Russia. Journal of Happiness Studies, 2(2), 173–204.

Shin, J. E., Suh, E. M., Eom, K., & Kim, H. S. (2018). What does "happiness" prompt in your mind? Culture, word choice, and experienced happiness. Journal of Happiness Studies, 19(3), 649–662.

Stanca, L. (2010). The geography of economics and happiness: Spatial patterns in the effects of economic conditions on well-being. Social Indicators Research, 99(1), 115–133.

Staubli, S., Killias, M., & Frey, B. S. (2014). Happiness and victimization: An empirical study for Switzerland. European Journal of Criminology, 11(1), 57–72.

Suh, E. M., & Oishi, S. (2002). Subjective well-being across cultures. Online readings in psychology and culture, 10(1), 1.

Sujarwoto, S., Tampubolon, G., & Pierewan, A. C. (2018). Individual and contextual factors of happiness and life satisfaction in a low middle income country. Applied Research in Quality of Life, 13(4), 927–945.

Tavor, T., Gonen, L. D., Weber, M., & Spiegel, U. (2018). The effects of income levels and income inequalities on happiness. Journal of Happiness Studies, 19(7), 2115–2137.

Veenhoven, R. (1991). Is happiness relative? Social Indicators Research, 24(1), 1–34.

World Happiness Report (2017). Editors: Helliwell, J., Layard, R., & Sachs, J. New York: Sustainable Development Solutions Network.

Ye, D., Ng, Y. K., & Lian, Y. (2015). Culture and happiness. Social Indicators Research, 123(2), 519–547.
Ethics declarations
Conflict of Interest
The authors declare that they have no conflict of interest.
Ethical Approval
This article does not contain any studies with human participants or animals performed by any of the authors.
Additional information
Publisher's Note
Springer Nature remains neutral with regard to jurisdictional claims in published maps and institutional affiliations.
About this article
Cite this article
Muresan, G.M., Ciumas, C. & Achim, M.V. Can Money Buy Happiness? Evidence for European Countries. Applied Research Quality Life 15, 953–970 (2020). https://doi.org/10.1007/s11482-019-09714-3
Received:

Accepted:

Published:

Issue Date:
Keywords
Culture

Happiness

Income

Panel analysis