Abstract
In this study, we examine the behavioral intentions of the elderly, with regard to experiencing virtual reality leisure activities, and propose a new experience model with experience value as a mediating variable. We gathered 294 effective samples consisting of elderly people. Each elderly respondent experienced the activities for ten weeks. The results show that experience value is not only able to effectively predict behavioral intentions (including purchases and ongoing participation), but it is also a mediating variable in the relationship between experience quality and behavioral intentions. These findings fully confirm the importance of "giving consumers a satisfaction experience" advocated in the literature on the experience economy. The present study also shows that experience seeking and experience quality both have a significant positive relationship with experience value, and that experience value in turn influences behavioral intentions, providing empirical support for the conceptualization of virtual reality leisure activity for elderly people.
This is a preview of subscription content, log in to check access.
Access options
Buy single article
Instant access to the full article PDF.
US$ 39.95
Price includes VAT for USA
Subscribe to journal
Immediate online access to all issues from 2019. Subscription will auto renew annually.
US$ 99
This is the net price. Taxes to be calculated in checkout.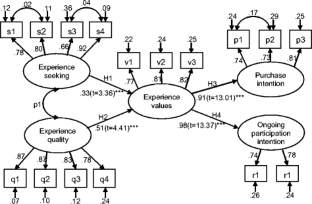 References
Athanassopoulos, A. D. (2000). Customer satisfaction cues to support market segmentation and explain switching behavior. Journal of Business Research, 47(3), 191–207.

Babin, B. J. (1998). Griffin M. The nature of satisfaction: an updated examination and analysis. Journal of Business Research, 41(2), 127–136.

Bagozzi, R. P., & Yi, Y. (1988). On the evaluation of structural equation models. Academy of Marketing Science, 16(1), 76–94.

Baker, D. A., & Crompton, J. L. (2000). Quality, satisfaction and behavioral intentions. Annals of Tourism Research, 27(3), 785–804.

Chan, J. K. L., & Baum, T. (2007). (2007). Motivation factors of ecotourists in ecolodge accommodation: the push and pull factor. Asia Pacific Journal of Tourism Research., 12(4), 349–364.

Chen, C. F. (2008). Investigating structural relationships between service quality, perceived value, satisfaction, and behavioral intentions for air passengers: evidence from Taiwan. Transportation Research Part A., 42(4), 709–717.

Chen, C. F., & Chen, F. S. (2010). Experience quality, perceived value, satisfaction and behavioral intentions for heritage tourists. Tourism Management, 31, 29–35.

Cohen, E. A. (1979). Phenomenology of tourist types. Sociology, 13(1–2), 89–103.

Cole, S. T., & Scott, D. (2004). Examining the mediating role of experience quality in a model of tourist experiences. Journal of Travel & Tourism Marketing, 16(1), 79–90.

Cunningham, G. B., & Kwon, H. (2003). The theory of planned behaviour and intentions to attend a sport event. Sport Management Review., 6(2), 127–145.

Darnell, A. C., & Johnson, P. S. (2001). Repeat visits to attractions: A preliminary economic analysis. Tourism Management, 22, 119–126.

Farrow, S., & Reid, D. (2004). Stroke survivors perceptions of a leisure-based virtual reality program. Technology and Disability, 16(2), 69–81.

Fornell, C. (1992). A national customer satisfaction barometer: the Swedish experience. Journal of Marketing, 55, 1–21.

Gnoth, J. (1997). Tourism motivation and expectation formation. Annals of Tourism Research, 24(2), 283–304.

Gobster, P. H. (2005). Recreation and leisure research from an active living perspective: taking a second look at urban trail use data. Leisure Sciences: An Interdisciplinary Journal., 27(5), 367–383.

Hair, J. F., Anderson, R. E., Tatham, R. L., & Black, W. C. (1998). Multivariate data analysis (5th ed., ). NJ: Prentice Hall.

Holbrook, M. B. (1999). Consumer value. A framework for analysis and research. London: Routledge.

Homburg, C., Nicole, K., & Wayne, D. H. (2005). Do satisfied customers really pay more? A study of the relationship between customer satisfaction and willingness to pay. Journal of Marketing, 69, 84–96.

Hsu, C. L., & Lu, H. P. (2004). Why do people play on-line games?an extended tam with social influences and flow experience. Information Management, 41, 53–68.

Hutchinson, S. L., Bland, A. D., & Kleiber, D. A. (2008). Leisure and stress-coping: Implications for therapeutic recreation practice. Therapeutic Recreation Journal, 42(1), 9–23.

Kahng, S. K. (2008). Overall successful aging: Its factorial structure and predictive factors. Asian Social Work and Policy Review, 2, 61–74.

Kim, C., & Lee, S. (2000). Understanding the Cultural Differences in Tourist Motivation between Anglo-American and Japanese Tourists. In K. S. Chon, T. Inagaki, & T. Ohashi (Eds.), Japanese Tourists: Socio-Economic, Marketing, and Psychological Analysis. Binghamton, NY: Haworth Press.

Lee, C., Lee, Y., & Lee, B. (2005). Korea's destination image formed by the 2002 world cup. Annals of Tourism Research, 32(4), 839–858.

Mowen, A. J., & Montoro-Rodriguez, J. (2006). Remove from marked records the role of leisure style in maintaining the health of older adults with arthritis. Journal of Leisure Research, 38(1), 20–45.

Oh, H., Fiore, A. M., & Jeoung, M. (2007). Measuring experience economy concepts: tourism applications. Journal of Travel Research, 46(2), 119–132.

Otto, J. E., & Ritchie, J. R. B. (1996). The service experience in tourism. Tourism Management, 17(3), 165–174.

Ouwehand, C., Ridder, D. T. D., & Bensing, J. M. (2007). A review of successful aging models: Proposing proactive coping as an important additional strategy. Clinical Psychology Review, 27(8), 873–884.

Parasuraman, A. (1997). Reflections on gaining competitive advantage through customer value. Journal of the Academy of Marketing Science, 25(2), 154–161.

Peter, J. P., & Olson, J. C. (1987). Consumer behavior: marketing strategy perspectives. McGraw-Hill Higher Education.

Petrick, J. F. (2004). The roles of quality, values, and satisfaction in predicting cruise passengers' behavioral intentions. Journal of Travel Research, 42(4), 397–407.

Pine II, B. J., & Gilmore, J. H. (1998). Welcome to the experience economy. Harvard Business Review, 76(4), 97–105.

Pizam, A., Jeong, G. H., & Reichel, A. (2004). The relationship between risk-taking, sensation-seeking, and the tourist behavior of young adults: a cross-cultural study. Journal of Travel Research, 42(3), 251–260.

Rejikumar, G., & Ravindran, D. (2012). An empirical study on service quality perceptions and continuance intention in mobile banking context in India. Journal of Internet Banking and Commerce., 17(1), 2–22.

Schmitt, B. (1999). Experiential marketing. Journal of Marketing Management, 15(1–3), 53–67.

Sparks, D. A., Coughlin, L. M., & Chase, D. M. (2011). Did too much Wii cause your patient's injury? Journal of Family Practice, 60(7), 404–409.

Tian-Cole, S., Crompto, J. L., & Willson, V. L. (2002). An empirical investigation of the relationships between service quality, satisfaction and behavioral intentions among visitors to a wildlife refuge. Journal of Leisure Research, 34, 1–24.

Tinsley, D. J., & Croskeys, C. E. (2002). Park usage, social milieu, and psychosocial benefits of park use reported by older urban park users from four ethnic groups. Leisure Sciences: An Interdisciplinary Journal., 24(2), 199–218.

Van Solinge, H., & Henkens, K. (2005). Couples' adjustment to retirement: a multi-actor panel study. The Journals of Gerontology: Series B., 60(1), 11–20.

Williams, M. A., Soiza, R. L., Jenkinson, A. M., & Stewart, A. (2010). Exercising with computers in later life-pilot and feasibility study of the acceptability of the Nintendo Wii Fit in community-dwelling fallers. BMC research notes., 3, 238.

Wollersheim, D., Merkes, M., Shields, N., Liamputtong, P., Wallis, L., Reynolds, F., & Koh, L. (2010). Physical and psychosocial effects of Wii video game use among older women. International Journal of Emerging Technologies and Society,, 8(2), 85–98.

Zhao, L., Lu, Y., Zhang, L., & Chau, P. Y. K. (2012). Assessing the effects of service quality and justice on customer satisfaction and the continuance intention of mobile value-added services: An empirical test of a multidimensional model. Decision Support Systems, 52(3), 645–656.

Zuckerman, M., Kuhlman, D., Joireman, J., Teta, P., & Kraft, M. (1993). A comparison of three structural models for personality: The Big Three, the Big Five, and the Alternative Five. Journal of Personality and Social Psychology, 65(4), 757–768.
Acknowledgments
The authors would like to express their sincere gratitude to the Editor and the anonymous reviewers for their insightful and constructive comments. The authors also appreciate the Ministry of Science and Technology of Taiwan for supporting this research under grant number: MOST 104-2628-E-212-001-MY2.
Ethics declarations
Conflicts of Interest
The authors declare no conflict of interest.
About this article
Cite this article
Jeng, M., Pai, F. & Yeh, T. The Virtual Reality Leisure Activities Experience on Elderly People. Applied Research Quality Life 12, 49–65 (2017). https://doi.org/10.1007/s11482-016-9452-0
Received:

Accepted:

Published:

Issue Date:
Keywords
Virtual reality

Experience quality

Experience seeking

Experience value