Abstract
National injustice has been linked to lower national happiness. We predict that national religiosity will mitigate this negative influence of injustice on happiness. We test this hypothesis analyzing national-level data from 121 nations, using a single-level moderated regression analysis. To capture various aspects of national injustice, we combine four national measures associated with injustice, namely: indexes of group grievances, political terror, rule of law, and corruption perceptions. The results show that national religiosity has a significant moderating effect on the relationship between injustice and happiness, such that higher levels of religiosity mitigate more of the negative effects of injustice on happiness than lower levels do. The results hold when religious affiliation and indexes of economic prosperity, education, and social support are controlled for. These results indicate that people in religious cultures may successfully utilize religious faith to deal with adverse conditions.
Access options
Buy single article
Instant access to the full article PDF.
US$ 39.95
Tax calculation will be finalised during checkout.
Subscribe to journal
Immediate online access to all issues from 2019. Subscription will auto renew annually.
US$ 79
Tax calculation will be finalised during checkout.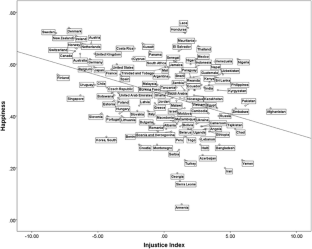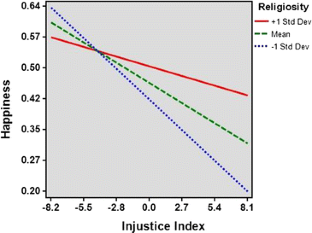 Notes
1.

Although data related to the United States were not available in this source, we included the United States in the analysis as a majority Christian nation.
References
Aiken, L. S., & West, S. G. (1991). Multiple regression: Testing and interpreting interactions. Newbury Park: Sage.

Association of Religion Data Archives (2011). Cross-National Socio-Economic and Religion Data. Obtained from http://www.thearda.com/Archive/Files/Descriptions/ECON11.asp.

Campbell, A., Converse, P. E., & Rodgers, W. L. (1976). The quality of American life. New York: Russell Sage.

Dalbert, C. (1998). Belief in a just world, well-being, and coping with an unjust fate. In L. Montada & M. J. Lerner (Eds.), Responses to victimizations and belief in a just world (pp. 87–105). New York: Plenum.

Diener, E., & Diener, C. (1995). The wealth of nations revisited: income and quality of life. Social Indicators Research, 36(3), 275–286.

Diener, E., Suh, E. M., Kim-Prieto, C., Biswas-Diener, R., & Tay, L. S. (2010). Unhappiness in South Korea: Why it is high and what might be done about it. Seoul: Korean Psychological Association.

Diener, E., Tay, L., & Myers, D. G. (2011). The religion paradox: if religion makes people happy, why are so many dropping out? Journal of Personality and Social Psychology, 101(6), 1278–1290.

Elliott, M., & Hayward, R. D. (2009). Religion and life satisfaction worldwide: the role of government regulation. Sociology of Religion, 70(3), 285–310.

Exline, J. J., & Martin, A. (2005). Anger toward God: A new frontier in forgiveness research. In E. L. Worthington Jr. (Ed.), Handbook of forgiveness (pp. 73–88). New York: Routledge.

Exline, J. J., Park, C. L., Smyth, J. M., & Carey, M. P. (2011). Anger toward god: social-cognitive predictors, prevalence, and links with adjustment to bereavement and cancer. Journal of Personality and Social Psychology, 100(1), 129–148.

Florida, R., Mellander, C., & Rentfrow, P. J. (2013). The happiness of cities. Regional Studies, 47(4), 613–627.

Fund for Peace (2012). Index of group grievances. Obtained from http://global.fundforpeace.org.

Gebauer, J. E., Nehrlich, A. D., Sedikides, C., & Neberich, W. (2013). The psychological benefits of income are contingent on individual-level and culture-level religiosity. Social Psychological and Personality Science, 4(5), 569–578.

Gibney, M., Cornett, L., Wood, R., & Haschke, P., (2011). Political terror scale. Obtained from: http://www.politicalterrorscale.org.

Glaeser, E., Scheinkman, J., & Shleifer, A. (2003). The injustice of inequality. Journal of Monetary Economics, 50(1), 199–222.

Graham, C., & Felton, A. (2006). Inequality and happiness: insights from Latin America. The Journal of Economic Inequality, 4(1), 107–122.

Helliwell, J. F. (2003). How's life? Combining individual and national variables to explain subjective well-being. Economic Modelling, 20, 331–360.

Helliwell, J. F., Barrington-Leigh, C. P., Harris, A., & Huang, H. (2010). In E. Diener, J. F. Helliwell, & D. Kahneman (Eds.), International differences in well-being (pp. 291–327). New York: Oxford University Press.

Inglehart, R. (2010). Faith and freedom: Traditional and modern ways to happiness. In E. Diener, J. F. Helliwell, & D. Kahneman (Eds.), International differences in well-being (pp. 351–397). New York: Oxford University Press.

Johnson, E. H. (1990). The deadly emotions: The role of anger, hostility, and aggression in health and emotional well-being. New York: Praeger Publishers.

Kierkegaard, S. (1843/1955). Fear and trembling and the sickness unto death. Doubleday.

Layard, R. (2005). Happiness: Lessons from a new science. New York: The Penguin Group.

Legatum Institute (2012). The 2012 Legatum prosperity index: Methodology and technical appendix. Retrieved from: http://www.prosperity.com.

Maes, J., Schmitt, M., Lischetzke, T., & Schmiedemann, V. (1998). Effects of experienced injustice in unified Germany on well-being and mental health. Gerechtigkeit als innerdeutsches Problem. Retrieved from: http://psydok.sulb.uni-saarland.de/volltexte/2004/165/pdf/beri110.pdf.

Meisenberg, G., Rindermann, H., Patel, H., & Woodley, M. A. (2012). Is it smart to believe in God? The relationship of religiosity with education and intelligence. Temas, 20(1), 101–120.

Oishi, S. (2012). The psychological wealth of nations: Do happy people make a happy society? West Sussex: Wiley-Blackwell.

Pargament, K. I., & Cummings, J. (2010). Anchored by faith. In J. W. Reich, A. J. Zautra, & J. S. Hall (Eds.), Handbook of adult resilience (pp. 193–210). New York: Guilford Press.

Pargament, K. I., Tarakeshwar, N., Ellison, C. G., & Wulff, K. M. (2001). Religious coping among the religious: the relationships between religious coping and well‐being in a national sample of Presbyterian clergy, elders, and members. Journal for the Scientific Study of Religion, 40(3), 497–513.

Pargament, K. I., Murray-Swank, N. A., Magyar, G. M., & Ano, G. G. (2005). Spiritual struggle: A phenomenon of interest to psychology and religion. In W. R. Miller & H. D. Delaney (eds.), Judeo-Christian perspectives on psychology: Human nature, motivation, and change (pp. 245–268). American Psychological Association.

Pearce, M. J., Singer, J. L., & Prigerson, H. G. (2006). Religious coping among caregivers of terminally ill cancer patients: main effects and psychosocial mediators. Journal of Health Psychology, 11(5), 743–759.

Pew Forum on Religion & Public Life. (2007). U.S. Religious Landscape Survey. Retrieved from: http://religions.pewforum.org/reports .

Pickett, K. E., & Wilkinson, R. G. (2010). Inequality: an underacknowledged source of mental illness and distress. The British Journal of Psychiatry, 197(6), 426–428.

Senik, C. (2009). Income distribution and subjective happiness: A survey. Social Employment and Migration Working Papers No. 96. OECD Publishing.

Soper, D. S. (2013). Interaction (version 1.7.22.11) [Computer Program]. California State University, Fullerton.

Tavits, M. (2008). Representation, corruption, and subjective well-being. Comparative Political Studies, 41(12), 1607–1630.

Taylor, S. E. (2011). Social support: A review. In A. Baum, T. A. Revenson, & J. Singer (Eds.), The handbook of health psychology (second edition, pp 189–214). Psychology Press.

Transparency International (2012). The corruption perceptions index. Obtained from http://www.transparency.org/.

Veenhoven, R. (2004). The greatest happiness principle: Happiness as an aim in public policy. In A. Linley & S. Joseph (Eds.), Positive psychology in practice. Hoboken: John Wiley and Sons.

Verme, P. (2011). Life satisfaction and income inequality. Review of Income and Wealth, 57(1), 111–127.

Worldwide Governance Indicators Project (2011). Rule of Law. Obtained from http://info.worldbank.org/governance/wgi/index.aspx#home.
About this article
Cite this article
Joshanloo, M., Weijers, D. Religiosity Reduces the Negative Influence of Injustice on Subjective Well-being: A Study in 121 Nations. Applied Research Quality Life 11, 601–612 (2016). https://doi.org/10.1007/s11482-014-9384-5
Received:

Accepted:

Published:

Issue Date:
Keywords
Injustice

Religiosity

Subjective well-being

Happiness

Culture