Abstract
Measuring quality of life (QoL) in alcohol related brain damaged individuals (ARBDs) is challenging, mostly because patients are characterized by important cognitive impairments and are generally unaware of their defects. However, quality of life assessments are essential to help inform care and rehabilitative settings; thus introducing and including views from healthcare professionals on ARBDs' quality of life is a reasonable approach. We examine QoL and the perception of cognitive defects among ARBDs and compare them to expert appraisals by acquainted healthcare professionals. We hypothesize that ARBDs self-assessments outscore QoL expert-ratings by professionals and demonstrate an unawareness of their cognitive deficits, with anosognosia being related to the QoL domains of interest. Six domains of QoL and the occurrence of cognitive problems in 14 detoxified alcoholics are investigated by means of self-ratings and expert-ratings from two acquainted healthcare professionals. Anosognosia is assessed by using difference scores between self- and expert-ratings on the manifestation of everyday executive dysfunctions. We find that ARBDs experience anosognosia (ps < .001) and outscore systematically expert-ratings on the investigated QoL domains (ps < .03). Complex patterns of relationships between self-/expert-rated QoL relate mostly negatively and moderately with anosognosia, confirming some of our assumptions and informing others. ARBDs are characterized by anosognosia and differ largely from expert's views on patient QoL. Professionals relate compromised patient QoL to the inability of the patient to have insight of his/her dysfunctions; whereas among patients, QoL relates less strongly to anosognosia. Remaining doubts on the validity of QoL self-/expert-ratings in ARBDs are discussed.
Access options
Buy single article
Instant access to the full article PDF.
US$ 39.95
Tax calculation will be finalised during checkout.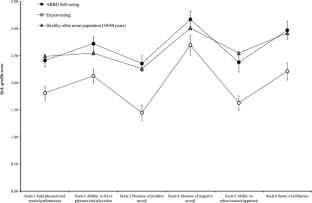 References
Addington-Hall, J., & Kalra, L. (2001). Who should measure quality of life? British Medical Journal, 322(7299), 1417–1420. doi:10.1136/bmj.322.7299.1417.

Ashendorf, L., Jefferson, A. L., O'Connor, M. K., Chaisson, C., Green, R. C., & Stern, R. A. (2008). Trail making test errors in normal aging, mild cognitive impairment, and dementia. Archives of Clinical Neuropsychology, 23(2), 129–137. doi:10.1016/j.acn.2007.11.005.

Bates, M. E., Bowden, S. C., & Barry, D. (2002). Neurocognitive impairment associated with alcohol use disorders: implications for treatment. Experimental and Clinical Psychopharmacology, 10(3), 193–212.

Burgess, P. W., Alderman, N., Evans, J., Emslie, H., & Wilson, B. A. (1998). The ecological validity of tests of executive function. Journal of the International Neuropsychological Society: JINS, 4(6), 547–558.

Chan, R. C. (2001). Dysexecutive symptoms among a non-clinical sample: a study with the use of the Dysexecutive Questionnaire. British Journal of Psychology, 92(3), 551–565.

Donovan, D., Mattson, M. E., Cisler, R. A., Longabaugh, R., & Zweben, A. (2005). Quality of life as an outcome measure in alcoholism treatment research. Journal of Studies on Alcohol and Drugs. Supplement, 15, 119. Accessed 19 February 2013.

Funder, D. C. (1980). On seeing ourselves as others see us: self-other agreement and discrepancy in personality ratings. Journal of Personality, 48(4), 473–493. doi:10.1111/j.1467-6494.1980.tb02380.x.

Gross, A. L., Rebok, G. W., Ford, D. E., Chu, A. Y., Gallo, J. J., Liang, K.-Y., et al. (2011). Alcohol consumption and domain-specific cognitive function in older adults: longitudinal data from the Johns Hopkins Precursors Study. The Journals of Gerontology Series B: Psychological Sciences and Social Sciences, 66(1), 39–47. doi:10.1093/geronb/gbq062.

Hayes, A. F., & Krippendorff, K. (2007). Answering the call for a standard reliability measure for coding data. Communication Methods and Measures, 1(1), 77–89. doi:10.1080/19312450709336664.

Heilman, K., & Harciarek, M. (2010). Anosognosia and anosodiaphoria of weakness. In G. Prigatano (Ed.), The study of anosognosia (pp. 89–112). New York: Oxford University Press.

Kolar, D. W., Funder, D. C., & Colvin, C. R. (1996). Comparing the accuracy of personality judgments by the self and knowledgeable others. Journal of Personality, 64(2), 311–337. doi:10.1111/j.1467-6494.1996.tb00513.x.

Kopelman, M. D., Thomson, A. D., Guerrini, I., & Marshall, E. J. (2009). The Korsakoff syndrome: clinical aspects, psychology and treatment. Alcohol and Alcoholism, 44(2), 148–154. doi:10.1093/alcalc/agn118.

Laubach, W., Schröder, C., Siegrist, J., & Brähler, E. (2001). Normierung der Skalen "Profil der Lebensqualität Chronisch Kranker" an einer repräsentativen deutschen Stichprobe [Standardization of the scale "Quality of life profile for Chronically Ill Individuals" in a representative German sample]. Zeitschrift für Differentielle und Diagnostische Psychologie, 22(2), 100–110. doi:10.1024//0170-1789.22.2.100.

Lehrl, S. (2005). Mehrfachwahl-Wortschatz-Intelligenztest: MWT-B [Multiple Choice Vocabulary Test, version B] (5th ed.). Balingen: Germany: apitta.

Lezak, M. D., Howieson, D. B., Bigler, E. D., & Tranel, D. (2012). Neuropsychological assessment (5th ed.). New York: Oxford University Press.

Lishman, W. A. (1990). Alcohol and the brain. The British Journal of Psychiatry: the Journal of Mental Science, 156, 635–644.

Morgan, M. Y., Landron, F., Lehert, P., & New European Alcoholism Treatment Study Group. (2004). Improvement in quality of life after treatment for alcohol dependence with acamprosate and psychosocial support. Alcoholism, Clinical and Experimental Research, 28(1), 64–77. doi:10.1097/01.ALC.0000108652.73143.4B.

Muldoon, M. F., Barger, S. D., Flory, J. D., & Manuck, S. B. (1998). What are quality of life measurements measuring? British Medical Journal, 316, 542–544. Accessed 11 December 2013.

Murrell, R. (1999). Quality of life and neurological illness: a review of the literature. Neuropsychology Review, 9(4), 209–229. doi:10.1023/A:1021686606648.

National Institute for Health and Clinical Excellence (NICE). (2011). Alcohol-use disorders: Diagnosis, assessment and management of harmful drinking and alcohol dependence (No. clinical guideline 115). London: National Institute for Health and Clinical Excellence.

Oscar-Berman, M., & Marinkovic, K. (2003). Alcoholism and the brain: an overview. Alcohol Research & Health, 27(2), 125–133. Accessed 20 February 2012.

Oscar-Berman, M., Pulaski, J. L., Hutner, N., Weber, D. A., & Freedman, W. (1990). Cross-modal functions in alcoholism and aging. Neuropsychologia, 28(8), 851–869. Accessed 20 February 2012.

Pearlman, R. A., & Uhlmann, R. F. (1988). Quality of life in chronic diseases: perceptions of elderly patients. Journal of Gerontology, 43(2), M25–M30.

Peters, T. J., Millward, L. M., & Foster, J. (2003). Quality of life in alcohol misuse: comparison of men and women. Archives of Women's Mental Health, 6(4), 239–243. doi:10.1007/s00737-003-0012-x.

Rosenthal, R. (1991). Meta-analytic procedures for social research. Newbury Park: Sage.

Saarni, S. I., Suvisaari, J., Sintonen, H., Pirkola, S., Koskinen, S., Aromaa, A., & Lonnqvist, J. (2007). Impact of psychiatric disorders on health-related quality of life: general population survey. The British Journal of Psychiatry, 190(4), 326–332. doi:10.1192/bjp.bp.106.025106.

Simblett, S. K., & Bateman, A. (2011). Dimensions of the Dysexecutive Questionnaire (DEX) examined using Rasch analysis. Neuropsychological Rehabilitation, 21(1), 1–25. doi:10.1080/09602011.2010.531216.

Slevin, M. L., Plant, H., Lynch, D., Drinkwater, J., & Gregory, W. M. (1988). Who should measure quality of life, the doctor or the patient? British Journal of Cancer, 57(1), 109–112. Accessed 11 December 2013.

Smith, I., & Hillman, A. (1999). Management of alcohol korsakoff syndrome. Advances in Psychiatric Treatment, 5(4), 271–278. doi:10.1192/apt.5.4.271.

Squire, L. R., & Zouzounis, J. A. (1988). Self-ratings of memory dysfunction: different findings in depression and amnesia. Journal of Clinical and Experimental Neuropsychology, 10(6), 727–738. doi:10.1080/01688638808402810.

Steele, C. M., & Josephs, R. A. (1990). Alcohol myopia: its prized and dangerous effects. American Psychologist, 45(8), 921–933. doi:10.1037/0003-066X.45.8.921.

Steinmetz, J.-P., & Federspiel, C. (2012). Alcohol-related cognitive and affective impairments in a sample of long-term care residents. GeroPsych: The Journal of Gerontopsychology and Geriatric Psychiatry, 25(2), 83–95. doi:10.1024/1662-9647/a000057.

Volk, R. J., Cantor, S. B., Steinbauer, J. R., & Cass, A. R. (1997). Alcohol use disorders, consumption patterns, and health-related quality of life of primary care patients. Alcoholism, Clinical and Experimental Research, 21(5), 899–905.

Wilson, B. A., Alderman, N., Burgess, P. W., Emslie, H., & Hodges, J. J. (1996). Behavioural Assessment of the Dysexecutive Syndrome (BADS). Bury St Edmunds (UK): Thames Valley Test Company.
Acknowledgments
Authors are grateful to the patients, their families and nursing staff for participating and their support during the study. We thank Dr. Salvador Rivas (University of Luxembourg, Luxembourg) for his valuable time and for proofreading the manuscript. We thank Dr. Giovanni Ottoboni (University of Bologna, Italy) for discussions during the preparation of the manuscript.
Conflict of Interest
The work was supported by continuous funding from the Fondation Ste Zithe whose support is gratefully acknowledged. The supporting source had no involvement in the study conception, data collection, data analysis, interpretation of the data, the writing of the report, or the decision to submit the report for publication.
About this article
Cite this article
Steinmetz, JP., Theisen-Flies, C. & Federspiel, C. Views on Quality of Life Differ Between Alcohol Related Brain Damaged Individuals and Their Healthcare Professionals. Applied Research Quality Life 11, 239–251 (2016). https://doi.org/10.1007/s11482-014-9365-8
Received:

Accepted:

Published:

Issue Date:
Keywords
Quality of life

Alcohol related brain damage

Korsakoff's syndrome

Anosognosia

Self-rating

Expert-rating