Abstract
Globalization has brought with a period of economic growth and the expansion of well-being levels. However, nothing has been said about how such an increase in quality of life has been distributed among countries. The aim of this work is to investigate whether the enhancement of quality of life has lead developing nations to catch up with advanced economies or, instead, well-being levels have diverged across countries. To shed light on this question, we study the distributional patterns of well-being in the last wave of globalization. As a well-being indicator, we use the Human Development Index which includes income variables as well as social aspects, thus reflecting the multidimensional nature of this process. We found evidence of sigma convergence although an increase in polarization is also observed. Moreover, our results also point out that the convergence process has been nonlinear.
Access options
Buy single article
Instant access to the full article PDF.
US$ 39.95
Tax calculation will be finalised during checkout.
Subscribe to journal
Immediate online access to all issues from 2019. Subscription will auto renew annually.
US$ 79
Tax calculation will be finalised during checkout.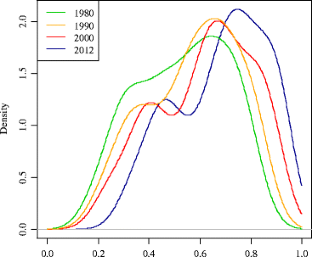 Notes
1.

According to Williamson (2002) the first great globalization era covers the period 1820–1914 and the second corresponds with period before the World War. Since the eighties decade another wave of this process is distinguished, (the so-called globalization decades, characterized by the dictations of liberalization of the Washington Consensus), which also involves changes on technological transfer, easily communications and reductions in transport cost.

2.

Dowrick and DeLong (2003) study the hypothesis of convergence clubs for the whole globalization period (since 1870), concluding the existence of a group of convergent economies, which comprises the advanced countries.

3.

Note that, in this study we focus on unweighted distribution of the HDI that considers each country as a unit of observation not taking into account the population size. We opt for this approach since we are investigating convergence hypothesis which is usually linked with country level analysis rather than population weighted measures.

4.

Originally, our data comprised only 105 countries, covering less than the 75 % of global population. We had non-available data for 25 countries for one or more years before 1995. In order to offer comparable results across periods and to not restricting the sample considerably, missing values have been estimated. The estimation is based on two complementary methodologies which jointly provide feasible and consistent results according to the sample: piecewise cubic Hermite interpolating polynomial (PCHI) and the average rate of change, which is used when PCHI offers unfeasible estimates or out of range results.

5.

In the original paper of Esteban and Ray (1994) p i was the population share of the group. However, as we focus on unweighted inequality measures, we compute unweighted polarization measure to make both analyses comparable.

6.

For a review of the evidence on the effect of globalization on income convergence see Milanovic (2003).

7.

In contrast to the trends observed for Eastern Asian countries, FDI flows and trade in South Asia remained almost constant during the nineties and eighties (Gundlach and Nunnenkamp 1996). These flat trends point out that the effects of globalization in this region are different from the consequences of this process in Eastern Asian countries. Then, we considered South Asia and East Asia as separated regions.

8.

A cubic relationship has been also tested, concluding that the cubic term was not significant in any case.

9.

The results of the Hausman test suggest that RE estimates are inconsistent, thus requiring the estimation of FE models and hence we focus on the results provided by the FE model.
References
Abed, G. T., & Davoodi, H. R. (2003). Challenges of growth and globalization in the Middle East and North Africa. New York: International Monetary Fund.

Barro, R. J., & Sala-i-Martin, X. (1990). Economic growth and convergence across the United States. NBER working paper No.3419.

Baumol, W. J., & Wolff, E. N. (1988). Productivity growth, convergence, and welfare: reply. American Economic Review, 78(5), 1155–1159.

Becker, S. G., Philipson, T. J., & Soares, R. R. (2005). Quantity and quality of life and the evolution of world inequality. American Economic Review, 95, 277–291.

Borensztein, E., De Gregorio, J., & Lee, J. W. (1998). How does foreign direct investment affect economic growth? Journal of International Economics, 45(1), 115–135.

Bourguignon, F., & Morrisson, C. (2002). Inequality among world citizens: 1820–1992. American Economic Review, 92, 727–744.

Cernat, L., & Vranceanu, R. (2002). Globalisation and development: new evidence from Central and Eastern Europe. Comparative Economic Studies, 44(4), 119–136.

Davies, J. B., & Shorrocks, A. F. (1989). Optimal grouping of income and wealth data. Journal of Econometrics, 42, 97–108.

Deaton, A. (2004). Health in an age of globalization (no. w10669). Cambridge: National Bureau of Economic Research.

Dollar, D., & Kraay, A. (2002). Growth is good for the poor. Journal of Economic Growth, 7(3), 195–225.

Dowrick, S., & DeLong, J. B. (2003). Globalization and convergence. In M. D. Bordo, A. M. Taylor, & J. G. Williamson (Eds.), Globalization in historical perspective (pp. 191–226). Chicago: University of Chicago Press.

Esteban, J. M., & Ray, D. (1994). On the measurement of polarization. Econometrica, 62, 819–851.

Giddens, A. (2002). Runaway world: How globalisation is reshaping our lives. London: Profile Books.

Gore, C. (2003). Development partnership for escaping the global poverty trap. Development Policy Journal, 3(1), 107–126.

Gundlach, E., & Nunnenkamp, P. (1996). Some consequences of globalization for developing countries (No. 753). Kiel Working Papers.

Gwartney, J., Lawson, R., & Hall, J. (2013). Economic freedom of the world 2013 annual report. Vancouver: The Fraser Institute.

Howitt, P., & Mayer-Foulkes, D. (2005). R&D, implementation and stagnation: a Schumpeterian theory of convergence clubs. Journal of Money, Credit and Banking, 37(1), 147–177.

Klugman, J., Rodríguez, F., & Choi, H.-J. (2011). The HDI 2010: new controversies, old critiques. Journal of Economic Inequality, 9, 249–288.

Konya, L. (2011). New panel data evidence of human development convergence from 1975 to 2005. Global Business and Economics Review, 13, 57–70.

Krugman, P., & Venables, A. J. (1995). Globalization and the inequality of nations. Quarterly Journal of Economics, 110(4), 857–880.

Mayer-Foulkes, D. (2003). Convergence clubs in cross-country life expectancy dynamics. In R. van der Hoeven & A. Shorrocks (Eds.), Perspectives on growth and poverty (pp. 144–171). Tokyo: United Nations University Press.

Mayer-Foulkes, D. (2010). Divergences and Convergences in Human Development. Human Development Research Paper No. 2010/20. United Nations Development Program.

Mazumdar, K. (2003). Do standards of living converge? A cross-country study. Social Indicators Research, 64, 29–50.

Mendez, M., & Popkin, B. M. (2004). Globalization, urbanization and nutritional change in the developing world. Electronic Journal of Agricultural and Development Economics, 1, 220–241.

Milanovic, B. (2003). The two faces of globalization: against globalization as we know it. World Development, 31(4), 667–683.

Morley, S. A. (2001). Distribution and growth in Latin America in an era of structural reform. Paris: OECD Development Centre.

Morrisson, C., & Murtin, F. (2009). The century of education. Journal of Human Capital, 3(1), 1–42.

Murtin, F., & Viarengo, M. (2011). The expansion and convergence of compulsory schooling in Western Europe, 1950–2000. Economica, 78, 501–522.

Noorbakhsh, F. (2006). International convergence or higher inequality in human development? Evidence for 1975–2002. WIDER Research Paper No. 2006/15.

Quah, D. (1996). Empirics for economic growth and convergence. European Economic Review, 40(6), 1353–1375.

Sachs, J. D., & Warner, A. (1995). Economic reform and the process of global integration. Brookings Papers on Economic Activity, 1, (pp. 1–95). Washington, DC: Brookings Institution.

Scholte, J. A. (2005). Globalization: A critical introduction. Basingstoke: Palgrave Macmillan.

Silverman, B. W. (1986). Density estimation for statistics and data analysis. London: Chapman and Hall.

Sirgy, J., Lee, D. J., Miller, C., & Littlefield, J. E. (2004). The impact of globalization on a country's quality of life: toward an integrated model. Social Indicators Research, 68(3), 251–298.

Stiglitz, J. E. (2002). Globalization and its discontents. New York: Norton & Company.

Tsai, M. C. (2007). Does globalization affect human well-being? Social Indicators Research, 81(1), 103–126.

UNDP (2012). International Human Development Indicators. Retrieved from http://hdr.undp.org/en/statistics/. Accessed 2 April 2013.

United Nations. (2012). The millennium development goals report. New York: United Nations.

Williamson, J. G. (2002). Winners and losers over two centuries of globalization (no. w9161). Cambridge: National Bureau of Economic Research.

World Bank (2013). World Development Indicators Database. Retrieved from http://data.worldbank.org/data-catalog/world-development-indicators. Accessed 15 November 2013.

Yach, D., Wipfli, H., Hammond, R., & Glantz, S. (2007). Globalization and tobacco. In I. Kawachi & S. Wamala (Eds.), Globalization and health. Oxford: Oxford University Press.
Acknowledgments
The authors thank the Ministerio de Economía y Competitividad (Project ECO2010-15455) for partial support of this work. The first author also thanks to the Ministerio de Educación (FPU AP-2010-4907) for partial support of this work and the Department of Economics at the University of Reading (UK) for its hospitality. Authors are grateful for the constructive suggestions provided by the editor and the reviewers, which improved the paper substantially.
About this article
Cite this article
Jordá, V., Sarabia, J.M. Well-Being Distribution in the Globalization Era: 30 Years of Convergence. Applied Research Quality Life 10, 123–140 (2015). https://doi.org/10.1007/s11482-014-9304-8
Received:

Accepted:

Published:

Issue Date:
Keywords
Well-being

Human Development Index

Inequality

Convergence

Globalization

Polarization