Abstract
This study investigates emotional divorce in marriage in everyday life in Iran from a female perspective. Many studies have been conducted on divorce but there is vacuum in the field of emotional divorce in regard to how it is defined and which research methodologies are most appropriate. This study aims to understand the participant's construct of emotional divorce as well as its mechanism and causes, using grounded theory to achieve a deep and holistic understanding of the issues. Analytic induction and theoretical saturation were the criteria for selecting 22 women with severe marital dissatisfaction, as subjects for the research. One of the core ideas considered is that emotional divorce increases when formal, legal divorce is difficult to obtain, Findings cover four fields including: (1) social contexts such as patriarchy, the presence of stepfathers, and female passivity; (2) intensifying factors such as men's sex vs. women's love and the presence of a rival wife; (3) unequal exchange and (4) the sense of inequality, rational divorce and finally emotional divorce itself. Our research findings show the occurrence of 'emotional divorce' often arises from rational calculation. Unequal exchange results in the sense of inequality as the main cause of emotional divorce.
Access options
Buy single article
Instant access to the full article PDF.
USD 39.95
Price includes VAT (USA)
Tax calculation will be finalised during checkout.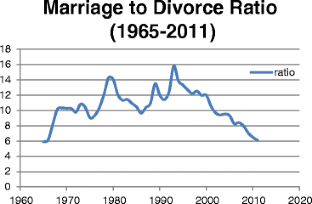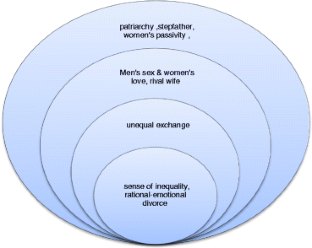 References
Abbey, C., & Dallos, R. (2004). The experience of the impact of divorce on sibling relationships: a qualitative study. Clinical Child Psychology and Psychiatry, 9, 241–259.

Azadarmaki, T. (2007). Sociology of Iranian family. Tehran: The Organization for Researching and Composing University Textbooks in the Humanities (Samt) Press (Persian).

Barzoki, M., Seiydroghani, N., & Azadarmaki, T. (2012). Sexual dissatisfaction in a sample of married Iranian women. Sexuality and Culture, 17(2), 244–259. doi:10.1007/s12119-012-9149-y.

Basson, R. (2005). Women's sexual dysfunction: revised and expanded definitions. Canadian Medical Association Journal, 172(10), 1327–1333.

Bastani, S., Golzari, M., & Zohre, R. (2010). Emotional divorce, causes and mediator conditions. lranian Journal of Social Problems, 3, 1–20 (Persian).

Beaulieu, M., & Messner S. F. (2009). Assessing Changes in the Effect of Divorce Rates on Homicide Rates Across Large U.S. Cities, 1960-2000: Revisiting the Chicago School. Homicide Studies. doi:10.1177/1088767909353020.

Berger, P., & Kellner, H. (1973). Marriage and the Construction of Reality, In H. Farberman and E. Goode (Eds.), Social Reality. Prentice-Hall: Englewood Cliffs, NJ.

Bernadette, B.-L. (2004). Intimacy and the new sentimental order. Current Sociology, 52(2), 241–250.

Bernards, J. (1997). Family studies: An introduction. New York: Routledge.

Blaikie, N. W. H. (2000). Designing social research: The logic of anticipation. Cambridge: Polity.

Bohannan, P. (1970). The six stations of divorce. In P. Bohannan (Ed.), Divorce and after (pp. 29–55). Garden City, NY: Doubleday & Company, Inc.

Bokharaii, A. (2008). Sociology of emotional divorce in IRAN. Tehran: Pejvak press (Persian).

Bracher, M., Santow, G., Morgan, S. P., & Trussell, J. (1993). Marriage dissolution in Australia: models and explanations. Population Studies, 47, 403–425.

Callan, V. J., & Noller, P. (1987). Marriage and the family. North Ryde: Methuen Australia.

Clarke, L. H. (2006). Older women and sexuality: experiences in marital relationships across the life course. Canadian Journal on Aging, 25(2), 129–140.

Davidson, B., & Darling, C. (1988). The sexually-experienced woman: multiple sex partnersand sexual satisfaction. Journal of Sex Research, 24, 141–154.

Denzin, N. K. (1989). The research act (3rd ed.). Englewood Cliffs: Prentice Hall.

DeVault, M. L. (1996). Talking back to sociology: distinctive contributions of feminist methodology. Annual Review of Sociology, 22, 29–50.

Ezazi, S. (1997). Sociology of family: Role, structure and function of family in contemporary times. Roshangaran and Women Studies (Persian): Tehran.

Flick, U. (2006). An introduction to qualitative research (3rd ed.). Thousand Oaks: Sage.

Giddens, A. (1992). The transformation of intimacy: Sexuality, love, and eroticism in modern societies. Stanford: Stanford University Press.

Golafshani, N. (2003). Understanding reliability and validity in qualitative research. The Qualitative Report, 8(4), 597–607.

Gott, M., & Hinchliff, S. (2003). How important is sex in later life? The views of older people. Age Aging, 56, 1617–1628.

Harvey, J. H. (2000). Give sorrow words. Perspectives on loss and trauma. Philadelphia, PA: Brunner/Mazel.

Hesamiyan, F. Etemad, G., & Haeri, M. (2004). Urbanization in Iran. Tehran: Agah Press (Persian).

Hewitt, B., Baxter, J., & Western, M. (2005). Marriage breakdown in Australia: the social correlates of separation and divorce. Journal of Sociology, 41, 163–183.

Hsiu-Chen, B. Y., Lorenz, F. O., Wickrama, K. A. S., Conger, R. D., & Elder, G. H., Jr. (2006). Relationships among sexual satisfaction, marital quality, and marital instability at midlife. Journal of Family Psychology, 20(2), 339–343.

Huminfar, E., (2003). Transformation of genderalised socialization. Women research, 1(7), 89–115 (Persian).

Lincoln, Y. S., & Guba, E. G. (1985). Naturalistic inquiry. London: Sage.

Luborsky, M. R., & Rubinstein, L. R. (1995). Sampling in qualitative research, rationale, issues, and methods. Research on Aging, 17(1), 89–113.

MacNeil, S., & Byers, E. S. (2005). Further validation of the interpersonal exchange model of sexual satisfaction. Journal of Sex and Marital Therapy, 32, 53–69.

Mahmodiyan, H., & Khodamoradi, H. (2010). Investigation of relation between divorce and socio-economic development in Iran. Iranian Journal of Studies on Social Security, 23, 14–41 (Persian).

Mahoney, M. M. (2006). The law of divorce and relationship dissolution. In M. A. Fine and J. H. Harvey (Eds.), Handbook of divorce and relationship dissolution (pp. 533–552). New York: Taylor & Francis.

Matthijs, K., Baerts, A., & Van de Putte, B. (2008). Determinants of divorce in nineteenth-century flanders. Journal of Family History, 33, 239–261.

Maundeni, T. (2000). The consequences of parental separation and divorce for the economic, social and emotional circumstances of children in Botswana. Childhood, 7, 213–223.

McHugh, M. C. (2006). What do women want? A new view of women's sexual problems. Sex Roles, 54, 361–369.

Merton, R. K. (1968). Social theory and social structure. New York: The Free Press.

Metts, S., Braithwaite, D. O., & Fine, M. A. (2009) Hurt in postdivorce relationships. In A. L. Vangelisti (Ed.), Feeling hurt in close relationships (pp. 336-355). Cambridge: Cambridge University Press.

Miller, R. L., & Brewer, J. D. (2003). The A ± Z of social research: a dictionary of key social science research concepts. London: Sage.

Mohseni, M. (2003). Marriage and family in Iran. Tehran: Aron (Persian).

Olson, D. H., & Defrain, J. (2006). Marriage and families. New York: Mc Graw Hill.

Rafipoor, F. (1998). Modernization and Conflict "An attempt toward the analysis of the Islamic Revolution and Social Problem of Iran". Tehran: Enteshar Publication Co (Persian).

Rafipoor, F. (2003). An introduction on applied sociology (3rd ed.). Tehran: Enteshar Publication Co (Persian).

Rahmani, A., Merghati, K. E., & AlahGholi, L. (2009). Sexual satisfaction and its relation to marital happiness in Iranians. Iranian Journal of Public Health, 38(4), 77–82.

Ritzer, G. (1993). The McDonaldization of Society. Thousand Oaks: Pine Forge Press.

Ritzer, G. (Ed.). (2002). McDonaldization: The reader. Thousand Oaks: Pine Forge.

Sayer, L. C., & Bianchi, S. M. (2000). Women's economic independence and the probability of divorce: a review and reexamination. Journal of Family Issues, 21, 906–943.

Scott, J. (2006). Sociology: The key concepts. Abingdon: Routledge.

Sheikhi, K., Khosravi, J., Gharibi, H., Gholizadeh, Z., & Hassanzadeh M. (2012). Understanding of divorce and its positive consequences (A qualitative research). Journal of Family Counseling & Psychotherapy, 1(4):64-77) (Persian).

Simonsson, P., & Glenn, S. (2011). Ready, willing, and able to divorce: an economic and cultural history of divorce in twentieth-century Sweden. Journal of Family History, 36, 210–229.

Sprecher, S. (2002). Sexual satisfaction in premarital relationships: associations with satisfaction, love commitment, and stability. Journal of Sex Research, 39(3), 190–196.

Strauss, A. L., & Corbin, J. (1990/1998). Basics of qualitative research (2nd ed.). London: Sage.

Teachman, J. D. (2002). Childhood living arrangements and the intergenerational transmission of divorce. Journal of Marriage and Family, 64, 717–729.

Theiss, J. A. (2011). Modeling dyadic effects in the associations between relational uncertainty, sexual communication and sexual satisfaction for husbands and wives. Communication Research, 38, 565–584.

Theiss, J. A., & Nagy, M. E. (2010). Actor-partner effects in the associations between relationship characteristics and reactions to marital sexual intimacy. Journal of Social and Personal Relationships, 27(8), 1089–1109.

Theiss, J. A., & Solomon, D. H. (2007). Communication and the emotional, cognitive, and relational consequences of first sexual encounters between partners. Communication Quarterly, 55, 179–206.

Trivedi, J. K., Sareen, H., Dhyani, M. (2009). Psychological Aspects of Widowhood and Divorce. Mens Sana Monogr, 7(1), 37–49 (2009). doi:10.4103/0973-1229.4064.

Walby, S. (1990). Theorizing patriarchy. Oxford: Blackwell.

Whittemore, R., Chase, K. S., & Lynn, M. C. (2001). Validity in qualitative research. Qualitative Health Research, 11, 522–537.
Acknowledgments
Firstly, we should thank all participants who have put much trust in us and shared with us their experiences. Next, our particular thanks go to all interviewers and to our colleagues, especially, Mahshid Shahidi, Azadeh Vahidnia, Sheyda Khaledi, who are experts and specialists in the field of family in Tehran. Respected officials and personnel of Amene Orphan Asylum also deserve our sincere thanks for their full collaboration.
About this article
Cite this article
Barzoki, M.H., Tavakoll, M. & Burrage, H. Rational-Emotional 'Divorce' in Iran. Applied Research Quality Life 10, 107–122 (2015). https://doi.org/10.1007/s11482-014-9303-9
Received:

Accepted:

Published:

Issue Date:
Keywords
Divorce

Patriarchy

Emotional distancing

Unequal exchange

Inequality