Abstract
There is increased scientific interest in the effects of nutrition on cognition and well-being. Plant sourced polysaccharides play multiple roles in the biological processes required for health and well-being. This study explored the subjective experiential reports of well-being following intake of a plant derived polysaccharide supplement. The study used a 12 week double-blind, placebo controlled polysaccharide supplementation design. 109 middle-aged adults (45–60 years) took a standardised teaspoon of a combination of plant polysaccharides or a placebo twice daily for 12 weeks (3.6 g per day), and completed three, open-ended interviews at weeks 4, 8 and 12. Participants who took the polysaccharide supplement reported significantly more perceived beneficial changes in both physical and psychological well-being, specifically at week 12, compared to those who received the placebo. This study provides a starting point for understanding the perceived beneficial impact of polysaccharide interventions on aspects of well-being. Importantly, as a health-related application of polysaccharide science, this research supports the relationship that is emerging between the properties and function of polysaccharides. It is essential that future research assesses the effects of polysaccharide intake on a range of physical and psychological well-being outcomes to further the understanding of structure-function relationships with the aim of enhancing the functional health and well-being of individuals.
Access options
Buy single article
Instant access to the full article PDF.
US$ 39.95
Tax calculation will be finalised during checkout.
Subscribe to journal
Immediate online access to all issues from 2019. Subscription will auto renew annually.
US$ 79
Tax calculation will be finalised during checkout.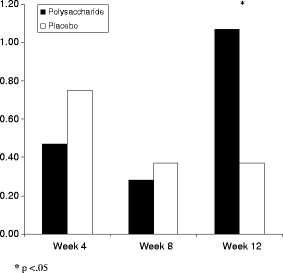 References
Alavi, A., & Axford, J. S. (2008). Sweet and sour: the impact of sugars on disease. Rheumatology, 47(6), 760–770.

Alavi, A., Fraser, O., Tarelli, E., M, B., & Axford, J. (2011). An open-label dosing study to evaluate the safety and effects of a dietary plant-derived polysaccharide supplement on the N-glycosylation status of serum glycoproteins in healthy subjects. European Journal of Clinical Nutrition, 1–9.

Backstrom, J. R., Westphal, R. S., Canton, H., & Sanders-Bush, E. (1995). Identification of rat serotonin 5-HT2C receptors as glycoproteins containing N-Linked oligosaccharides. Molecular Brain Research, 33(2), 311–318.

Benton, D., & Donohoe, R. (1999). The effects of nutrients on mood. Public Health Nutrition, 2(3a), 403–409.

Best, T., Kemps, E., & Bryan, J. (2005). Effects of saccharides on brain function and cognitive performance. Nutrition Reviews, 63(12), 409–418.

Best, T., Kemps, E., & Bryan, J. (2007). A role for dietary saccharide intake in cognitive performance. Nutritional Neuroscience, 10(3–4), 113–120.

Best, T., Kemps, E., & Bryan, J. (2009). Association between dietary saccharide intake and self-reported cognition in middle-aged adults. British Journal of Nutrition, 101, 93–99.

Best, T., Kemps, E., & Bryan, J. (2010). Saccharide effects on cognition and well-being in middle-aged adults: A randomised controlled trial. Developmental Neuropsychology, 35, 66–80.

Chan, W. K., Law, H. K. W., Lin, Z.-B., Lau, Y. L., & Chan, G. C.-F. (2007). Response of human dendritic cells to different immunomodulatory polysaccharides derived from mushroom and barley. International Immunology, 19(7), 891–899.

Chang, R. C.-C., & So, K.-F. (2008). Use of anti-aging herbal medicine, lycium barbarum, against aging-associated diseases. What do we know so far? Cell Molecular Neurobiology, 28, 643–652.

Chicoine, L. M., & Bahr, B. A. (2007). Excitotoxic Protection by Polyanionic Polysaccharide: Evidence of a Cell Survival Pathway Involving AMPA Receptor–MAPK Interactions. Journal of Neuroscience Research, 85, 294–302.

Dykman, K. D., & Briggs, J. (1997). The effects of nutritional supplementation on alcoholics: Mood states and craving for alcohol. Journal of American Nutraceutical Association (supp 1), 8–11.

Dykman, K. D., Tone, C., Ford, C., & Dykman, R. A. (1998). The effects of nutritional supplements on the symptoms of fibromyalgia and chronic fatigue syndrome. Integrative Physiological and Behavioural Science, 33(1), 61–71.

Gelderman, M., Stuart, R., Vigerust, D., Fuhrmann, S., Lefkowitz, D. L., Allen, R. C., et al. (1998). Perpetuation of inflammation associated with experimental arthritis: the role of macrophage activation by neutrophilic myeloperoxidase. Mediators of Inflammation, 7(6), 381–389.

Griessen, M., Speich, P. V., Infante, F., Bartholdi, P., Cochet, B., Donath, A., et al. (1989). Effect of absorbable and nonabsorbable sugars on intestinal calcium absorption in humans. Gastroenterology, 96(3), 769–775.

Hirano, E., Saito, H., Ito, Y., Ishige, K., Edagawa, Y., Shimizu, N., et al. (2003). P B-2, a polysaccharide fraction from lichen Flavoparmelia baltimorensis, peripherally promotes the induction of long-term potentiation in the rat dentate gyrus in vivo. Brain Research, 963, 307–311.

Kaplan, B., Crawford, S., Field, C. J., Simpson, J., & Steven, A. (2007). Vitamins, minerals, and mood. Psychological Bulletin, 133(5), 747–760.

Kleene, R., & Schachner, M. (2004). Glycans and neural cell interactions. Nature Reviews Neuroscience, 5(3), 195–208.

Kossi, J., Peltonen, J., Ekfors, T., Niinikoski, J., & Laato, M. (1999). Effects of hexose sugars: Glucose, fructose, galactose and mannose on wound healing in the rat. European Surgical Research, 31(1), 74–82.

Krishnan, V., & Nestler, E. J. (2010). Linking molecules to mood: new insight into the biology of depression. American Journal of Psychiatry, 167(11), 1305–1320.

Lee, J. H., O'Keefe, J. H., Lavie, C. J., & Harris, W. S. (2009). Omega-3 fatty acids: cardiovascular benefits, sources and sustainability. Nature Reviews Cardiology, 6(12), 753–758.

Lefkowitz, D. L., Gelderman, M. P., Fuhrmann, S. R., Graham, S., Starnes, J. D., Lefkowitz, S. S., et al. (1999). Neutrophilic myeloperoxidase-macrophage interactions perpetuate chronic inflammation associated with experimental arthritis. Clinical Immunology, 91(2), 145–155.

Leidy, N. K., & Vernon, M. (2008). Perspectives on patient-reported outcomes: content validity and qualitative research in a changing clinical trial environment. PharmacoEconomics, 26(5), 363–370.

Leung, M. Y. K., Liu, C., Koon, J. C. M., & Fung, K. P. (2006). Polysaccharide biological response modifiers. Immunology Letters, 105, 101–114.

Li, S. Y., Yang, D., Yeung, C. M., Yu, W. Y., Chang, R. C. C., So, K. F., et al. (2011). Lycium barbarum polysaccharides reduce neuronal damage, blood-retinal barrier disruption and oxidative stress in retinal ischemia/reperfusion injury. PLoS ONE, 6(1), e16380. doi:16310.11371/journal.pone.0016380.

Mann, J., Cummings, J. H., Englyst, H. N., Key, T., Liu, S., Riccardi, G., et al. (2007). FAO/WHO scientific update on carbohydrates in human nutrition: conclusions. European Journal of Clinical Nutrition, 61(Suppl 1), S132–S137.

Martin, P. T. (2002). Glycobiology of the synapse. Glycobiology, 12(1), 1R–7R.

Martinowich, K., & Lu, B. (2008). Interaction between BDNF and serotonin: role in mood disorders. Neuropsychopharmacology, 33(1), 73–83.

Marzorati, M., Verhelst, A., Luta, G., Sinnott, R., Verstraete, W., Van de Wiele, T., et al. (2010). In vitro modulation of the human gastrointestinal microbial community by plant-derived polysaccharide-rich dietary supplements. International Journal of Food Microbiology, 139, 168–176.

Matsumoto, S., Hara, T., Nagaoka, M., Mike, A., Mitsuyama, K., Sako, T., et al. (2008). A component of polysaccharide peptidoglycan complex on Lactobacillus induced an improvement of murine model of inflammatory bowel disease and colitis-associated cancer. Immunology, 128, e170–e180.

Matthies, H., Staak, S., & Krug, M. (1996). Fucose and fucosyllactose enhance in-vitro hippocampal long-term potentiation. Brain Research, 725, 276–280.

Schepetkin, I. A., & Quinn, M. T. (2006). Botanical polysaccharides: Macrophage immunomodulation and therapeutic potential. International Immunopharmacology, 6, 317–333.

Schickler, P. (2005). Achieving health or achieving wellbeing? Learning in Health and Social Care, 4(4), 217–227.

Smith, A. (2005). The concept of well-being: relevance to nutrition research. British Journal of Nutrition, 93(Suppl 1), S1–S5.

Stella, H., Service, R., & Schurmi, P. (2001). Carbohydrates and glycobiology. Science, 291, 5512.

Tate, C. G., & Blakely, R. D. (1994). The effect of N-linked glycosylation on activity of the Na(+)- and Cl(− )-dependent serotonin transporter expressed using recombinant baculovirus in insect cells. Journal Biological Chemistry, 269(42), 26303–26310.

Warrand, J. (2006). Healthy polysaccharides: the next chapter in food products. Food Technology and Biotechnology, 44(3), 355–370.
Acknowledgements
To Mannatech, Inc (Coppell, Texas) for the provision of the supplements. This study was conducted independently and there are no undisclosed financial conflicts of interest of any of the authors. Author TB received a write-up stipend from Mannatech, Inc for this manuscript.
About this article
Cite this article
Best, T., Kemps, E. & Bryan, J. Perceived Changes in Well-Being Following Polysaccharide Intake in Middle-Aged Adults. Applied Research Quality Life 7, 183–192 (2012). https://doi.org/10.1007/s11482-011-9158-2
Received:

Accepted:

Published:

Issue Date:
Keywords
Polysaccharides

Well-being

Middle-aged adults