Abstract
Oligodendrocytes produce the myelin that is critical for rapid neuronal transmission in the central nervous system (CNS). Disruption of myelin has devastating effects on CNS function, as in the demyelinating disease multiple sclerosis (MS). Microglia are the endogenous immune cells of the CNS and play a central role in demyelination and repair. There is a need for new potential therapies that regulate myelination and microglia to promote repair. Agathisflavone (FAB) is a non-toxic flavonoid that is known for its anti-inflammatory and neuroprotective properties. Here, we examined the effects of FAB (5-50 μM) on myelination and microglia in organotypic cerebellar slices prepared from P10-P12 Sox10-EGFP and Plp1-DsRed transgenic mice. Immunofluorescence labeling for myelin basic protein (MBP) and neurofilament (NF) demonstrates that FAB significantly increased the proportion of MBP + /NF + axons but did not affect the overall number of oligodendroglia or axons, or the expression of oligodendroglial proteins CNPase and MBP. FAB is known to be a phytoestrogen, but blockade of α- or β- estrogen receptors (ER) indicated the myelination promoting effects of FAB were not mediated by ER. Examination of microglial responses by Iba1 immunohistochemistry demonstrated that FAB markedly altered microglial morphology, characterized by smaller somata and reduced branching of their processes, consistent with a decreased state of activation, and increased Iba1 protein expression. The results provide evidence that FAB increases the extent of axonal coverage by MBP immunopositive oligodendroglial processes and has a modulatory effect upon microglial cells, which are important therapeutic strategies in multiple neuropathologies.
Graphical Abstract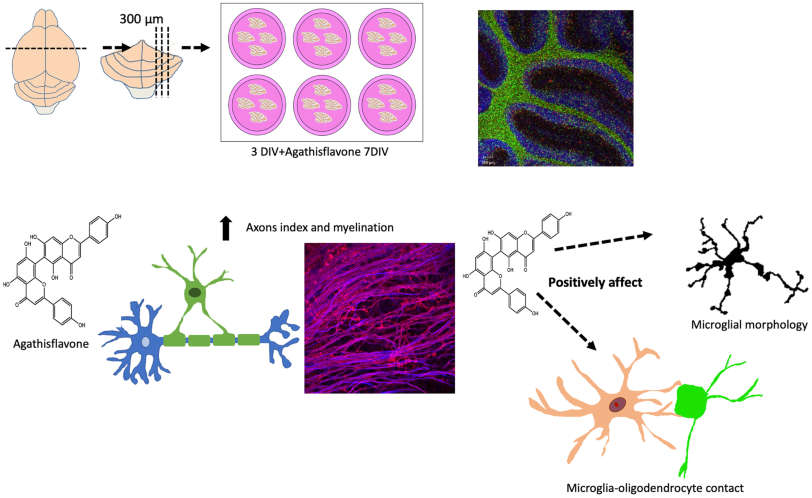 Access options
Buy single article
Instant access to the full article PDF.
US$ 39.95
Tax calculation will be finalised during checkout.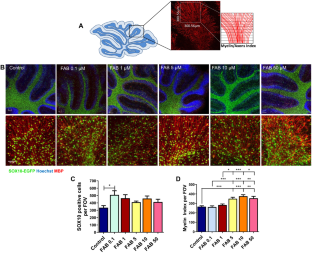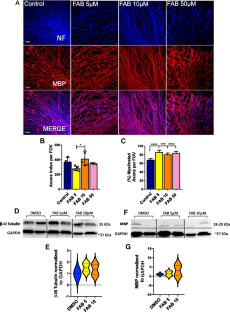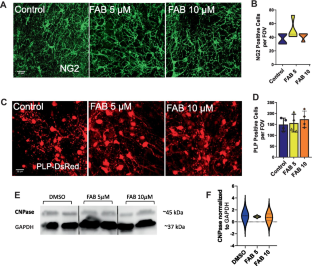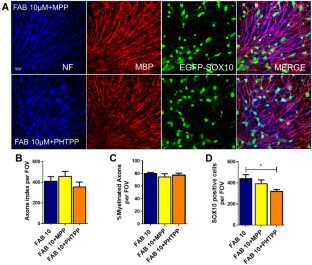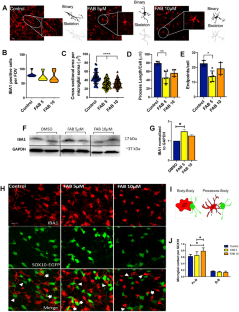 References
Arganda-Carreras I, Fernández-González R, Muñoz-Barrutia A, Ortiz-De-Solorzano C (2010) 3D reconstruction of histological sections: Application to mammary gland tissue. Microsc Res Tech 73:1019–1029. https://doi.org/10.1002/jemt.20829

Bagyinszky E, Van GV, Shim K et al (2017) Role of inflammatory molecules in the Alzheimer's disease progression and diagnosis. J Neurol Sci 376:242–254. https://doi.org/10.1016/j.jns.2017.03.031

Barcia C et al (2012) ROCK/Cdc42-mediated microglial motility and gliapse formation lead to phagocytosis of degenerating dopaminergic neurons in vivo. Sci Rep 2:1–13. https://doi.org/10.1038/srep00809

Butt AM, Rocha ICD La, Rivera A (2019) Oligodendroglial Cells in Alzheimer's Disease. In: Neuroglia in Neurodegenerative Diseases, Advances in Experimental Medicine and Biology. Springer Singapore, pp 325–333

Chakrabarti M, Haque A, Banik NL et al (2014) Estrogen receptor agonists for attenuation of neuroinflammation and neurodegeneration. Brain Res Bull 109:22–31. https://doi.org/10.1016/j.brainresbull.2014.09.004

Cherry JD, Olschowka JA, O'Banion MK (2014) Neuroinflammation and M2 microglia: The good, the bad, and the inflamed. J Neuroinflammation 11:1–15. https://doi.org/10.1186/1742-2094-11-98

Costa SL, Silva VDA, dos Santos SC et al (2016) Impact of Plant-Derived Flavonoids on Neurodegenerative Diseases. Neurotox Res 30:41–52. https://doi.org/10.1007/s12640-016-9600-1

Davis BM, Salinas-Navarro M, Cordeiro MF et al (2017) Characterizing microglia activation: A spatial statistics approach to maximize information extraction. Sci Rep 7:1–12. https://doi.org/10.1038/s41598-017-01747-8

de Almeida MMA de, Souza CDS, Dourado NS et al (2020a) Phytoestrogen Agathisflavone Ameliorates Neuroinflammation-Induced by LPS and IL-1β and Protects Neurons in Cocultures of Glia/Neurons. Biomolecules 10:1–17. https://doi.org/10.3390/biom10040562

de Almeida MMA de, Pieropan F, de Mattos OL et al (2020b) The flavonoid agathisflavone modulates the microglial neuroinflammatory response and enhances remyelination. Pharmacol Res 159:104997. https://doi.org/10.1016/j.phrs.2020.104997

De Simoni A, Yu LMY (2006) Preparation of organotypic hippocampal slice cultures: Interface method. Nat Protoc 1:1439–1445. https://doi.org/10.1038/nprot.2006.228

Domingues HS, Socodato R (2016) Microglia Crosstalk in Myelin Development. Damage, and Repair 4:1–16. https://doi.org/10.3389/fcell.2016.00071

Dos Santos Souza C, Grangeiro MS, Lima Pereira EP et al (2018) Agathisflavone, a flavonoid derived from Poincianella pyramidalis (Tul.), enhances neuronal population and protects against glutamate excitotoxicity. Neurotoxicology 65:85–97. https://doi.org/10.1016/j.neuro.2018.02.001

Doussau F, Dupont JL, Neel D et al (2017) Organotypic cultures of cerebellar slices as a model to investigate demyelinating disorders. Expert Opin Drug Discov 12:1011–1022. https://doi.org/10.1080/17460441.2017.1356285

Dubbelaar ML, Kracht L, Eggen BJL, Boddeke EWGM (2018) The Kaleidoscope of Microglial Phenotypes. Front Immunol 9:1753. https://doi.org/10.3389/fimmu.2018.01753

Edgar JM, McLaughlin M, Werner HB et al (2009) Early ultrastructural defects of axons and axon-glia junctions in mice lacking expression of Cnp1. Glia 57:1815–1824. https://doi.org/10.1002/glia.20893

Ferent J, Ruat M, Traiffort E (2013) Investigation of the proteolipid protein promoter activity during demyelination and repair. Differentiation 85:182–189. https://doi.org/10.1016/j.diff.2013.05.002

Franklin RJM, Ffrench-Constant C (2017) Regenerating CNS myelin - From mechanisms to experimental medicines. Nat Rev Neurosci 18:753–769. https://doi.org/10.1038/nrn.2017.136

Hagemeyer N, Hanft KM, Akriditou MA et al (2017) Microglia contribute to normal myelinogenesis and to oligodendrocyte progenitor maintenance during adulthood. Acta Neuropathol 134:441–458. https://doi.org/10.1007/s00401-017-1747-1

Hendrickx DAE, van Eden CG, Schuurman KG et al (2017) Staining of HLA-DR, Iba1 and CD68 in human microglia reveals partially overlapping expression depending on cellular morphology and pathology. J Neuroimmunol 309:12–22. https://doi.org/10.1016/j.jneuroim.2017.04.007

Ioannidou K, Anderson KI, Strachan D et al (2014) Astroglial-axonal interactions during early stages of myelination in mixed cultures using in vitro and ex vivo imaging techniques. BMC Neurosci 15:1–12. https://doi.org/10.1186/1471-2202-15-59

Jahn O, Siems SB, Kusch K et al (2020) The CNS Myelin Proteome: Deep Profile and Persistence After Post-mortem Delay. Front Cell Neurosci 14:1–15. https://doi.org/10.3389/fncel.2020.00239

Kuhlbrodt K, Herbarth B, Sock E et al (1998) Sox10, a novel transcriptional modulator in glial cells. J Neurosci 18:237–250. https://doi.org/10.1523/jneurosci.18-01-00237.1998

Kumar S,  Patel R, Moore  S et al (2013) Estrogen receptor β ligand therapy activates PI3K/Akt/mTOR signaling in oligodendrocytes and promotes remyelination in a mouse model of multiple sclerosis Neurobiol Dis 131 144. https://doi.org/10.1016/j.nbd.2013.04.005.Estrogen

Lloyd AF, Miron VE (2019) The pro-remyelination properties of microglia in the central nervous system. Nat Rev Neurol 15:447–458. https://doi.org/10.1038/s41582-019-0184-2

Mendes CC, Bahia MV, David JM, David JP (2000) Constituents of Caesalpinia pyramidalis. Fitoterapia 71:205–207. https://doi.org/10.1016/S0367-326X(99)00145-8

Munetsuna E, Hojo Y, Hattori M et al (2009) Retinoic acid stimulates 17β-estradiol and testosterone synthesis in rat hippocampal slice cultures. Endocrinology 150:4260–4269. https://doi.org/10.1210/en.2008-1644

Nave KA (2010) Myelination and support of axonal integrity by glia. Nature 468:244

Paulsen BS, Souza CS, Chicaybam L et al (2011) Agathisflavone Enhances Retinoic Acid-Induced Neurogenesis and Its Receptors α and β in Pluripotent Stem Cells. Stem Cells Dev 20:1711–1721. https://doi.org/10.1089/scd.2010.0446

Peferoen L, Kipp M, van der Valk P et al (2014) Oligodendrocyte-microglia cross-talk in the central nervous system. Immunology 141:302–313. https://doi.org/10.1111/imm.12163

Reich DS, Lucchinetti CF, Calabresi PA (2018) Mult Scler 378:169–180. https://doi.org/10.1056/NEJMra1401483.Multiple

Roach A, Takahashi N, Pravtcheva D et al (1985) Chromosomal mapping of mouse myelin basic protein gene and structure and transcription of the partially deleted gene in shiverer mutant mice. Cell 42:149–155. https://doi.org/10.1016/S0092-8674(85)80110-0

Snaidero N, Velte C, Myllykoski M et al (2017) Antagonistic Functions of MBP and CNP Establish Cytosolic Channels in CNS Myelin. Cell Rep 18:314–323. https://doi.org/10.1016/j.celrep.2016.12.053

Song GJ, Suk K (2017) Pharmacological modulation of functional phenotypes of microglia in neurodegenerative diseases Front Aging Neurosci 9 https://doi.org/10.3389/fnagi.2017.00139

Stassart RM, Möbius W, Nave K, Edgar JM (2018) The Axon-Myelin Unit in Development and Degenerative Disease. 12:. https://doi.org/10.3389/fnins.2018.00467

Stoppini L, Buchs PA, Muller D (1991) A simple method for organotypic cultures of nervous tissue. J Neurosci Methods 37:173–182

Wood TL, Bercury KK, Cifelli SE et al (2013) mTOR: A link from the extracellular milieu to transcriptional regulation of oligodendrocyte development. ASN Neuro 5:63–79. https://doi.org/10.1042/AN20120092

Young K, Morrison H (2018) Quantifying microglia morphology from photomicrographs of immunohistochemistry prepared tissue using imagej. J Vis Exp 2018:1–9. https://doi.org/10.3791/57648
Funding
This work was supported by the Multiple Sclerosis Society (AB, FP) and the Biotechnology and Biological Sciences Research Council (AB, grant number BB/M029379/1). We thank the Coordination of Personnel Improvement of Higher Level (CAPES, Process PDSE Nº 88881.133939/2016–01; and Process PGCI Nº 88881.117666/2016–01), the National Council for Scientific and Technological Development (CNPq, Scholarship Nº 140333/2016–9, Post-Graduation Program in Immunology- Federal University of Bahia-Brazil), Foundation for Research Support of the State of Bahia (FAPESB, Process Nº INT 0016/2016) and Post-Graduation Program in Immunology- Federal University of Bahia-Brazil for fellowship (CAPES Process Nº 0001). This work was additionally funded by MS Society of Canada (3573) and Canadian Institutes for Health Research (CIHR PS 166120) operating grants as well as Canada Research Chair Tier II award in Neural Stem Cell Biology awarded to A.V.
Ethics declarations
Conflict of interest
AMB is a share-holder in the company 'GliaGenesis Ltd.'. Otherwise, the authors report no conflicts of interest, including personal or financial.
Additional information
Publisher's Note
Springer Nature remains neutral with regard to jurisdictional claims in published maps and institutional affiliations.
About this article
Cite this article
de Almeida, M.M.A., Pieropan, F., Footz, T. et al. Agathisflavone Modifies Microglial Activation State and Myelination in Organotypic Cerebellar Slices Culture. J Neuroimmune Pharmacol (2021). https://doi.org/10.1007/s11481-021-09991-6
Received:

Accepted:

Published:
Keywords
Natural products

Flavonoids

Myelination

Microglia