Access options
Buy single article
Instant access to the full article PDF.
US$ 39.95
Tax calculation will be finalised during checkout.
Subscribe to journal
Immediate online access to all issues from 2019. Subscription will auto renew annually.
US$ 79
Tax calculation will be finalised during checkout.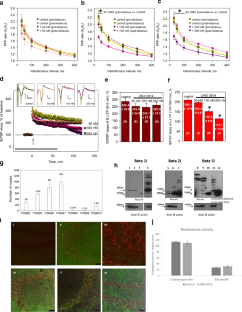 Data availability
(Data transparency) Data is available upon request.
Funding
The study was supported by the Russian Science Foundation grant 18–74-10095, electrophysiological experiments were supported by Russian Ministry of Science and Education (agreement #075–15–2020-801). The immunofluorescence was performed using equipment of the Core Centrum of Institute of Developmental Biology RAS. The work of AT, IV and LYu was supported by Government program of basic research in Koltzov Institute of Developmental Biology, Russian Academy of Sciences in 2020, No. 0108–2019–0002.
Ethics declarations
Conflicts of Interest/Competing Interests
Authors declare no conflicts of interests.
Ethics Approval
All experiments were performed in accordance with the European Convention for the Protection of Vertebrate Animals Used for Experimental and Other Scientific Research Purposes 1986 86/609 / EEC and the institutional requirements for the care and use of laboratory animals (Institute of Higher Nervous Activity and Neurophysiology, RAS, Russia).
Consent to Participate
Not applicable.
Consent for Publication
Not applicable.
Code Availability
Not applicable
Additional information
Publisher's Note
Springer Nature remains neutral with regard to jurisdictional claims in published maps and institutional affiliations.
Supplementary Information
Suppl. Figure. Analysis of the anti-β5i antibodies. a. The antibodies were obtained after immunization of rabbits with the C-terminal murine β5i peptide (in red) conjugated with ovalbumin. After the third immunization animal sera were analyzed by immunoblotting with the 20S immunoproteasome (Enzo, USA) as the antigen (b). All animal sera were collected, and specific antibodies were obtained by affinity chromatography and tested as above (c). Immunoblotting of the purified recombinant β5i-subunit with the obtained antibodies (d). (PPTX 3593 kb)
About this article
Cite this article
Maltsev, A., Funikov, S., Burov, A. et al. Immunoproteasome Inhibitor ONX-0914 Affects Long-Term Potentiation in Murine Hippocampus. J Neuroimmune Pharmacol (2021). https://doi.org/10.1007/s11481-020-09973-0
Received:

Accepted:

Published:
Keywords
Proteasome

Immunoproteasome

Proteasome inhibitor

ONX-0914

Synaptic plasticity