Abstract
While there is an emerging consensus that engagement of the Mu opioid receptor by opioids may modulate various stages the HIV life cycle (e.g.: increasing cell susceptibility to infection, promoting viral transcription, and depressing immune responses to virally-infected cells), the overall effect on latency and viral reservoirs remains unclear. Importantly, the hypothesis that the increase in immune activation observed in chronic opioid users by direct or indirect mechanisms (i.e., microbial translocation) would lead to a larger HIV reservoir after ART-suppression has not been supported to date. The potential for a subsequent decrease in reservoirs after ART-suppression has been postulated and is supported by early reports of opioid users having lower latent HIV burden. Here, we review experimental data supporting the link between opioid use and HIV modulation, as well as the scientific premise for expecting differential changes in immune activation and HIV reservoir between different medications for opioid use disorder. A better understanding of potential changes in HIV reservoirs relative to the engagement of the Mu opioid receptor and ART-mediated immune reconstitution will help guide future cure-directed studies in persons living with HIV and opioid use disorder.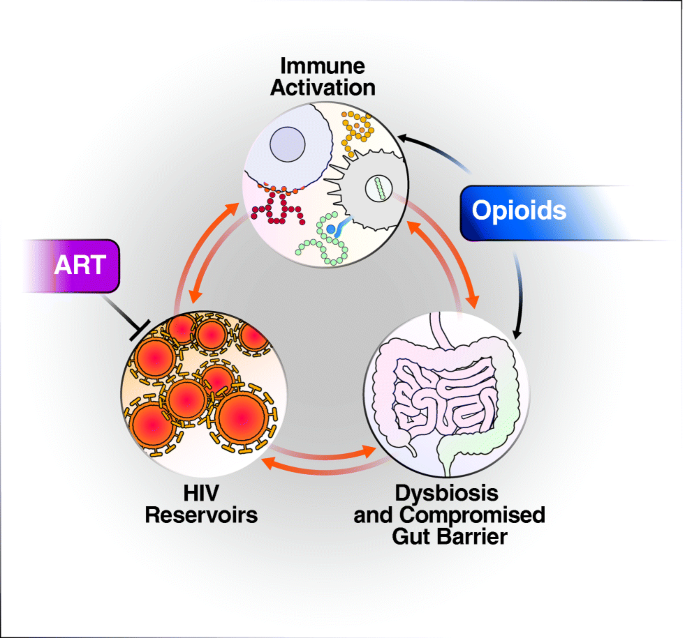 Access options
Buy single article
Instant access to the full article PDF.
US$ 39.95
Tax calculation will be finalised during checkout.
Subscribe to journal
Immediate online access to all issues from 2019. Subscription will auto renew annually.
US$ 79
Tax calculation will be finalised during checkout.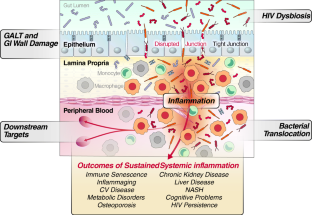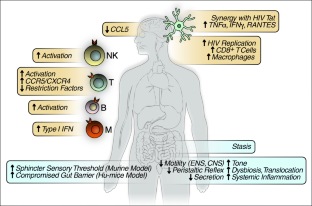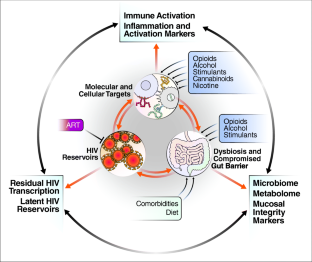 References
Abdel-Mohsen M et al. (2018) CD32 is expressed on cells with transcriptionally active HIV but does not enrich for HIV DNA in resting T cells. Sci Transl Med 10

Abdulle S, Hagberg L, Svennerholm B, Fuchs D, Gisslen M (2002) Continuing intrathecal immunoactivation despite two years of effective antiretroviral therapy against HIV-1 infection. Aids 16:2145–2149

Acharya C, Betrapally NS, Gillevet PM, Sterling RK, Akbarali H, White MB, Ganapathy D, Fagan A, Sikaroodi M, Bajaj JS (2017) Chronic opioid use is associated with altered gut microbiota and predicts readmissions in patients with cirrhosis. Aliment Pharmacol Ther 45:319–331

Akbarali HI, Dewey WL (2019) Gastrointestinal motility, dysbiosis and opioid-induced tolerance: is there a link? Nat Rev Gastroenterol Hepatol 16:323–324

Al-Hashimi M, Scott SW, Thompson JP, Lambert DG (2013) Opioids and immune modulation: more questions than answers. Br J Anaesth 111:80–88

Allam O, Samarani S, Mehraj V, Jenabian MA, Tremblay C, Routy JP, Amre D, Ahmad A (2018) HIV induces production of IL-18 from intestinal epithelial cells that increases intestinal permeability and microbial translocation. PLoS One 13:e0194185

Applebaum AJ, Reilly LC, Gonzalez JS, Richardson MA, Leveroni CL, Safren SA (2009) The impact of neuropsychological functioning on adherence to HAART in HIV-infected substance abuse patients. AIDS Patient Care STDs 23:455–462

Bachmann N et al (2019) Determinants of HIV-1 reservoir size and long-term dynamics during suppressive ART. Nat Commun 10:3193

Bandera A, De Benedetto I, Bozzi G, Gori A (2018) Altered gut microbiome composition in HIV infection: causes, effects and potential intervention. Curr Opin HIV AIDS 13:73–80

Banerjee A, Strazza M, Wigdahl B, Pirrone V, Meucci O, Nonnemacher MR (2011) Role of mu-opioids as cofactors in human immunodeficiency virus type 1 disease progression and neuropathogenesis. J Neuro-Oncol 17:291–302

Banerjee S, Sindberg G, Wang F, Meng J, Sharma U, Zhang L, Dauer P, Chen C, Dalluge J, Johnson T, Roy S (2016) Opioid-induced gut microbial disruption and bile dysregulation leads to gut barrier compromise and sustained systemic inflammation. Mucosal Immunol 9:1418–1428

Bastard JP, Soulie C, Fellahi S, Haim-Boukobza S, Simon A, Katlama C, Calvez V, Marcelin AG, Capeau J (2012) Circulating interleukin-6 levels correlate with residual HIV viraemia and markers of immune dysfunction in treatment-controlled HIV-infected patients. Antivir Ther 17:915–919

Bell JE, Brettle RP, Chiswick A, Simmonds P (1998) HIV encephalitis, proviral load and dementia in drug users and homosexuals with AIDS. Effect of neocortical involvement. Brain 121(Pt 11):2043–2052

Bilecki W, Wawrzczak-Bargiela A, Przewlocki R (2004) Activation of AP-1 and CRE-dependent gene expression via mu-opioid receptor. J Neurochem 90:874–882

Borner C, Kraus J (2013) Inhibition of NF-kappaB by opioids in T cells. J Immunol 191:4640–4647

Brenchley JM, Price DA, Schacker TW, Asher TE, Silvestri G, Rao S, Kazzaz Z, Bornstein E, Lambotte O, Altmann D, Blazar BR, Rodriguez B, Teixeira-Johnson L, Landay A, Martin JN, Hecht FM, Picker LJ, Lederman MM, Deeks SG, Douek DC (2006) Microbial translocation is a cause of systemic immune activation in chronic HIV infection. Nat Med 12:1365–1371

Brown JN, Ortiz GM, Angel TE, Jacobs JM, Gritsenko M, Chan EY, Purdy DE, Murnane RD, Larsen K, Palermo RE, Shukla AK, Clauss TR, Katze MG, McCune JM, Smith RD (2012) Morphine produces immunosuppressive effects in nonhuman primates at the proteomic and cellular levels. Mol Cell Proteomics 11:605–618

Bryant HU, Bernton EW, Holaday JW (1988) Morphine pellet-induced immunomodulation in mice: temporal relationships. J Pharmacol Exp Ther 245:913–920

Burdo TH, Katner SN, Taffe MA, Fox HS (2006) Neuroimmunity, drugs of abuse, and neuroAIDS. J NeuroImmune Pharmacol 1:41–49

Burdo TH, Lo J, Abbara S, Wei J, DeLelys ME, Preffer F, Rosenberg ES, Williams KC, Grinspoon S (2011a) Soluble CD163, a novel marker of activated macrophages, is elevated and associated with noncalcified coronary plaque in HIV-infected patients. J Infect Dis 204:1227–1236

Burdo TH, Lentz MR, Autissier P, Krishnan A, Halpern E, Letendre S, Rosenberg ES, Ellis RJ, Williams KC (2011b) Soluble CD163 made by monocyte/macrophages is a novel marker of HIV activity in early and chronic infection prior to and after anti-retroviral therapy. J Infect Dis 204:154–163

Byrd D, Murray J, Safdieh G, Morgello S (2012) Impact of opiate addiction on neuroinflammation in HIV. J Neuro-Oncol 18:364–373

Camilleri M, Lembo A, Katzka DA (2017) Opioids in gastroenterology: treating adverse effects and creating therapeutic benefits. Clin Gastroenterol Hepatol 15:1338–1349

Canan C, Alexander GC, Moore R, Murimi I, Chander G, Lau B (2019) Medicaid trends in prescription opioid and non-opioid use by HIV status. Drug Alcohol Depend 197:141–148

Carrico AW, Cherenack EM, Roach ME, Riley ED, Oni O, Dilworth SE, Shoptaw S, Hunt P, Roy S, Pallikkuth S, Pahwa S (2018) Substance-associated elevations in monocyte activation among methamphetamine users with treated HIV infection. AIDS 32:767–771

Cary DC, Fujinaga K, Peterlin BM (2016) Molecular mechanisms of HIV latency. J Clin Invest 126:448–454

Chandra LC, Kumar V, Torben W, Vande Stouwe C, Winsauer P, Amedee A, Molina PE, Mohan M (2015) Chronic administration of Delta9-tetrahydrocannabinol induces intestinal anti-inflammatory microRNA expression during acute simian immunodeficiency virus infection of rhesus macaques. J Virol 89:1168–1181

Chehimi J, Campbell DE, Azzoni L, Bacheller D, Papasavvas E, Jerandi G, Mounzer K, Kostman J, Trinchieri G, Montaner LJ (2002) Persistent decreases in blood plasmacytoid dendritic cell number and function despite effective highly active antiretroviral therapy and increased blood myeloid dendritic cells in HIV-infected individuals. J Immunol 168:4796–4801

Cheido MA, Gevorgyan MM, Zhukova EN (2014) Comparative evaluation of opioid-induced changes in immune reactivity of CBA mice. Bull Exp Biol Med 156:363–365

Cheung SC, Chattopadhyay SK, Morse HC 3rd, Pitha PM (1991) Expression of defective virus and cytokine genes in murine AIDS. J Virol 65:823–828

Chun TW, Carruth L, Finzi D, Shen X, DiGiuseppe JA, Taylor H, Hermankova M, Chadwick K, Margolick J, Quinn TC, Kuo YH, Brookmeyer R, Zeiger MA, Barditch-Crovo P, Siliciano RF (1997) Quantification of latent tissue reservoirs and total body viral load in HIV-1 infection. Nature 387:183–188

Cornwell WD, Lewis MG, Fan X, Rappaport J, Rogers TJ (2013) Effect of chronic morphine administration on circulating T cell population dynamics in rhesus macaques. J Neuroimmunol 265:43–50

Crooks AM, Bateson R, Cope AB, Dahl NP, Griggs MK, Kuruc JD, Gay CL, Eron JJ, Margolis DM, Bosch RJ, Archin NM (2015) Precise quantitation of the latent HIV-1 reservoir: implications for eradication strategies. J Infect Dis 212:1361–1365

Dave RS, Khalili K (2010) Morphine treatment of human monocyte-derived macrophages induces differential miRNA and protein expression: impact on inflammation and oxidative stress in the central nervous system. J Cell Biochem 110:834–845

Dillon SM, Kibbie J, Lee EJ, Guo K, Santiago ML, Austin GL, Gianella S, Landay AL, Donovan AM, Frank DN, Mc CM, Wilson CC (2017) Low abundance of colonic butyrate-producing bacteria in HIV infection is associated with microbial translocation and immune activation. AIDS 31:511–521

Donnadieu-Rigole H, Pansu N, Mura T, Pelletier S, Alarcon R, Gamon L, Perney P, Apparailly F, Lavigne JP, Dunyach-Remy C (2018) Beneficial effect of alcohol withdrawal on gut permeability and microbial translocation in patients with alcohol use disorder. Alcohol Clin Exp Res 42:32–40

Edelman EJ, Gordon KS, Tate JP, Becker WC, Bryant K, Crothers K, Gaither JR, Gibert CL, Gordon AJ, Marshall B, Rodriguez-Barradas MC, Samet JH, Skanderson M, Justice AC, Fiellin DA (2016) The impact of prescribed opioids on CD4 cell count recovery among HIV-infected patients newly initiating antiretroviral therapy. HIV Med 17:728–739

Edelman EJ, Gordon KS, Crothers K, Akgun K, Bryant KJ, Becker WC, Gaither JR, Gibert CL, Gordon AJ, Marshall BDL, Rodriguez-Barradas MC, Samet JH, Justice AC, Tate JP, Fiellin DA (2019) Association of Prescribed Opioids with Increased Risk of community-acquired pneumonia among patients with and without HIV. JAMA Intern Med 179:297–304

Eden A, Price RW, Spudich S, Fuchs D, Hagberg L, Gisslen M (2007) Immune activation of the central nervous system is still present after >4 years of effective highly active antiretroviral therapy. J Infect Dis 196:1779–1783

El-Hage N, Gurwell JA, Singh IN, Knapp PE, Nath A, Hauser KF (2005) Synergistic increases in intracellular Ca2+, and the release of MCP-1, RANTES, and IL-6 by astrocytes treated with opiates and HIV-1 tat. Glia 50:91–106

El-Hage N, Bruce-Keller AJ, Knapp PE, Hauser KF (2008a) CCL5/RANTES gene deletion attenuates opioid-induced increases in glial CCL2/MCP-1 immunoreactivity and activation in HIV-1 tat-exposed mice. J NeuroImmune Pharmacol 3:275–285

El-Hage N, Bruce-Keller AJ, Yakovleva T, Bazov I, Bakalkin G, Knapp PE, Hauser KF (2008b) Morphine exacerbates HIV-1 tat-induced cytokine production in astrocytes through convergent effects on [Ca(2+)](i), NF-kappaB trafficking and transcription. PLoS One 3:e4093

Engen PA, Green SJ, Voigt RM, Forsyth CB, Keshavarzian A (2015) The gastrointestinal microbiome: alcohol effects on the composition of intestinal microbiota. Alcohol Res 37:223–236

Fernandez S, Price P, McKinnon EJ, Nolan RC, French MA (2006) Low CD4+ T-cell counts in HIV patients receiving effective antiretroviral therapy are associated with CD4+ T-cell activation and senescence but not with lower effector memory T-cell function. Clin Immunol 120:163–170

Finzi D, Blankson J, Siliciano JD, Margolick JB, Chadwick K, Pierson T, Smith K, Lisziewicz J, Lori F, Flexner C, Quinn TC, Chaisson RE, Rosenberg E, Walker B, Gange S, Gallant J, Siliciano RF (1999) Latent infection of CD4+ T cells provides a mechanism for lifelong persistence of HIV-1, even in patients on effective combination therapy. Nat Med 5:512–517

Fischer-Smith T, Croul S, Sverstiuk AE, Capini C, L'Heureux D, Regulier EG, Richardson MW, Amini S, Morgello S, Khalili K, Rappaport J (2001) CNS invasion by CD14+/CD16+ peripheral blood-derived monocytes in HIV dementia: perivascular accumulation and reservoir of HIV infection. J Neuro-Oncol 7:528–541

French MA, King MS, Tschampa JM, da Silva BA, Landay AL (2009) Serum immune activation markers are persistently increased in patients with HIV infection after 6 years of antiretroviral therapy despite suppression of viral replication and reconstitution of CD4+ T cells. J Infect Dis 200:1212–1215

Galligan JJ (2015) HIV, opiates, and enteric neuron dysfunction. Neurogastroenterol Motil 27:449–454

Garcia JB, Cardoso MG, Dos-Santos MC (2012) Opioids and the immune system: clinical relevance. Rev Bras Anestesiol 62:709–718

Gessi S, Borea PA, Bencivenni S, Fazzi D, Varani K, Merighi S (2016) The activation of mu-opioid receptor potentiates LPS-induced NF-kB promoting an inflammatory phenotype in microglia. FEBS Lett 590:2813–2826

Gill AJ, Kolson DL (2014) Chronic inflammation and the role for cofactors (hepatitis C, drug abuse, antiretroviral drug toxicity, aging) in HAND persistence. Curr HIV/AIDS Rep 11:325–335

Giugliano D, Ceriello A, Quatraro A, D'Onofrio F (1985) Endogenous opiates, heroin addiction, and non-insulin-dependent diabetes. Lancet 2:769–770

Goicoechea M, Smith DM, Liu L, May S, Tenorio AR, Ignacio CC, Landay A, Haubrich R (2006) Determinants of CD4+ T cell recovery during suppressive antiretroviral therapy: association of immune activation, T cell maturation markers, and cellular HIV-1 DNA. J Infect Dis 194:29–37

Guo CJ, Li Y, Tian S, Wang X, Douglas SD, Ho WZ (2002) Morphine enhances HIV infection of human blood mononuclear phagocytes through modulation of beta-chemokines and CCR5 receptor. J Investig Med 50:435–442

Happel C, Kutzler M, Rogers TJ (2011) Opioid-induced chemokine expression requires NF-kappaB activity: the role of PKCzeta. J Leukoc Biol 89:301–309

Hauser KF, El-Hage N, Buch S, Berger JR, Tyor WR, Nath A, Bruce-Keller AJ, Knapp PE (2005) Molecular targets of opiate drug abuse in neuroAIDS. Neurotox Res 8:63–80

Hauser KF, Fitting S, Dever SM, Podhaizer EM, Knapp PE (2012) Opiate drug use and the pathophysiology of neuroAIDS. Curr HIV Res 10:435–452

Hearps AC, Maisa A, Cheng WJ, Angelovich TA, Lichtfuss GF, Palmer CS, Landay AL, Jaworowski A, Crowe SM (2012) HIV infection induces age-related changes to monocytes and innate immune activation in young men that persist despite combination antiretroviral therapy. Aids 26:843–853

Henderson LJ, Reoma LB, Kovacs JA, Nath A (2020) Advances toward curing HIV-1 infection in tissue reservoirs. J Virol 94

Hileman OCBE, Gabriel J, Kettelhut A, Kosco JC, Labbato D, Rodgers TO, Smith CA, Funderburg N, McComsey GA (2020) Impact of intravenous heroin and HIV on gut integrity and immune activation. In: Conference on Retroviruses and Opportunistic Infecitons. Boston

Holzer P (2004) Opioids and opioid receptors in the enteric nervous system: from a problem in opioid analgesia to a possible new prokinetic therapy in humans. Neurosci Lett 361:192–195

Holzer P (2008) New approaches to the treatment of opioid-induced constipation. Eur Rev Med Pharmacol Sci 12(Suppl 1):119–127

Hunt PW (2012) HIV and inflammation: mechanisms and consequences. Curr HIV/AIDS Rep 9:139–147

Hunt PW, Martin JN, Sinclair E, Bredt B, Hagos E, Lampiris H, Deeks SG (2003) T cell activation is associated with lower CD4+ T cell gains in human immunodeficiency virus-infected patients with sustained viral suppression during antiretroviral therapy. J Infect Dis 187:1534–1543

Jaureguiberry-Bravo M, Lopez L, Berman JW (2018) Frontline science: buprenorphine decreases CCL2-mediated migration of CD14(+) CD16(+) monocytes. J Leukoc Biol 104:1049–1059

Karagiannis TT, Cleary JP Jr, Gok B, Henderson AJ, Martin NG, Yajima M, Nelson EC, Cheng CS (2020) Single cell transcriptomics reveals opioid usage evokes widespread suppression of antiviral gene program. Nat Commun 11:2611

Khansari M, Sohrabi M, Zamani F (2013) The Useage of opioids and their adverse effects in gastrointestinal practice: A review. Middle East J Dig Dis 5:5–16

Khoury G, Darcis G, Lee MY, Bouchat S, Van Driessche B, Purcell DFJ, Van Lint C (2018) The molecular biology of HIV latency. Adv Exp Med Biol 1075:187–212

Kirk GD, Mehta SH, Astemborski J, Ritter JD, Laird G, Siliciano R (2020) Nonstructured treatment interruptions contribute to latent HIV-1 reservoir in PWID. In: Conference on Retroviruses and Opportunistic Infections. Boston

Koay WLA, Siems LV, Persaud D (2018) The microbiome and HIV persistence: implications for viral remission and cure. Curr Opin HIV AIDS 13:61–68

Kumar R, Torres C, Yamamura Y, Rodriguez I, Martinez M, Staprans S, Donahoe RM, Kraiselburd E, Stephens EB, Kumar A (2004) Modulation by morphine of viral set point in rhesus macaques infected with simian immunodeficiency virus and simian-human immunodeficiency virus. J Virol 78:11425–11428

Le Bastard Q, Al-Ghalith GA, Gregoire M, Chapelet G, Javaudin F, Dailly E, Batard E, Knights D, Montassier E (2018) Systematic review: human gut dysbiosis induced by non-antibiotic prescription medications. Aliment Pharmacol Ther 47:332–345

Lederman MM, Calabrese L, Funderburg NT, Clagett B, Medvik K, Bonilla H, Gripshover B, Salata RA, Taege A, Lisgaris M, McComsey GA, Kirchner E, Baum J, Shive C, Asaad R, Kalayjian RC, Sieg SF, Rodriguez B (2011) Immunologic failure despite suppressive antiretroviral therapy is related to activation and turnover of memory CD4 cells. J Infect Dis 204:1217–1226

Lee GQ, Orlova-Fink N, Einkauf K, Chowdhury FZ, Sun X, Harrington S, Kuo HH, Hua S, Chen HR, Ouyang Z, Reddy K, Dong K, Ndung'u T, Walker BD, Rosenberg ES, Yu XG, Lichterfeld M (2017) Clonal expansion of genome-intact HIV-1 in functionally polarized Th1 CD4+ T cells. J Clin Invest 127:2689–2696

Leibrand CR, Paris JJ, Jones AM, Masuda QN, Halquist MS, Kim WK, Knapp PE, Kashuba ADM, Hauser KF, McRae M (2019) HIV-1 tat and opioids act independently to limit antiretroviral brain concentrations and reduce blood-brain barrier integrity. J Neuro-Oncol 25:560–577

Li Y, Merrill JD, Mooney K, Song L, Wang X, Guo CJ, Savani RC, Metzger DS, Douglas SD, Ho WZ (2003) Morphine enhances HIV infection of neonatal macrophages. Pediatr Res 54:282–288

Lujan JA, Rugeles MT, Taborda NA (2019) Contribution of the microbiota to intestinal homeostasis and its role in the pathogenesis of HIV-1 infection. Curr HIV Res 17:13–25

Martin JL, Koodie L, Krishnan AG, Charboneau R, Barke RA, Roy S (2010) Chronic morphine administration delays wound healing by inhibiting immune cell recruitment to the wound site. Am J Pathol 176:786–799

Martin-Kleiner I, Balog T, Gabrilovac J (2006) Signal transduction induced by opioids in immune cells: a review. Neuroimmunomodulation 13:1–7

Mbonye U, Karn J (2017) The molecular basis for human immunodeficiency virus latency. Annu Rev Virol 4:261–285

McArthur JC, Steiner J, Sacktor N, Nath A (2010) Human immunodeficiency virus-associated neurocognitive disorders: mind the gap. Ann Neurol 67:699–714

McLane VD, Cao L, Willis CL (2014) Morphine increases hippocampal viral load and suppresses frontal lobe CCL5 expression in the LP-BM5 AIDS model. J Neuroimmunol 269:44–51

McNeil AJ (1997) Bayes estimates for immunological progression rates in HIV disease. Stat Med 16:2555–2572

Mehandru S, Deren S, Kang SY, Banfield A, Garg A, Garmon D, LaMar M, Evering TH, Markowitz M (2015) Behavioural, mucosal and systemic immune parameters in HIV-infected and uninfected injection drug users. J Addict Res Ther 6:1–8

Meijerink H, Wisaksana R, Iskandar S, den Heijer M, van der Ven AJ, Alisjahbana B, van Crevel R (2014) Injecting drug use is associated with a more rapid CD4 cell decline among treatment naive HIV-positive patients in Indonesia. J Int AIDS Soc 17:18844

Meng J, Yu H, Ma J, Wang J, Banerjee S, Charboneau R, Barke RA, Roy S (2013) Morphine induces bacterial translocation in mice by compromising intestinal barrier function in a TLR-dependent manner. PLoS One 8:e54040

Meng J, Sindberg GM, Roy S (2015) Disruption of gut homeostasis by opioids accelerates HIV disease progression. Front Microbiol 6:643

Meng J, Banerjee S, Zhang L, Sindberg G, Moidunny S, Li B, Robbins DJ, Girotra M, Segura B, Ramakrishnan S, Roy S (2019) Opioids impair intestinal epithelial repair in HIV-infected humanized mice. Front Immunol 10:2999

Meyer VJ, Rubin LH, Martin E, Weber KM, Cohen MH, Golub ET, Valcour V, Young MA, Crystal H, Anastos K, Aouizerat BE, Milam J, Maki PM (2013) HIV and recent illicit drug use interact to affect verbal memory in women. J Acquir Immune Defic Syndr 63:67–76

Monnig MA, Kahler CW, Cioe PA, Tucker L, Monti PM, Mayer KH, Ramratnam B (2016) Alcohol use predicts elevation in inflammatory marker soluble CD14 in men living with HIV. AIDS Care 28:1434–1440

Moroz E, Albrecht RA, Aden B, Beeder AB, Yuan J, Garcia-Sastre A, Edlin BR, Salvatore M (2016) Active opioid use does not attenuate the humoral responses to inactivated influenza vaccine. Vaccine 34:1363–1369

Muller-Lissner S, Bassotti G, Coffin B, Drewes AM, Breivik H, Eisenberg E, Emmanuel A, Laroche F, Meissner W, Morlion B (2017) Opioid-induced constipation and bowel dysfunction: A clinical guideline. Pain Med 18:1837–1863

Mysels DJ, Sullivan MA (2010) The relationship between opioid and sugar intake: review of evidence and clinical applications. J Opioid Manag 6:445–452

Nakanjako D, Ssewanyana I, Mayanja-Kizza H, Kiragga A, Colebunders R, Manabe YC, Nabatanzi R, Kamya MR, Cao H (2011) High T-cell immune activation and immune exhaustion among individuals with suboptimal CD4 recovery after 4 years of antiretroviral therapy in an African cohort. BMC Infect Dis 11:43

Neuhaus J, Jacobs DR Jr, Baker JV, Calmy A, Duprez D, La Rosa A, Kuller LH, Pett SL, Ristola M, Ross MJ, Shlipak MG, Tracy R, Neaton JD (2010) Markers of inflammation, coagulation, and renal function are elevated in adults with HIV infection. J Infect Dis 201:1788–1795

Ninkovic J, Roy S (2013) Role of the mu-opioid receptor in opioid modulation of immune function. Amino Acids 45:9–24

Novati S, Sacchi P, Cima S, Zuccaro V, Columpsi P, Pagani L, Filice G, Bruno R (2015) General issues on microbial translocation in HIV-infected patients. Eur Rev Med Pharmacol Sci 19:866–878

Palmer CS, Ostrowski M, Gouillou M, Tsai L, Yu D, Zhou J, Henstridge DC, Maisa A, Hearps AC, Lewin SR, Landay A, Jaworowski A, McCune JM, Crowe SM (2014) Increased glucose metabolic activity is associated with CD4+ T-cell activation and depletion during chronic HIV infection. AIDS 28:297–309

Patro SC, Azzoni L, Joseph J, Fair MG, Sierra-Madero JG, Rassool MS, Sanne I, Montaner LJ (2016) Antiretroviral therapy in HIV-1-infected individuals with CD4 count below 100 cells/mm3 results in differential recovery of monocyte activation. J Leukoc Biol 100:223–231

Peng J, Sarkar S, Chang SL (2012) Opioid receptor expression in human brain and peripheral tissues using absolute quantitative real-time RT-PCR. Drug Alcohol Depend 124:223–228

Peterson PK, Sharp B, Gekker G, Brummitt C, Keane WF (1987) Opioid-mediated suppression of cultured peripheral blood mononuclear cell respiratory burst activity. J Immunol 138:3907–3912

Pirastu R, Fais R, Messina M, Bini V, Spiga S, Falconieri D, Diana M (2006) Impaired decision-making in opiate-dependent subjects: effect of pharmacological therapies. Drug Alcohol Depend 83:163–168

Pradhan AA, Befort K, Nozaki C, Gaveriaux-Ruff C, Kieffer BL (2011) The delta opioid receptor: an evolving target for the treatment of brain disorders. Trends Pharmacol Sci 32:581–590

Prevention CfDCa (2020) HIV surveillance report, 2018 (updated). In: HIV Surveillance Report

Purohit V, Rapaka RS, Rutter J, Shurtleff D (2012) Do opioids activate latent HIV-1 by down-regulating anti-HIV microRNAs? J NeuroImmune Pharmacol 7:519–523

Rapeli P, Fabritius C, Alho H, Salaspuro M, Wahlbeck K, Kalska H (2007) Methadone vs. buprenorphine/naloxone during early opioid substitution treatment: a naturalistic comparison of cognitive performance relative to healthy controls. BMC Clin Pharmacol 7:5

Rapeli P, Fabritius C, Kalska H, Alho H (2011) Cognitive functioning in opioid-dependent patients treated with buprenorphine, methadone, and other psychoactive medications: stability and correlates. BMC Clin Pharmacol 11:13

Reardon S (2019) The US opioid epidemic is driving a spike in infectious diseases. Nature 571:15–16

Reddy PV, Pilakka-Kanthikeel S, Saxena SK, Saiyed Z, Nair MP (2012) Interactive effects of morphine on HIV infection: role in HIV-associated neurocognitive disorder. AIDS Res Treat 2012:953678

Reynolds JL, Law WC, Mahajan SD, Aalinkeel R, Nair B, Sykes DE, Mammen MJ, Yong KT, Hui R, Prasad PN, Schwartz SA (2012) Morphine and galectin-1 modulate HIV-1 infection of human monocyte-derived macrophages. J Immunol 188:3757–3765

Rizzo MD, Henriquez JE, Blevins LK, Bach A, Crawford RB, Kaminski NE (2020) Targeting cannabinoid receptor 2 on peripheral leukocytes to attenuate inflammatory mechanisms implicated in HIV-associated neurocognitive disorder. J NeuroImmune Pharmacol

Rogers DF, Barnes PJ (1989) Opioid inhibition of neurally mediated mucus secretion in human bronchi. Lancet 1:930–932

Ronan MV, Herzig SJ (2016) Hospitalizations related to opioid abuse/dependence and associated serious infections increased sharply, 2002-12. Health Aff (Millwood) 35:832–837

Roy S, Ninkovic J, Banerjee S, Charboneau RG, Das S, Dutta R, Kirchner VA, Koodie L, Ma J, Meng J, Barke RA (2011) Opioid drug abuse and modulation of immune function: consequences in the susceptibility to opportunistic infections. J NeuroImmune Pharmacol 6:442–465

Sacerdote P, Franchi S, Panerai AE (2012) Non-analgesic effects of opioids: mechanisms and potential clinical relevance of opioid-induced immunodepression. Curr Pharm Des 18:6034–6042

Sachdeva N, Asthana V, Brewer TH, Garcia D, Asthana D (2008) Impaired restoration of plasmacytoid dendritic cells in HIV-1-infected patients with poor CD4 T cell reconstitution is associated with decrease in capacity to produce IFN-alpha but not proinflammatory cytokines. J Immunol 181:2887–2897

Saurer TB, Carrigan KA, Ijames SG, Lysle DT (2004) Morphine-induced alterations of immune status are blocked by the dopamine D2-like receptor agonist 7-OH-DPAT. J Neuroimmunol 148:54–62

Schranz AJ, Fleischauer A, Chu VH, Wu LT, Rosen DL (2019) Trends in drug use-associated infective endocarditis and heart valve surgery, 2007 to 2017: A study of statewide discharge data. Ann Intern Med 170:31–40

Soyka M, Hock B, Kagerer S, Lehnert R, Limmer C, Kuefner H (2005) Less impairment on one portion of a driving-relevant psychomotor battery in buprenorphine-maintained than in methadone-maintained patients: results of a randomized clinical trial. J Clin Psychopharmacol 25:490–493

Soyka M, Limmer C, Lehnert R, Koller G, Martin G, Kufner H, Kagerer S, Haberthur A (2011) A comparison of cognitive function in patients under maintenance treatment with heroin, methadone, or buprenorphine and healthy controls: an open pilot study. Am J Drug Alcohol Abuse 37:497–508

Steele AD, Henderson EE, Rogers TJ (2003) Mu-opioid modulation of HIV-1 coreceptor expression and HIV-1 replication. Virology 309:99–107

Stimson GV, Cook C, Bridge J, Rio-Navarro J, Lines R, Barrett D (2010) Three cents a day is not enough: resourcing HIV-related harm reduction on a global basis. In

Strazza M, Pirrone V, Wigdahl B, Nonnemacher MR (2011) Breaking down the barrier: the effects of HIV-1 on the blood-brain barrier. Brain Res 1399:96–115

Strazza M, Pirrone V, Wigdahl B, Dampier W, Lin W, Feng R, Maubert ME, Weksler B, Romero IA, Couraud PO, Nonnemacher MR (2016) Prolonged morphine exposure induces increased firm adhesion in an in vitro model of the blood-brain barrier. Int J Mol Sci 17

Underwood ML, Nguyen T, Uebelhoer LS, Kunkel LE, Korthuis PT, Lancioni CL (2020) Altered monocyte phenotype and dysregulated innate cytokine responses among people living with HIV and opioid-use disorder. AIDS 34:177–188

Valdez H, Connick E, Smith KY, Lederman MM, Bosch RJ, Kim RS, St Clair M, Kuritzkes DR, Kessler H, Fox L, Blanchard-Vargas M, Landay A, Team ACTGP (2002) Limited immune restoration after 3 years' suppression of HIV-1 replication in patients with moderately advanced disease. Aids 16:1859–1866

Vallecillo G, Robles MJ, Torrens M, Samos P, Roquer A, Martires PK, Sanvisens A, Muga R, Pedro-Botet J (2018) Metabolic syndrome among individuals with heroin use disorders on methadone therapy: prevalence, characteristics, and related factors. Subst Abus 39:46–51

Visconti AJ, Sell J, Greenblatt AD (2019) Primary Care for Persons who Inject Drugs. Am Fam Physician 99:109–116

Volkow ND, Montaner J (2011) The urgency of providing comprehensive and integrated treatment for substance abusers with HIV. Health Aff (Millwood) 30:1411–1419

Volpe GE, Ward H, Mwamburi M, Dinh D, Bhalchandra S, Wanke C, Kane AV (2014) Associations of cocaine use and HIV infection with the intestinal microbiota, microbial translocation, and inflammation. J Stud Alcohol Drugs 75:347–357

Wang F, Roy S (2017) Gut homeostasis, microbial Dysbiosis, and opioids. Toxicol Pathol 45:150–156

Wang J, Barke RA, Charboneau R, Loh HH, Roy S (2003) Morphine negatively regulates interferon-gamma promoter activity in activated murine T cells through two distinct cyclic AMP-dependent pathways. J Biol Chem 278:37622–37631

Wang X, Ye L, Zhou Y, Liu MQ, Zhou DJ, Ho WZ (2011) Inhibition of anti-HIV microRNA expression: a mechanism for opioid-mediated enhancement of HIV infection of monocytes. Am J Pathol 178:41–47

Wang Y, Wang X, Ye L, Li J, Song L, Fulambarkar N, Ho W (2012) Morphine suppresses IFN signaling pathway and enhances AIDS virus infection. PLoS One 7:e31167

Wang X, Ma TC, Li JL, Zhou Y, Geller EB, Adler MW, Peng JS, Zhou W, Zhou DJ, Ho WZ (2015) Heroin inhibits HIV-restriction miRNAs and enhances HIV infection of macrophages. Front Microbiol 6:1230

Wang MR, Wu DD, Luo F, Zhong CJ, Wang X, Zhu N, Wu YJ, Hu HT, Feng Y, Wang X, Xiong HR, Hou W (2020) Methadone inhibits viral restriction factors and facilitates HIV infection in macrophages. Front Immunol 11:1253

Weiner LD, Retuerto M, Hager CL, El Kamari V, Shan L, Sattar A, Kulkarni M, Funderburg N, Ghannoum MA, Dirajlal-Fargo S, McComsey GA (2019) Fungal translocation is associated with immune activation and systemic inflammation in treated HIV. AIDS Res Hum Retrovir 35:461–472

Wiese AD, Griffin MR, Schaffner W, Stein CM, Greevy RA, Mitchel EF, Grijalva CG (2019) Long-acting opioid use and the risk of serious infections: A retrospective cohort study. Clin Infect Dis 68:1862–1869

Yousif S, Saubamea B, Cisternino S, Marie-Claire C, Dauchy S, Scherrmann JM, Decleves X (2008) Effect of chronic exposure to morphine on the rat blood-brain barrier: focus on the P-glycoprotein. J Neurochem 107:647–657

Yuan CS, Foss JF, O'Connor M, Roizen MF, Moss J (1998) Effects of low-dose morphine on gastric emptying in healthy volunteers. J Clin Pharmacol 38:1017–1020

Zaki NG, Osman A, Moustafa H, Saad AH (2006) Alterations of immune functions in heroin addicts. Egypt J Immunol 13:153–171

Zevin AS, McKinnon L, Burgener A, Klatt NR (2016) Microbial translocation and microbiome dysbiosis in HIV-associated immune activation. Curr Opin HIV AIDS 11:182–190

Zhang EY, Xiong J, Parker BL, Chen AY, Fields PE, Ma X, Qiu J, Yankee TM (2011) Depletion and recovery of lymphoid subsets following morphine administration. Br J Pharmacol 164:1829–1844

Zheng YH, Jeang KT, Tokunaga K (2012) Host restriction factors in retroviral infection: promises in virus-host interaction. Retrovirology 9:112

Zhu JW, Liu FL, Mu D, Deng DY, Zheng YT (2016) Increased expression and dysregulated association of restriction factors and type I interferon in HIV, HCV mono- and co-infected patients. J Med Virol 88:987–995

Zhu JW, Liu FL, Mu D, Deng DY, Zheng YT (2017) Heroin use is associated with lower levels of restriction factors and type I interferon expression and facilitates HIV-1 replication. Microbes Infect 19:288–294
Funding
Funding for this work was provided by grants to LJM (NIH: 1UM1Al126620, R01 DA048728, R01 DA049666), Robert I. Jacobs Fund of the Philadelphia Foundation, the Kean Family Professorship, and the Wistar Institute.
Ethics declarations
Conflict of Interest
Authors have no conflict of Interest.
Additional information
Publisher's Note
Springer Nature remains neutral with regard to jurisdictional claims in published maps and institutional affiliations.
About this article
Cite this article
Azzoni, L., Metzger, D. & Montaner, L.J. Effect of Opioid Use on Immune Activation and HIV Persistence on ART. J Neuroimmune Pharmacol 15, 643–657 (2020). https://doi.org/10.1007/s11481-020-09959-y
Received:

Accepted:

Published:

Issue Date:
Keywords (4–6)
Opioid use disorder

Medications of opioid use disorder

HIV latent reservoir

ART suppression

Immune reconstitution

Microbial translocation